Beef roast cooks low and slow in a flavor-packed liquid in your slow cooker until seriously tender. These Crock-Pot French Dip Sandwiches with Creamy Horseradish Spread are a delicious choice on even the busiest day.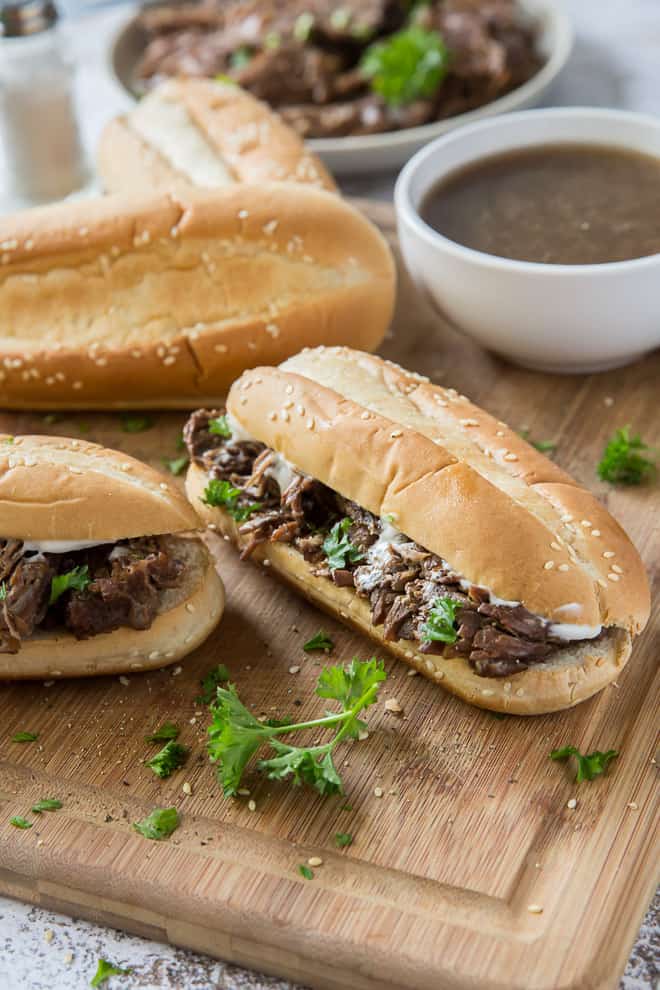 Because this recipe for Crock-Pot French Dip Sandwiches has been such a main-stay in my collection, I'm refreshing the photos today and remembering where our family was when the original post was written 7 years ago. Time flies when you're writing about delicious food!
We were in the midst of preparing to relocate our plumbing supply store while at the same time I was in the throes of some serious technical issues with my web site, and to top it off, I had just spent the day at urgent care with my youngest who left with a cast on his arm.
Just a day in the life of a mom-slash-business owner.
Okay, so I'm betting we got pizza that night but it's highly likely that the next night these delicious Crock-Pot French Dip Sandwiches made an appearance.
When my week takes a crazy turn my slow cooker is bound to make an appearance. When the going gets tough, the tough pull out their Crock-Pot… or something like that.
Over the years my slow cooker has been a true friend. It is dependable, it's always there when I need it, and it has gotten me through some pretty tough times. It's no surprise that my first cookbook is comprised of mostly slow cooker recipes with some easy one-pot dishes thrown in for good measure.
The Ingredient List
One 4 pound(ish) beef roast
Campbell's French Onion Soup
Low-sodium beef broth
BEER!
Worcestershire sauce
Garlic powder
Sour cream (I always use light sour cream)
Creamed horseradish
Hoagie rolls
Softened butter
What Cut of Beef is Best for French Dip Sandwiches?
I've used just about every type of beef roast for this recipe but after making this beef a gazillion times, I've determined I get the best result when I use a boneless chuck shoulder pot roast. It is a budget-friendly cut that cooks up exceptionally tender when braised (immersed in liquid and cooked for a long time).
Slow cooking is the perfect method to break down this tough cut and turn it into tender beef that will literally fall apart at the end of the cooking time.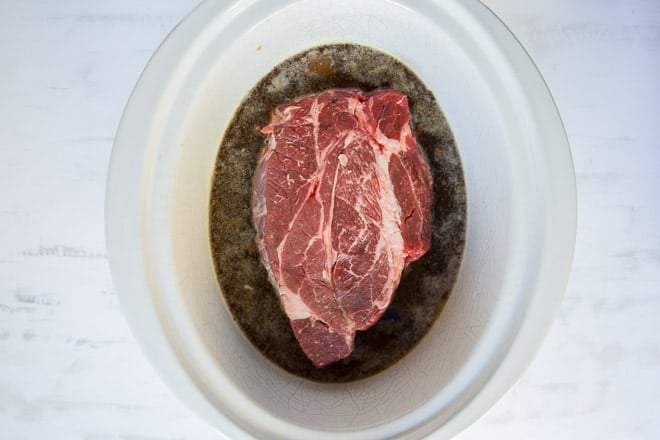 Beef chuck roast is a fatty cut so at the very least you should trim and discard the excess fat around the edges of your roast. If you really want to go at it, cut the roast apart at the seams and trim even more fat to ensure you'll have a nice clean au jus for dipping. Cutting the roast into chunks will reduce the cooking time a bit so keep that in mind when timing your meal.
Campbell's French Onion Soup and a bottle of beer make a great base for the au jus. Fear not, the beer imparts major flavor to the cooking liquid but not a strong alcohol taste. This flavor-packed liquid will eventually become the dipping sauce for the sandwiches.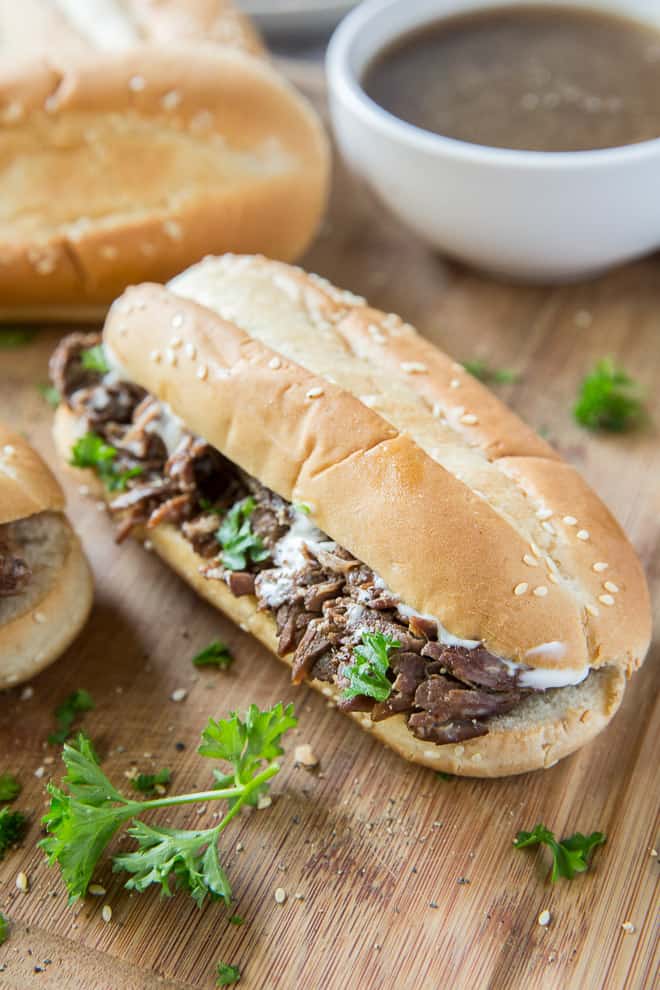 The Best Beer for a Tasty Au Jus
I've used everything from a deep, dark stout, a lighter amber ale, and a light Mexican-style lager. I honestly will use whatever my husband happens to have purchased and is waiting for me when I open the refrigerator. If I get to be choosy, my preference is an ale or lager like Newcastle or Dos Equis.
How to Make Crock-Pot French Dip Sandwiches
Be prepared to explain to anyone nearby why you are cracking open a bottle of beer at 10:00 am then pour it directly into the slow cooker with the beef broth, a little Worcestershire sauce and a touch of garlic powder. Place your beef roast down into the liquid, cover the slow cooker, set it to LOW, and walk away.
You should let the beef cook for at least 7 hours or longer. You can start this recipe early in the morning and it will be good to go at the dinner hour.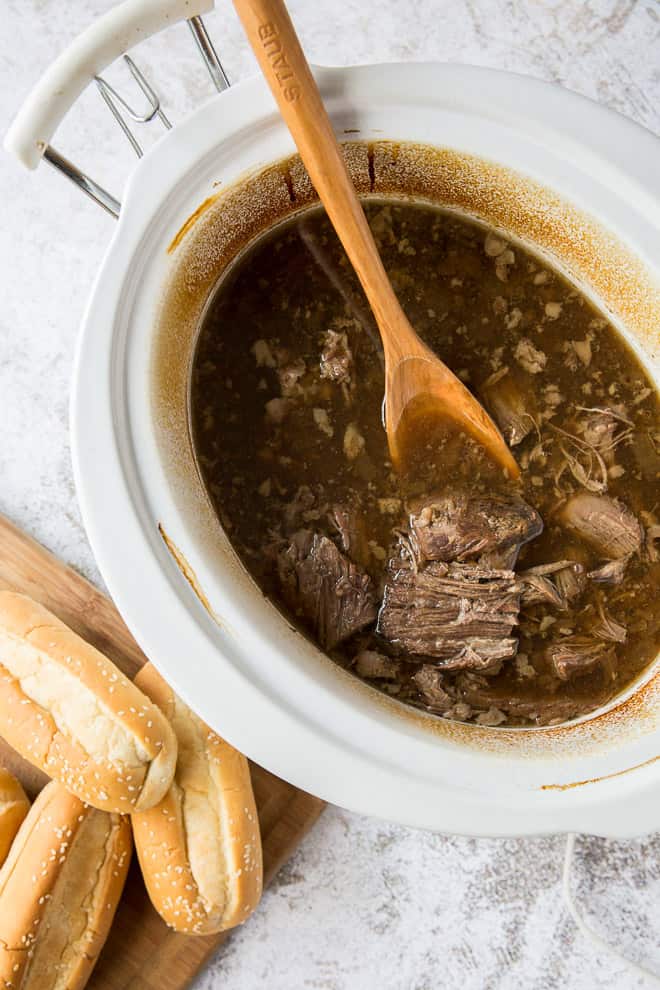 Cook the beef to the point of tenderness you're going for. Cook it longer and it will easily shred right into the cooking liquid. Unplug the slow cooker a bit earlier and you can pull it into tender, bite-size pieces. Both are delicious options.
The Creamy Horseradish Spread
Mix up this easy sandwich spread just before serving or make it earlier in the day and refrigerate it until dinner time. In addition to being the perfect spread for these French Dip Sandwiches, I serve this as a dip whenever I serve any cut of steak, beef tenderloin, or prime rib.
Mix together about 1/2 cup of light or regular sour cream (I always use light) and 1 tablespoon creamed horseradish. You can use more horseradish if you want more of a bite and honestly, I just eyeball it, but this ratio is good for us.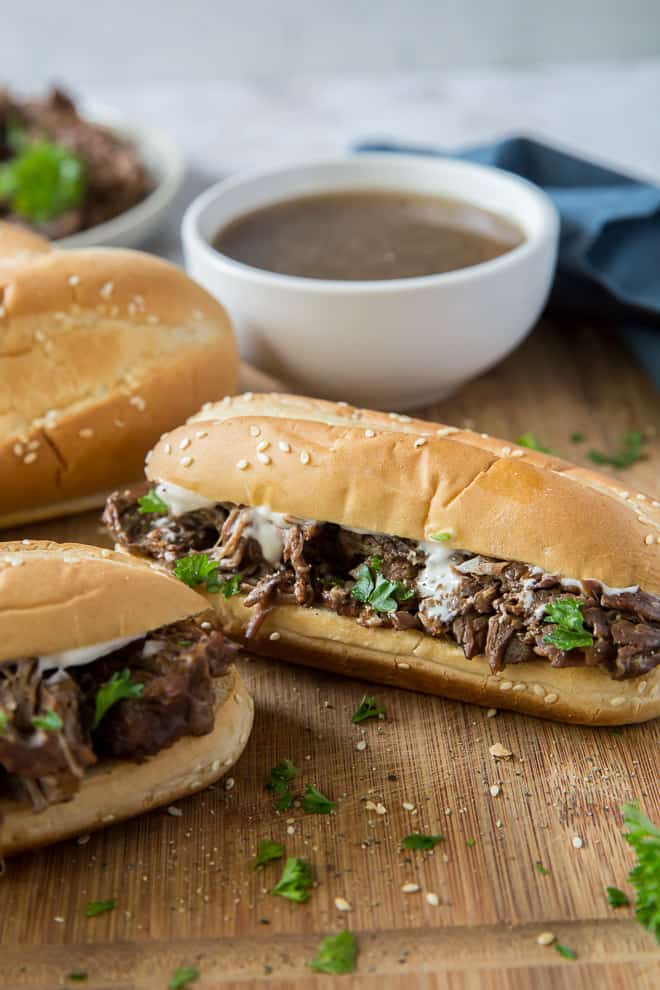 Assemble the Sandwiches
Split open your hoagie rolls and spread them with a little softened butter. Place them on a baking sheet and bake them in a 400 degree F oven for 3 to 5 minutes, or just until they are toasted and lightly golden brown. This is an important step to ensure the rolls will hold up to the filling.
Spread the toasted rolls with some of the Creamy Horseradish Spread and load them up with the tender beef.
Spoon a little of the au jus into a small bowl to serve on the side…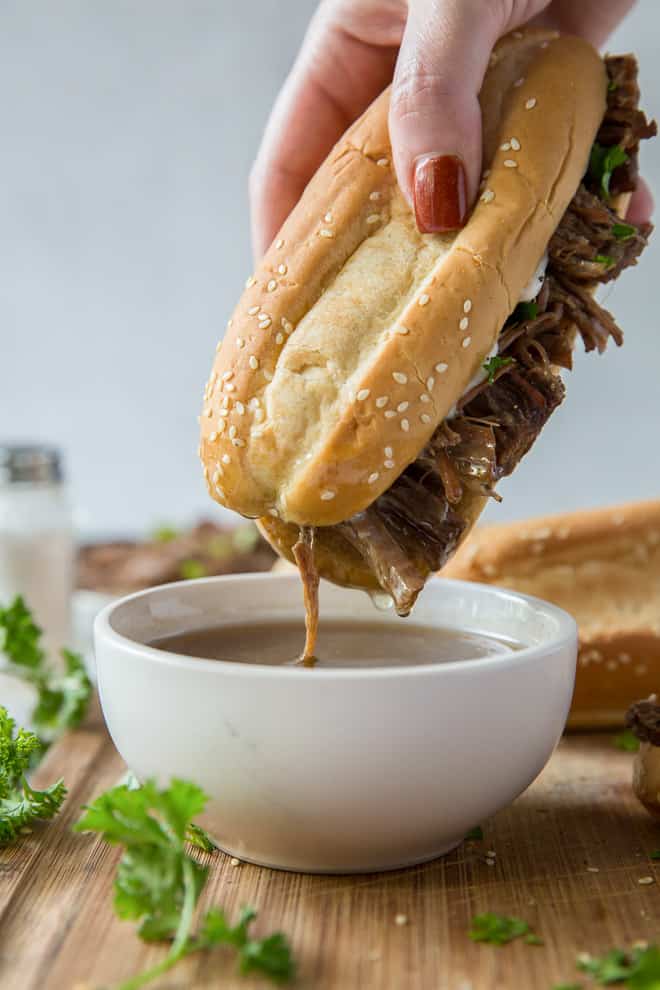 …so you can do this.
And, that my friends is another good as gold Crock-Pot recipe to add to your list.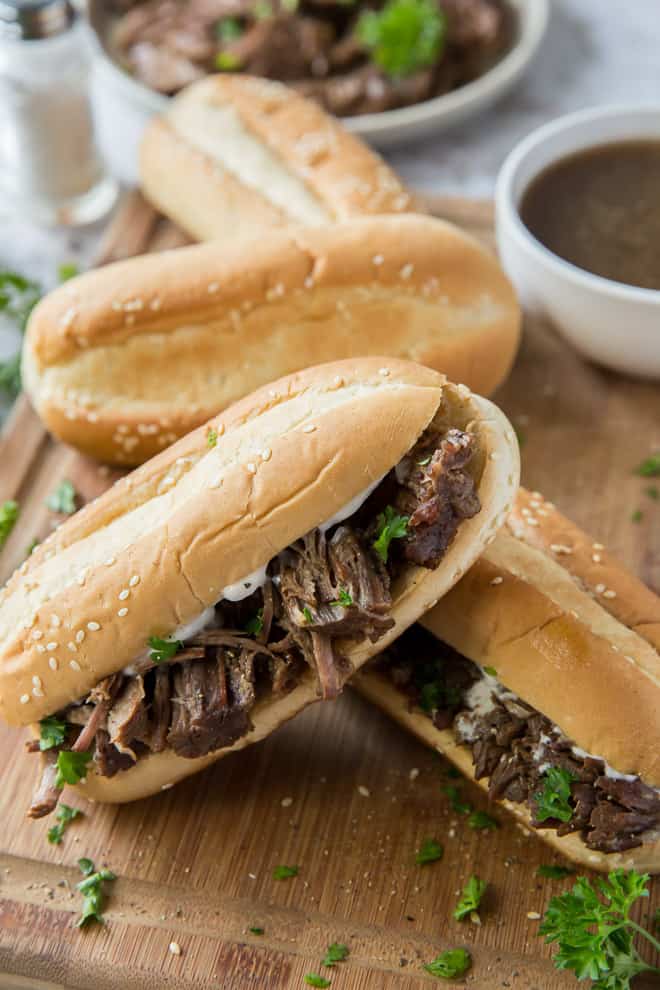 This post was originally published on January 9, 2013. It has been updated with new text and images.
Crock-Pot French Dip Sandwiches
Beef roast cooks low and slow in a flavor-packed liquid in your slow cooker until seriously tender. These Crock-Pot French Dip Sandwiches with Creamy Horseradish Spread are a delicious choice on even the busiest day.

Prep Time 5 minutes
Cook Time 7 hours
Total Time 7 hours 5 minutes
Servings 8 servings
Change the number in the box above to adjust serving size. Please note that size of cookware and cook time may vary.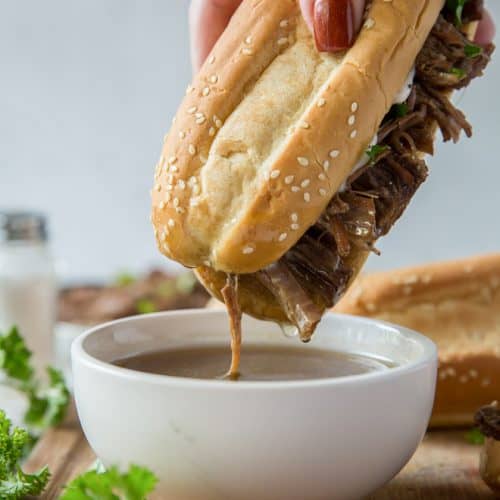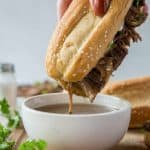 Ingredients
4 pounds boneless beef roast, preferably chuck shoulder pot roast
2 cups low sodium beef broth
10.5 ounce can Campbell's Condensed French onion Soup
12 ounces beer
1 tablespoon Worcestershire sauce
1 teaspoon garlic powder
8 hoagie rolls
2 tablespoons butter, softened
Creamy Horseradish Spread:
1/2 cup sour cream, light or regular
1 tablespoon creamed horseradish
Instructions
Add beef broth, French onion soup, beer, Worcestershire sauce, and garlic powder to the slow cooker. Whisk to combine.

Trim excess fat from the edges of the roast and place into the liquid in the slow cooker. Set slow cooker on LOW and cook for 7 to 9 hours, or to desired level of tenderness. Power off the slow cooker.

Use two forks to shred the beef to the desired consistency into the liquid in the slow cooker.
For the Creamy Horseradish Spread:
Combine the sour cream and creamed horseradish in a small bowl. Cover and refrigerate until ready to serve.
To Assemble the Sandwiches:
Preheat oven to 400 degrees F.

Split open the hoagies rolls but do not separate them. Spread them with the softened butter and place them on a baking sheet. Transfer the baking sheet to the oven and bake for 3 to 5 minutes or until lightly golden and toasted.


Spread the toasted rolls with some of the creamy horseradish spread and use tongs to fill them with the shredded beef. Spoon some of the au jus into small bowls and serve with the sandwiches for dipping.
Nutrition
Calories: 666kcal
Fat: 33g
Saturated fat: 14g
Cholesterol: 171mg
Sodium: 844mg
Potassium: 1106mg
Carbohydrates: 38g
Fiber: 1g
Sugar: 6g
Protein: 51g
Vitamin A: 164%
Vitamin C: 1%
Calcium: 75%
Iron: 15%
Course Main Course, Sandwiches
Cuisine American
Adapted from Allrecipes
CLICK HERE OR ON THE IMAGE BELOW TO PIN THIS RECIPE!