This Roasted Beef Tenderloin with Port Wine Gravy makes for an elegant holiday meal but is surprisingly easy to prepare. Impress your friends and family with this delicious meal!
Seven Christmases have passed since I started this blog and every single one of those years I've had the very best of intentions to post this recipe. It's staggering to realize it has taken me this long to post one of my favorite holiday recipes of all time. December just seems to pass at lightning speed but THIS year I was determined!
This Roasted Beef Tenderloin with Port Wine Gravy is the meal I've prepared on Christmas Eve for years and years and it is spectacular.
Beef tenderloin is quite simple to prepare and with a few tips and tricks it is foolproof. I've found this cut to be the most dependably tender and delicious cut of beef available. It's pricey so you want to be sure you know what you are doing, but I highly recommend you give it a try. It's worth every penny.
I like to throw trimmed whole heads of garlic in with the beef while it roasts. The cloves become buttery and so tender they are spreadable. Just delicious served along side this beef! And, the luscious Port Wine Gravy is perfection.
I'm going to break down everything you need to know about cooking a beef tenderloin in this post so you'll have all the information you need to create a memorable holiday meal you will be proud of and your friends and family will absolutely love.
Peeled or Unpeeled?
When you go to purchase your beef tenderloin you'll most likely see two types available – peeled and unpeeled.
Unpeeled beef tenderloins come to you with a layer of fat and connective tissue that needs to be trimmed from the tenderloin before you cook it. Peeled tenderloins have already been trimmed by a butcher and have almost no visible fat which means that every single ounce of it can be consumed.
You can save quite a bit per pound by picking up an unpeeled beef tenderloin and trimming it yourself but I find it's worth the extra cost to have a qualified butcher do the task for me. I'd rather cook a beautifully trimmed piece of beef for Christmas Eve than my shaggy attempt at trimming.
If you are determined to do the task yourself, take a look at this article on Serious Eats for detailed information on how to trim your tenderloin. Keep in mind that you'll need to compensate and buy a larger cut as you'll be trimming and throwing away a good amount.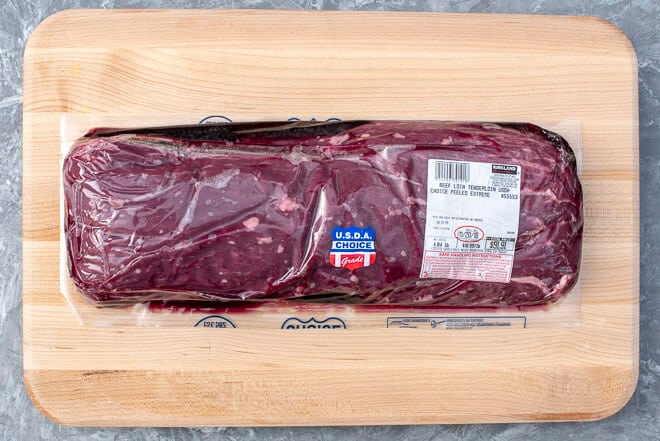 Pictured above is my nearly 5 pound, beautifully peeled whole beef tenderloin.
If you have access to a Costco, definitely plan to buy your beef tenderloin there. I don't think you will find a better price anywhere. As a matter of fact, their price on a tenderloin that has been peeled by one of their very well qualified butchers is similar to what you'll find at other stores for the unpeeled variety.
Costco has both Choice and Prime cuts available, Prime being the more expensive choice. I've always purchased Choice and it's fabulous.
You may also come across what is referred to as center cut beef tenderloin which is just that. The uneven ends have been removed and you are purchasing just the center cut of the tenderloin, also referred to as chateaubriand. This luxurious cut is too pricey for my pocketbook and it is also smaller so I prefer the larger, whole tenderloin for my group.
What Size?
If you purchase a peeled beef tenderloin it has very little fat and therefore what you see is what you get. There is very little shrinkage as it cooks and you can count on each piece of it being perfect for consumption. I like to calculate 1/3 to 1/2 pound per person, regardless of age or appetite, and this way I always end up with leftovers. A 5 pound beef tenderloin will feed 10 to 15 people.
If you are purchasing an unpeeled beef tenderloin you can assume you will be trimming and tossing about 30% of the total weight so do your calculations and increase the number by this amount to determine the size you will need.
How To Tie a Beef Tenderloin
When you remove your beef tenderloin from the packaging you'll see that it has one long, tapered end that is far skinnier than the thicker end. If you don't tie the tenderloin it's not going to cook evenly throughout to the perfect rare or medium rare temperature that is optimal for this cut. Tying a tenderloin is super easy!
Tuck the tapered end underneath to create an even thickness throughout and use kitchen twine to tie the tenderloin in 2-inch to 3-inch intervals. I like to work on a foil-lined board for easy cleanup.
The seasoning mixture is simple – a generous amount of sea salt, dried thyme, and freshly ground black pepper.
After it is seasoned, the tenderloin is seared in olive oil for a few minutes per side and then roasted to perfection in the oven. You'll need to use a roasting pan for this task as it is a large cut. I always use my Calphalon Stainless Steel Roasting Pan. It is the perfect size and goes right from the stove top to the oven.
What is the Best Temperature for Beef Tenderloin?
Beef tenderloin should not be cooked beyond medium (warm pink center) but I think it is best cooked medium rare. If you watch the temperature closely, it will be juicy and so tender you can cut it with a butter knife. If you prefer beef cooked beyond medium, I would suggest going with a different cut.
Be vigilant and use an instant read thermometer starting about 15 minutes before the end of the cooking time stated in the recipe. Insert the thermometer in the thickest portion of the beef and when it reaches 125 degrees F (rare), 130 degrees F (medium rare) or 135 degrees F (medium), pull it out of the oven to rest. Keep in mind that the internal temperature will rise a bit as the beef rests so so the temperatures stated here are about 5 degrees below the desired end temperature.
Let it Rest
Transfer the beef tenderloin to a cutting board as soon as you remove it from the oven, tent it loosely with a sheet of foil, and let it rest for about 15 minutes while you prepare the gravy and attend to other tasks. This will ensure the juices remain inside and the beef will be juicy perfection when sliced.
And, speaking of the gravy! This Port Wine Gravy is insanely good and incredibly easy to prepare. If you've had issues with preparing gravy in the past, you're going to love this easy recipe.
Port is a fortified wine which means that in addition to wine it includes a distilled spirit, like brandy. This increases the alcohol content and also quite significantly increases the shelf life of an open bottle. This bottle of Ruby Port is relatively inexpensive and a great value since if stored properly it will stay fresh for months. To help keep these wines fresh, store them on a cool, dark pantry shelf or even better, in the refrigerator.
Although not included in the recipe, I always serve this with creamy horseradish on the side. Just combine sour cream with as much creamed horseradish as you'd like.
If you're making enough for leftovers be sure to pick up some sandwich rolls and you will be able to make the most delicious sandwiches the next day. Smear the rolls with creamy horseradish, layer on cold leftover beef, drizzle with a little of the port sauce, and pile on some greens. I'm telling you, these are the most delicious steak sandwiches ever!
Whatever you are serving and whoever you are celebrating with, I wish you and yours a beautiful holiday.
Roasted Beef Tenderloin with Port Wine Gravy
This Roasted Beef Tenderloin with Port Wine Gravy makes for an elegant holiday meal but is surprisingly easy to prepare. Impress your friends and family with this delicious meal!


Print
Pin
Rate
Servings: 12 servings
Calories: 1043kcal
Ingredients
4 cups low-sodium beef broth
1 cup port wine (I use Ruby Port)
1 tablespoon tomato paste
4 to 5 pound whole beef tenderloin, peeled and trimmed
1 tablespoon fine ground sea salt plus additional for garlic
1 tablespoon dried thyme
freshly ground black pepper as needed
3 tablespoons olive oil, plus additional for garlic
3 whole heads garlic
4 tablespoons softened butter, divided
3 tablespoons all-purpose flour
Instructions
Preheat oven to 375 degrees F.

In a large saucepan, combine beef broth and port. Bring to a boil. Cook over high heat until the volume is reduced by about one-third, about 30 minutes. Whisk in tomato paste. Remove pan from heat and set aside. This can be a done a day in advance or earlier in the day if you'd like.

Trim the tops off the heads of garlic with a sharp knife to expose the tops of the cloves and remove some of the papery outer skins. Drizzle them with olive oil and season with a little sea salt.

Pat the beef dry with paper towels. Fold the thinner, tapered end underneath to create an evenly sized roast and then use kitchen twine to tie it at 2-inch to 3-inch intervals, or as needed. Sprinkle both sides of the beef with salt, thyme, and pepper. Add olive oil to a large roasting pan and set it over MEDIUM-HIGH heat (you may need to use two burners). Add the tenderloin to the hot pan and sear for about 4 minutes per side. Place trimmed garlic around the beef and transfer the pan to preheated oven. Roast the beef until meat thermometer inserted into the center of the thickest portion registers 125 degrees F (rare), 130 degrees F (medium rare), or 135 F (medium), about 40 minutes. Watch closely and remove from oven as soon as the beef reaches desired temperature. Immediately transfer the beef to cutting board and tent loosely with foil to rest for at least 15 minutes.

Transfer the heads of garlic to a small baking dish, drizzling with additional olive oil, if necessary. Increase the oven temperature to 400 degrees F and return the garlic to the oven for an additional 5 to 10 minutes, or until very tender and golden brown.While the beef rests, finish the gravy.

Spoon fat deposits off top of pan drippings in the roasting pan. Place pan over MEDIUM-HIGH heat. Add broth mixture and bring to a boil, stirring to scrape up any browned bits. Mix 3 tablespoons softened butter and flour in small bowl to form smooth paste and whisk it into broth mixture. Simmer until gravy thickens. Whisk in remaining tablespoon of butter. Taste and season with salt and pepper, only if needed. Transfer to a gravy boat or small bowl.

Slice the beef tenderloin into medallions and serve with the roasted garlic and Port Wine Gravy
Nutrition
Calories: 1043kcal | Carbohydrates: 5g | Protein: 63g | Fat: 82g | Saturated Fat: 33g | Cholesterol: 248mg | Sodium: 941mg | Potassium: 1226mg | Fiber: 1g | Sugar: 2g | Vitamin A: 150IU | Vitamin C: 0.6mg | Calcium: 33mg | Iron: 8.6mg
Inspired by Allrecipes
Valerie's Kitchen is a participant in the Amazon Services LLC Associates Program, an affiliate advertising program designed to provide a means for us to earn fees by linking to Amazon.com and affiliated sites.