The slow cooker method creates fall-apart tender pork with a creamy, flavorful gravy. This Crock-Pot Sirloin Tip Roast with Creamy Mushroom Gravy is a comforting, family-friendly meal.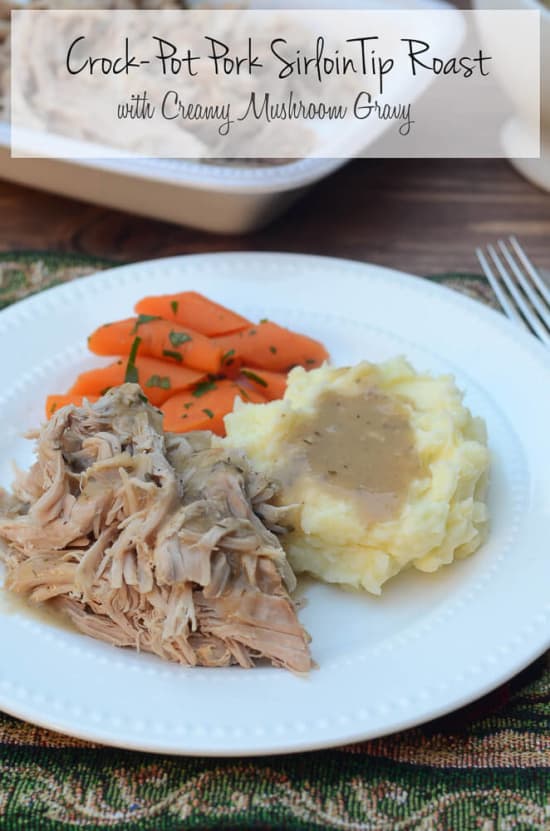 This recipe was born from my desire to come up with a way to cook the neat little pork sirloin tip roasts that I snatched up on a visit to Costco. It was also born from my desire to have an excuse to make mashed potatoes…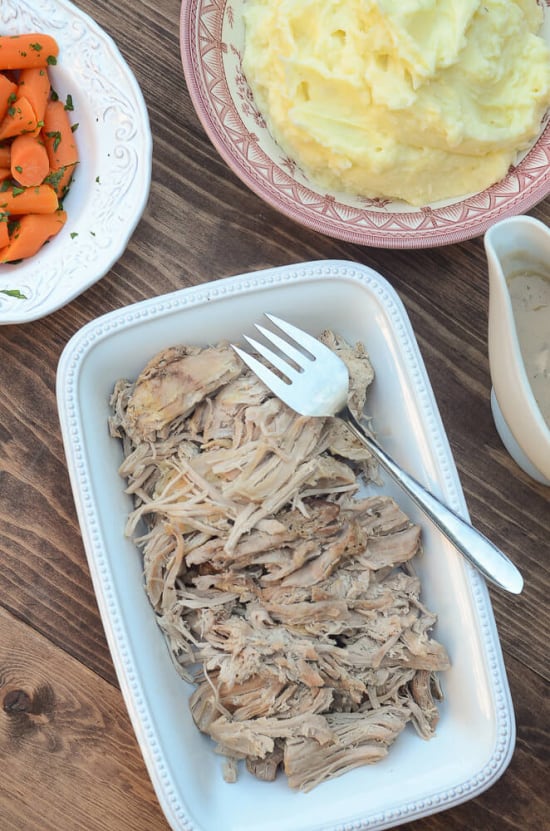 My inspiration came from my mom's pork chops with mushroom gravy that were on regular rotation on our dinner menu when I was a kid. I'm sure that many of you know exactly what I'm talking about. I think there were a lot of pork chops with mushroom gravy happening in suburban neighborhoods across America back then.
If you are a Costco shopper and haven't come across these Swift Premium Pork Sirloin Tip Roasts yet, go check out my Costco Haul post for all the details. They are sold in a 4-pack and you'll only need one for this recipe. The individually vacuum sealed packaging makes it very easy to snip one off and throw the others in the freezer.
First, let's mix together the basis for the creamy-licious mushroom gravy. Yep, you guessed it, good old Cream of Mushroom Soup to the rescue! In the Crock-Pot, or in this case, In the Ninja it goes.
These dry minced onions are an important flavor component in this gravy. They add a distinctive flavor that I think is absolutely necessary. Fresh chopped onion would add more texture than I want in the creamy gravy so go with the dry minced.
The other components to the gravy – dry sherry, onion powder, garlic powder, thyme, paprika, dry parsley, and fresh ground pepper. Whisk this mixture together and turn the unit to LOW.
Sear the pork roast in some olive oil over medium-high heat to give it a little color on both sides. Season with a little salt and peppa while you're at it.
Transfer the browned roast to the mixture in the Crock-Pot. Cover, and let it cook for 8 to 9 hours on LOW. If you want to speed things up, cook it on HIGH for 6 to 7 hours.
This is a very lean cut of pork so you won't end up with a grease laden gravy and there will be no need to skim any fat after the cooking time. It works beautifully.
It's ready when it is fork tender.
Transfer the roast to a cutting board and it will basically begin to fall apart as you cut into it. This is a very good thing.
Whisk together 1/3 cup milk and 3 tablespoons cornstarch and add the mixture to the gravy.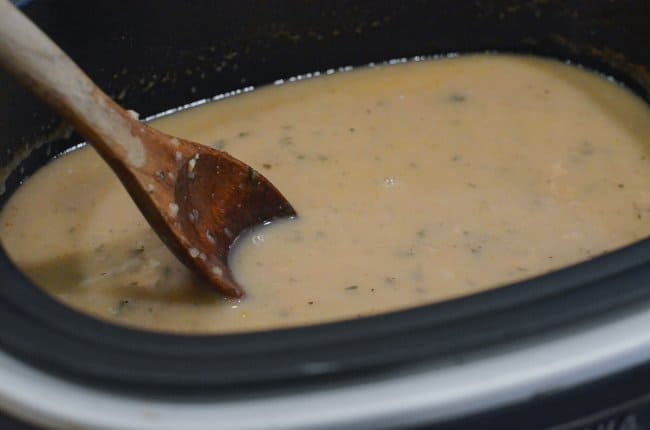 Stir till thickened This worked fine for me in my Ninja, but, if the mixture doesn't thicken to your liking, transfer it to a saucepan and place it over medium heat. It should help the thickening process.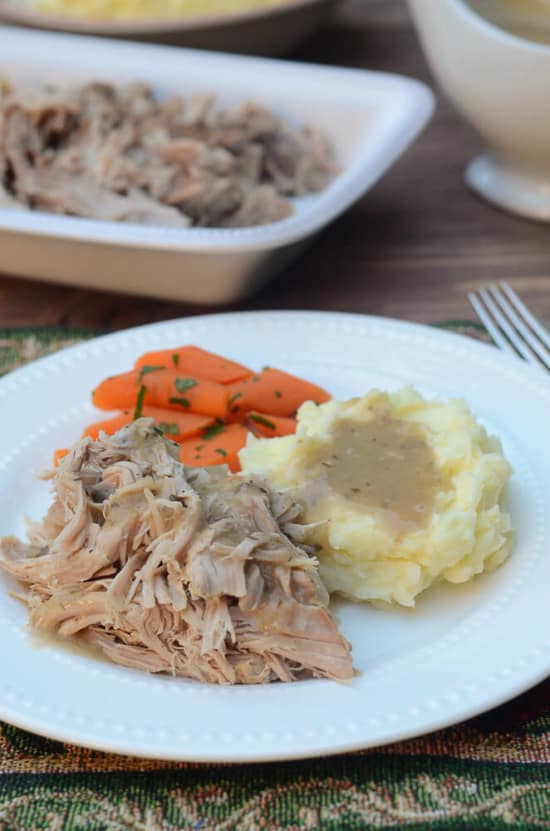 I feel the need to serve this with mashed potatoes so I have something to drench with the lovely mushroom gravy.
I also highly recommend you drizzle some of that gravy over the pork roast.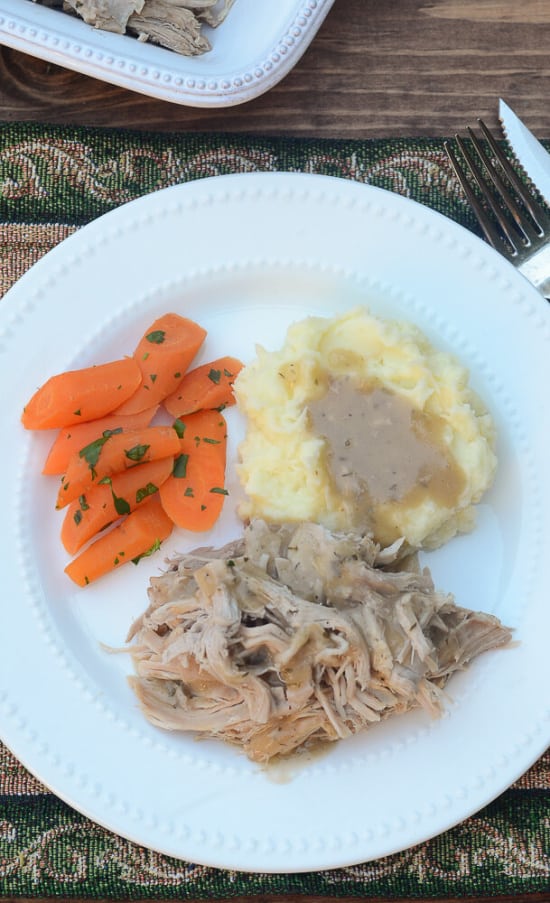 There's nothing like a good Crock-Pot meal on a lazy Sunday. Grab a package of those pork roasts and give it a try.
If you're looking for more inspiration on ways to prepare this cut, take a look at the links below:
Crock-Pot Pork Sirloin Tip Roast with Creamy Mushroom Gravy
The Crock-Pot cooking method results in fork tender pork roast with a creamy, flavorful, mushroom gravy. Serve with mashed potatoes.
Print
Pin
Rate
Servings: 4 servings
Ingredients
1 pork sirloin tip roast approximately 2 pounds
2 tablespoons olive oil
Salt and fresh ground pepper to taste
1/2 cup dry white wine or dry sherry
1 10-3/4 ounce can Campbell's Cream of Mushroom Soup
3 cups low sodium beef broth
2 tablespoons dried minced onion
1/2 teaspoon onion powder
1/2 teaspoon garlic powder
2 teaspoons dry parsley
1/2 teaspoon thyme
1/4 teaspoon paprika
1/4 teaspoon fresh ground pepper
1/3 cup milk
3 tablespoons corn starch
Instructions
Sear pork roast in olive oil over medium high heat. Season lightly with salt and generously with fresh ground pepper. Remove from heat and set aside.

Add white wine, Cream of Mushroom Soup, seasonings, and beef broth to Crock-Pot and whisk till smooth. Add the seared pork roast to the liquid in Crock-Pot, cover, and cook on high for 6 to 7 hours or on low for 8 to 9 hours, until roast is fork tender.

Transfer cooked roast to a cutting board and cover with foil to keep warm. Whisk together milk and corn starch. Add mixture to the cooking liquid in Crock-Pot and stir until thickened. Serve gravy with pork roast and mashed potatoes.