These Crunchy Sweet Chicken Salad Sandwiches are packed with texture and great flavor. A wholesome but super satisfying lunch idea for people of all ages.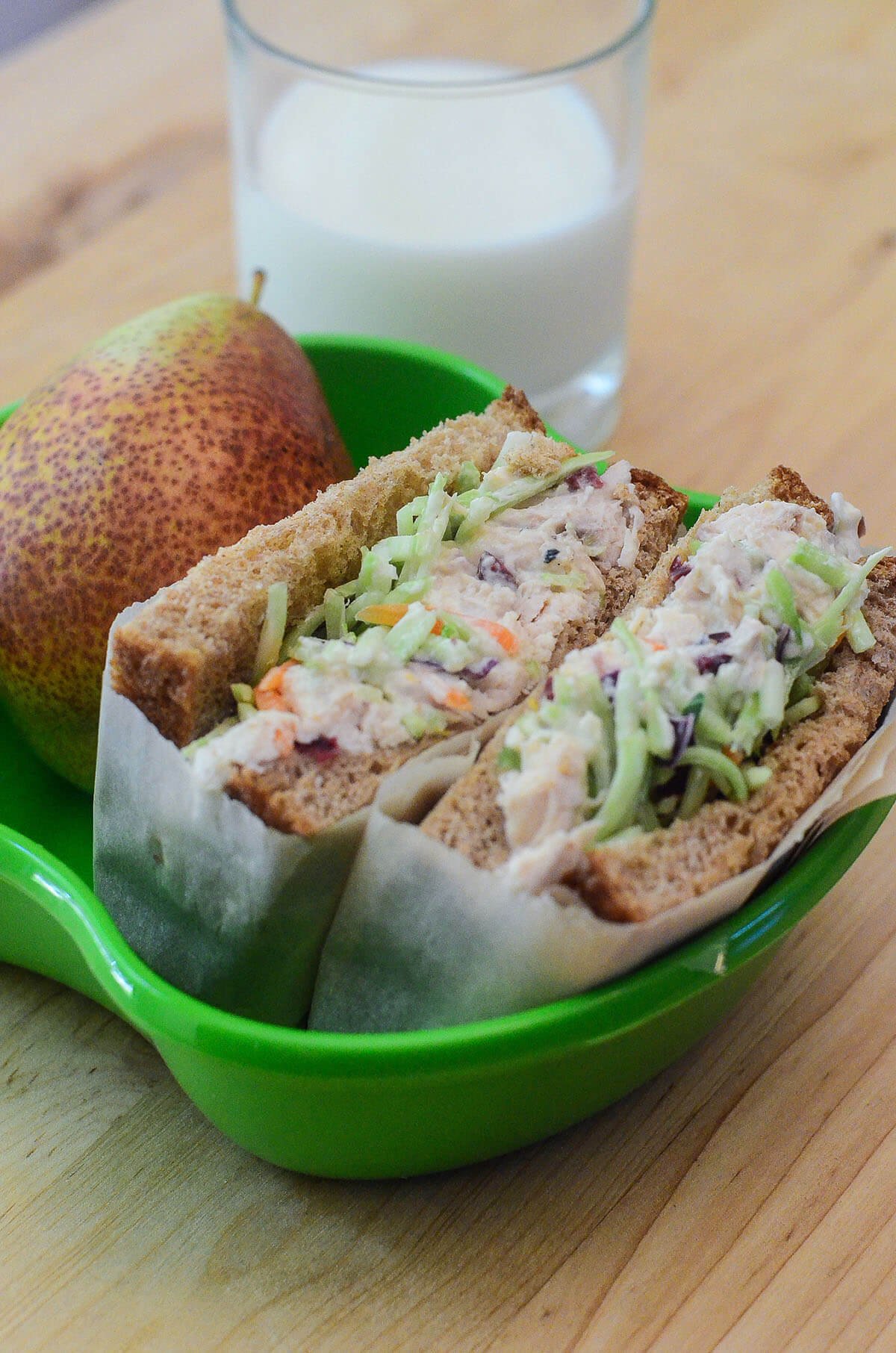 After raising four little ones, I found some tricks along the way to incorporate healthy items into their meals. They might say "I don't like tomatoes" or "I hate onions" when many times it's a textural, not a taste thing. In reality, they probably love the flavors of many of the foods they think they despise. My answer to this is dicing. They will undoubtedly object if they bite into a sandwich and get a big chunk of the item they've decided they don't like, but when you dice it, it's more about adding flavor. Sneaky but effective.
I believe in including these items in their meals as often as possible because it helps them develop a more sophisticated, less finicky palate. I had my boys eating all kinds of stuff when they were quite young by using this method and I swear I can pretty much put anything in front of my now grown-up guys and they'll eat it. They have all developed into quite adventurous eaters.
This is one of my favorite versions of chicken salad. It's got so much going on but it's fast and easy to throw together thanks to store-bought rotisserie chicken. Always such a great time-saver.
The lemony, lightened up dressing is just heavenly.
It starts with a mixture of non-fat Greek Yogurt and mayonnaise. I always use light mayo but use what you have on hand. A little Dijon mustard and the juice and zest of a fresh lemon brighten up the flavor and natural sweetness comes from chopped dried cranberries. We've also got some diced red onion, celery, and add a little salt and pepper to taste.
Bagged broccoli slaw makes for a great sandwich or wrap topping and adds even more fiber and great nutrition to this sandwich. Use any leftovers to throw into salads or add coleslaw dressing for a great summery side dish. You can substitute lettuce or leave it out altogether if you have very small children that might object. But trust me, don't leave it off the sandwich you make for yourself.
For the chicken, I used the breast portion of a store-bought rotisserie chicken. Easy peasy. Just remove and discard the skin and pull the meat off the bone. Shred it with your hands. You should have about 2-1/2 cups shredded chicken. Save the remaining dark meat for another purpose.
The shredded chicken and some toasted walnuts are mixed into the amazing dressing and you are ready to make lunch. I'd recommend mixing this up the night before and keep it covered in the fridge overnight to save time. The flavor will only improve with some time in the fridge.
Layer the bread with the chicken salad and top it with some of the broccoli slaw. It's also wonderful rolled into wraps.
This is not your typical tired peanut butter and jelly bag lunch. It's fresh, healthy, and full of flavor.
Crunchy Sweet Chicken Salad Sandwiches
Crunchy Sweet Chicken Salad Sandwiches
These Crunchy Sweet Chicken Salad Sandwiches are packed with texture and great flavor. A wholesome but super satisfying lunch idea for people of all ages.

Prep Time 15 minutes
Total Time 15 minutes
Servings 6
Change the number in the box above to adjust serving size. Please note that size of cookware and cook time may vary.
Ingredients
2 1/2 cups shredded rotisserie chicken breast skin removed
1/2 cup toasted walnuts chopped (optional)
1/2 cup non-fat plain Greek Yogurt
1/2 cup light mayonnaise
1 tablespoon Dijon mustard
1/3 cup dried cranberries chopped
1 stalk celery diced
1/3 cup red onion finely diced
1 zested and juiced lemon
salt and fresh ground black pepper to taste
sandwich bread or wraps
1 cup packaged broccoli slaw
Instructions
Remove and discard the skin from the breast portion of the rotisserie chicken. Pull white breast meat from the chicken to a cutting board and use your hands to shred it. You should have approximately 2-1/2 cups shredded chicken. Reserve dark meat for another purpose.

Preheat the oven to 350 degrees. Place 1/3 cup walnuts in a small baking dish and bake for 5 to 7 minutes or until lightly toasted. Remove from oven and set aside until cool enough to handle. Chop walnuts and set aside.

In a large mixing bowl combine Greek yogurt, mayonnaise, Dijon mustard, chopped dried cranberries, celery, red onion, lemon juice and zest, salt and pepper. Mix well to combine. Add shredded chicken and chopped walnuts and mix until well combined.

Divide mixture between the sandwich bread or wraps. Top with some of the broccoli slaw. Serve immediately or place in an airtight container in a chilled thermal bag to send to school with your child for lunch.

Adapted from Foodnetwork.com
Nutrition
Calories: 277kcal
Fat: 16g
Saturated fat: 3g
Cholesterol: 62mg
Sodium: 438mg
Carbohydrates: 11g
Fiber: 2g
Sugar: 7g
Protein: 23g
Course Main Course
Cuisine American