This hearty Halftime Chili is deliciously seasoned and chock full of beef, beans, and beer! Get all the work done in advance so you don't miss a minute of the next big game.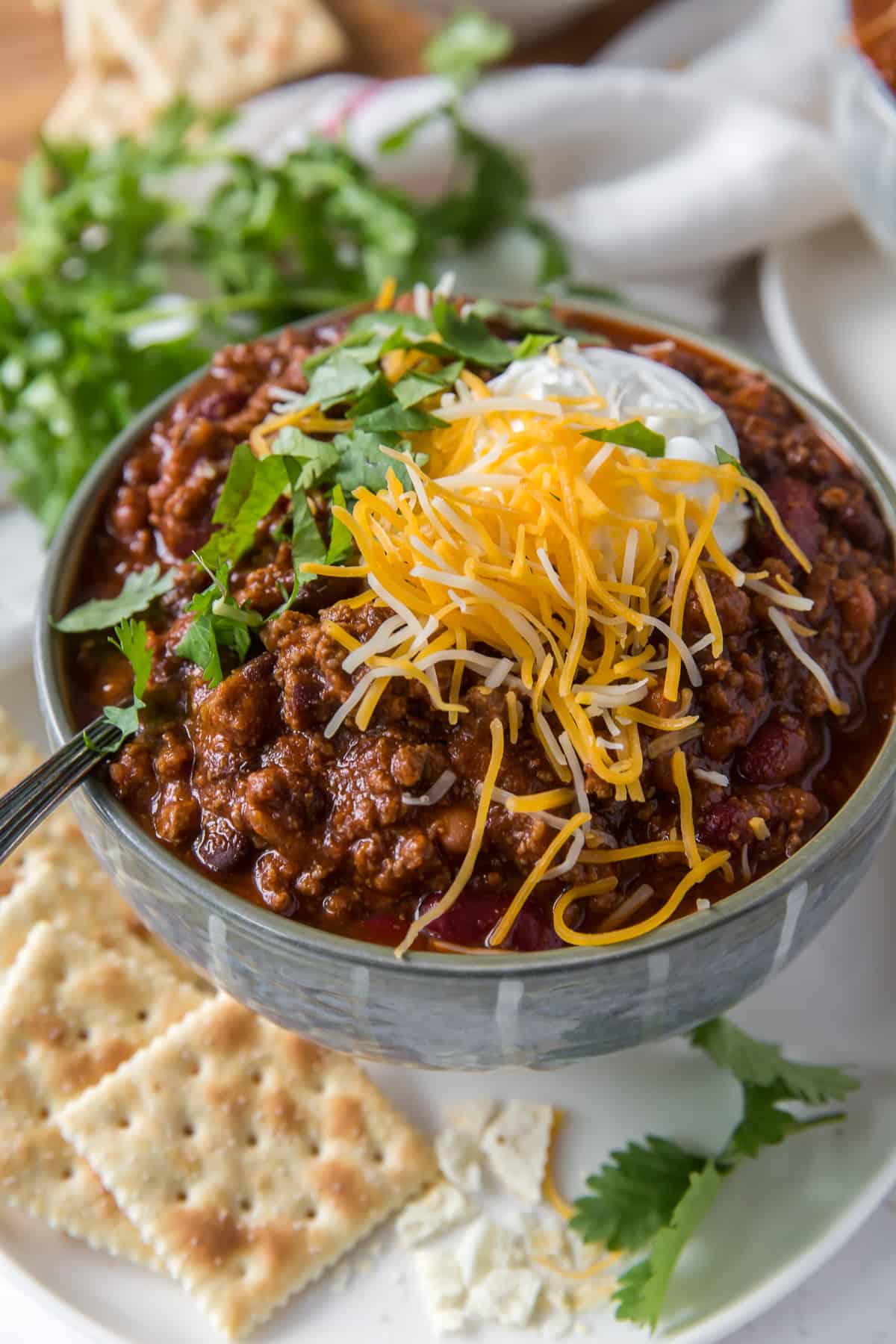 We are BIG on chili in this house. I've made so many versions that I have fine-tuned my recipes to suit different occasions.
This Halftime Chili is precisely what is in order on a cold day when you've got the game on and lots of people to feed. The prep is super easy and then it needs time to sit and simmer on the stove which means that you get to sit and simmer, until halftime. Then it's time to eat!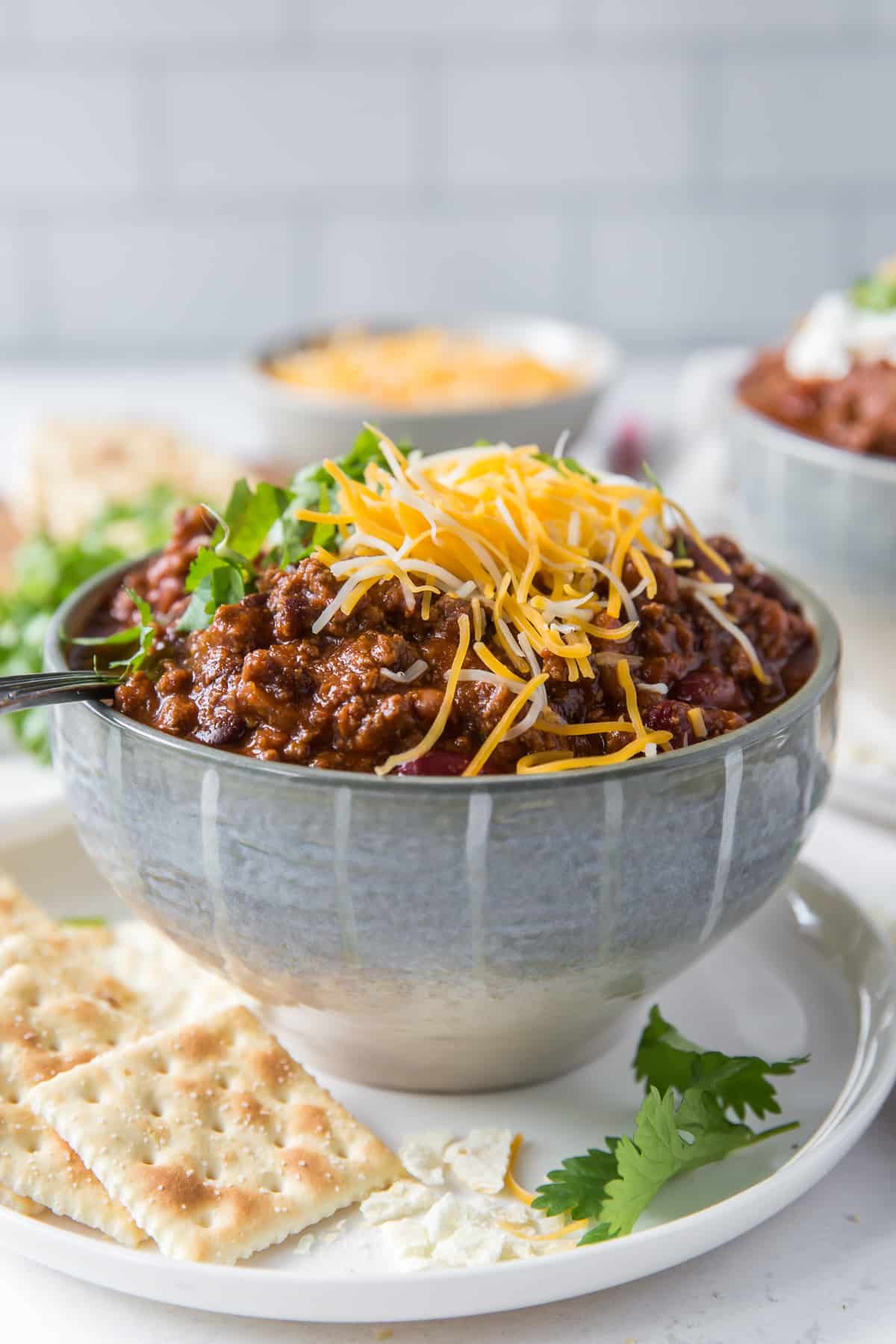 It is THE perfect football food. It makes a good amount and the leftovers will reheat or freeze beautifully for another meal on another day. Always a bonus in my book!
Ingredients
Three kinds of beans bulk up this tasty chili. Black beans, kidney beans, and chili beans, like Bush's Chili Beans in Chili Sauce. Chili beans come in different varieties and I like to use pinto beans for a nice mix in this chili. The chili sauce adds nice flavor to the chili so you don't want to drain the chili beans.
We have lots of dried seasonings in our pantry so why not use them? A wonderful blend of seasonings including chili powder, cumin, basil, oregano, thyme, crushed red pepper, salt and pepper add great depth of flavor to this chili.
The Best Beer for Chili
I most frequently go with a stout, like Guinness, when I make a beer chili. Stouts are deep, dark and add great flavor to chili. If you prefer a lighter style of beer I don't think it is necessary to run out and buy a stout. I love this chili with a Mexican beer like Modelo or Dos Equis which are pilsner-style lagers. I've also done this Halftime Chili with an ale like Newcastle or Sierra Nevada as well. I would not recommend using a lower quality or light beer.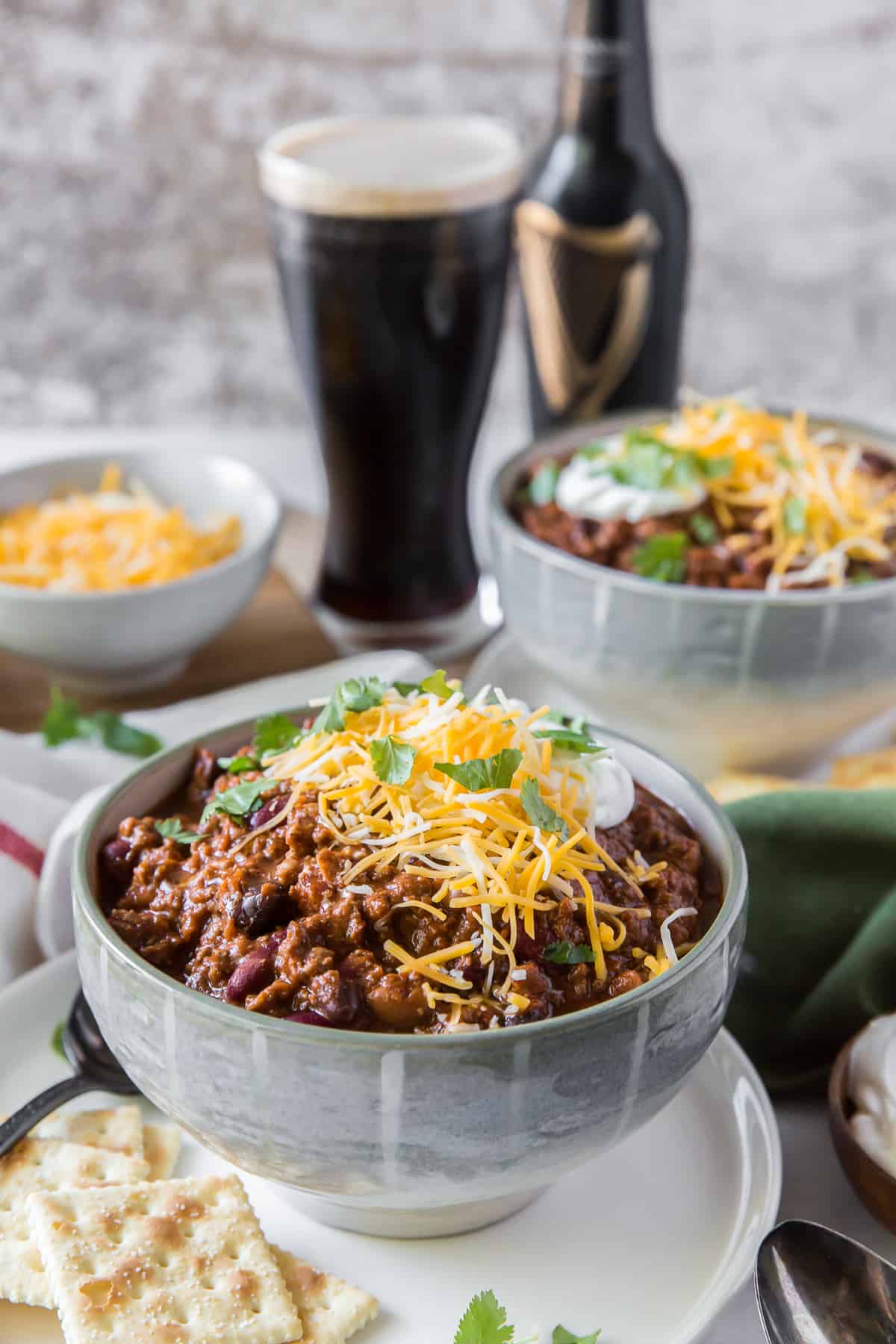 How to Make Halftime Chili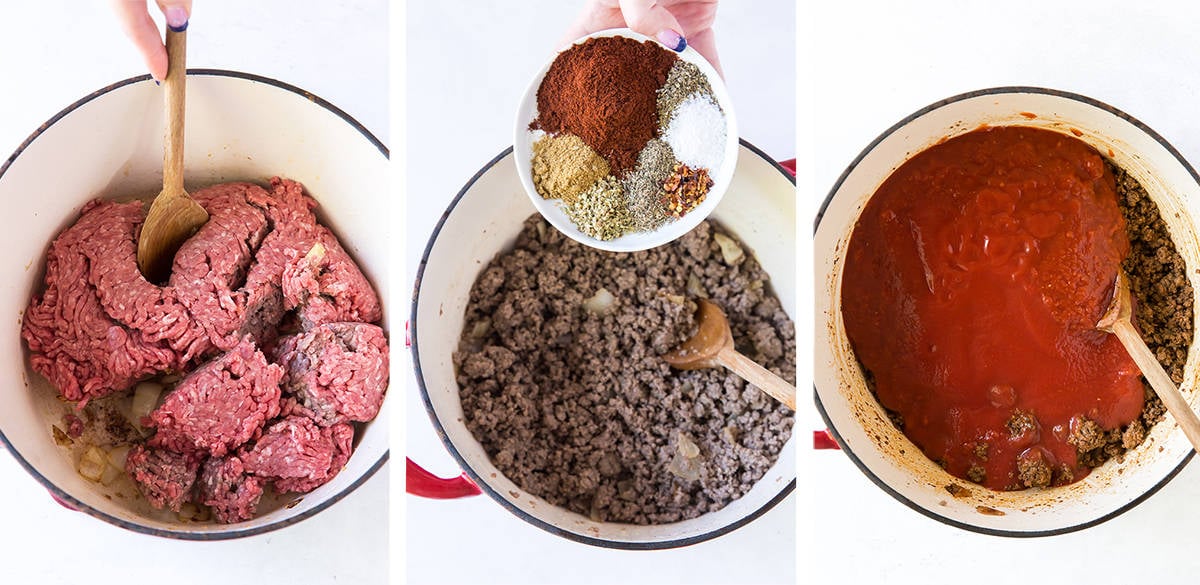 Grab a great big pot or Dutch oven, place it over medium high heat and pour in a couple tablespoons of olive oil. Sauté the chopped onion and garlic for several minutes until softened. Add the ground beef and cook, stirring to break it up with a spoon until it is thoroughly cooked. Drain the grease and return the pot to the stove.
Add all the wonderful seasonings and cook and stir them into the ground beef for a couple of minutes.
Add the crushed tomatoes and tomato sauce.
Add the kidney beans.
Add the black beans.
And, finally, the chili beans with their sauce and the beer. Combine it well and then bring the chili to a low boil. Reduce the heat, cover and simmer for an hour.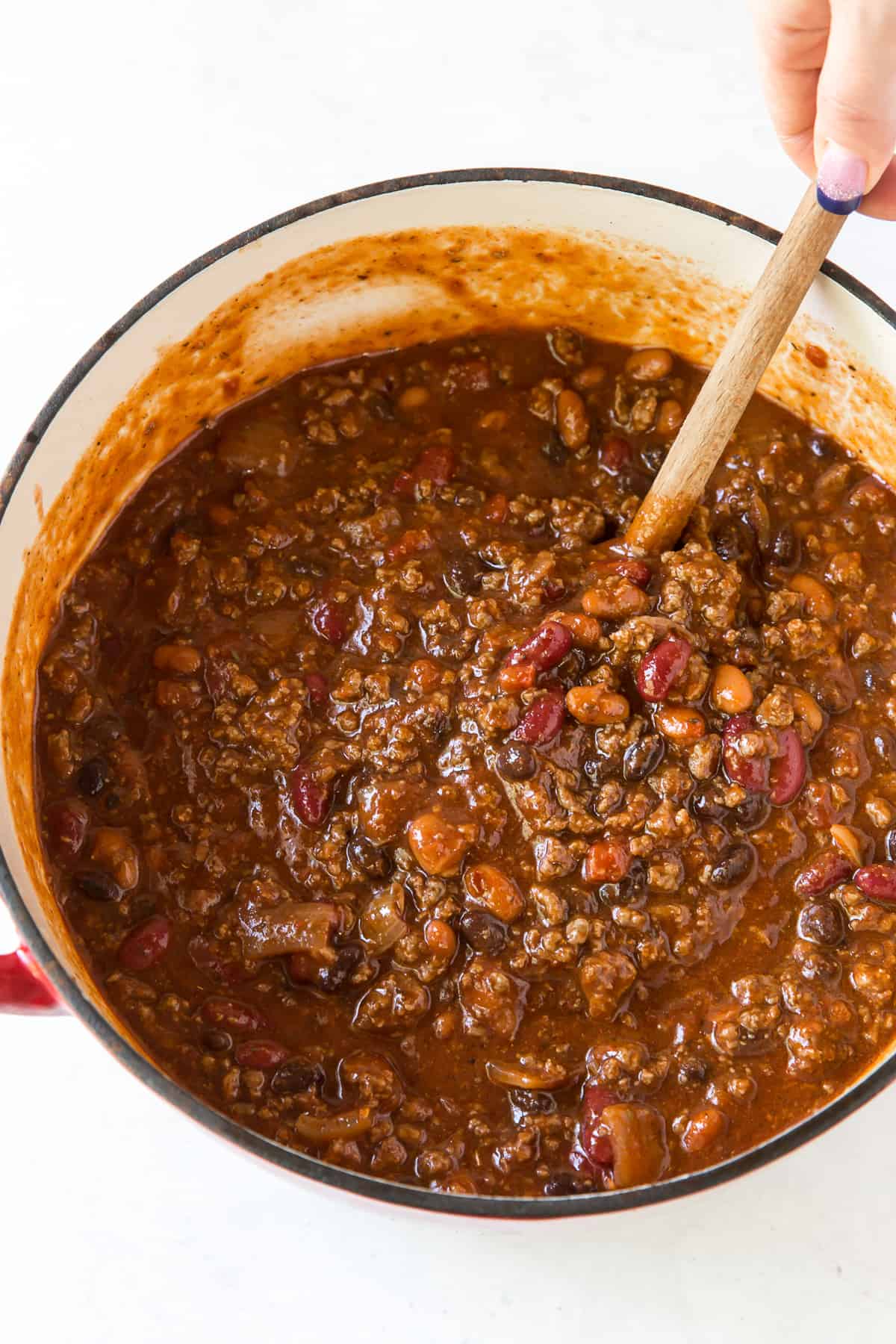 Pull yourself up off the couch just long enough to remove the lid and then let it continue to simmer, uncovered, for another 30 minutes to thicken up a bit.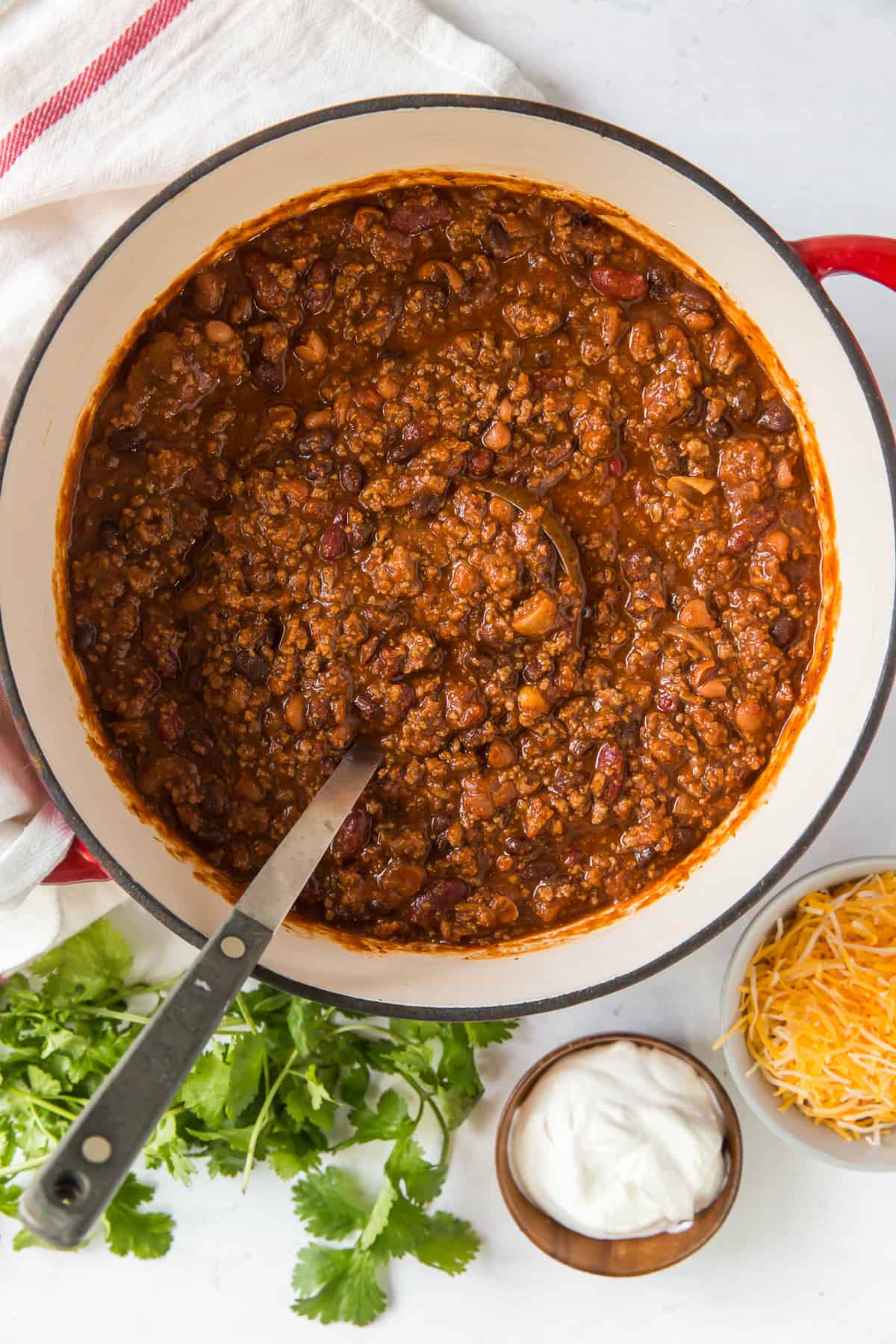 Set out your toppings of choice and let everyone have at it. We love grated cheddar and Monterey Jack cheese, sour cream, and cilantro. Of course an cold beer is a natural accompaniment for this easy beer chili.
How to Store Chili
Cover and refrigerate any leftovers. Cooked chili keeps well for up to 3 days in the refrigerator. For longer storage, transfer the completely cooled chili to zippered gallon-size plastic storage bags. Push out the excess air, close the bags, lay them flat and freeze them solid. Once frozen, the bags can be stacked to save space.
To reheat, safely thaw the bags of chili in the refrigerator, then warm it on the stove or in the microwave.
More Amazing Chili Recipes
This post was originally published on December 1, 2013. It has been updated with new text and images.
Halftime Chili
This hearty Halftime Chili is deliciously seasoned and chock full of beef, beans, and beer! Get all the work done in advance so you don't miss a minute of the next big game.
Print
Pin
Rate
Servings: 8
Calories: 510kcal
Ingredients
2 tablespoons olive oil
1 cup chopped onion
1 tablespoon minced garlic
2 ½ pounds 90% lean ground beef
3 tablespoons chili powder
1 teaspoon ground cumin
1 teaspoon dried basil
1 teaspoon dried oregano
½ teaspoon dried thyme
½ teaspoon crushed red pepper or to taste
½ teaspoon salt or to taste
freshly ground black pepper to taste (I add lots!)
28 ounce can crushed tomatoes
14 ½ ounce can tomato sauce
16 ounce can chili pinto beans in chili sauce (like Bush's), undrained
15 ounce can black beans rinsed and drained
15 ounce can kidney beans rinsed and drained
12 ounce bottle beer (stout, ale, or pilsner style lager recommended)
Optional Toppings
grated cheese, sour cream, cilantro, avocado, crushed tortilla chips or saltine crackers, hot sauce or salsa
Instructions
Heat oil in heavy large pot or Dutch oven over MEDIUM-HIGH heat. Add the onions and garlic. Sauté for about 5 minutes or until the onions have softened. Add the ground beef. Cook and stir, breaking up the ground beef until no pink remains. Drain off as much grease as you can from the pot and return it to the heat. Add the chili powder, cumin, basil, oregano, thyme, crushed red pepper, salt and pepper. Cook, stirring, for about 2 minutes. Mix in the crushed tomatoes, tomato sauce, all the beans, and the beer. Bring to a low boil, then reduce the heat to LOW, cover, and simmer for 1 hour.

Remove the lid and stir the chili. Continue to simmer, uncovered, for an additional 30 minutes.

Taste and season with additional salt and pepper, if needed. Serve with the toppings of your choice.
Nutrition
Calories: 510kcal | Carbohydrates: 42g | Protein: 40g | Fat: 20g | Saturated Fat: 7g | Trans Fat: 1g | Cholesterol: 92mg | Sodium: 1445mg | Potassium: 1590mg | Fiber: 13g | Sugar: 12g | Vitamin A: 1383IU | Vitamin C: 17mg | Calcium: 138mg | Iron: 9mg
Inspired by Bon Appetit and Valerie's Kitchen