This lean Three Bean Turkey Chili will satisfy even the heartiest of appetites. It's packed with lean ground turkey, three kinds of beans, and a variety of Mexican spices. Serve it with the toppings of your choice for a delicious, comforting meal.
Click HERE to sign up for your FREE email subscription and never miss a recipe!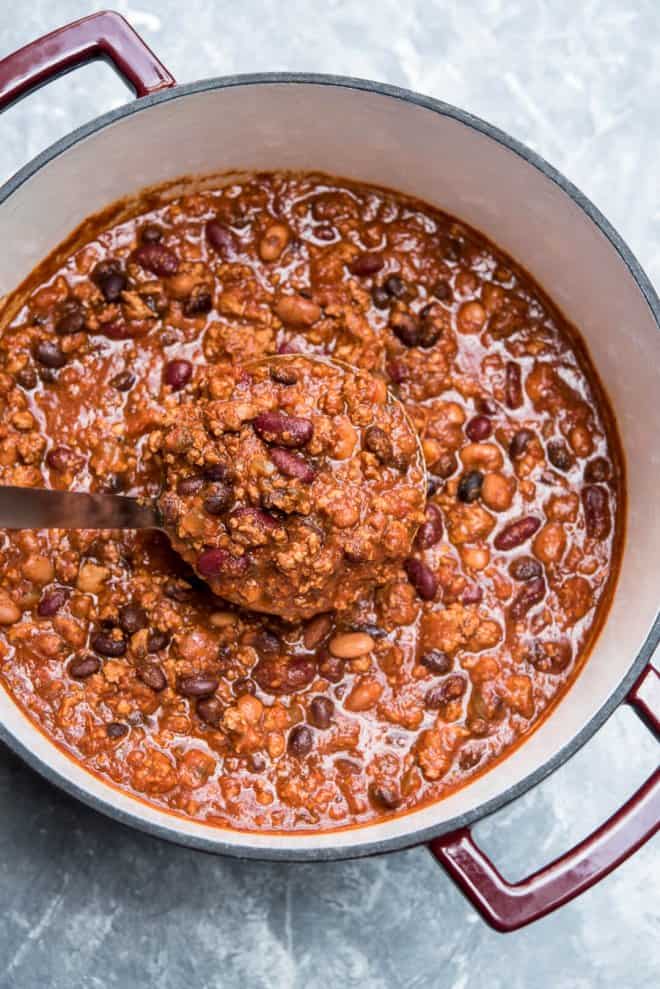 This post was updated with new images and a video on June 5, 2017 but the recipe is and will forever remain the same!
This recipe brought a film crew from Seattle to my house about this time last year. It's that good. Really, I kid you not. They dropped by to film a webisode of What's Cooking for Allrecipes.tv featuring little ole' me cooking away in my kitchen. Goodbye comfort zone! Three of my four boys got in on the action too.
I've been a dedicated user of Allrecipes.com since I stumbled across it back in 2004. Since that time I've prepared and reviewed hundreds of recipes, had many of my own published on the site and have become involved on a much deeper level than I ever imagined. The What's Cooking shoot came at a particularly busy and chaotic time. I was in the process of planning our end of the season water polo banquet, Thanksgiving was days away, and we were just a couple of weeks away from a major re-haul of our kitchen. The video will serve as a record of our old, original white tile counter which is now history.
Although I consider myself a behind the camera kind of gal, it was a blast and a nice distraction from the chaos.
Michael Ketchum (above) and David Albright from Allrecipes really know their stuff and the resulting video is so much fun. Thanks guys. Come back to San Jose any time. You can watch the What's Cooking segment here but come back so we can make chili!
This recipe is the result of over twenty years of tweaking and modifying. It is quite a departure from where it started. As my boys grew and became fans of Mexican food, I started changing it up, adding in a variety of beans and Mexican spices. I like to serve the chili with lots of toppings for everyone to choose from – cheese, sour cream, cilantro, chopped bell pepper, chopped tomato, the possibilities are endless. It's one of those meals we can all feel good about. Hearty enough for my athlete sons but light and healthy for the rest of us.
I cant' tell you how many times I've made this recipe. It has been on regular rotation on our menu since my boys were very young and we love it just as much today.
I made my own little video to show you how it's done.
I want to include a note about how to best achieve the appropriate spice level.
When cooking for kids or others who might be sensitive to spicy foods, I've found I can most consistently achieve the level of heat I'm going for when I use crushed red pepper versus jalapenos. Lots of folks like to include diced jalapenos in their chili but I have found that they can vary quite drastically in the amount of heat they put out.  The 1/2 teaspoon of crushed red pepper flakes I add to this recipe results in what I would consider to be a mildly spicy chili. Adjust the amount up or down to suit your taste or absolutely add some diced jalepenos if you love them.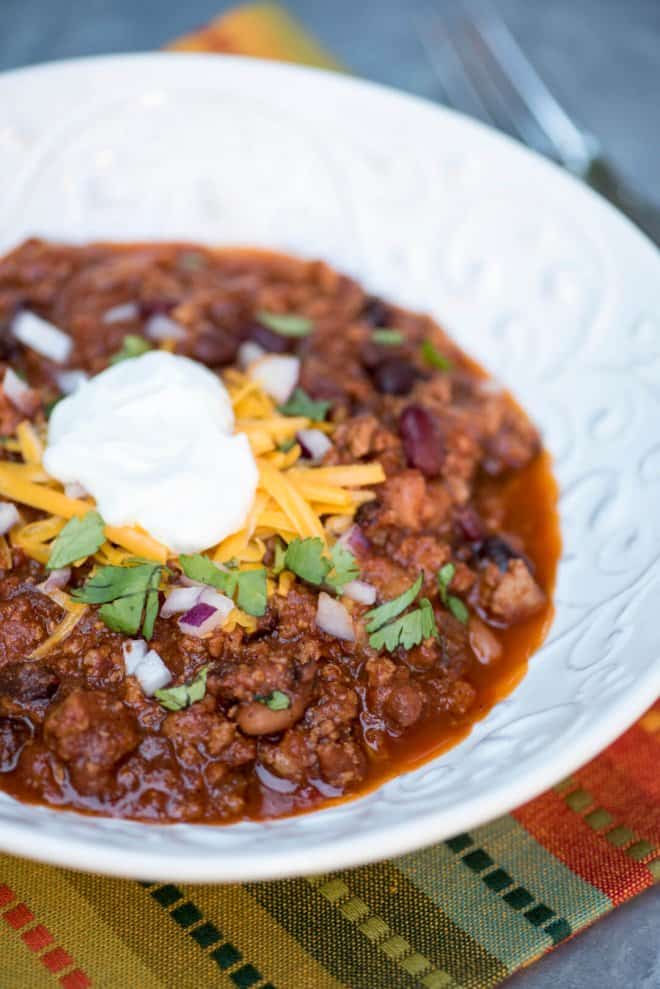 CLICK HERE OR ON THE IMAGE BELOW TO PIN THIS RECIPE!
For more delicious ways to use ground turkey, check out these Turkey Meatballs, my Turkey Black Bean Enchilada Bake, and one of the most popular recipes of all time on Valerie's Kitchen, my Italian Stuffed Zucchini Boats.
Three Bean Turkey Chili
Prep Time 10 minutes
Cook Time 2 hours
Total Time 2 hours 10 minutes
Servings 8
Change the number in the box above to adjust serving size. Please note that size of cookware and cook time may vary.
Ingredients
2 pounds lean ground turkey
1 (28 ounce) can crushed tomatoes
1 (15 ounce) can tomato sauce
1 (15 ounce) can kidney beans, rinsed and drained
1 (15 ounce) can pinto beans, rinsed and drained
1 (15 ounce) can black beans, rinsed and drained
1/2 cup chopped onion
1 tablespoon minced garlic
1/4 cup red wine
2 tablespoons chili powder
1 teaspoon ground cumin
1 teaspoon dried parsley
1 teaspoon dried oregano
1/2 teaspoon fresh ground black pepper
1/2 teaspoon crushed red pepper flakes or to taste (optional)
2 bay leaves
Optional condiments - cheese sour cream, cilantro, bell pepper, tomato
Instructions
Cook and stir the ground turkey in a large pot over MEDIUM heat until crumbly and no longer pink, about 5 minutes. Stir in the crushed tomatoes, tomato sauce, kidney beans, pinto beans, black beans, onion, garlic, and red wine. Season with chili powder, cumin, parsley, oregano, black pepper, red pepper flakes, and bay leaves.

Bring to a simmer over MEDIUM-HIGH heat, then reduce heat to LOW, cover, and simmer 2 hours. Stir the chili occasionally as it simmers.

Remove and discard bay leaves before serving.
Recipe Notes
Crock-Pot method: After adding all ingredients to Dutch oven, transfer the mixture to a Crock-Pot, cover, and cook on low heat for 4 to 6 hours.
From my published recipe on Allrecipes.com
Nutrition
Calories: 369kcal
Fat: 11g
Saturated fat: 3g
Cholesterol: 84mg
Sodium: 947mg
Carbohydrates: 37g
Fiber: 12g
Sugar: 9g
Protein: 32g
Course Main Course
Cuisine American, Mexican