This low-carb, Italian-inspired dish has so much going for it! Italian Stuffed Zucchini Boats include lean ground turkey, fresh veggies, and is topped with cheese and toasted bread crumbs. Less guilt but tons of flavor.
Click HERE to sign up for your FREE email subscription and never miss a recipe!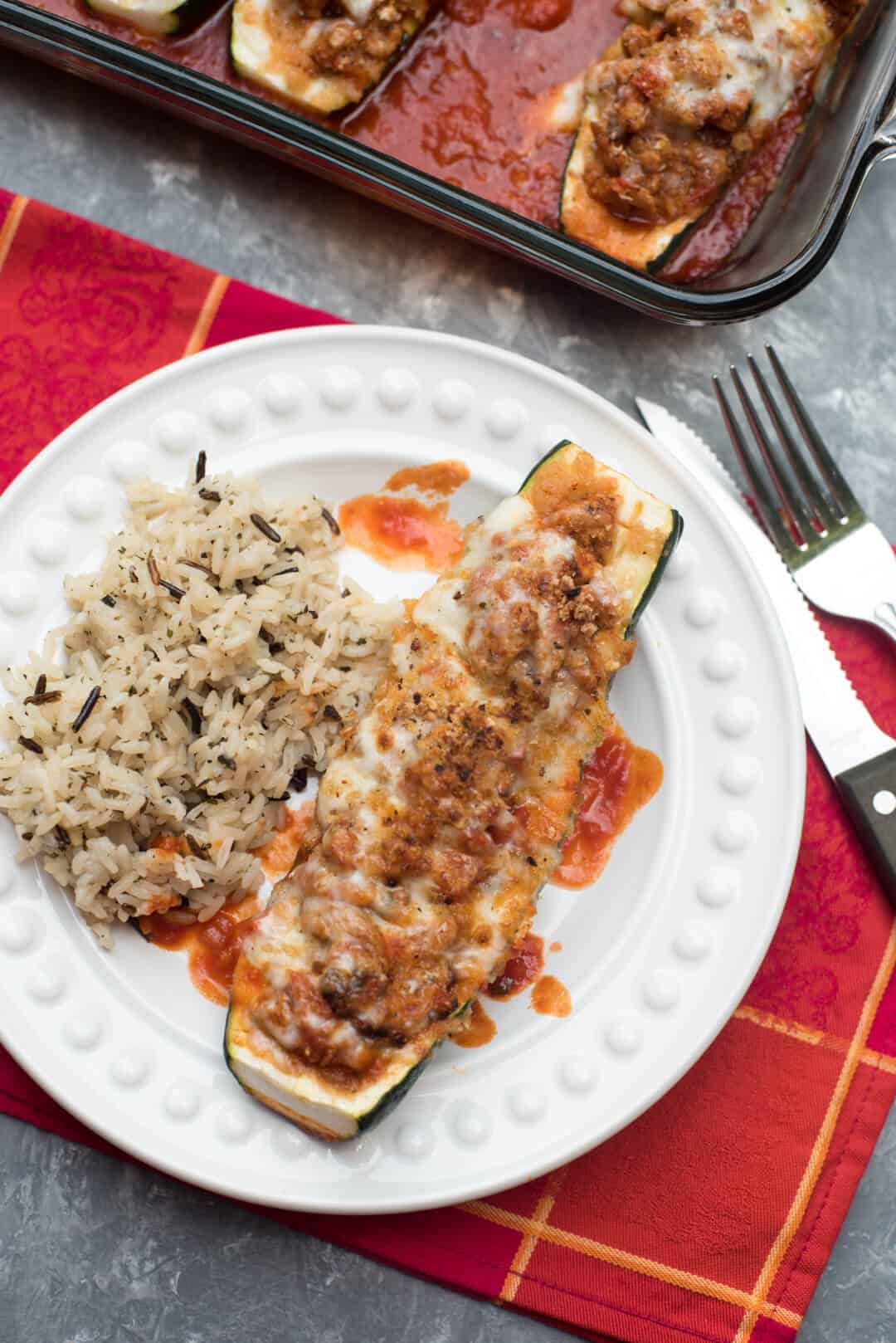 These Italian Stuffed Zucchini Boats have changed my feelings when it comes to Italian food. And, I have some pretty serious feelings on the subject. That's kind of a big deal, isn't it?
When I crave Italian I immediately think of rigatoni, spaghetti, penne, or how about ravioli in a light tomato cream sauce sprinkled with plenty of fresh basil and shaved Parmesan. I mean, come on!
I never thought I could get the same level of serious contentment and satisfaction with a dish that doesn't involve pasta.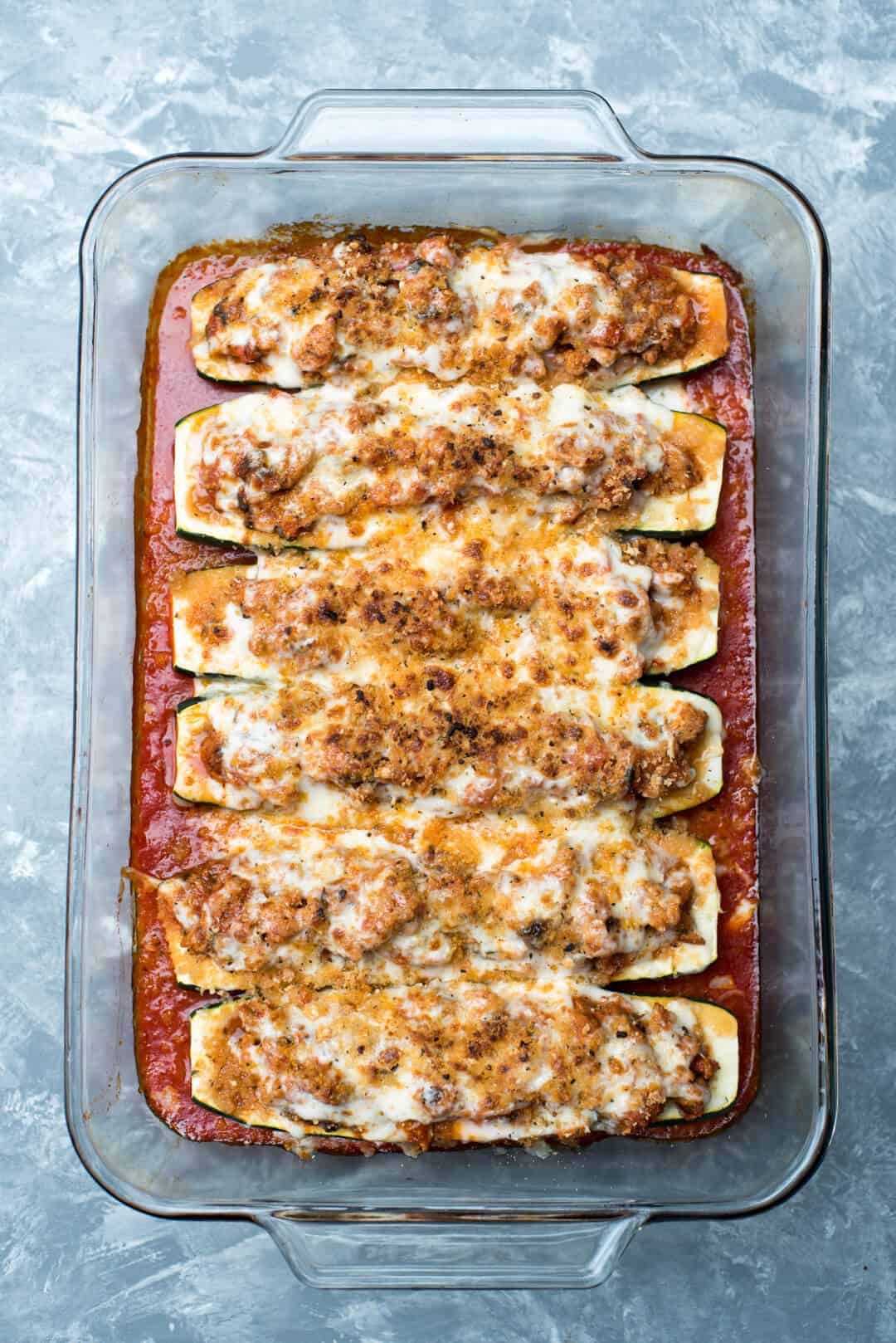 That changed when I tried stuffing zucchini with a delicious mixture of lean ground turkey, onion, garlic, red bell pepper, cremini mushrooms, all simmered with a simple jarred marinara. Okay, so there is cheese on top, but I went with part-skim mozzarella and just enough Parmesan to add a sharp, salty bite.
Loaded with nutrition and all in all, pretty darn good for ya!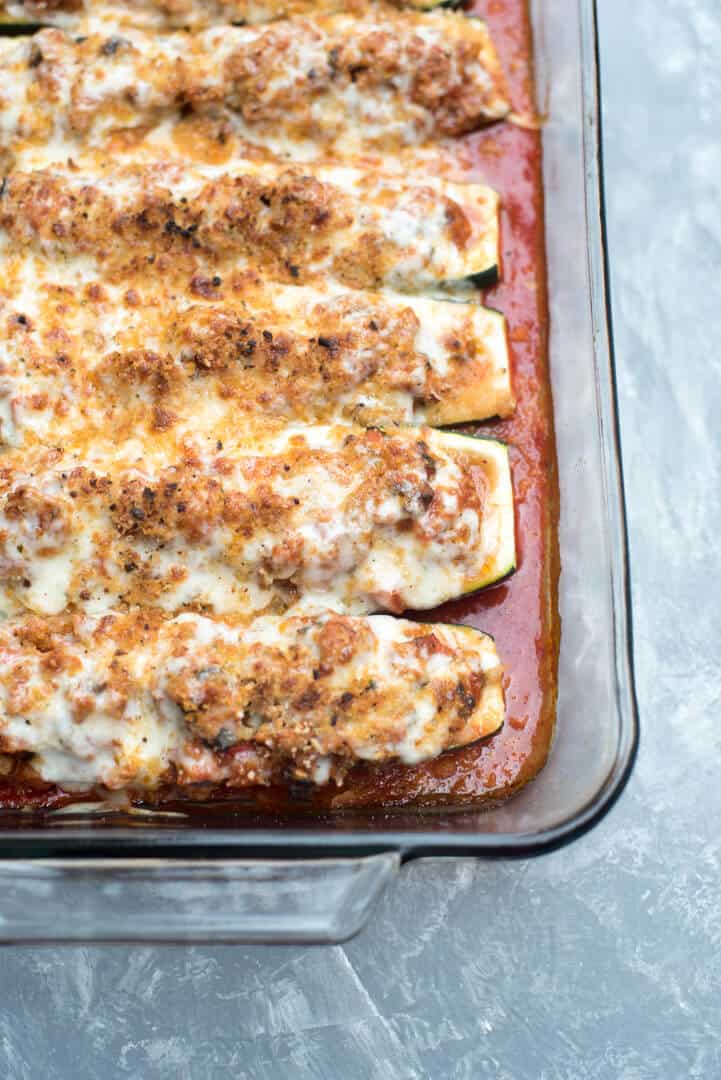 Take a look at the quick how-to video below for my tips on how to cleanly and easily scoop the zucchini and prepare the filling.
ITALIAN STUFFED ZUCCHINI BOATS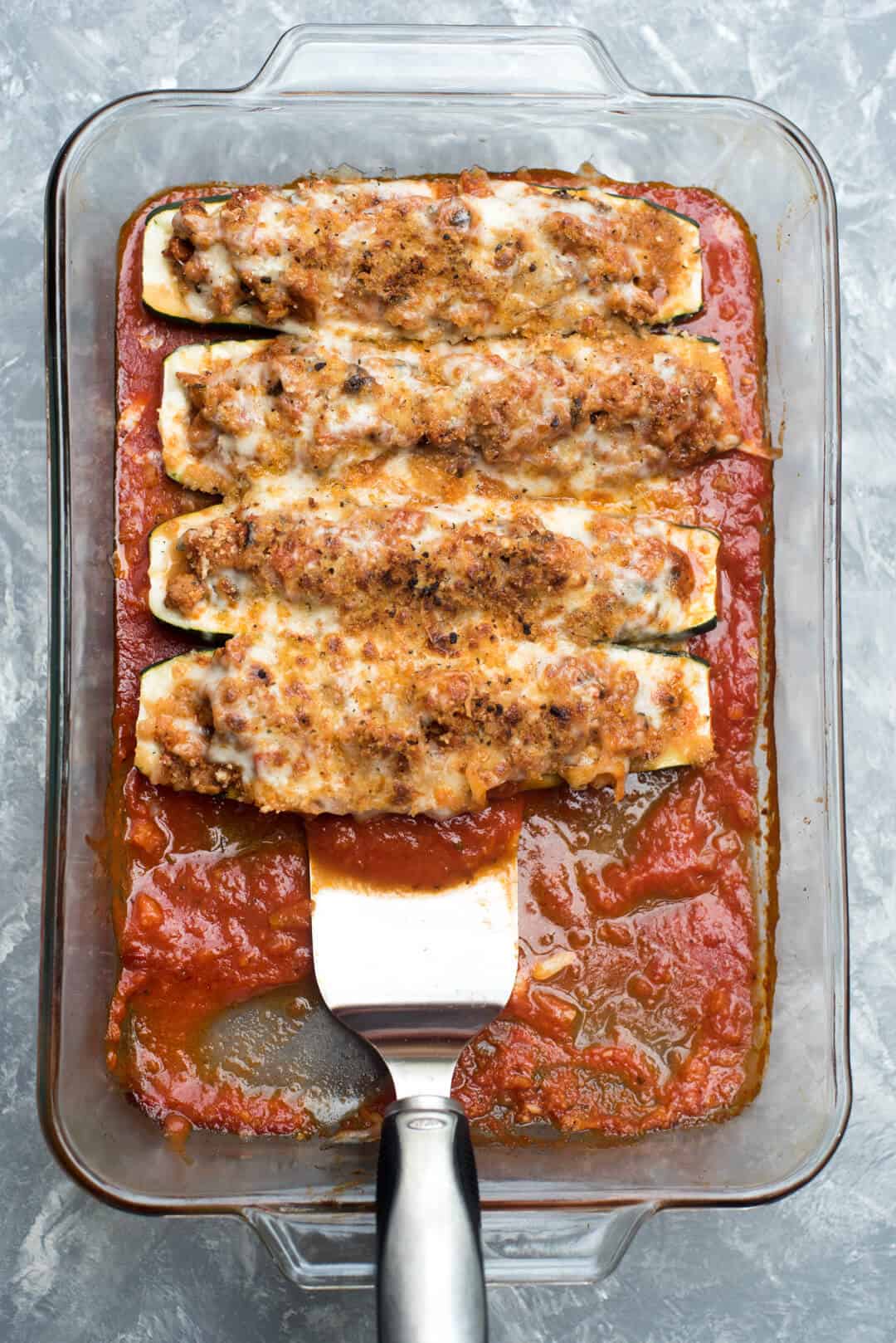 Another great aspect of this recipe – there's really no need to prepare a separate veggie side dish. By all means, you can, but this dish is a vegetable and entree all in one. Add a simple side like rice and a glass of big, bold red wine and I'm a happy girl.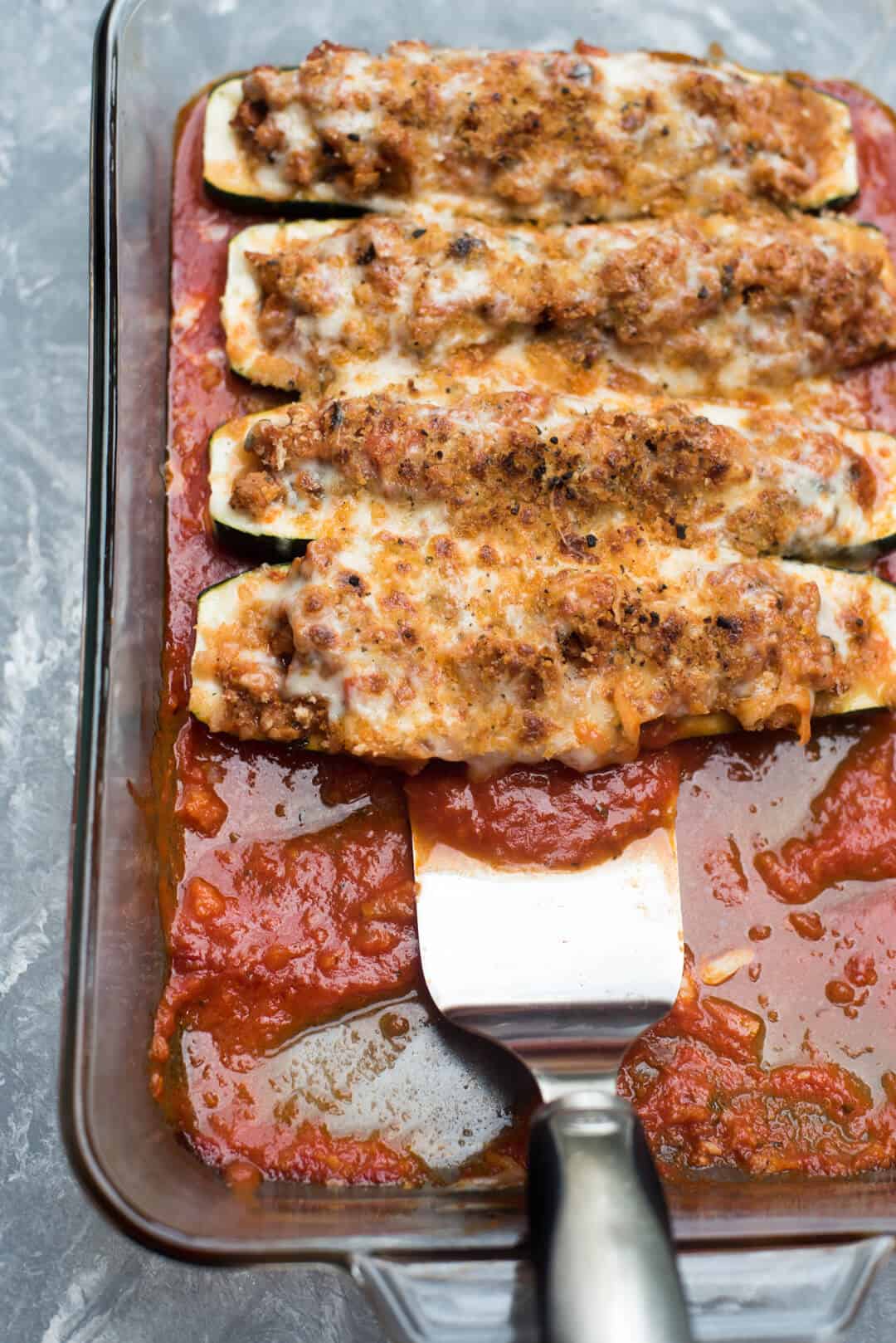 If you like these, you're going to love my Taco Stuffed Zucchini Boats!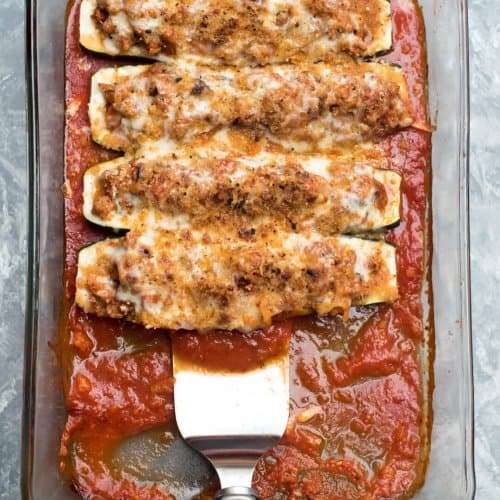 Italian Stuffed Zucchini Boats
This low-carb, Italian-inspired dish has so much going for it! Italian Stuffed Zucchini Boats include lean ground turkey, fresh veggies, and is topped with cheese and toasted bread crumbs. Less guilt but tons of flavor



Print
Pin
Rate
Servings: 6
Calories: 301kcal
Ingredients
3 medium uniformly-sized zucchini
1 (24 to 26 ounce) jar tomato basil marinara, divided
1 tablespoon olive oil
1 pound lean ground turkey or beef
1/3 cup chopped onion
1 teaspoon minced garlic
1/3 cup chopped red bell pepper
1/2 cup chopped brown button mushrooms
1/4 cup chopped fresh Italian parsley
1 teaspoon Italian seasoning
1/2 teaspoon salt
Fresh ground black pepper to taste
1/4 teaspoon crushed red pepper or to taste
1-1/2 cups shredded part-skim mozzarella cheese
1/4 cup shaved or shredded Parmesan
2 tablespoons Italian style panko bread crumbs
Instructions
Preheat oven to 375 degrees F. Measure out 1 cup of the marinara sauce and set aside.

Trim ends from zucchini and slice in half, lengthwise. Use the tip of a spoon to scrape out the zucchini flesh (see recipe note), chop it and set it aside. Place the scooped out zucchini boats into a 13" x 9" baking dish and add about 1" of water. Cover with foil and bake in preheated oven for 20 minutes, until just slightly fork-tender. Remove from oven, and set aside to cool slightly.

Meanwhile, add olive oil to a 12" skillet and place over MEDIUM heat. Add turkey (or beef), onion, bell pepper, and garlic to the skillet. Cook, stirring to break up the ground meat as it cooks. Continue to cook and stir until meat is thoroughly cooked and veggies have softened. Drain off as much grease as possible and return the skillet to the heat.

Add the chopped zucchini flesh, mushrooms, remaining marinara in jar (reserve 1 cup for later), parsley, Italian seasoning, salt, fresh ground black pepper, and crushed red pepper. Stir well to combine. Bring to a simmer, then reduce heat and allow to simmer over low heat for about 15 minutes.

Remove partially cooked zucchini from baking dish and pour off water. Pour the 1 cup of reserved marinara sauce into the empty baking dish and place zucchini boats on top of the sauce.

Divide the filling between the zucchini boats. If you have extra filling, spoon it into the dish around the zucchini boats. Cover the dish with foil, and bake for 20 minutes, or until zucchini is fork tender. Remove dish from oven and set oven to BROIL.

Remove foil and sprinkle zucchini boats with mozzarella, Parmesan and the panko bread crumbs. Place dish in oven, watching closely, and cook for just a couple of minutes until cheese has melted and bread crumbs are golden brown.
Notes
My tip for scraping out zucchini flesh. Use a sharp knife to lightly score the zucchini to outline the area you want to scoop out being very careful not to cut through. You just want an outline. Use the tip of a spoon to scrape the flesh out and on to a cutting board.
Nutrition
Calories: 301kcal | Carbohydrates: 11g | Protein: 28g | Fat: 18g | Saturated Fat: 7g | Cholesterol: 84mg | Sodium: 527mg | Fiber: 4g | Sugar: 4g