This Kickin' Cajun Seasoning Mix adds a big flavor punch to a wide variety of recipes. Skip the store-bought blend and make your own Cajun seasoning at home with spices you most likely already have in your pantry.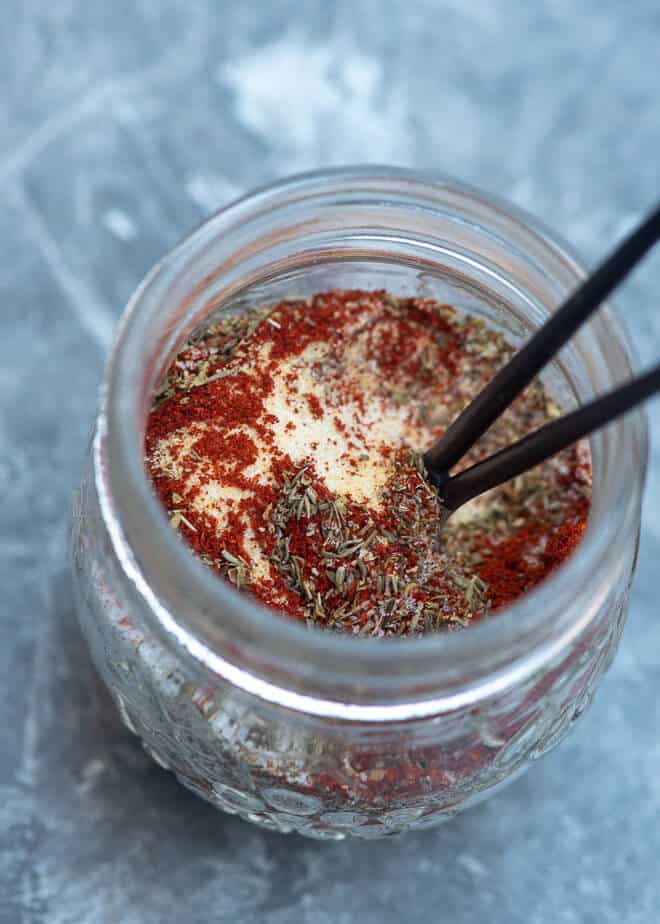 It was a strong craving for blackened fish that prompted me to create this recipe exactly three years ago and this fabulous blend of spices resulted in the most delicious Blackened Mahi Mahi. It is so good, in fact, that it rivals the restaurant version we love so much.
Since that time I've discovered just how versatile this wonderful Cajun seasoning mix is and decided it was time to share my recipe for a big batch that you can mix up and keep stored in your pantry.
Super convenient and a great time-saver.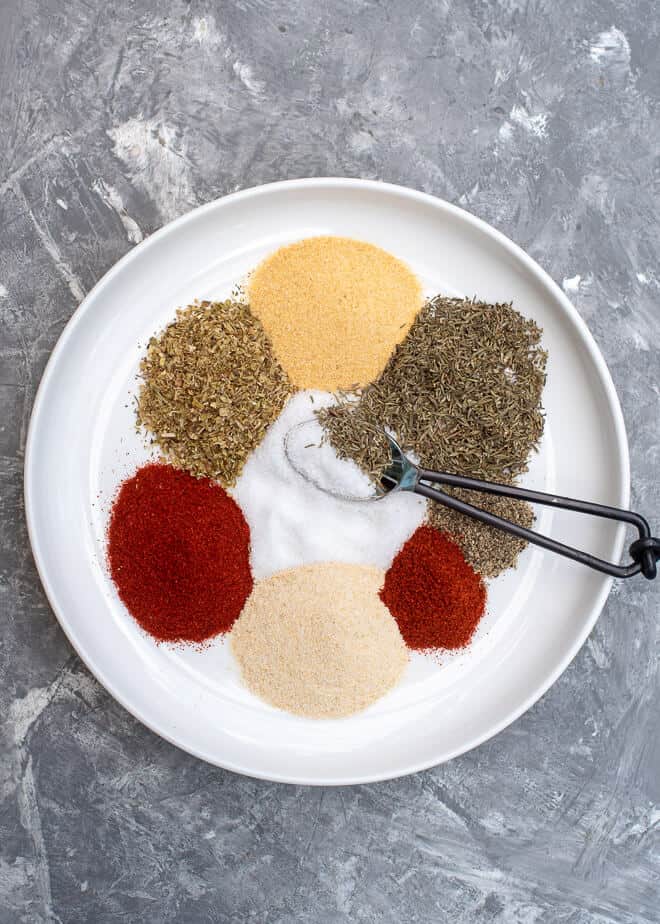 It is a blend of onion powder, smoked paprika, dried oregano, granulated garlic (or garlic powder), dried thyme, freshly ground black pepper, and cayenne pepper.
Tips For Making Kickin' Cajun Seasoning Mix
Granulated Garlic
If you are not familiar with granulated garlic, I highly recommend you pick some up. Costco has a good-sized container of it in their spice section and it's a great value. It has a coarser, more granular consistency than garlic powder and is the best choice for rubs and seasoning blends. Granulated garlic adds great garlic flavor to recipes but doesn't burn at high temperatures the way that fresh garlic will, making it a perfect choice for roasting veggies and meats. It also combines better with liquids since it doesn't clump.
I love granulated garlic so much that I rarely use garlic powder anymore.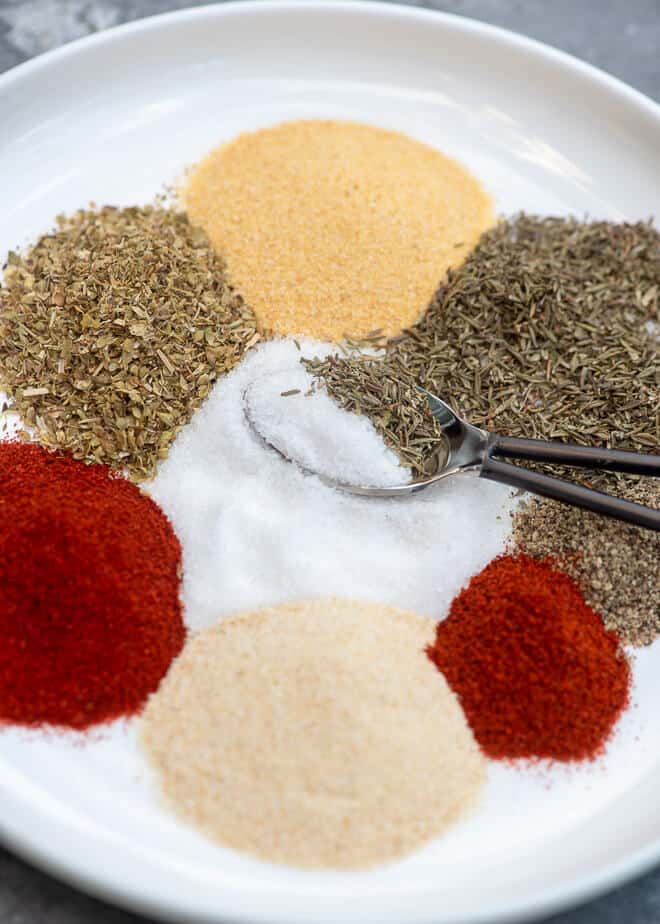 Sea Salt
I use fine ground sea salt for all of my seasoning blends. Regular table salt will always work but the flavor of sea salt really shines in this recipe. It has become a popular choice over the years so you should easily be able to find it at your local grocery store. You can swap it out for table salt in the same amounts in most recipes.
Smoked Paprika
Smoked paprika is where it's at! Whatever you do, don't substitute regular "sweet" paprika or the Hungarian variety. You want that rich, smoky flavor that only smoked paprika delivers. It is one of my favorite spices and a quick way to add big flavor to a variety of recipes.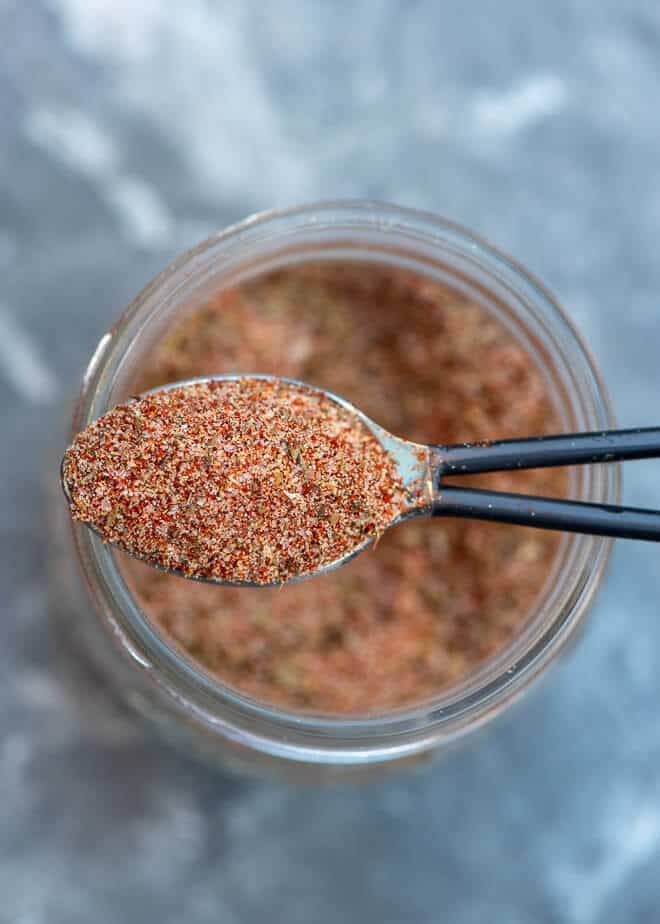 Store the mixture in a mason jar or other airtight container on a cool dark shelf in your pantry or kitchen cupboard where it will stay fresh and ready to use for up to two years.
How to Use Kickin' Cajun Seasoning Mix
Let me count the ways!
Blackened Mahi Mahi and Blackened Salmon – trust me when I say that both of these are crazy good.
Burgers – Mix in about 2 teaspoons per pound of ground beef or turkey to create super flavorful Cajun burgers.
Grilled Meats – Make a rub with equal amounts olive oil and Kickin' Cajun Seasoning Mix to coat chicken, steak, or pork tenderloin before popping them on the grill.
French Fries – Skip the salt and sprinkle some of the seasoning on freshly baked French fries.
Cheesy Dips – Use it as a substitute for other seasoning blends to amp up the flavor in anything from Cheesy Artichoke Dip to Cheesy Hot Crab Dip.
Salad Dressing – Mix a little into Ranch dressing for a delicious salad or baked potato topper.
And, of course it is the basis for a variety of Cajun and Creole dishes like jambalaya and gumbo.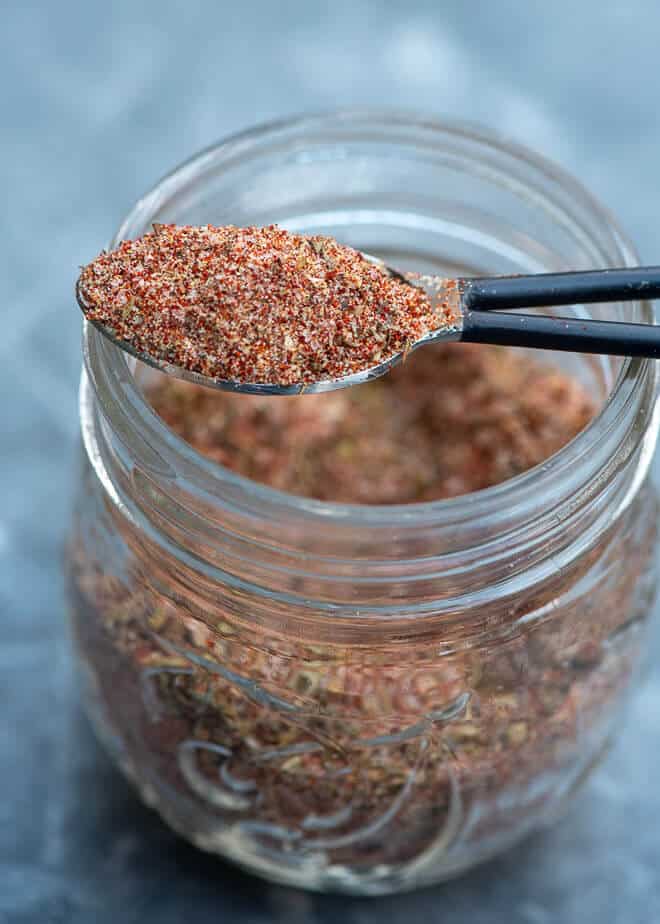 Kickin' Cajun Seasoning Mix
Prep Time 5 minutes
Total Time 5 minutes
Servings 16 servings
Change the number in the box above to adjust serving size. Please note that size of cookware and cook time may vary.
Ingredients
2 tablespoons onion powder
4 teaspoons granulated garlic or garlic powder
4 teaspoons smoked paprika
4 teaspoons dried thyme
4 teaspoons dried oregano
4 teaspoons fine grain sea salt
2 teaspoons freshly ground black pepper
2 teaspoons cayenne pepper or to taste
Instructions
Add the onion powder, granulated garlic or garlic powder, smoked paprika, thyme, oregano, salt, black pepper and cayenne pepper to a small mason jar or airtight container. Seal it with the lid and shake well to combine.

Store the seasoning mix on a cool, dry pantry shelf.
Recipe Notes
Yields 10 tablespoons which comes to a little over 1/2 cup.
Course Seasoning Mix
Cuisine American, Cajun