This bright and pretty Layered Ham and Broccoli Pasta Salad with a made from scratch Lemon Herb Ranch Dressing will add a pop of color to your next spring or summer buffet.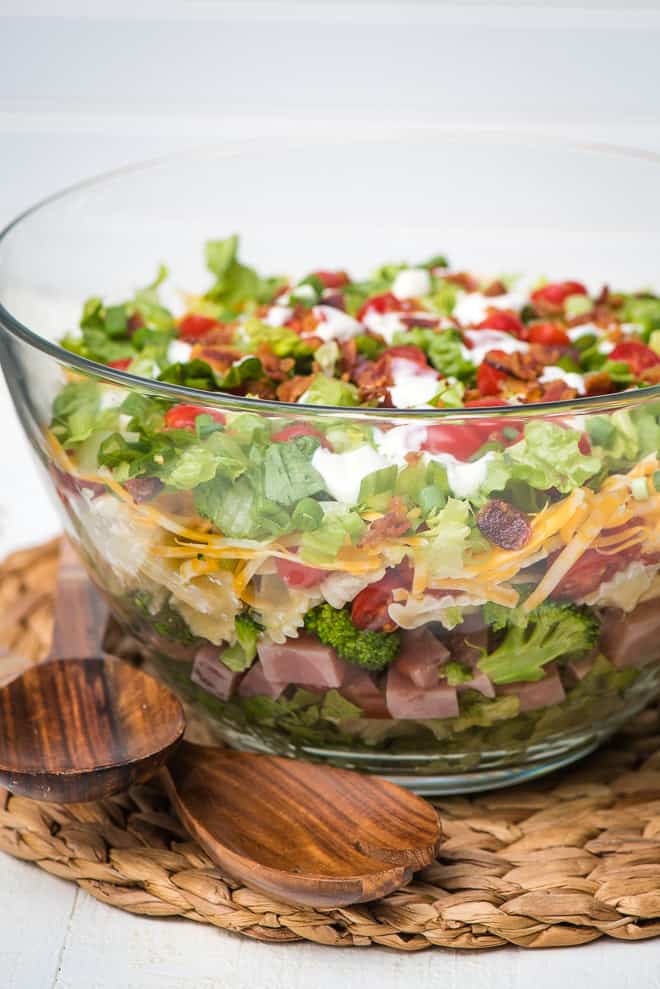 I love me a good, old-fashioned layered salad for spring and summer gatherings.
Layered salads are a potluck standby for good reason. This is a lifesaver of a recipe because it can be assembled in advance of your gathering and set in the refrigerator to chill while you attend to other tasks. And, it's just really pretty on the table.
It's a wholesome dish with lots of wow factor and a fun way to add some crunch and flavor to your menu.
The Ingredients in Layered Ham and Broccoli Pasta Salad
The layers in this salad consist of:
See the easy instructions for layering the ingredients on the recipe card below.
This recipe would work wonderfully with chopped grilled or rotisserie chicken in place of the ham but if you've got holiday ham leftovers, this is a great way to use them.
Layered salads are at their best when prepared in a glass serving bowl like mine pictured here but a trifle dish is also a good choice.
The dressing is a simple homemade Ranch with a little fresh lemon juice and herbs to brighten it up. You can absolutely substitute your favorite store-bought Ranch dressing to speed things along if you'd like.
A small amount of the dressing is tossed with the cooked bow-tie pasta before the layering process to keep it from sticking together and to ensure the creamy flavor of the dressing permeates the dish.
The salad can be assembled and served immediately or refrigerated for 6 to 8 hours. I tend to be conservative with how long I'll refrigerate a dish like this when serving a group to make sure it's crisp and delicious but we've munched on leftovers of this salad for a day or two afterward and it was still wonderful.
Layered Ham and Broccoli Pasta Salad
This bright and pretty Layered Ham and Broccoli Pasta Salad with a made from scratch Lemon Herb Ranch Dressing will add a pop of color to your next spring or summer buffet.
Prep Time 20 minutes
Total Time 20 minutes
Servings 10
Change the number in the box above to adjust serving size. Please note that size of cookware and cook time may vary.
Ingredients
8 ounces bow-tie pasta
2 stalks broccoli, cut into florets
1 small head romaine lettuce, sliced, divided
2 cups chopped fully-cooked ham
8 to 10 ounces cherry or grape tomatoes, halved
5 green onions
1 cup shredded Colby Jack or sharp cheddar cheese
4 strips crisp cooked bacon
1 tablespoon chopped fresh chives
Lemon Herb Ranch Dressing:
3/4 cup mayonnaise
1/3 cup buttermilk, or as needed
1/2 teaspoon minced garlic
1 tablespoon chopped fresh chives
1 tablespoon chopped fresh Italian parsley
1/2 lemon, juiced
1/4 teaspoon salt
freshly ground black pepper, to taste
Instructions
Bring a large pot of salted water to a boil. Add the pasta and cook about two minutes shy of the package directions. Transfer the cooked pasta to a colander, rinse with cool water, drain very well and transfer to a medium mixing bowl.

Bring the pasta water back to a boil and add the broccoli. Cook for two minutes, watching closely to avoid over-cooking (you want it still quite crisp). Remove from the heat and immediately rinse the broccoli in cool water to stop the cooking process. Drain well and set aside.

Whisk the dressing ingredients together in a small mixing bowl, adding as much buttermilk as you'd like to reach desired consistency.

Add a few tablespoons of dressing to the pasta in the mixing bowl and toss to combine.
To assemble the salad:
Arrange half of the lettuce in the bottom of a large glass serving bowl (a trifle dish works well). Top with the ham, broccoli, pasta, half of the tomatoes, green onions, cheese, remaining lettuce and tomatoes. Drizzle some of the remaining dressing on top, scatter the crumbled bacon over the top, sprinkle with the chives and serve.
Make-Ahead Instructions:
Assemble the salad as directed but stop with the last layer of lettuce and tomatoes, reserving the remaining dressing, bacon, and chives. Cover and refrigerate the assembled salad, dressing, bacon, and chives separately for up to 8 hours. When ready to serve, drizzle some of the remaining dressing on top and garnish with remaining bacon and chives.

Serve the salad with the remaining dressing on the side.
Nutrition
Calories: 318kcal
Fat: 18g
Saturated fat: 6g
Cholesterol: 37mg
Sodium: 612mg
Potassium: 442mg
Carbohydrates: 22g
Fiber: 3g
Sugar: 2g
Protein: 15g
Vitamin A: 5895%
Vitamin C: 34.3%
Calcium: 138%
Iron: 1.6%
Course Salad
Cuisine American
Valerie's Kitchen is a participant in the Amazon Services LLC Associates Program, an affiliate advertising program designed to provide a means for us to earn fees by linking to Amazon.com and affiliated sites.