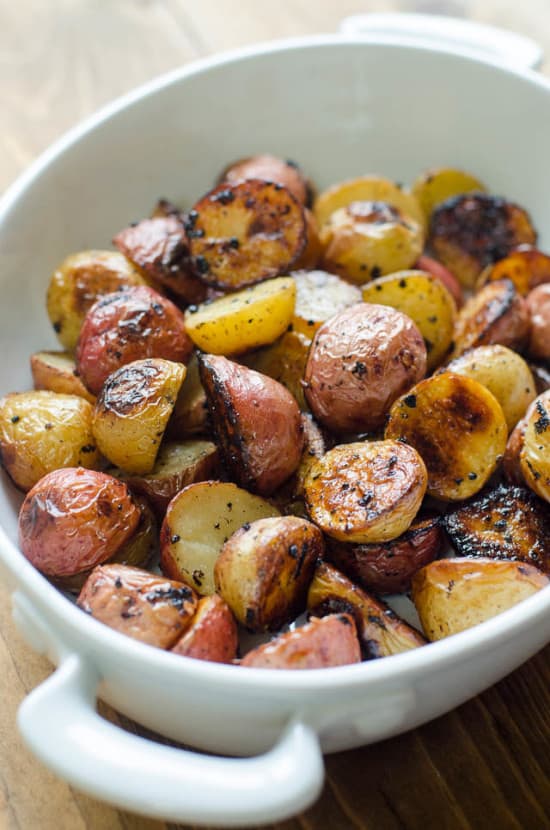 These roasty, toasty potatoes are one of my favorite, super simple sides to serve along side almost anything.
Say that ten times fast.
They are easy, foolproof, and incredibly tasty and I make them so often that I just had to share them with you. Sharing is caring…or something like that. Let's get cooking!
Pick up 2 pounds of baby red or yellow potatoes at the grocery store. I'm using a combo of both this time around. Give them a good rinse and drain them well.
Cut the potatoes in half and transfer them to a large mixing bowl. Add a little melted butter, some olive oil, a good amount of fresh minced garlic, salt, and the juice from an entire lemon. Always go for Meyer lemons if you can get your hands on them. They are super juicy and a bit sweeter than the regular variety.
Transfer the potatoes to a large rimmed baking sheet that you've coated with non-stick cooking spray. Pop them in a 375 degree oven and let them roast for about 40 to 45 minutes or until fork-tender and golden brown. Toss them with a spatula about every 15 minutes while they cook.
After they roast, add a bit more salt, if needed.
If you happen to have any leftover and you're crazy like a fox (or like me) you might want to try this.
Got any of this stuff on hand?
Start with some of your roasted potatoes.
A little bit of the chili on top.
How about some cheese?
Nice and melty out of the microwave.
Top it off with a little sour cream and you have lunch! Roasted potato chili nachos.
They are also excellent served with some scrambled eggs for breakfast.
Enjoy!
Lemon and Garlic Roasted Potatoes
Prep Time 5 minutes
Cook Time 40 minutes
Total Time 45 minutes
Servings 4 servings
Change the number in the box above to adjust serving size. Please note that size of cookware and cook time may vary.
Ingredients
2 pounds small red or yellow potatoes quartered
1 tablespoon butter melted
1 tablespoon olive oil
3 cloves garlic minced (approximately 2 teaspoons)
1 lemon
Salt to taste
Instructions
Preheat oven to 375 degrees. Generously coat a large rimmed baking sheet with non-stick cooking spray.

Rinse and drain potatoes well. Cut in half and place in a large mixing bowl. Mix melted butter with olive oil in a small bowl and drizzle evenly over the potatoes. Sprinkle the potatoes with minced garlic and the juice from one lemon. Season to taste with salt. Transfer potatoes to prepared baking sheet.

Roast in the oven, tossing with a spatula every 15 minutes or so. Cook for about 40 minutes or until fork tender and golden brown.