Fresh lemon and ricotta cheese turn regular pancakes into something very special. With their light, luxurious texture and fresh, bright flavor, these Lemon Ricotta Pancakes with Blueberry Sauce are the perfect way to welcome spring.
I sat in on a writing seminar for food bloggers a couple of years back and I'll never forget one piece of advice given by the very well educated and I'm sure, very qualified woman teaching the session. "For the love of God, whatever you do, don't mention the weather".
On that note…
We've gone from what felt like non-stop rain (to this California girl) to bright blue skies and glorious sunny days around these parts, reminding us that spring is on its way. As a result, my cooking brain is beginning the shift from warm, comforting winter cuisine to the fresher, lighter fare that seems to fit the weather. These pancakes are the perfect way to crossover.
There's plenty of comfort here, but these are not your basic dense, heavy pancakes. The ricotta lends a luxuriously light texture and the fresh lemon flavor practically demands that you pour a big scoop of fresh blueberry sauce right over the top.  
They're not any more difficult to prepare than a basic pancake recipe and a great way to use up any ricotta cheese you might happen to have on hand.
Shall we?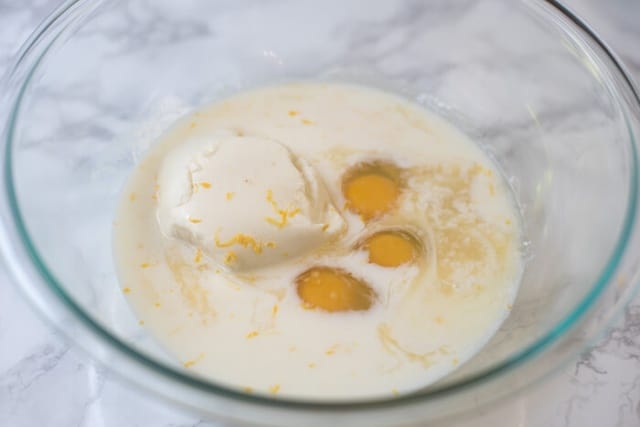 In a large mixing bowl combine 1 cup ricotta cheese (I used part-skim), 3 eggs, 1 cup milk, 1/2 teaspoon vanilla, and the juice and zest from one lemon. If you can get your hands on a Meyer lemon do it! They are super sweet and juicy and always a good choice, although, any type of lemon will do. Vanilla is a nice way to warm up a recipe but we're just adding a touch so that the lemon can shine through. It's all about the lemon!
Whisk in the dry mixture – flour, sugar, baking powder, and salt. See the recipe below for the precise amounts.

Whisk the mixture just until the dry ingredients are incorporated – no over-whisking allowed!
I used my ancient electric griddle (this Presto Electric Griddle 
would do the trick). You can also you a large skillet. In any event, coat the surface with non-stick cooking spray. You'll want to cook the pancakes over medium heat which translates to about 350 degrees if you're using an electric griddle. Use a 1/4 cup measure to scoop the batter and pour it out on your cooking surface. Cook until nicely browned on both sides and then top each pancake with a small pat of butter. Yum.
The fresh blueberry sauce is incredibly simple and consists of just a few ingredients. You can make it ahead of time and store it in a mason jar or other airtight container in the refrigerator for up to a week and it will be ready to go when you are ready to serve.
Leftovers? Not a problem! It is delicious served either warm or cold with Greek yogurt, stirred into your morning oatmeal, or spoon some of it over a big scoop of vanilla ice cream or a slice of pound cake. Incredible! Take a look at the recipe below for the simple instructions.
Lemon Ricotta Pancakes with Blueberry Sauce
Prep Time 10 minutes
Cook Time 20 minutes
Total Time 30 minutes
Servings 14 pancakes
Change the number in the box above to adjust serving size. Please note that size of cookware and cook time may vary.
Ingredients
Lemon Ricotta Pancakes:
1-1/4 cups all-purpose flour
1/4 cup sugar
1 heaping tablespoon baking powder
1/4 teaspoon salt
1 cup ricotta cheese
3 eggs
1 cup milk
1/2 teaspoon pure vanilla extract
1 lemon zested and juiced
4 tablespoons butter sliced into small pats
Blueberry Sauce:
1/2 cup sugar
1 tablespoon cornstarch
1/3 cup water
2 cups fresh blueberries rinsed and drained
Instructions
For the Lemon Ricotta Pancakes:
In a small mixing bowl combine flour, sugar, baking powder, and salt. In a separate large mixing bowl combine the ricotta cheese, eggs, milk, vanilla, lemon juice and zest. Whisk the flour mixture into the wet ingredients until just combined.

Heat an electric griddle to 350 degrees or alternately, place a large skillet over medium heat. Spray your cooking surface with non-stick cooking spray. For each pancake, measure out 1/4 cup of batter, pour on to the hot cooking surface and cook on both sides until light golden brown. Top each pancake with a small pat of butter. Repeat with remaining batter.
For the Blueberry Sauce:
Combine sugar and cornstarch in a medium saucepan. Gradually stir in water and place pan over medium heat. Add blueberries and cook, stirring, until mixture comes to a low boil. Continue to cook and stir for an additional 3 or 4 minutes, until thickened. Remove from heat and serve right away or cool to room temperature and transfer to an airtight container and refrigerate until ready to serve.

This sauce is delicious served either warm or cold over pancakes, waffles, oatmeal, Greek yogurt, ice cream, pound cake, etc. Store leftovers in an airtight container in the refrigerator for up to a week.
Valerie's Kitchen is a participant in the Amazon Services LLC Associates Program, an affiliate advertising program designed to provide a means for us to earn fees by linking to Amazon.com and affiliated sites. For more information on our site policies click HERE.