These old-fashioned Buttermilk Pancakes are a classic, comforting breakfast that is perfect for a lazy Sunday morning.
It's been an eventful week. There was the trip to Seattle, then returning home to the piles of work that had accumulated in my absence, then this happened.
Somehow, inexplicably, it was time for Boy #4 to have his graduation photo taken. It was the first time for him, the last for me. I blinked and it has become the summer before his senior year of high school. I've sat through these photo sessions three times previously with his older brothers. Each time it was touching, this time was different.
The photographer's assistant must have noticed my weak emotional state so he allowed me to come into the studio and stand quietly in the back. I was instructed not to "bug the photographer" and I heeded this warning, only interrupting once to tell him to straighten his bow tie. It felt like it was over in 30 seconds, and as he walked towards me in the tux jacket and his basketball shorts, I felt it coming. The eyes filling with tears, the throat closing up, and he saw it too. I made a quick exit as he made his way to the changing rooms so I wouldn't melt into an embarrassing, weeping, mess in front of everyone. I managed to pull myself together but it was a close call. I imagine that over the course of the next year, I will be experiencing many of these close calls. Firsts for him, and lasts for me. My baby, is going to graduate.
It seems fitting that I'm sharing one of my mom's recipes today since I am the youngest in our big family, and I was her baby. Her pancakes were one of the things she was best known for. We would seriously have crowds of people in our house on weekend mornings for her pancake breakfasts. My big family alone was enough to fill our house but add in their significant others, and their kids, and a few friends and neighbors and you had a party.
The ingredient list is small – all-purpose flour, baking soda, salt, sugar, buttermilk, an egg, and butter. I also like to have some non-stick cooking spray on hand – more on that later. The recipe below can be scaled up if you are feeding more. I am doubling it here in my step by step. I believe I would be run out of town if I didn't at least double it.
Whisk the dry ingredients together and then whisk in the buttermilk just until moistened. You don't want to over stir the batter.
Time for the eggs.
In goes the melted, and slightly cooled butter.
I use my battered and abused stove top grill to cook my pancakes but you can use any large skillet. The women from my mom's era used bacon fat to cook their pancakes. Gasp! There was no waste in the kitchen in those days and bacon fat was used and reused before it was tossed out. Although I don't recommend this practice, if you've never had pancakes, or eggs, or hash browns, cooked in bacon fat you don't know what you're missing, and maybe that's a good thing. It's heavenly.
We will skip the bacon fat and opt for non-fat cooking spray here. Coat your pan well and place it over medium heat.
Pour a scant 1/3 cup of batter on the heated pan, leaving a little space between the pancakes.
When you see bubbles begin to form on the surface, lift up the edge of the pancake with your spatula to see the bottom. When it is nicely browned, flip the pancakes over.
After flipping the pancakes, my mom would use the tip of her spatula to make an indentation in the cooked side of the pancake.
Then she would put a small amount of butter on each pancake and allow it to melt while they finished cooking on the other side. The indentation helps the pancake cook through more easily and the butter, well you know what the butter does.
Once the pancakes have browned on the other side, remove them to a platter and keep warm. Repeat with remaining batter.
They look naked. We should do something about that.
That's better. How about some syrup?
They'll come from miles around. The perfect Sunday breakfast.
This recipe can be doubled or even tripled if you have a full house.
Enjoy!
Check out these Pumpkin Pancakes for a delicious fall season twist or my fresh and bright Lemon Ricotta Pancakes.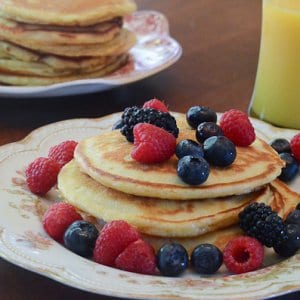 Mom's Buttermilk Pancakes
These old-fashioned Buttermilk Pancakes are a classic, comforting breakfast that is perfect for a lazy Sunday morning.
Ingredients
1

cup

all-purpose flour

1

teaspoon

baking soda

1/4

teaspoon

salt

1

teaspoon

sugar

1 1/4

cups

buttermilk

1

egg

1 to 2

tablespoons

butter

,

melted and slightly cooled

non-stick cooking spray and additional butter

fresh berries

,

optional and maple syrup for topping
Instructions
In a large bowl, whisk together the flour, baking soda, salt, and sugar. Add the buttermilk and whisk, just until all dry ingredients are moistened. Add egg and melted butter and whisk till incorporated. Batter will be bit lumpy.

Coat a stove-top griddle or large pan with non-stick cooking spray. Using a 1/3 cup measure, pour out a scant 1/3 cup of pancake batter on to griddle or pan. Repeat, leaving some space between pancakes. Cook for about 2 minutes or until lightly browned on the bottom. Use a spatula to carefully flip the pancakes. Make a small indentation with the spatula on top of each pancake and dot with a bit of butter. Allow to cook for another minute or two and remove to a platter. Keep warm while cooking remaining pancakes.

Serve with maple syrup, berries, or any other pancake toppings of choice.
Nutrition
Serving:
1
pancake
·
Calories:
94
kcal
·
Carbohydrates:
14
g
·
Protein:
4
g
·
Fat:
2
g
·
Saturated Fat:
1
g
·
Cholesterol:
26
mg
·
Sodium:
269
mg
·
Potassium:
81
mg
·
Fiber:
1
g
·
Sugar:
2
g
·
Vitamin A:
91
IU
·
Vitamin C:
1
mg
·
Calcium:
49
mg
·
Iron:
1
mg
Nutrition information is automatically calculated using generic ingredients, and is an estimate not a guarantee. For more accurate results, please refer to the labels on your ingredients at home.
Did You Make This?
We love seeing what you've made! Tag us on social media at @fromvalerieskitchen for a chance to be featured