A slightly sweet and wonderfully savory way to prepare this Thanksgiving classic. Maple Pecan Roasted Brussels Sprouts will make a delicious addition to your holiday menu!
Click HERE to sign up for your FREE email subscription and never miss a recipe!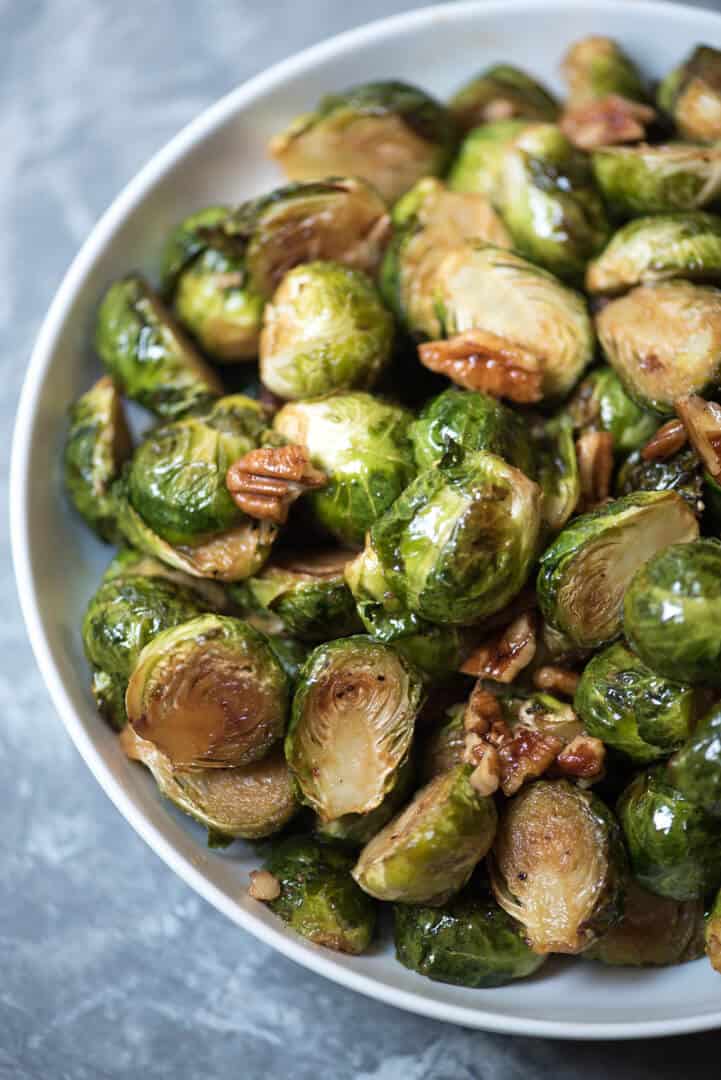 I never ate a brussels sprout until I was an adult. Is this weird? They just weren't a thing in my house. As a matter of fact, they just weren't a thing period, as far as I was aware. But, as we all know, they have become quite THE thing as of late.
I think the reason people are so crazy about them is the variety of ways they can be prepared. They are one versatile veggie! I love them raw and sliced thinly in salads and I especially love them roasted.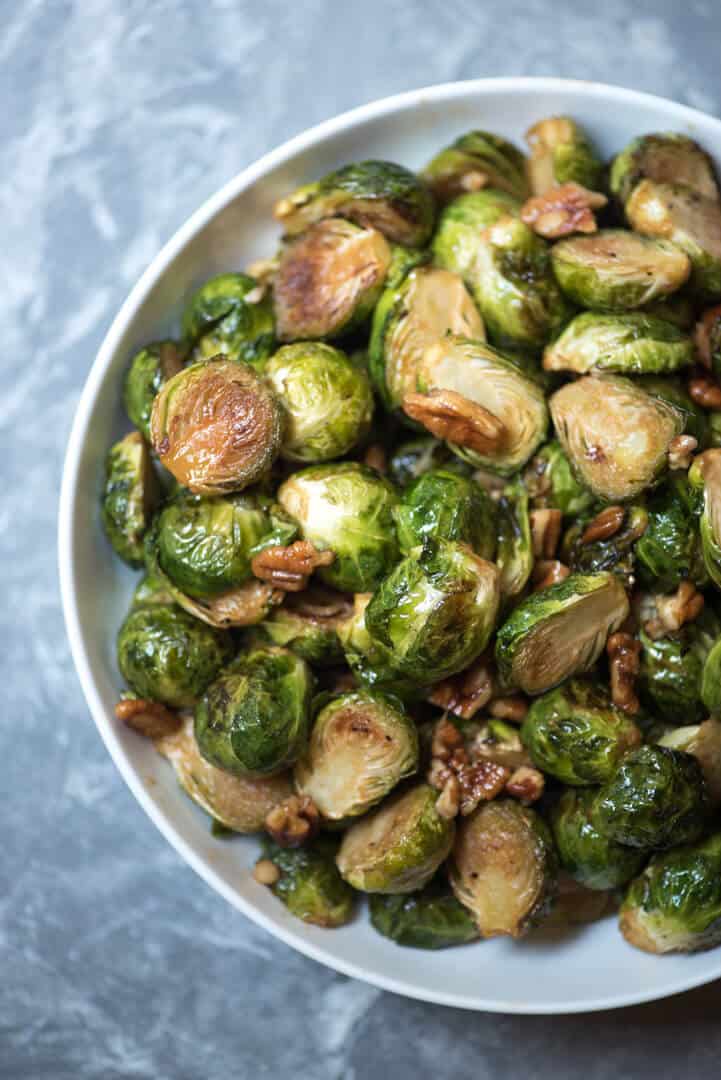 They remind me of little balls of green cabbage in both appearance and flavor. I love me some cabbage, so it's not surprising I took to them right away. For this recipe I've simply roasted the sprouts and added a mixture of melted butter and pure maple syrup that I balanced out with a little soy sauce and some crunchy pecans. This veggie side dish will add a fantastic flavor component to your Thanksgiving menu.
A couple of quick ingredient notes before we begin.
I'm loving the bagged sprouts that have been available at the stores this year. This 2 pound bag is the perfect amount to fill a large rimmed baking sheet and after a quick rinse they are ready to roast. Easy peasy.
If you are buying your sprouts on the stalk you'll find they can range in size from nearly the size of an egg at the top of the stalk to coin-sized down near the bottom. For a great visual of this, take a look at this post from White on Rice Couple. Slice off the tough ends of the sprouts and cut them down as needed to be more uniform in size so that they'll roast evenly. Large sprouts can be halved, very large sprouts can be quartered, and the small guys can be left whole.
Granulated garlic is very similar to garlic powder but just as the name implies, the texture is more granulated and less powdery. It is ideal to use when roasting veggies since it doesn't burn at high temperatures the way fresh garlic can but it still imparts a nice garlic flavor. Thanks to my sis for this tip! I highly recommend you pick some up and give it a try. Costco carries this nice sized container.
Spread your prepared sprouts out on a large rimmed baking sheet, drizzle them with a couple of tablespoons of olive oil and season with granulated garlic, salt, and fresh ground black pepper. Transfer the baking sheet to a preheated 400 degree oven for about 10 to 15 minutes, stirring about halfway through the roasting time. We want them just fork tender so watch them closely.
Meanwhile, prepare the sauce by melting two tablespoons of butter in a saucepan. Pull it off the heat and add some pure maple syrup and a touch of low-sodium soy sauce. The soy sauce adds a savory, salty balance to the sweet buttery maple sauce.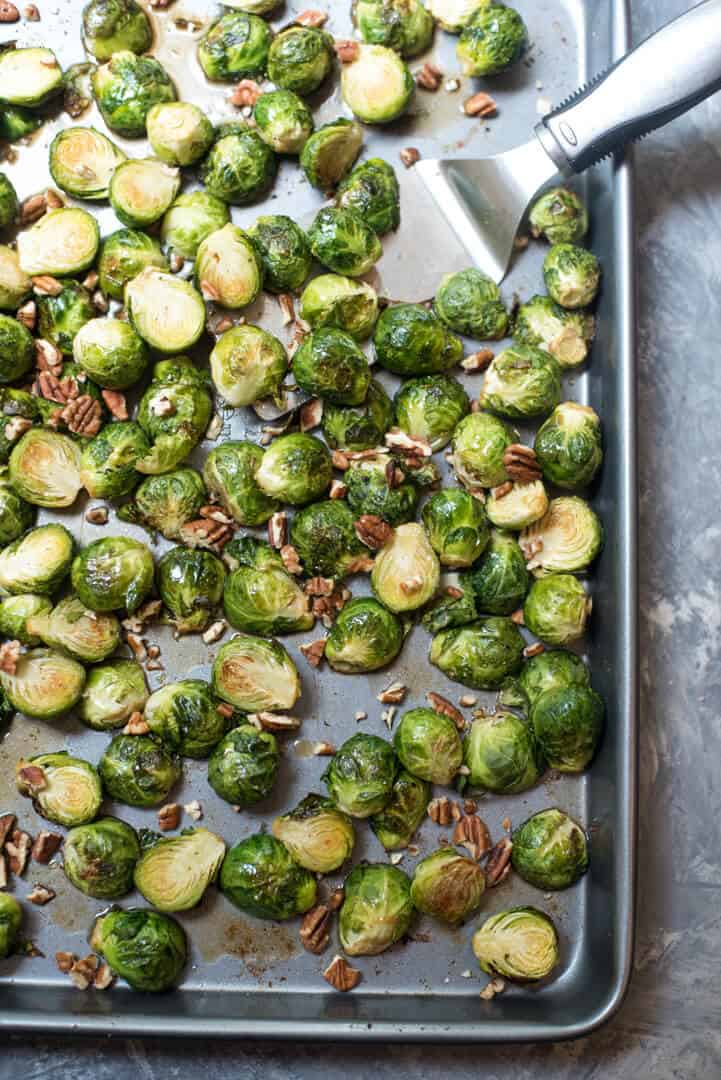 Pull the sprouts from the oven, pour the sauce over the top and toss lightly to combine. Pop the baking sheet back in the oven for just a few minutes to slightly caramelize the sauce the lightly toast the pecans.
I want to wish you and yours a wonderful, relaxing, cozy, fun, and absolutely delicious holiday!
For more Thanksgiving inspiration check out my entire collection of Thanksgiving recipes from the archives.
Ingredients
2 pounds brussels sprouts
2 tablespoons olive oil
1/2 teaspoon granulated garlic
salt and fresh ground pepper to taste
2 tablespoons butter
2 tablespoons pure maple syrup
2 teaspoons low-sodium soy sauce
1/4 cup chopped pecans
Instructions
Preheat oven to 400 degrees F.

Rise and drain the brussels sprouts. Trim tough ends, if necessary. To ensure even roasting, slice larger sprouts in half from top to bottom and if they are very large they can be quartered. Smaller sprouts can stay whole. Place sprouts on a 12"x 16" rimmed baking sheet. Drizzle with olive oil and sprinkle with granulated garlic, salt, and pepper to taste. Stir to coat evenly and place baking sheet in the oven.

Roast for 10 to 15 minutes, or until just barely fork tender (time will depend on size of your sprouts). Stir half way through to ensure even browning.

Meanwhile, add butter to a small saucepan and place over low heat until melted. Remove pan from heat and add maple syrup and soy sauce. Stir to combine and set aside.

Remove sprouts from the oven, pour the sauce over the top, and sprinkle with chopped pecans. Return baking sheet to oven and roast for an additional 3 minutes, or just long enough to lightly caramelize the sprouts and toast the pecans.