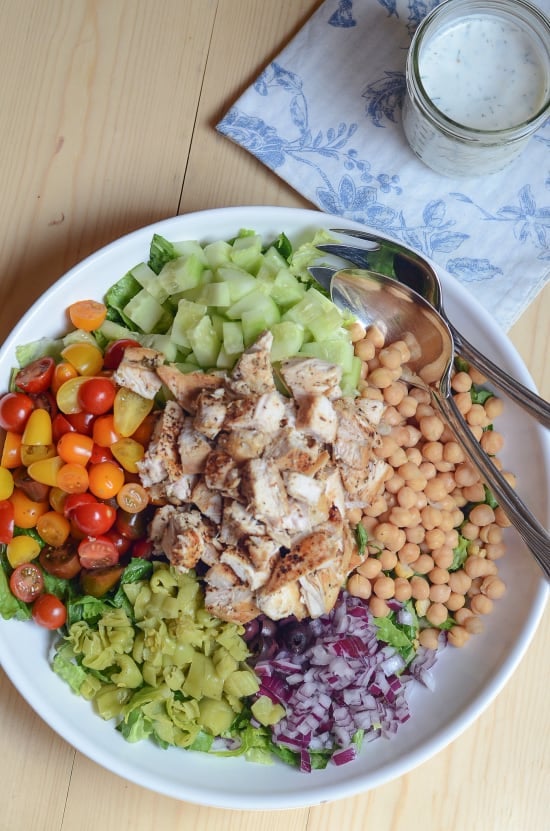 I really should be getting to the office. In a minute. Or twenty.
But first, I wanted to sit down and pull this post together before I switch gears and delve into the fascinating, magical world of bookkeeping (kids, bookkeeping is neither fascinating nor magical).
I've been on a salad kick these days. It kind of hit me after Thanksgiving-Christmas-New Years-Superbowl-Valentine's Day, that maybe…just maybe it was time to lighten up and add some fresh veggies to the diet. You with me? After all, in a few short months it will be bikini weather.
I'm sorry to bring the "B" word into this. Let's just pretend that didn't happen.
My favorite type of salad, hands down, is a chopped salad. A little bit of everything in each bite.There's a whole lot going on in this Greek inspired version. Garbanzo beans, red onion, chopped peperoncini for a little punch, super flavorful kalamata olives, pretty little cherry tomatoes, and cucumber. I topped it off with with some deliciously seasoned chicken to make it a meal in itself.
Then there's the dressing. A Greek yogurt base mixed with crumbled feta cheese, garlic, lemon juice, lemon zest, fresh dill, and fresh ground pepper. See the printable recipe below for the full list of ingredients.
Mix up the dressing ahead of time and keep it in the fridge while you prepare the salad. It will hold well, in an airtight container (mason jars are PERFECT), for several days in the fridge.
When I'm serving salad for dinner, I like to add some protein. In this case – thin sliced boneless chicken breasts, seasoned with oregano, garlic pepper, and salt with a squeeze of fresh lemon juice, quickly cooked in a little olive oil. This chicken is unbelievably tasty and simple to prepare. It's excellent in salads but would be equally delicious on a sandwich or even all by it's lonesome.
The creamy but light feta dill dressing brings it all together.
Bring a little summer into your life.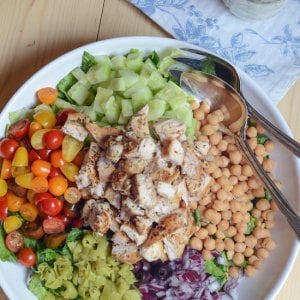 Mediterranean Chicken Chopped Salad with Creamy Feta Dill Dressing
Print
Pin
Rate
Servings: 4 to 6 servings
Ingredients
Olive oil
2 boneless skinless chicken breasts
1 teaspoon oregano
1 teaspoon garlic pepper
Salt to taste
1/2 fresh lemon juiced
1 small head romaine lettuce
1 15 ounce can garbanzo beans, rinsed and drained
2 cups peeled chopped English cucumber
1 carton cherry tomatoes red, yellow, or mixed, halved
1/2 cup diced red onion
1/2 cup pitted chopped kalamata olives
1/2 cup chopped peperoncini
For the Creamy Feta Dill Dressing
3/4 cup non-fat plain Greek yogurt
1/3 cup buttermilk
1/4 cup crumbled feta cheese
2 tablespoons chopped fresh dill
1/2 fresh lemon juiced
Zest from 1/2 lemon
2 teaspoons white wine vinegar
1/2 teaspoon minced garlic
Salt and fresh ground pepper to taste
Instructions
Mix all ingredients for the dressing together in a small mixing bowl until well combined. Cover and refrigerate until ready to serve.

Slice your chicken breasts through the middle, length-wise. Coat the bottom of a skillet with olive oil and place over medium-high heat. Add the thin sliced chicken. Season chicken with 1/2 teaspoon oregano, 1/2 teaspoon garlic pepper, and a touch of salt as it cooks. Allow to cook for about 3 or 4 minutes then flip and season other side. When chicken is thoroughly cooked and no longer pink in center, remove the pan from the heat and squeeze the juice from 1/2 lemon over the chicken. Set aside.

Chop, rinse and drain the romaine and add to a large serving bowl. Add the remaining salad ingredients.

Transfer cooked and slightly cooled chicken to a cutting board and chop into small bite-sized pieces. Top salad with the chicken and toss well to combine.

Serve with Creamy Feta Dill Dressing