A delicious filling made with seasoned ground beef, rice, black beans, and corn is topped with cheese and baked inside pretty colored bell peppers. Mexican Stuffed Peppers are a vibrant, super tasty meal.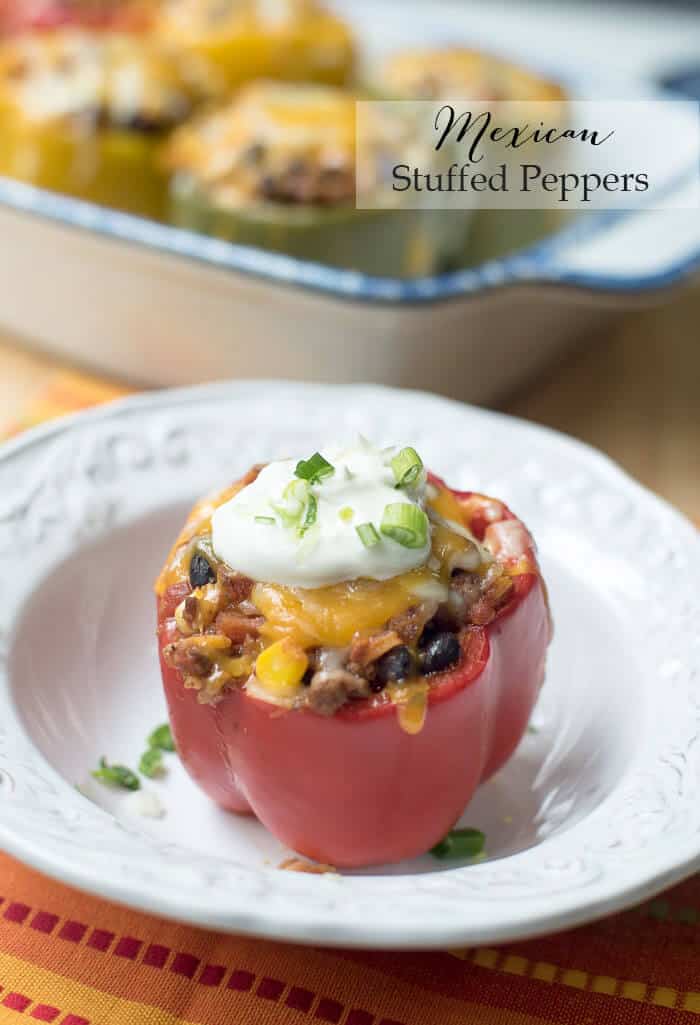 I'd like to introduce you to my beautiful friend. She's quite the colorful character – all dressed in red, and ready to party.
This recipe is a Mexican-inspired version of the classic stuffed bell peppers I grew up on. I have a tendency to throw a Mexican twist on nearly every recipe eventually and this time around it was mom's stuffed bell peppers. I've taken her base recipe and jazzed it up by adding my own Homemade Taco Seasoning, black beans, and corn.  This recipe is full of fiber and good nutrition and I'm even going to tell you how you can lighten it up so I'm not responsible for making you break a New Year's resolution.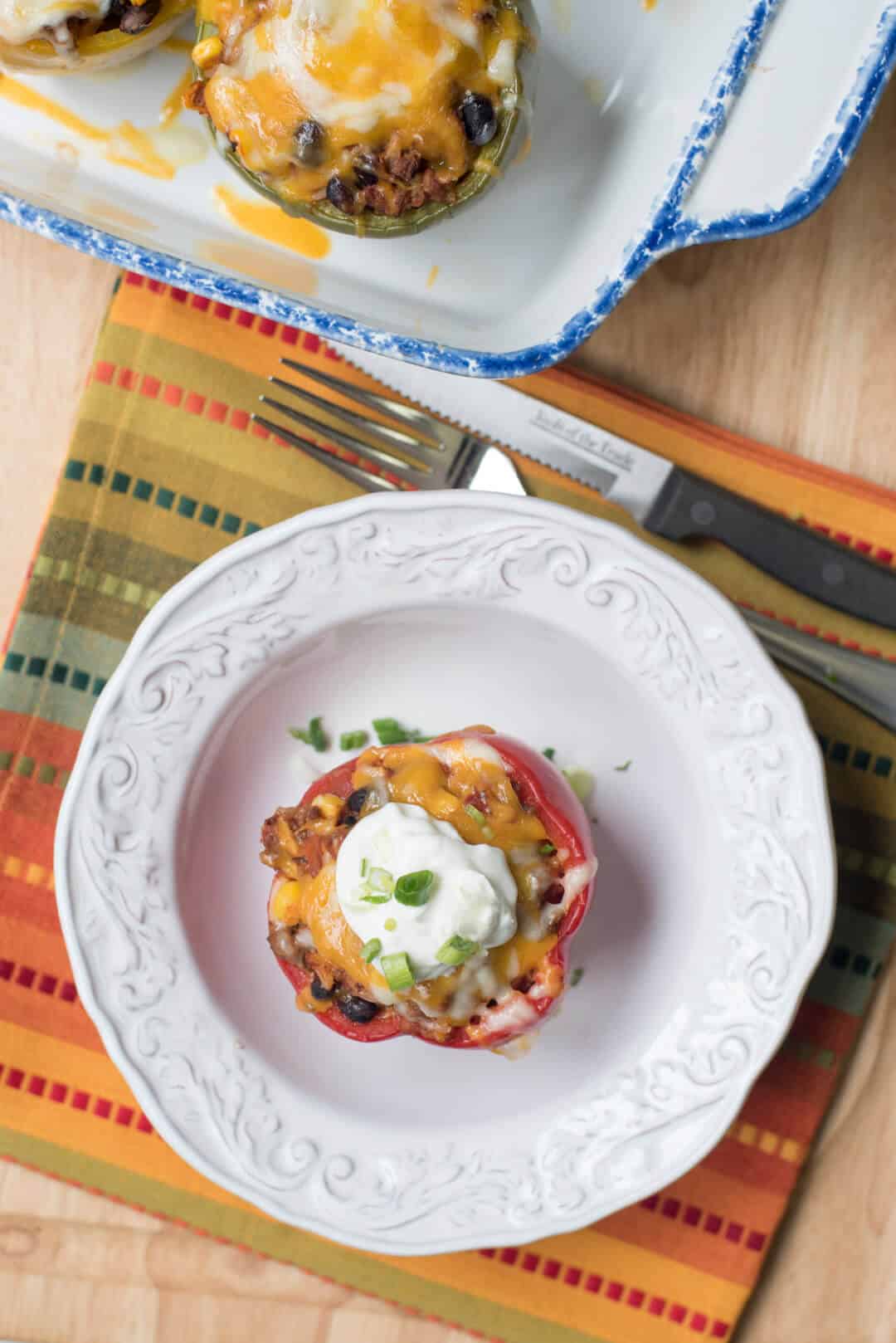 The bell pepper imparts yummy flavor to the filling as it cooks to create savory deliciousness at its best. And, they are quite easy to put together.
Shall we?  
Slice the tops off your bell peppers. Remove all the seeds and trim the ribs, if necessary. I suggest using a variety of colors for a gorgeous effect. Place them in a baking dish and add about 1″ of water. Cover the dish with foil and bake the peppers in a 400 degree oven for 20 minutes. The water will steam cook the peppers to give them a tender head start before we fill them. When the peppers are slightly tender, remove them from the oven and reduce the oven temperature to 375 degrees.
Meanwhile, back at the farm …
While the peppers are in the oven, let's prepare the filling.
Add a couple of tablespoons of vegetable oil to a large saute pan. Add lean ground beef and cook, stirring to break up the beef, until no pink remains. Drain off as much grease from the pan as you can and then return it to the heat. Add chopped onion and garlic (see recipe below for all the precise measurements, mmkay? mmkay). Cook and stir for several minutes until onion is tender.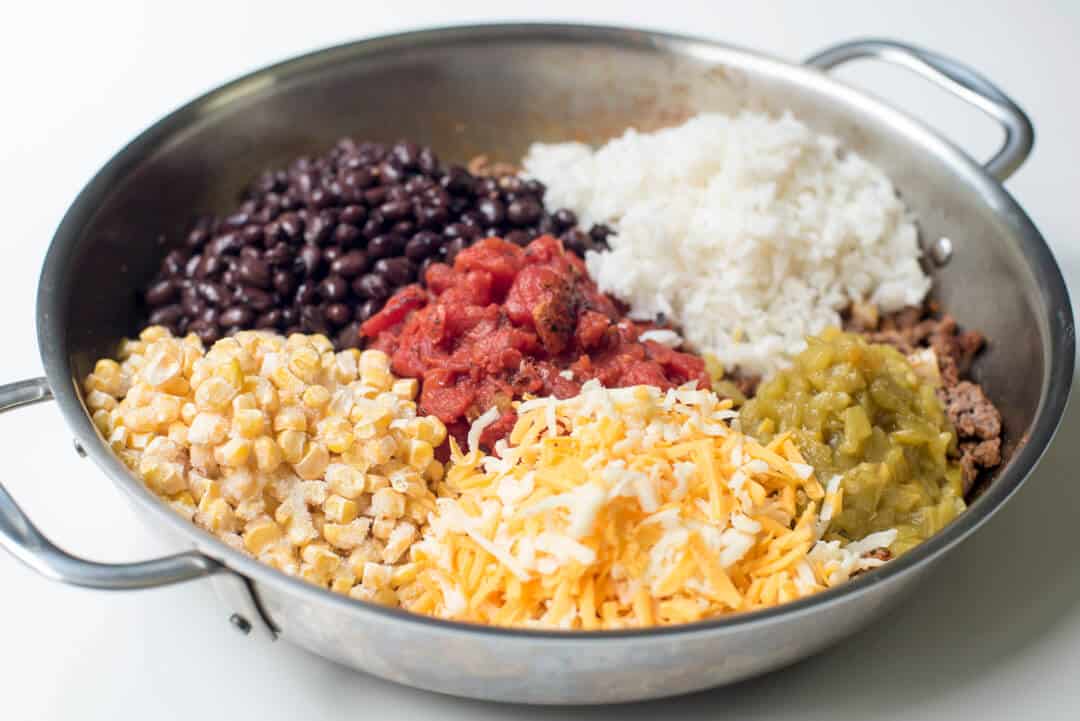 Next, add some taco seasoning, cooked rice, black beans, frozen corn (no need to thaw), shredded cheese, diced green chiles, a can of fire roasted diced tomatoes, and a little tomato sauce. If you want to add some heat you can add some crushed red pepper, but this is totally optional.
You can really simply lighten up this recipe by doing any or all of the following – use lean ground turkey instead of beef, use brown rice instead of white, reduce or even eliminate the cheese.  I use my own Homemade Taco Seasoning but the prepared, store-bought variety will also work.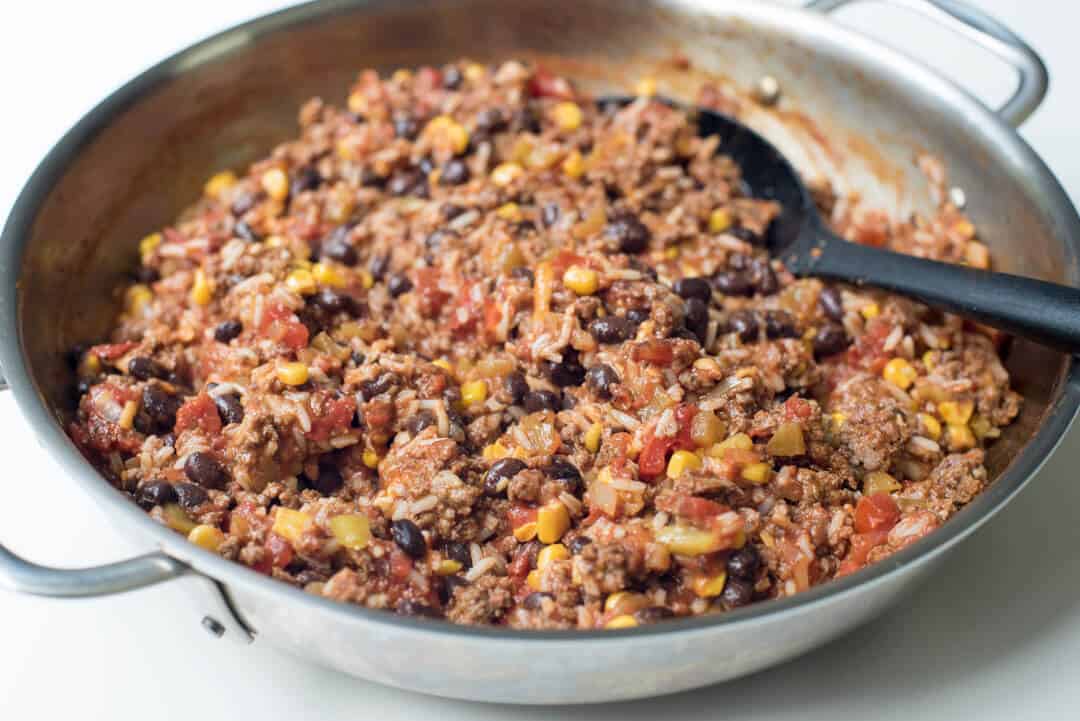 Combine the mixture well and cook until the cheese has melted. Remove the pan from the heat and set aside.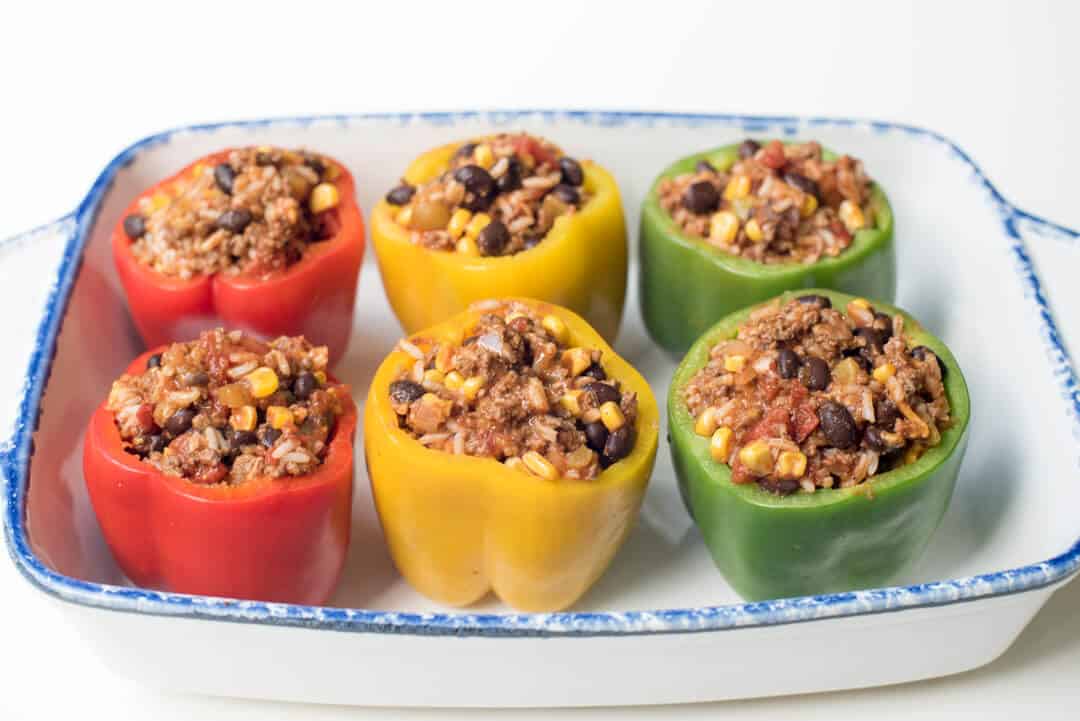 After the initial pre-cook of the peppers, remove the baking dish from the oven and pour off the water. Return the peppers to the baking dish and load them up with the filling.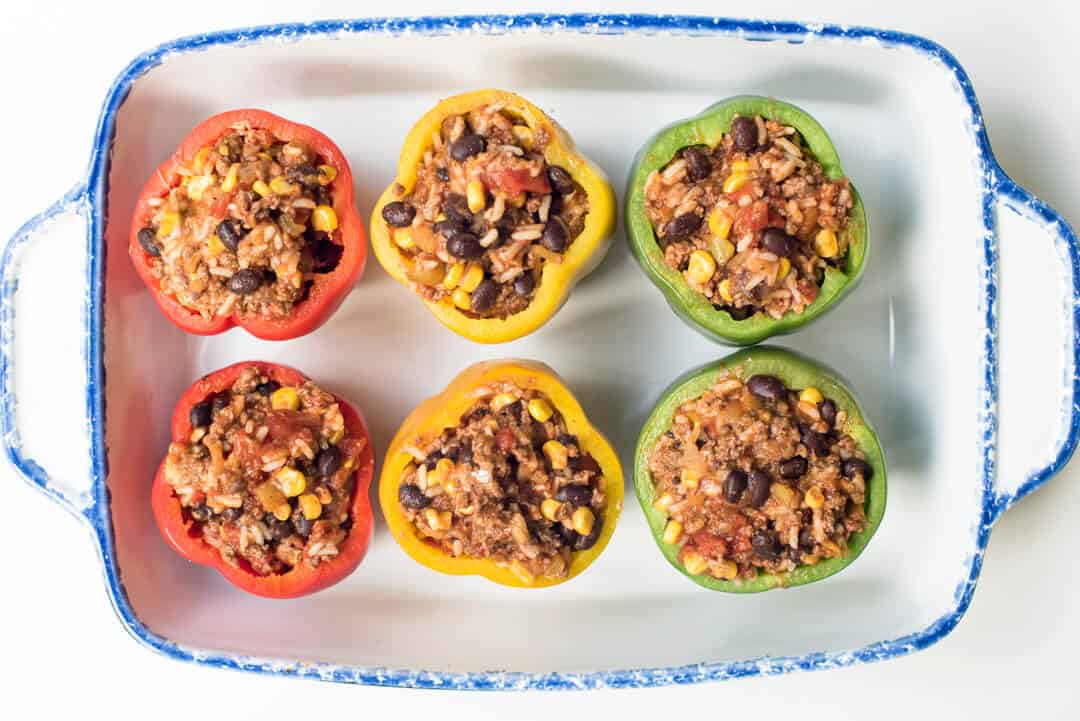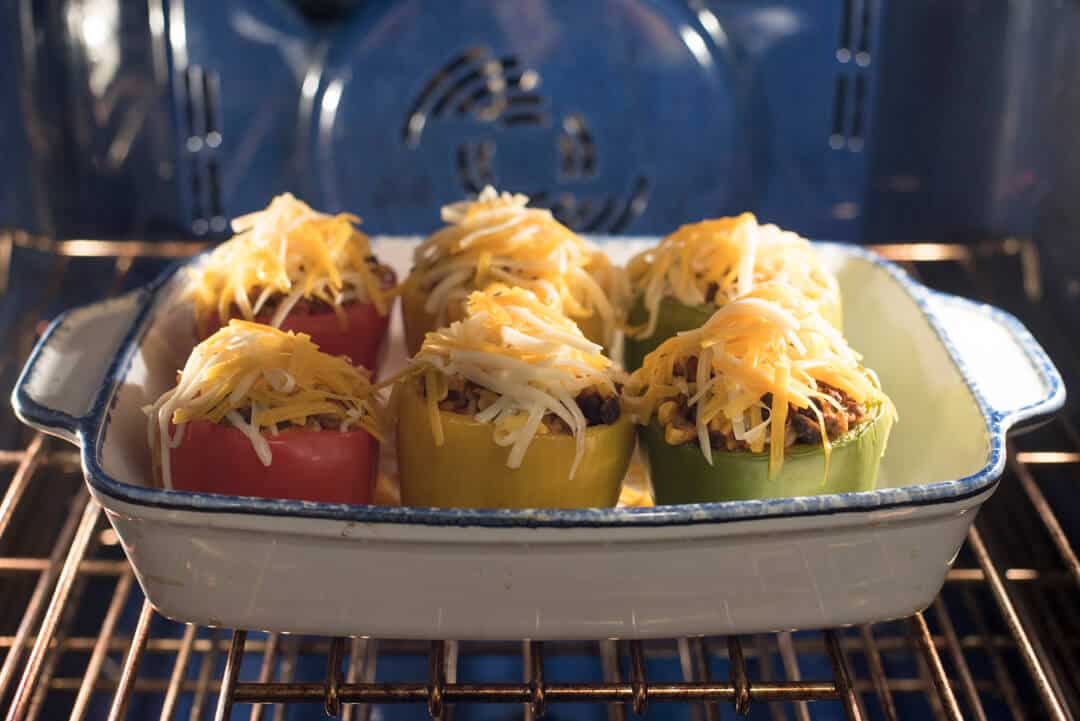 Top each pepper with a little bit (or a lot!) of shredded cheese – I used cheddar and Jack – and pop the baking dish back in the oven (at 375 degrees) for about 25 to 30 minutes.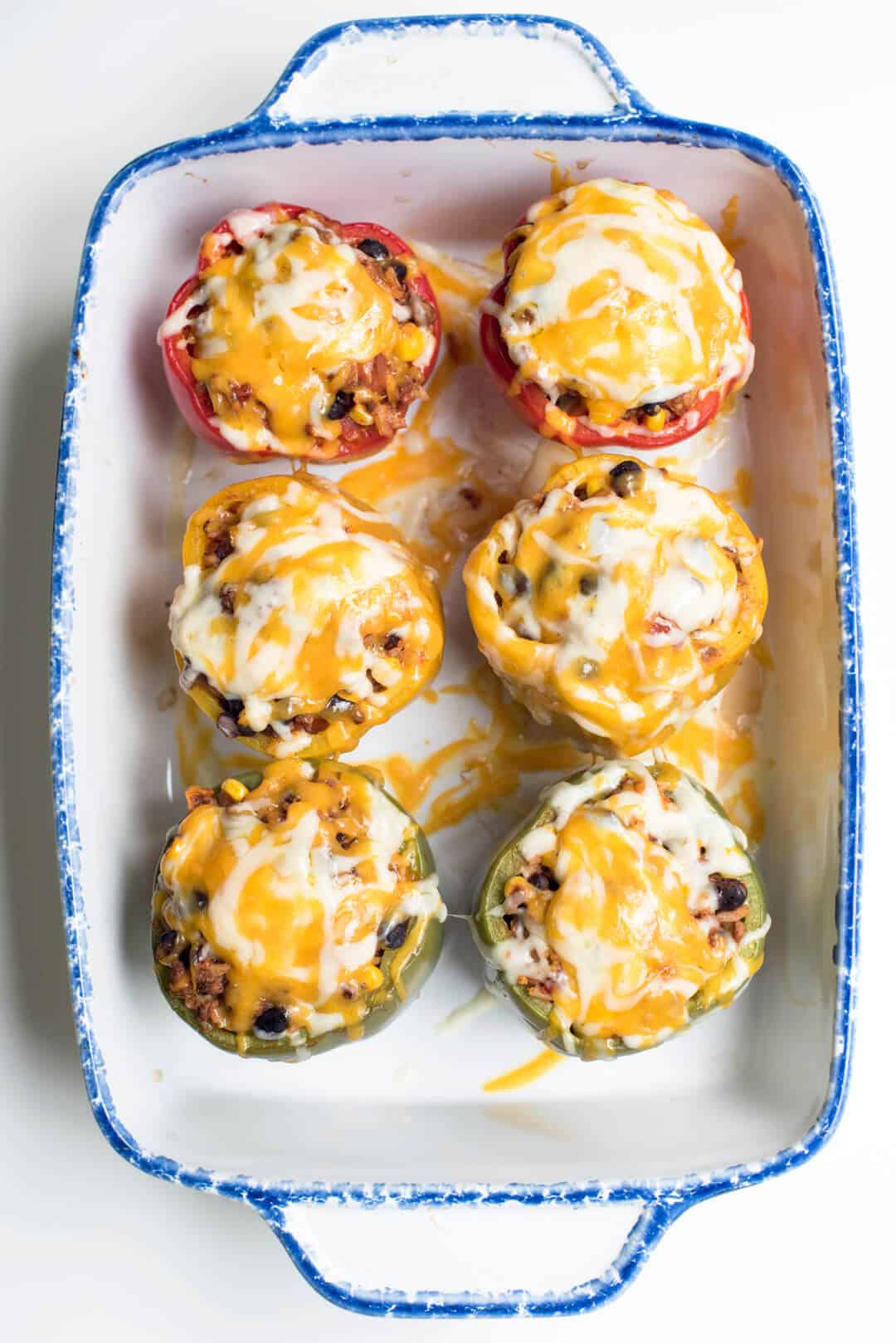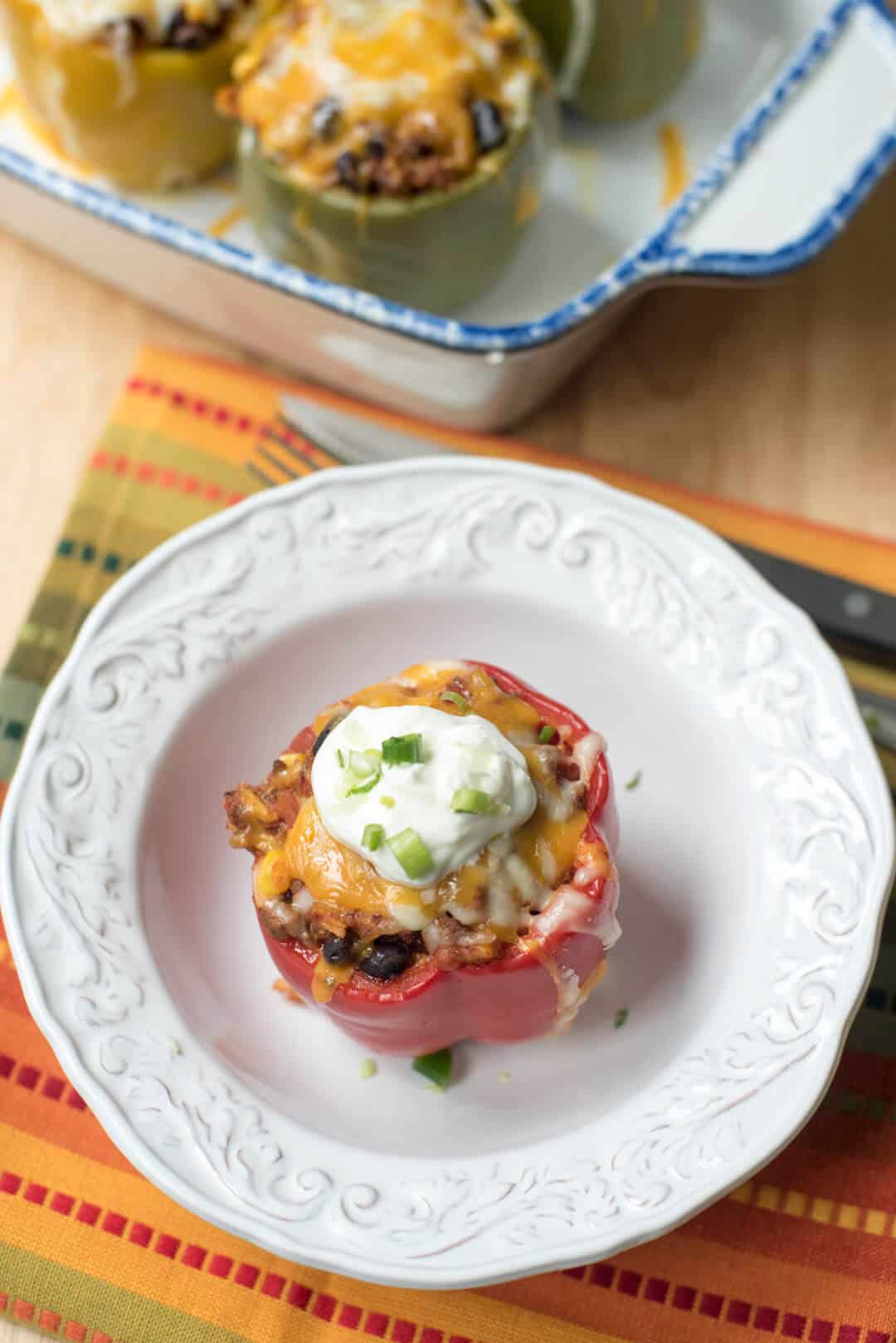 I topped them with a little light sour cream and thinly sliced green onion. Any variety of toppings would be great here – avocado, cilantro, olives, tomatoes, salsa, yum!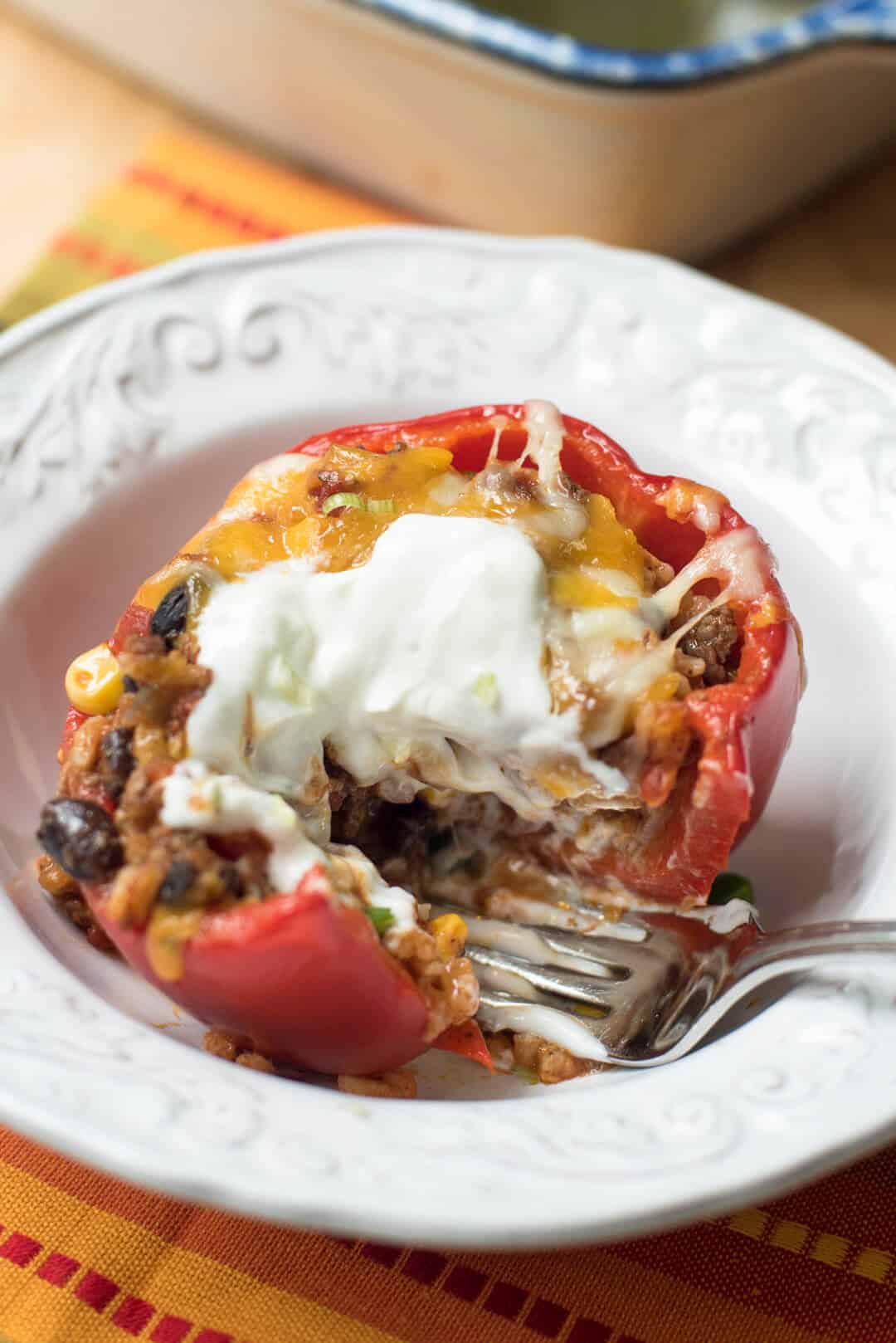 Mexican Stuffed Peppers
Prep Time 5 minutes
Cook Time 55 minutes
Total Time 1 hour
Servings 8
Change the number in the box above to adjust serving size. Please note that size of cookware and cook time may vary.
Ingredients
6 to 8 bell peppers any color
1-1/4 pounds lean ground beef
2 tablespoons homemade taco seasoning (or store-bought)
1/2 cup diced white or yellow onion
1 teaspoon minced garlic
1 14.5 ounce can fire roasted, diced tomatoes
1 8 ounce can tomato sauce
1-1/2 cup cooked long grain white rice see note below
1 4 ounce can diced green chiles, drained
1 15 ounce can black beans, drained
1 cup frozen corn no need to thaw
1/4 teaspoon crushed red pepper optional
1-1/2 to 2 cups shredded cheese cheddar, Jack, or Mexican blend
Optional toppings - sour cream thinly sliced green onion, chopped avocado, olives, chopped cilantro, diced tomato, salsa
Instructions
Preheat oven to 400 degrees F.

Slice tops off peppers, remove seeds and trim ribs, if necessary. Place peppers in a baking dish and add about 1" of water. Cover with foil and bake in preheated oven for 20 minutes, until slightly tender. Remove from oven and reduce oven temperature to 375 degrees F. Remove peppers from baking dish and pour off water. Return peppers to baking dish.

While peppers are in the oven, add 1 tablespoon vegetable oil to a large saute pan and place over medium-high heat. Add ground beef and cook, stirring to break up the beef, until browned and cooked through. Drain off as much grease as possible from the pan. Return the pan to the heat, add onion and garlic and cook till tender. Reduce heat to medium and add the taco seasoning, tomatoes, tomato sauce, beans, rice, green chiles, frozen corn, crushed red pepper (if using), and 1 cup cheese. Cook until combined and cheese has melted.

Fill peppers with the beef mixture and return to baking dish. Cover with foil and bake at 375 degrees F for 25 minutes to 30 minutes, or until peppers are very tender and filling is heated through. Remove foil, top with remaining shredded cheese, and bake for an additional 5 minutes until cheese has melted.
Recipe Notes
This recipe will make enough to fill 6 large or 8 medium sized bell peppers.
Cook your rice before beginning filling. To yield 1-1/2 cups cooked rice, use 1/2 cup rice to 1 cup water and cook according to the package directions.
Feel free to make some or all of the following changes to suit your nutritional preferences:
- Substitute lean ground turkey for the ground beef
- Use brown rice in place of the white rice
- Reduce or eliminate the cheese in the filling
Nutrition
Calories: 387kcal
Fat: 16g
Saturated fat: 8g
Cholesterol: 71mg
Sodium: 689mg
Carbohydrates: 33g
Fiber: 9g
Sugar: 8g
Protein: 27g
More tasty stuffed bell pepper ideas:
Spicy Italian Stuffed Bell Peppers | Barefeet in the Kitchen
Cheesy Enchilada Stuffed Peppers | The Cookie Rookie
Sausage and Orzo Stuffed Peppers | Boulder Locavore
Pizza Slow Cooker Stuffed Peppers | A Spicy Perspective