A slightly sweet and super flavorful glaze creates this irresistible, Asian-inspired dish. Orange Sesame Ginger Glazed Salmon is delicious served over rice with vegetables for a wholesome, family-friendly meal.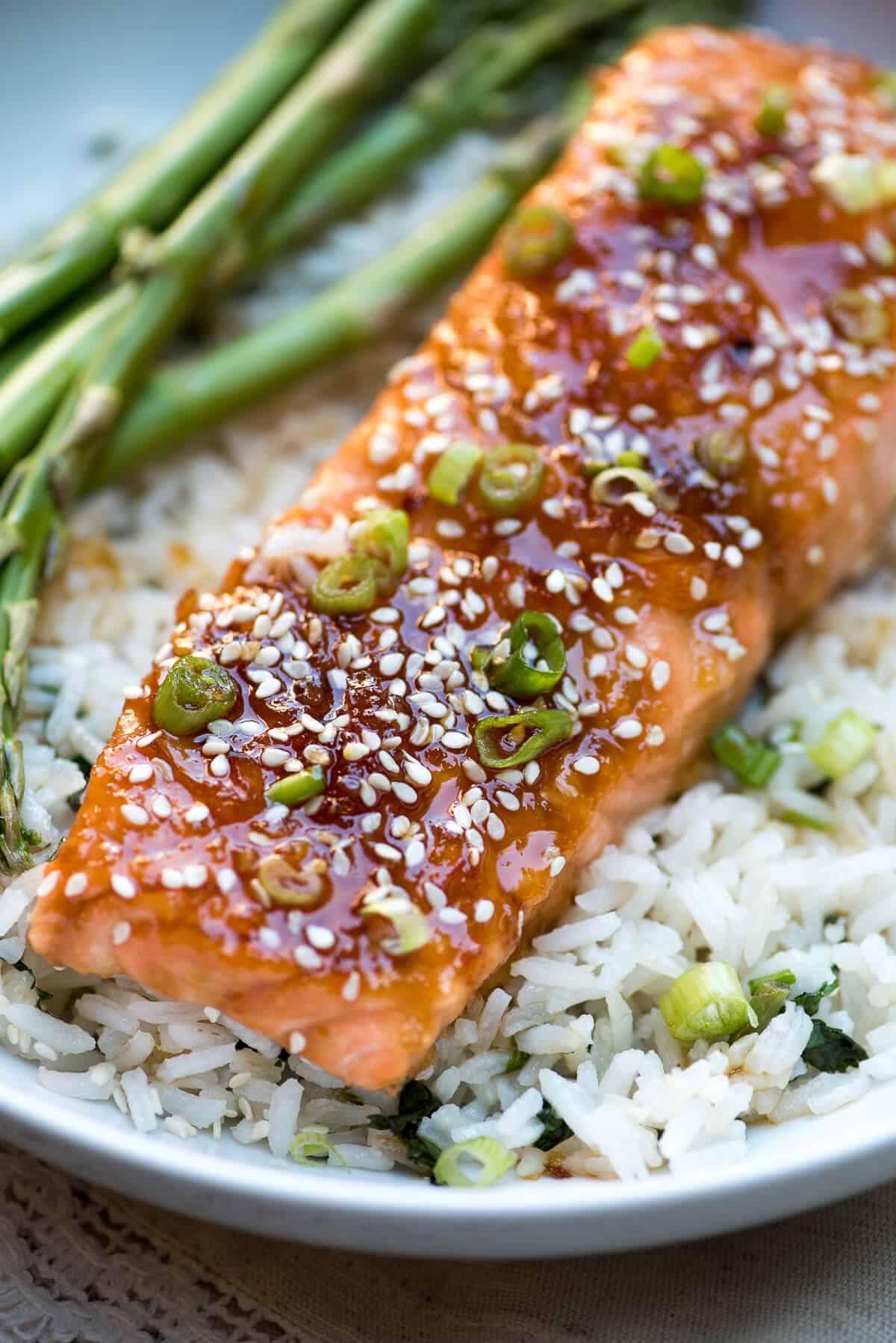 I'm so happy to be sharing this recipe with you today. I made it earlier this week and it was so good I jumped up and high-fived everyone in the room and then immediately set to work on editing photos and writing a comprehensive and intelligent post for you. Okay, so the real story is that I set my plate in the sink, poured a glass of wine and switched on The Bachelorette.
Forgive me.
But, I'm here today with the recipe and I really, really hope you'll try it. If you're a salmon lover and a fan of Asian flavors, this one is for you! By the way, are you watching The Bachelorette? One word – Chad! Holy smokes he's freaky (in a bad way). I won't say more in case you're not caught up. This blog is a Bachelorette spoiler free zone.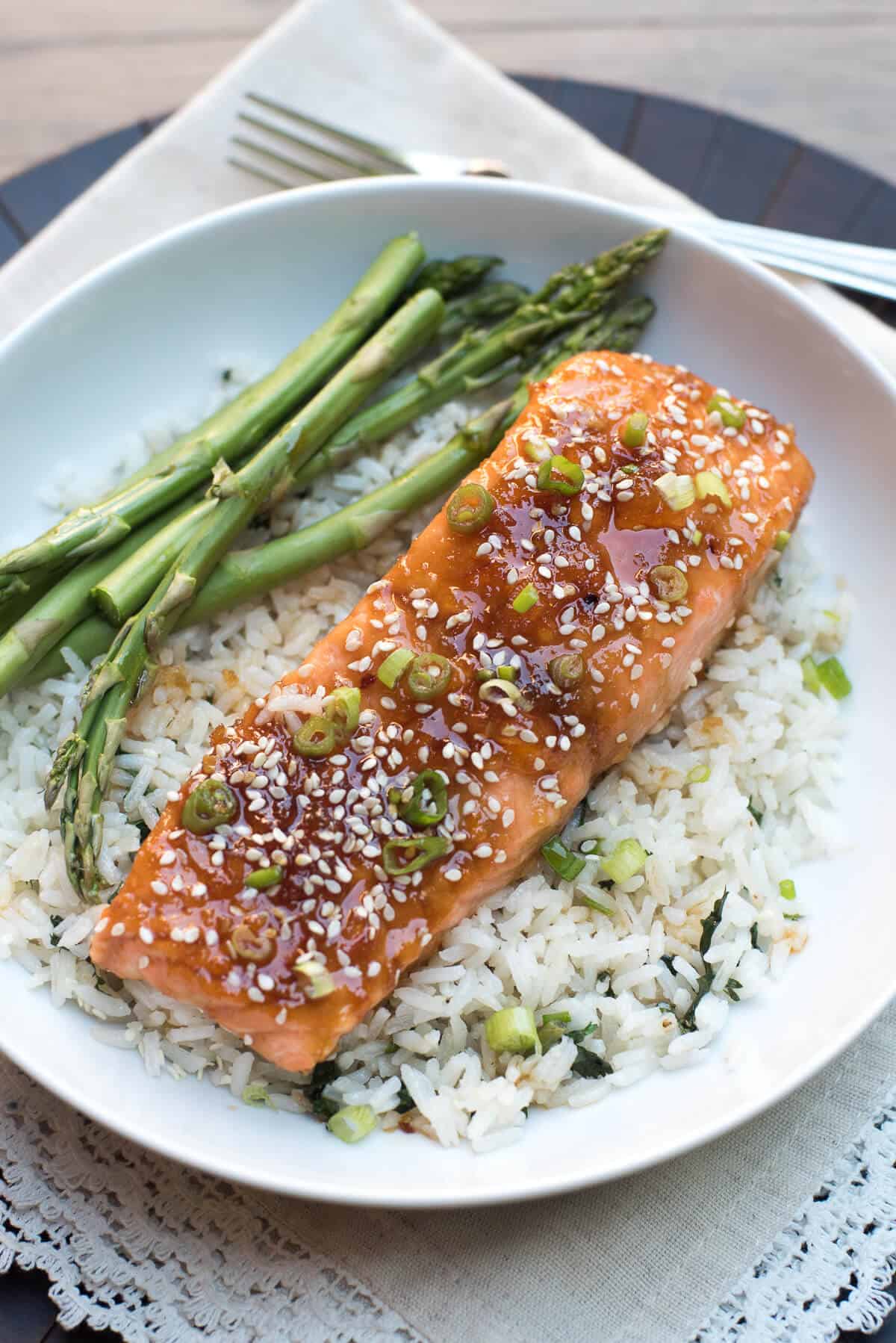 I've been serving seafood at least once a week lately and trying all kinds of new things to keep it interesting. This was a HUGE success and it will be a regular on my menu going forward.
I served it over Coconut Rice with Cilantro and Lime and it was pure heaven. You could just cook up plain white or brown rice but I highly recommend you give the Coconut Rice a try. It is a fantastic flavor combination. Add your veggie of choice and you are good to go.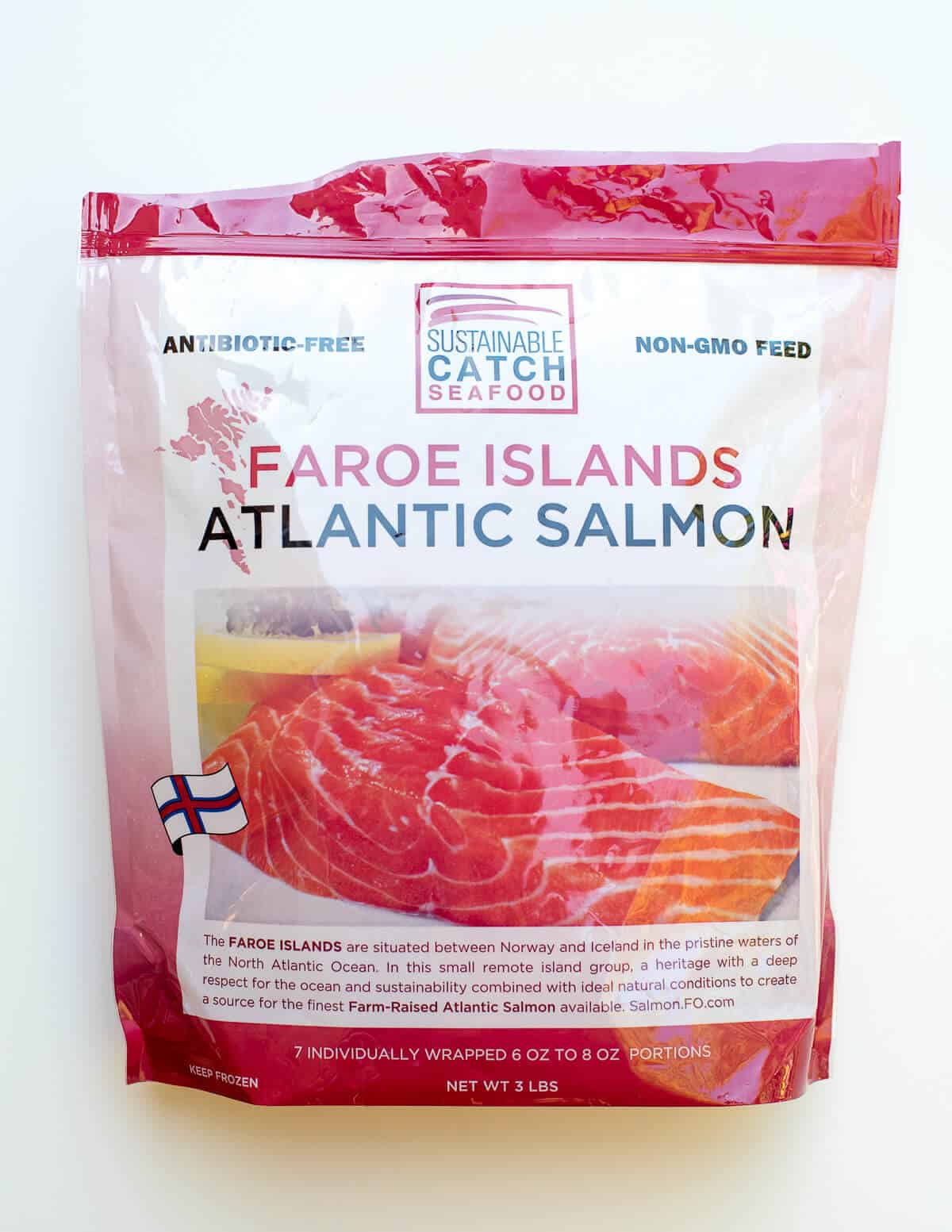 I've been picking up a bag of frozen Atlantic salmon fillets pretty much every time I hit up Costco lately. For years I believed fresh was better when it came to seafood but I was dead wrong. If you're getting it straight from the boat, that's a different story, but these frozen fillets are incredibly fresh and we like them better than the fresh fillets I've purchased from Costco in the past. The quality is top notch, they are skinned, which is completely awesome, and individually vacuum sealed so you can pull out exactly the number you need when you need them.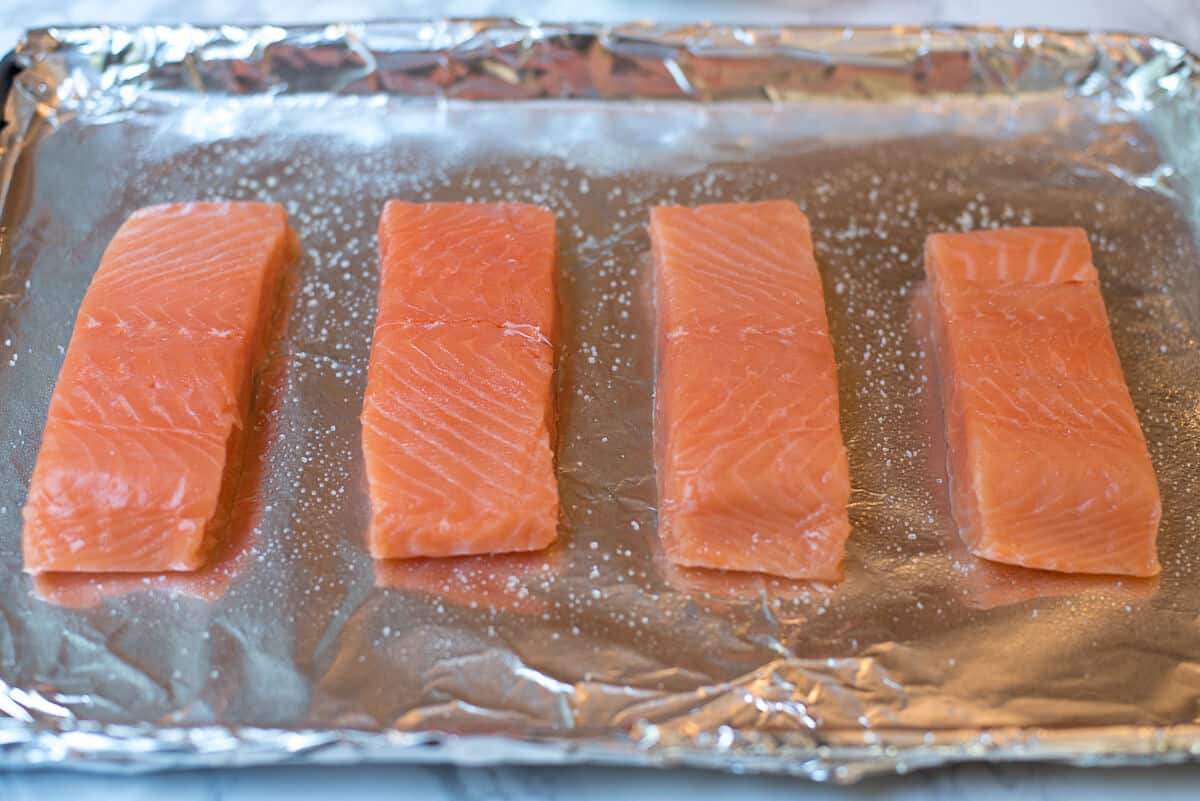 It's important to completely thaw your salmon in the refrigerator overnight before beginning. Line a rimmed baking sheet with foil and coat it with non-stick cooking spray. Place the fillets on the baking sheet and season with a little salt.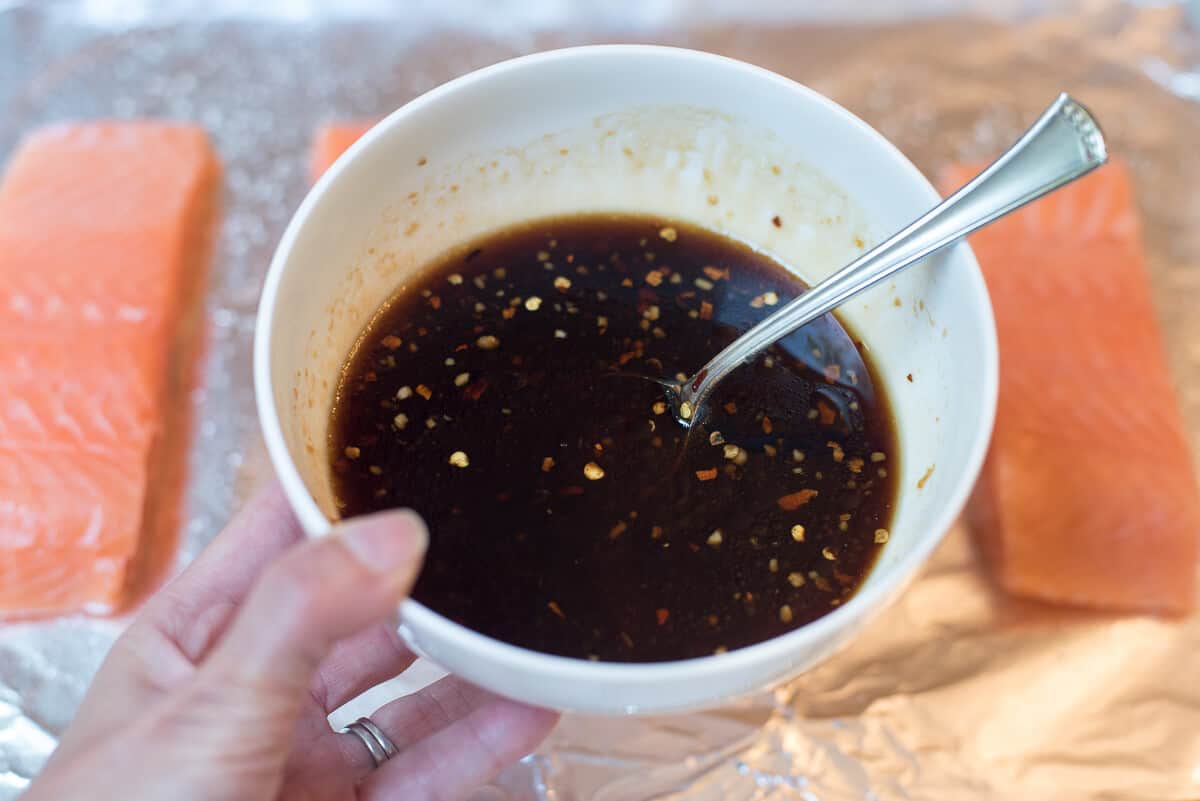 Combine the glaze ingredients in a small bowl – orange marmalade, low sodium soy sauce, sesame oil, finely grated fresh ginger, minced garlic, and crushed red pepper flakes. See the recipe below for the precise measurements.
A tip on using fresh ginger in recipes – I use my microplane grater and it results in an almost creamy consistency that melts into sauces and marinades. If you have leftover ginger root, place it in a plastic storage bag and pop it in the freezer. It will stay fresh and grate even easier from the frozen state.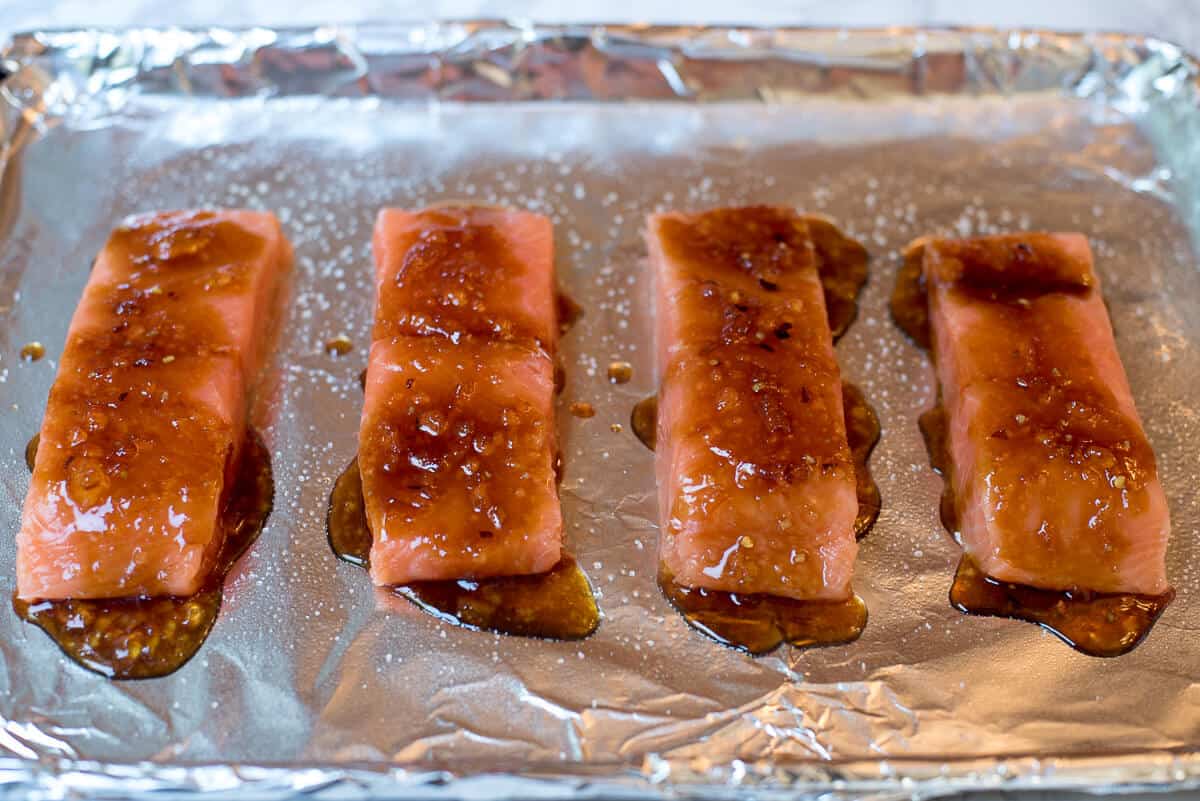 Spoon half of the glaze over the fillets and bake at 350 for 10 minutes. Top with remaining glaze and return to the oven for an additional 5 to 7 minutes or until salmon is cooked through.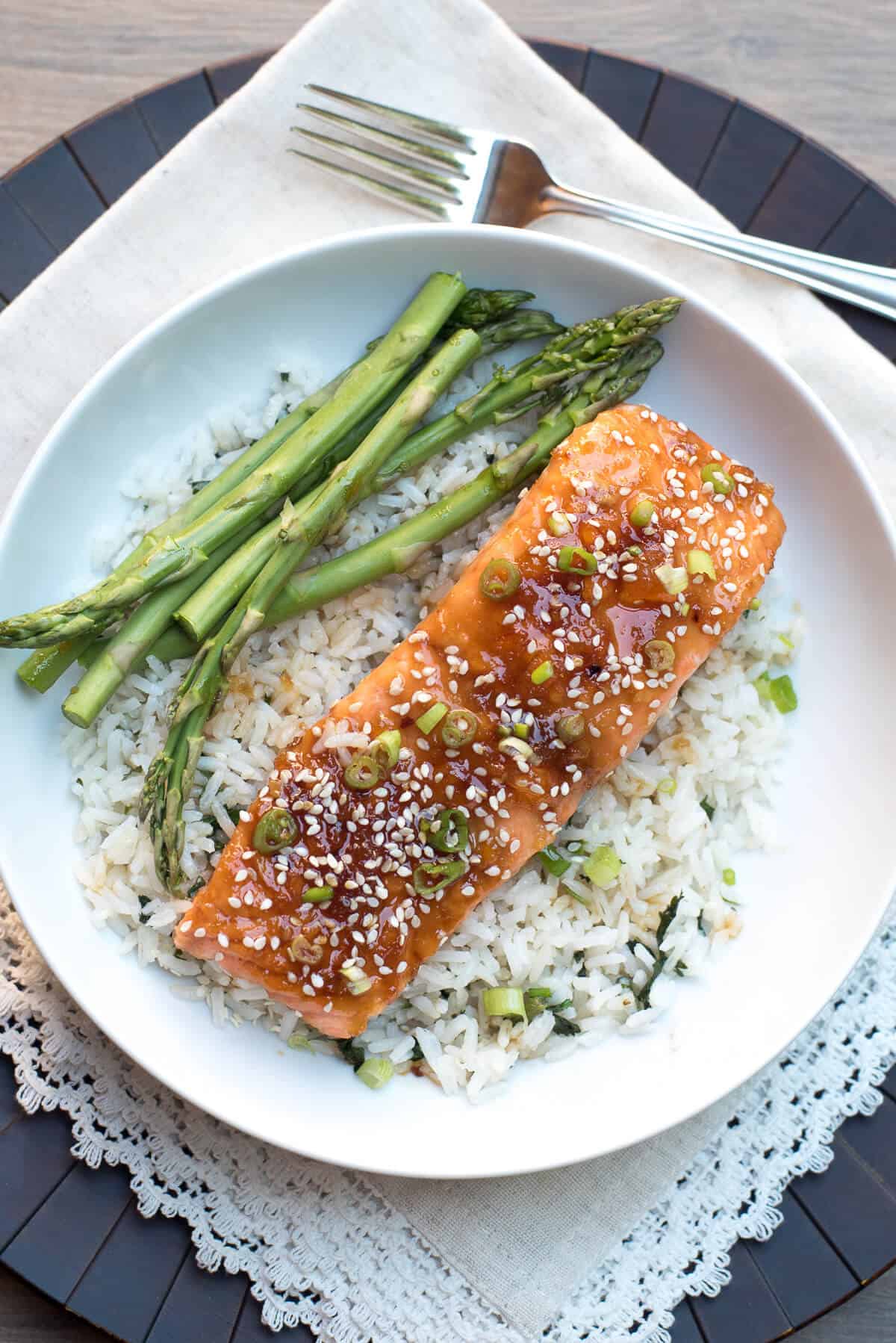 Garnish the cooked salmon with thinly sliced green onion and sesame seeds.
Orange Sesame Ginger Glazed Salmon
Prep Time 3 minutes
Cook Time 17 minutes
Total Time 20 minutes
Servings 4
Change the number in the box above to adjust serving size. Please note that size of cookware and cook time may vary.
Ingredients
4 6-ounce salmon fillets (if frozen, completely thaw the fillets in refrigerator overnight)
salt to taste
1/3 cup orange marmalade
1/4 cup low-sodium soy sauce
1 teaspoon sesame oil
1 teaspoon finely grated fresh ginger root I use a citrus zester
1/2 teaspoon minced garlic
1/4 to 1/2 teaspoon crushed red pepper flakes to taste
1 teaspoon sesame seeds
3 or 4 green onions thinly sliced
Instructions
Preheat oven to 350 degrees F.

Line a rimmed baking sheet with foil and spray lightly with non-stick cooking spray. Place completely thawed (if frozen) salmon filets on prepared baking sheet, skin side down (if they have skin). Season lightly with salt.

Combine orange marmalade, soy sauce, sesame oil, ginger root, and crushed red pepper flakes in a small bowl. Spoon half the mixture over the salmon and place baking sheet in the preheated oven. Cook for 10 minutes. Coat with remaining sauce and continue baking for an additional 5 to 7 minutes or till cooked through. Fish should flake easily with a fork.

Garnish with sesame seeds and green onions. Serve over rice with vegetables of choice.

Try it with Coconut Rice with Cilantro and Lime - delicious!