Thanks so much to Frito-Lay for sponsoring this post. As always, all opinions expressed here are my own.
I took my two most frequent food loves and baked them into one entirely delicious brownie. These Potato Chip Brownies are the very best way to enjoy a sweet and salty treat!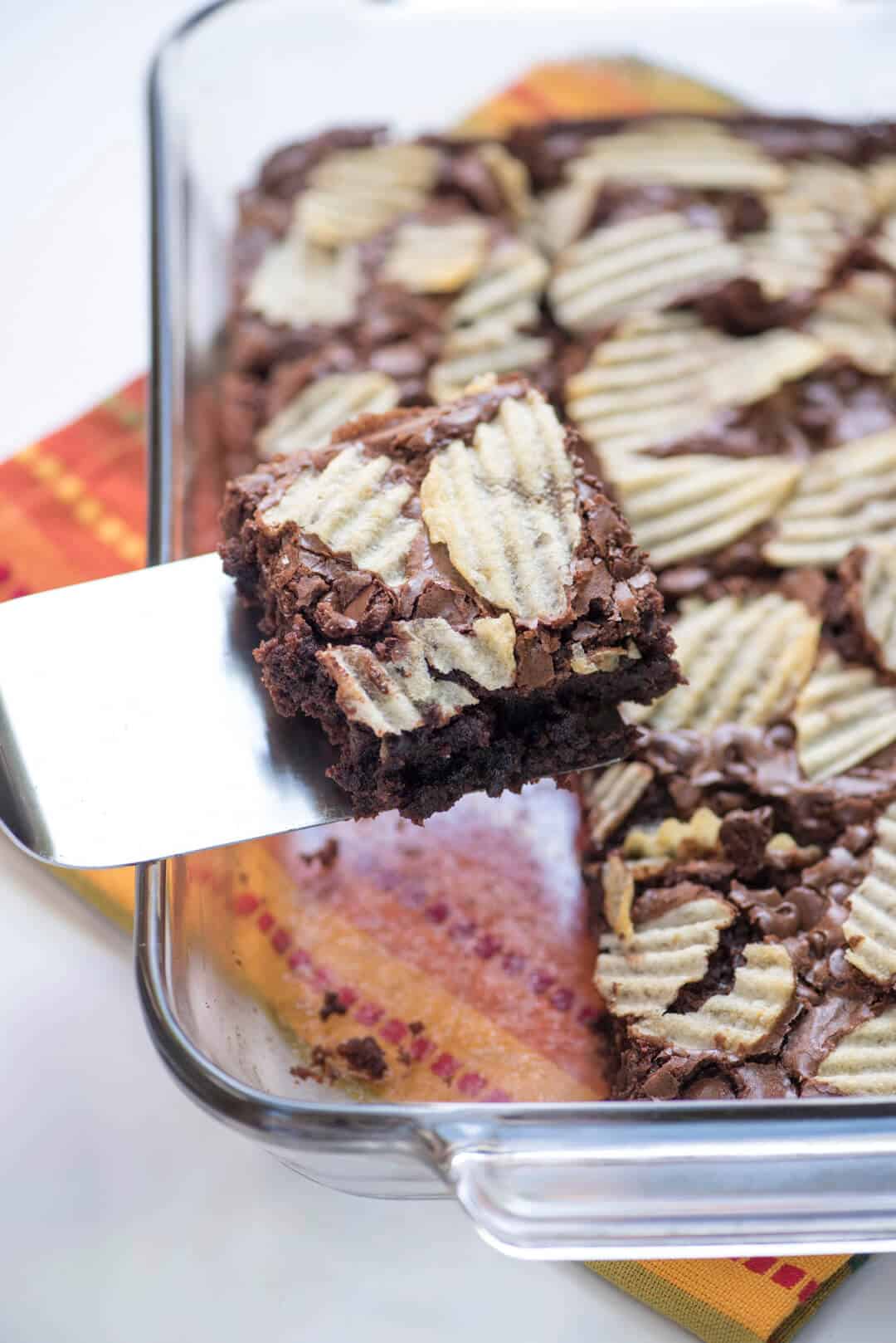 When you're torn between wanting something chocolaty-sweet or something crunchy-salty these brownies are your answer.
They are SO much fun for entertaining and I can pretty much guarantee they will be a hit at your next summer gathering. I mean, who isn't going to be intrigued by this combination?
It's pretty darn delicious.
And, they couldn't be easier to make. Summer is not a time to be stressing over complicated recipes. Summer parties should be fun and relaxing and so should the food we serve.
I made use of a boxed brownie mix, but to make them really special I sprinkled the batter with semi-sweet chocolate chips and Wavy Lay's Original Potato Chips before popping them in the oven. I specifically like Wavy Lay's for this recipe. They are are substantial enough to handle being baked on top of brownie batter and those wavy edges just look really cool.
Awesome party food.
These brownies made the trek with us over to the beach one day last week.
We woke up to a gorgeous, warm day with tons of sunshine and blue skies and decided to hit the road! A perfect day to round up family and meet up with friends for an impromptu beach party.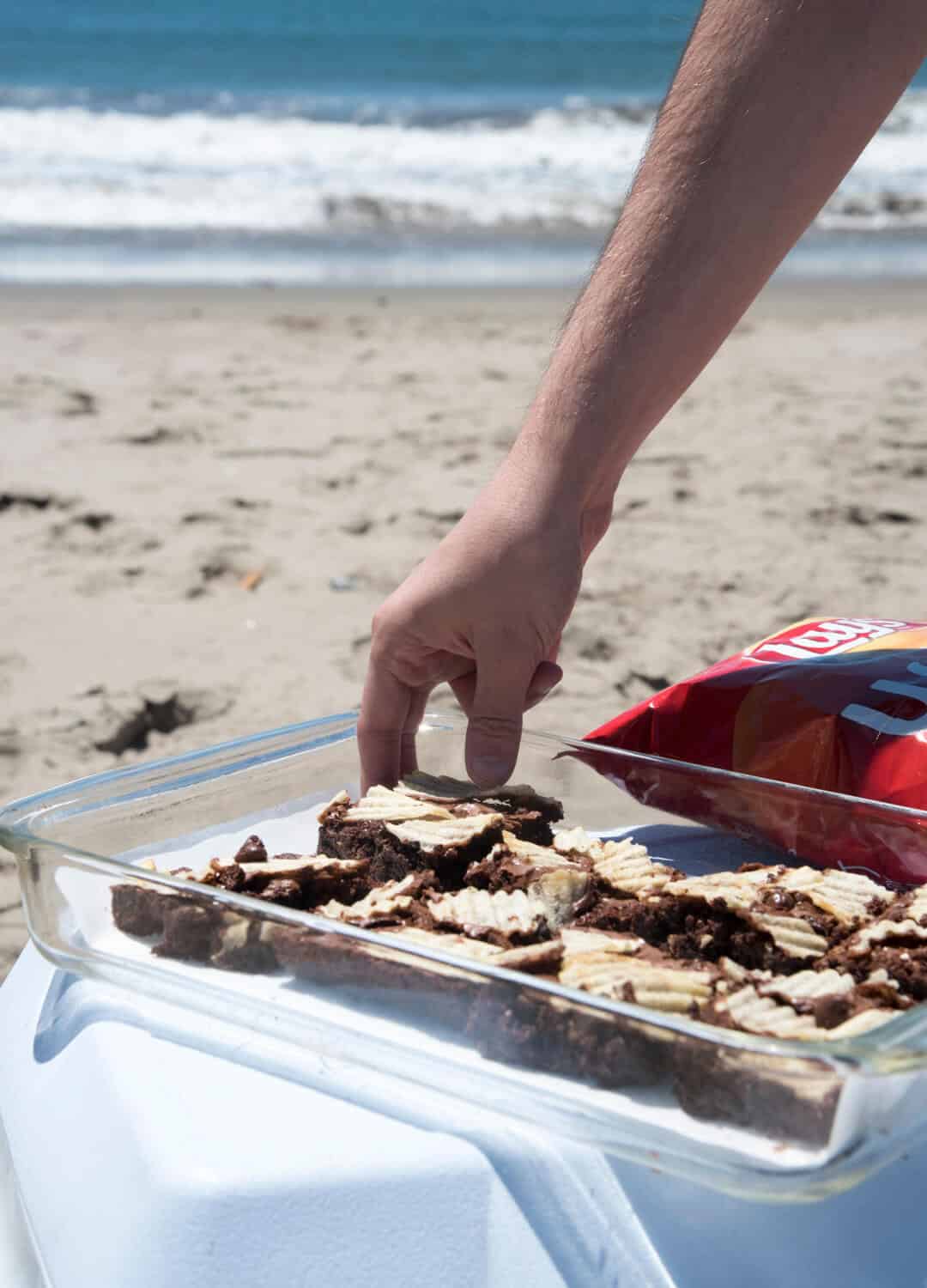 This recipe is a great choice whether you're gathering in your own backyard for a weekend BBQ or packing up to head to the beach to watch fireworks on the 4th of July. With just a few ingredients and super easy prep, there's still time to add them to your Memorial Day weekend menu.
My son, Jake, and his girlfriend, Mina, were pretty happy with the beach break. It's a pretty good day when you get to head to the beach with brownies.
Bridget is always game for relaxing at the beach. And, I gotta say, I'm pretty okay with it too.
Visit Frito-Lay on Pinterest for more great summer recipe inspiration.
And, make the brownies. They are life changing!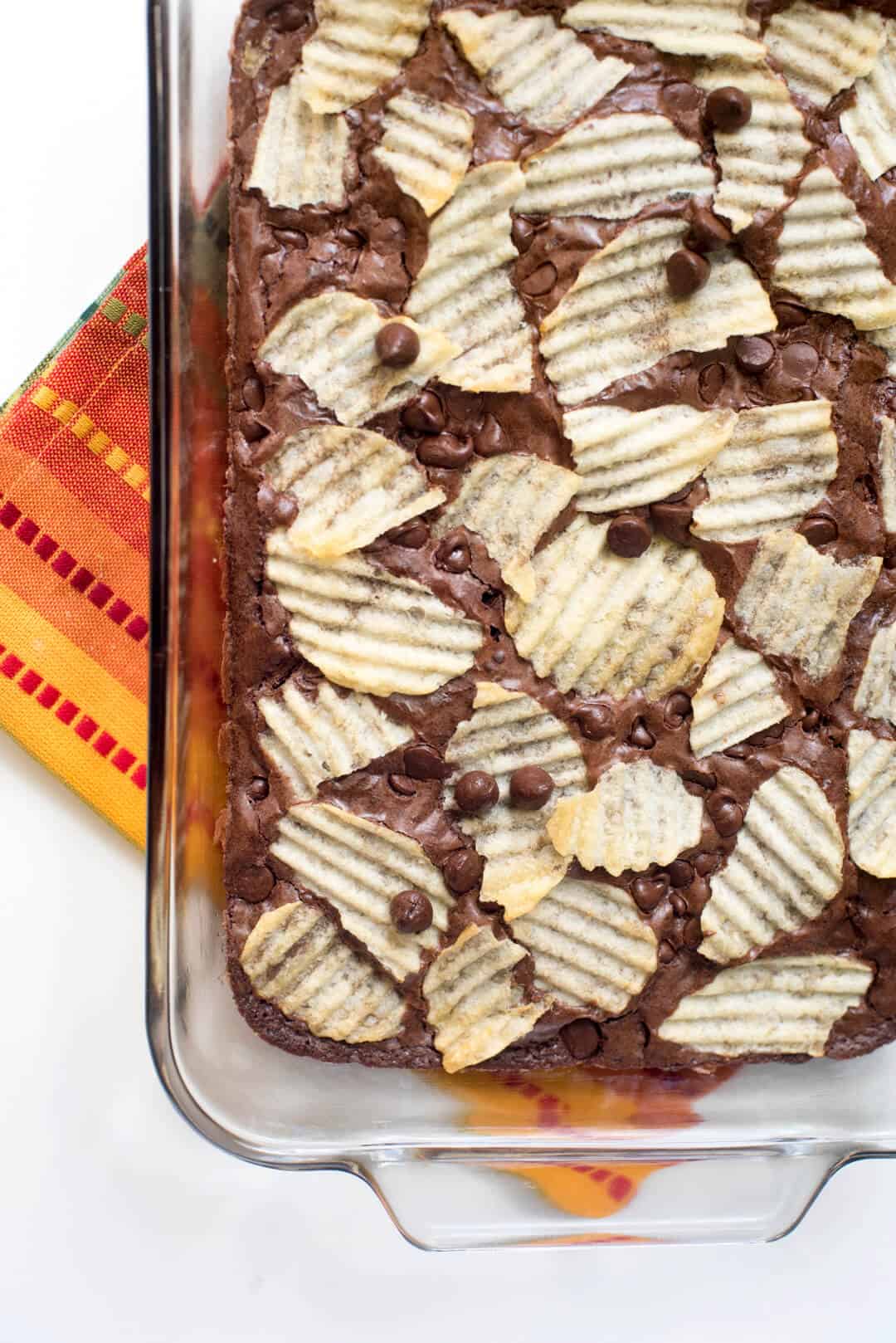 For lots of delicious recipes, giveaways, and more, be sure to follow Valerie's Kitchen
Facebook | Twitter | Pinterest | Instagram | YouTube
POTATO CHIP BROWNIES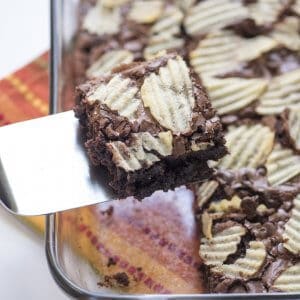 Ingredients
1 18.4 ounce package chocolate fudge brownie mix
2/3 cup vegetable oil
1/4 cup water
2 eggs
1/3 cup semi-sweet chocolate chips divided
1 cup Wavy Lays
Instructions
Preheat oven to 350 degrees F. Spray a 9" x 9" baking dish or 13" x 9" baking dish (see recipe note) with non-stick cooking spray.

Combine brownie mix, oil, water, and eggs in a large mixing bowl. Stir well with a spoon until thoroughly combined. Pour brownie batter into prepared baking dish and spread out into an even layer.

Sprinkle batter with half of the chocolate chips and scatter the Wavy Lay's over the top, breaking up any larger chips to fit. Sprinkle with remaining chocolate chips.

Bake according to package directions; approximately 30 to 35 minutes for a 9" x 9" pan or 28 to 31 minutes for a 13" x 9" pan.

Allow to cool completely before cutting and serving.
Notes
I used a 8" x 11" rectangular baking dish to bake the brownies pictured in this post. This is equivalent to a 9" x 9" baking dish and will produce a thicker brownie (as pictured). For a lower profile brownie you can use a 13" x 9" baking dish. Adjust baking times accordingly.