The seeds from acorn squash are surprisingly delicious when roasted. Next time you slice open an acorn squash give these crunchy, salty Roasted Acorn Squash Seeds a try!
Our Perfect Roasted Pumpkin Seeds are another must-make fall recipe.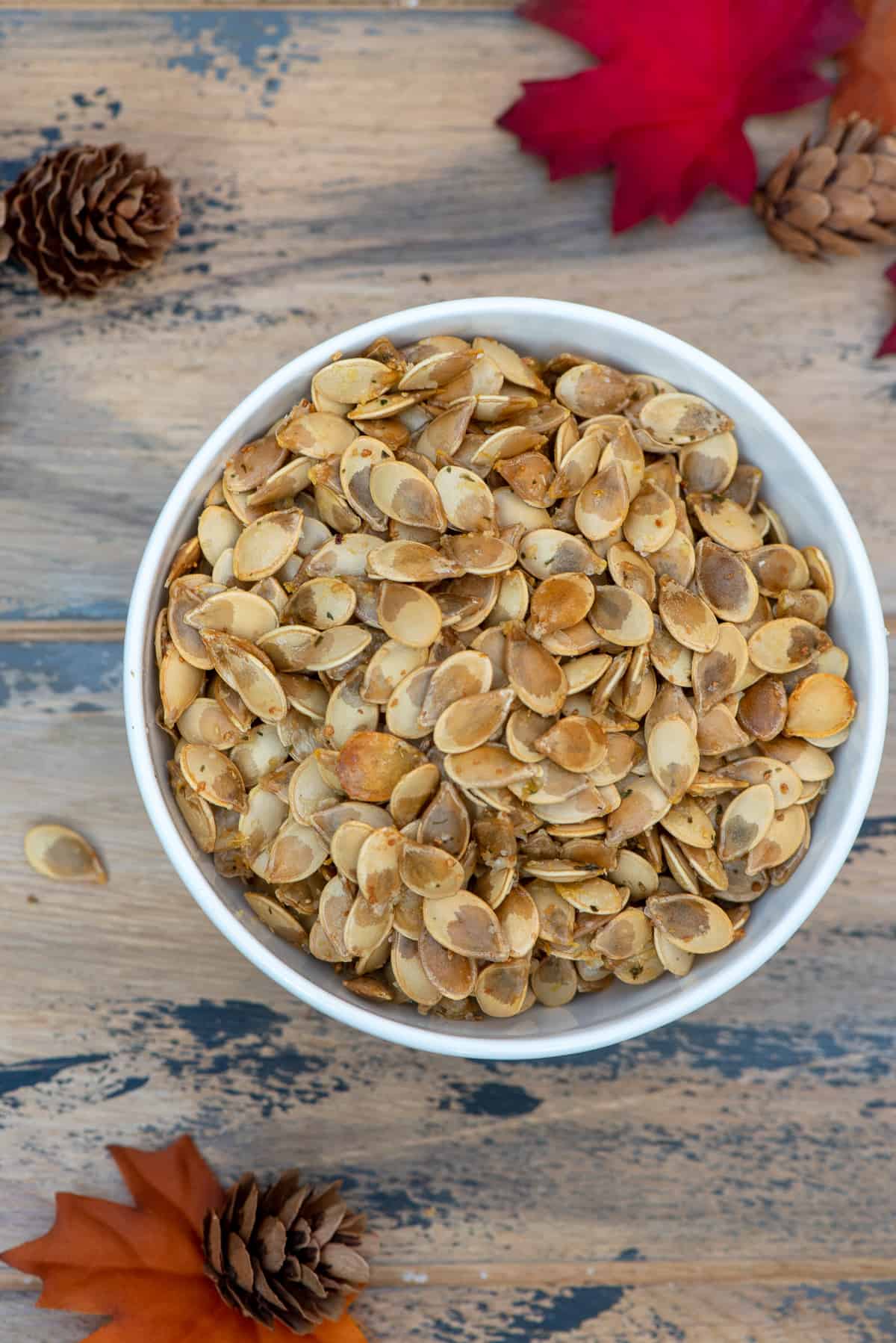 I have a little secret to share with you. When you toss acorn squash seeds with a little olive oil and garlic salt and roast them in the oven they turn into an irresistible snack.
Since we're literally hours from Thanksgiving and I'm pretty certain some of you will be slicing open some acorn squash for your feast. You may be considering scraping the seeds out of your squash and tossing them in the garbage but I really hope you'll take just a few minutes to give this recipe a try.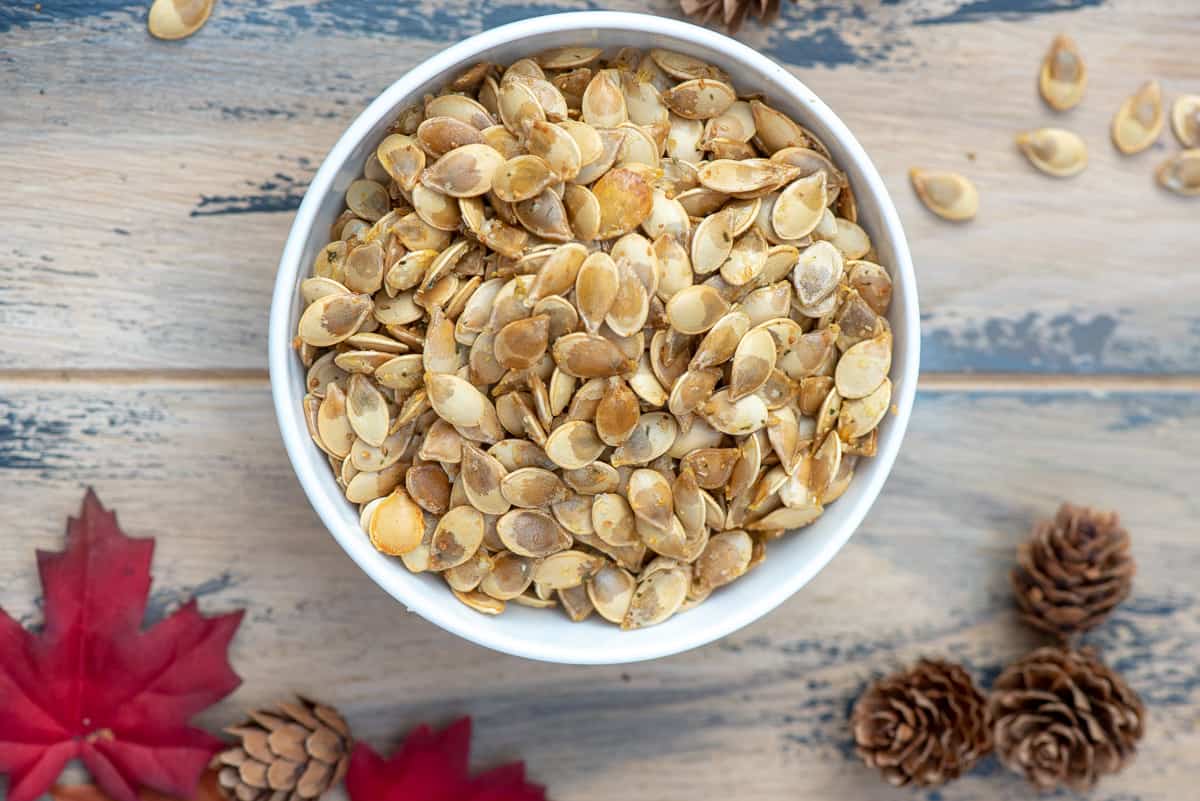 Acorn Squash Seeds vs. Pumpkin Seeds
You may only think of the granddaddy of all squash, the pumpkin, when it comes to roasting seeds. But, a large variety of winter squash seeds roast up beautifully and acorn squash seeds are especially flavorful.
Acorn squash seeds are smaller than pumpkin seeds and the outer shell is not nearly as fibrous. When you roast the tender seeds with olive oil, they get wonderfully fragrant and crispy.
There's no need to crack the shell to get to the seed inside. Just crunch away. The entire seed, shell and all, is delicious.
We love pumpkin seeds in this house. And, considering the massive traffic to my recipe for Perfect Roasted Pumpkin Seeds last month, I know there are lots of other pumpkin seed fans out there. It was seriously viral with over 600,000 people viewing the post in just one month.
But, I am aware it's kind of a love hate thing. Clearly there is a big love out there but I had one person tell me that eating pumpkin seeds reminded her of eating mulch… hmm. Well, if you're in the mulch camp, I'm certain that acorn squash seeds will change your mind.
Ingredient Notes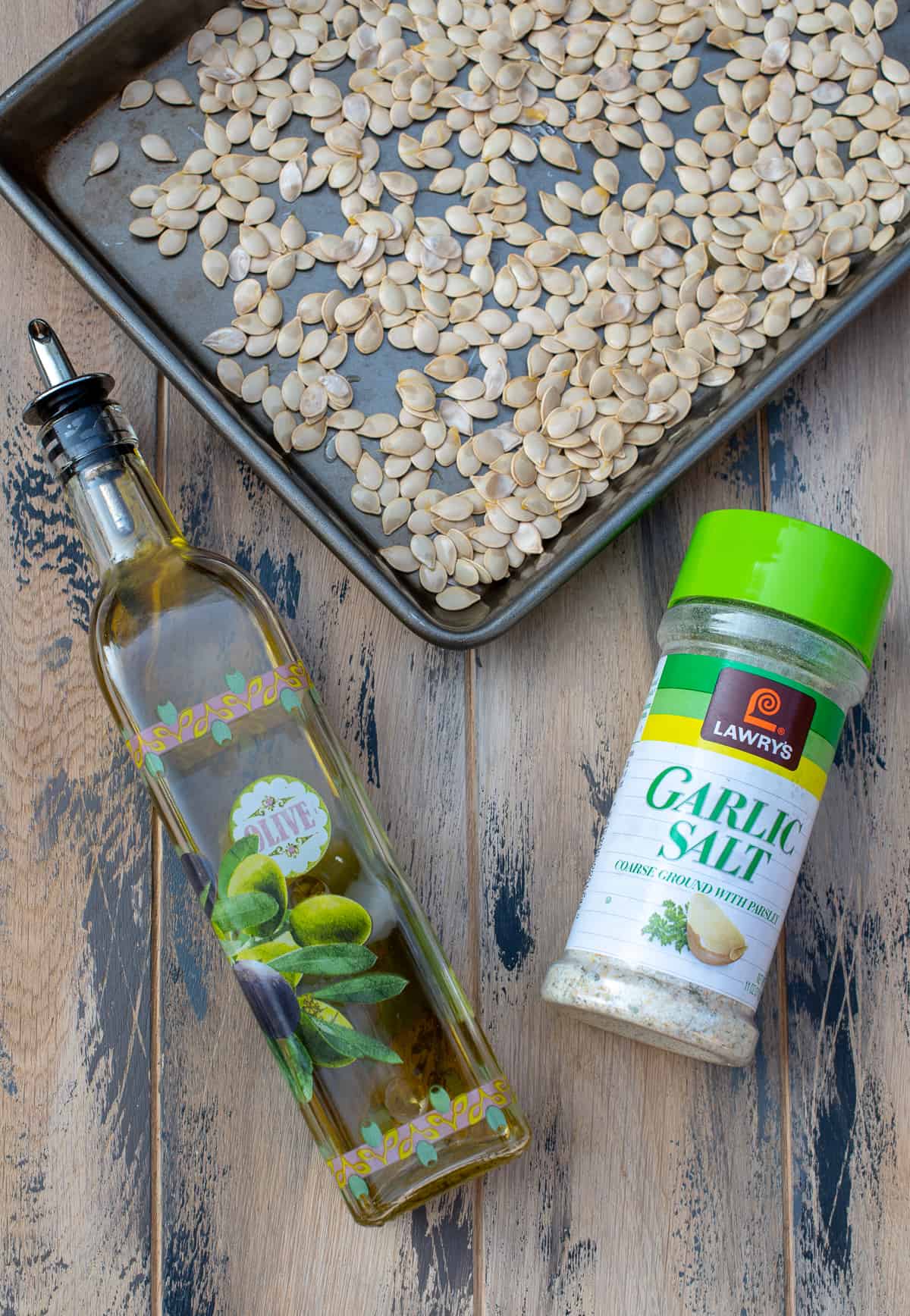 Acorn squash: How many seeds an acorn squash yields can vary. I got about 1 cup of seeds from 3 acorn squash this time around. While it's not common, I have had duds in the past that didn't yield many seeds or had shriveled seeds that weren't plump enough to roast. If your seeds resemble those pictured here you are good to go.
Olive oil: A little extra virgin olive oil for roasting the seeds.
Seasoning: We love our roasted seeds seasoned with garlic salt.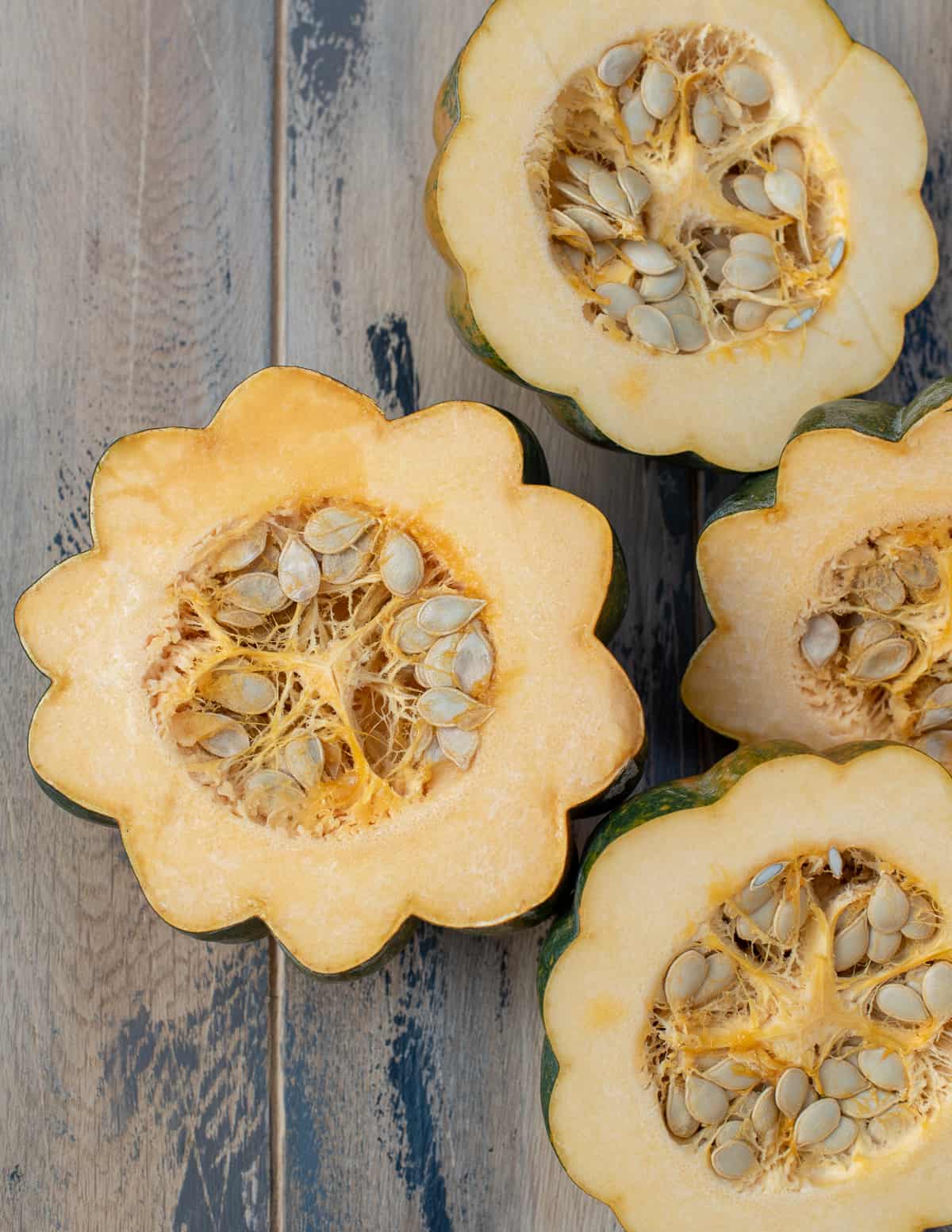 How to Roast Acorn Squash Seeds
Slice: Slice your squash as directed for your recipe. I sliced these right through the middle but when I'm making making my Sweet Baked Acorn Squash I slice them from tip to stem. Watch the video at the end of this post to see how that's done.
Scoop: Use a metal spoon to scrape the seeds out of the squash and pull away as much of the stringy pulp as possible.
Rinse and dry: Transfer the seeds to a colander and rinse them with cool water. Go through the seeds to pick out any remaining pulp as you rinse them. Drain them well and blot them dry with paper towels. You can pour them out on to a clean kitchen towel to dry but be warned, they will stick like crazy.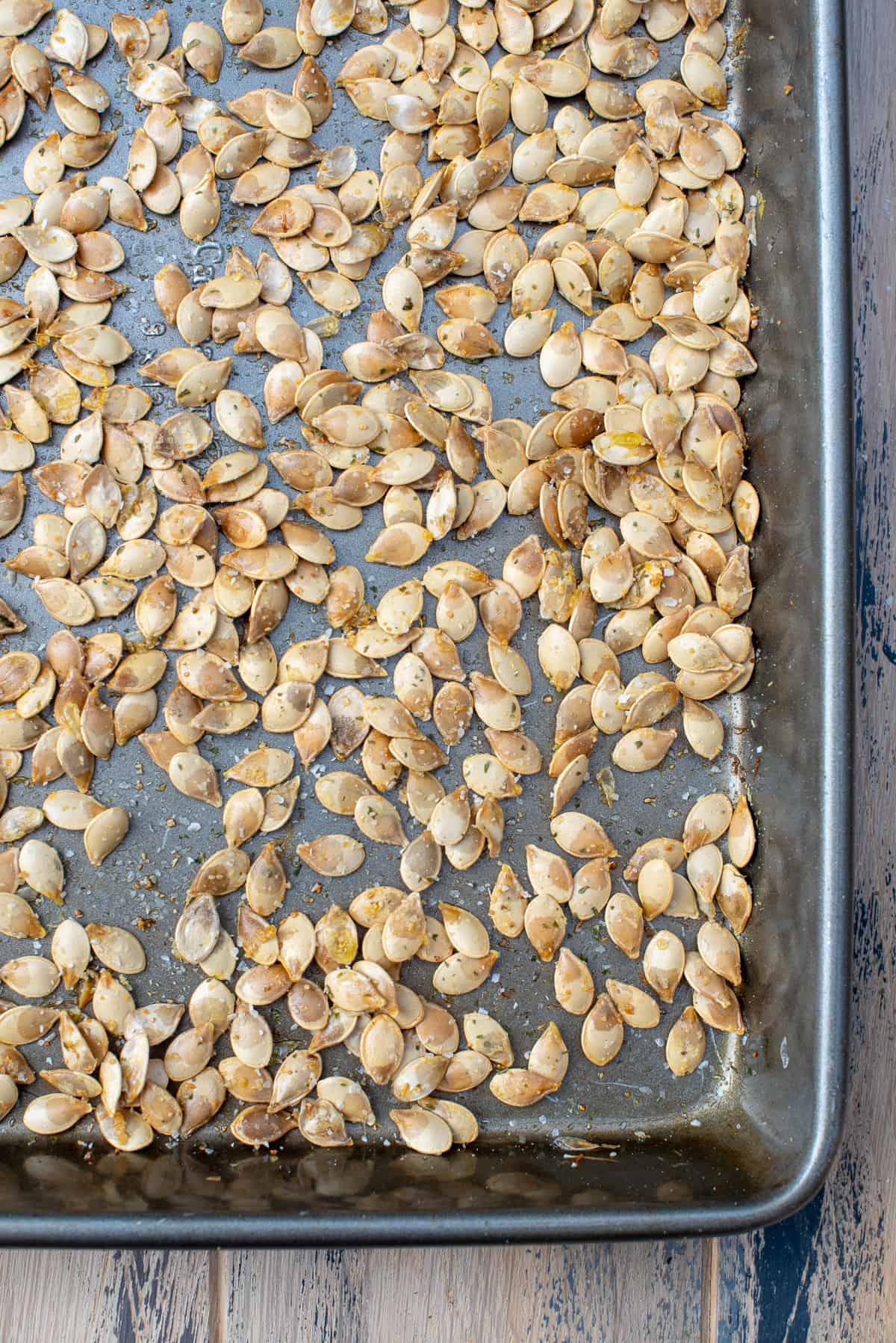 Baking sheet: Transfer the seeds to a small rimmed baking sheet and use paper towels to blot up any excess water.
Oil and seasoning: I like to keep it simple and drizzle them with a little olive oil and season them with garlic salt. You could get adventurous here but I've discovered this combination is our favorite.
Roast: Then it's just a matter of popping them in a 325 degree oven for about 20 minutes. Toss them with a spatula a couple of times while they roast. You may hear a pop or two and that's just fine, just keep them in the oven until they are nicely golden brown.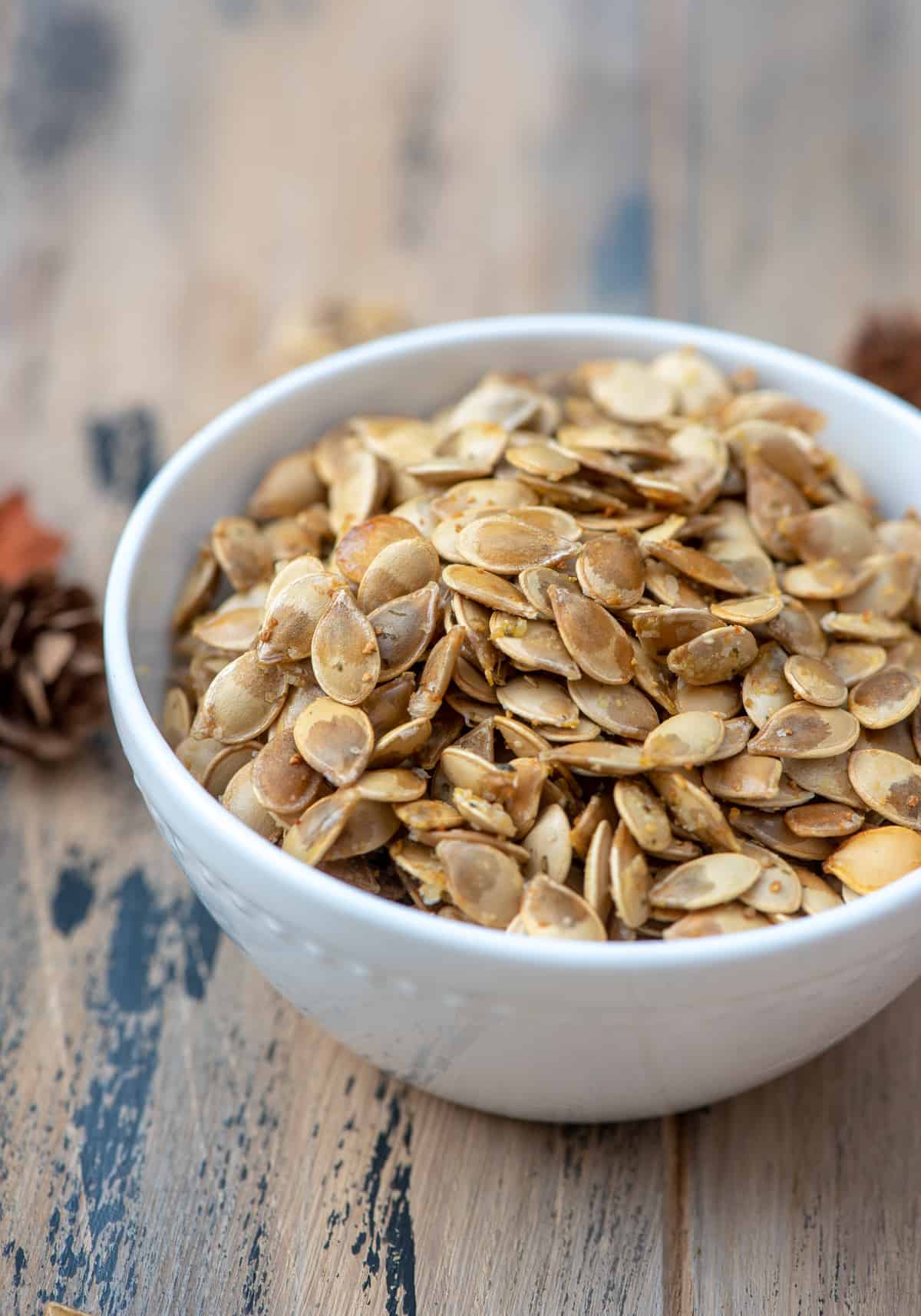 Storing Acorn Squash Seeds
After the seeds have cooled, transfer them to an airtight container and they will stay fresh, crunchy, and delicious for a week or more.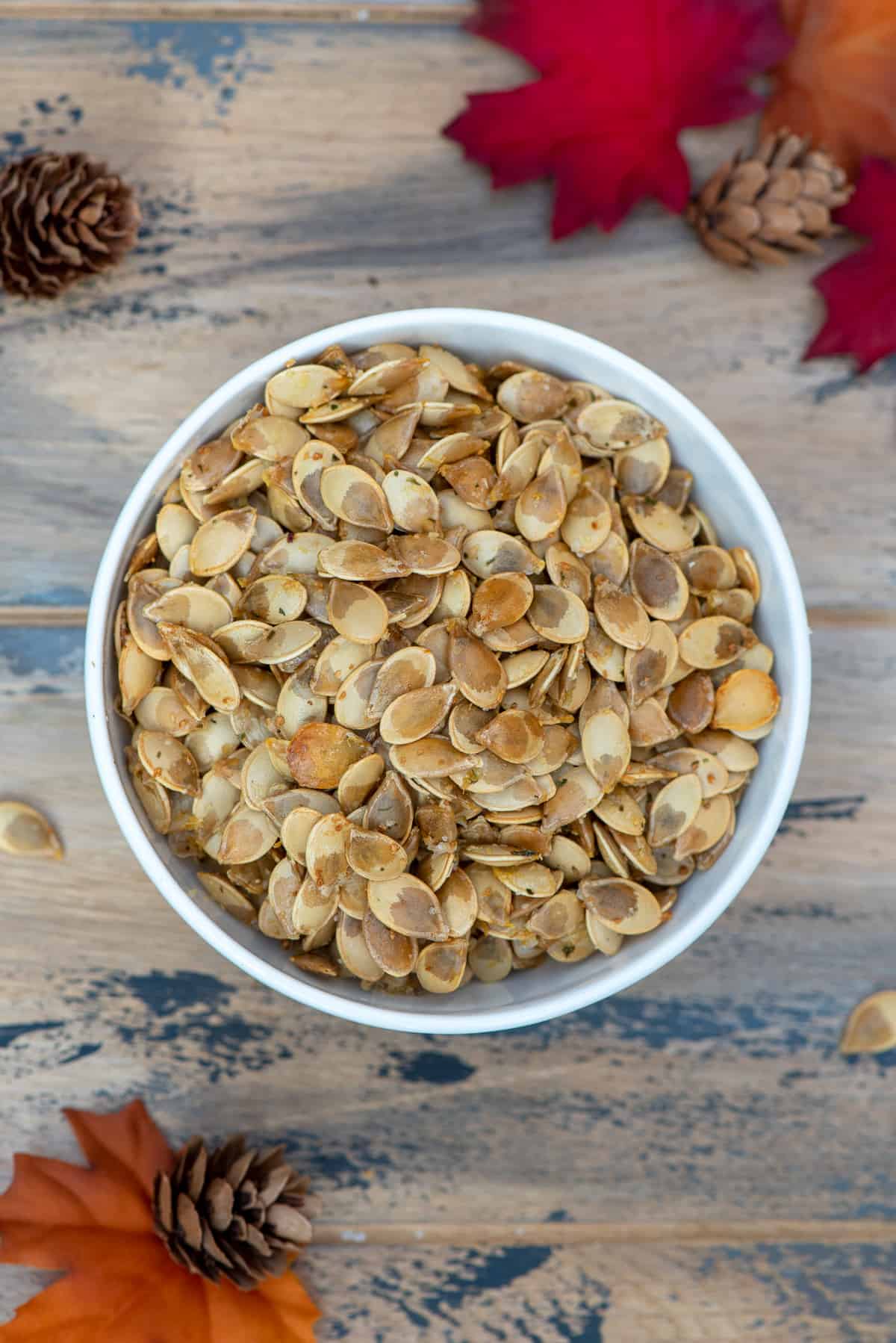 This is TV time snacking perfection, friends. A glass of wine and some crunchy, salty Roasted Acorn Squash Seeds on a fall evening makes this girl very happy. They are also an excellent choice to include on a holiday charcuterie board.
Be warned, they will disappear quickly!
Sign up for my free newsletter for all the latest recipes and join me on Facebook, Instagram and Pinterest for more cooking inspiration!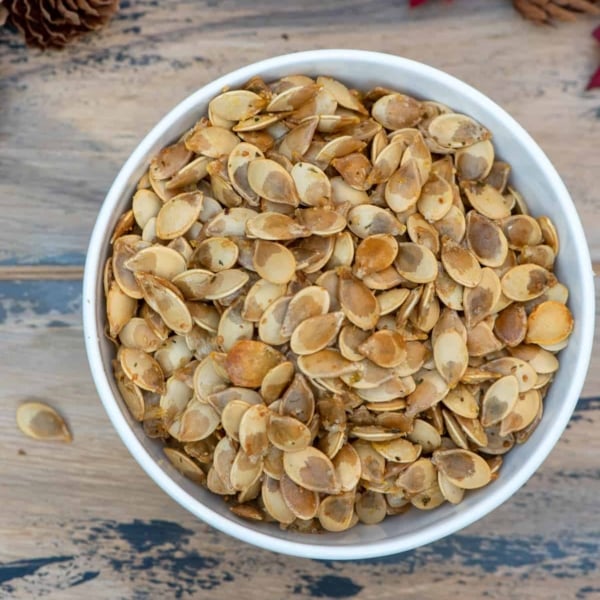 Roasted Acorn Squash Seeds
The seeds from acorn squash are surprisingly delicious when roasted. Next time you slice open an acorn squash give these crunchy, salty Roasted Acorn Squash Seeds a try!
Ingredients
1

cup

acorn squash seeds

2

teaspoons

olive oil

½

teaspoon

garlic salt

,

or to taste
Instructions
Preheat oven to 325 degrees F.

Transfer your seeds to a colander and remove as much of the pulp and strings as possible. Rinse with cool water and continue to pick through the seeds to remove any remaining pulp. Shake the colander to drain off as much of the water as possible and pat the seeds lightly with paper towels to blot the excess water. Transfer the seeds to a 13- x 9-inch rimmed baking sheet.

Drizzle the olive oil over the seeds and sprinkle with garlic salt, to taste. Stir the seeds with a spatula until all of the seeds are coated with oil. Transfer the baking sheet to the preheated oven and bake for 15 to 20 minutes, or until the seeds are golden brown. Toss the seeds with a spatula once or twice during the cooking time, spreading them back out in an even layer. You may hear a pop or two and that's just fine, just continue to roast until the seeds are browned to your liking.

Remove from the oven. Taste and season with additional garlic salt, as desired. Allow the seeds to cool and then transfer them to an airtight container. Or eat them all immediately because they are DELICIOUS!
Notes
Try this recipe with other winter squash like butternut, delicata, or kabocha squash.
Nutrition
Calories:
107
kcal
·
Carbohydrates:
1
g
·
Protein:
4
g
·
Fat:
9
g
·
Saturated Fat:
1
g
·
Sodium:
291
mg
·
Potassium:
129
mg
·
Vitamin C:
0.3
mg
·
Calcium:
7
mg
·
Iron:
1.4
mg
Nutrition information is automatically calculated using generic ingredients, and is an estimate not a guarantee. For more accurate results, please refer to the labels on your ingredients at home.
Did You Make This?
We love seeing what you've made! Tag us on social media at @fromvalerieskitchen for a chance to be featured