This Savory French Toast Bake is loaded with ham, Swiss cheese and asparagus all baked together in a casserole dish. An excellent option for a holiday brunch but easy enough to make any day of the week!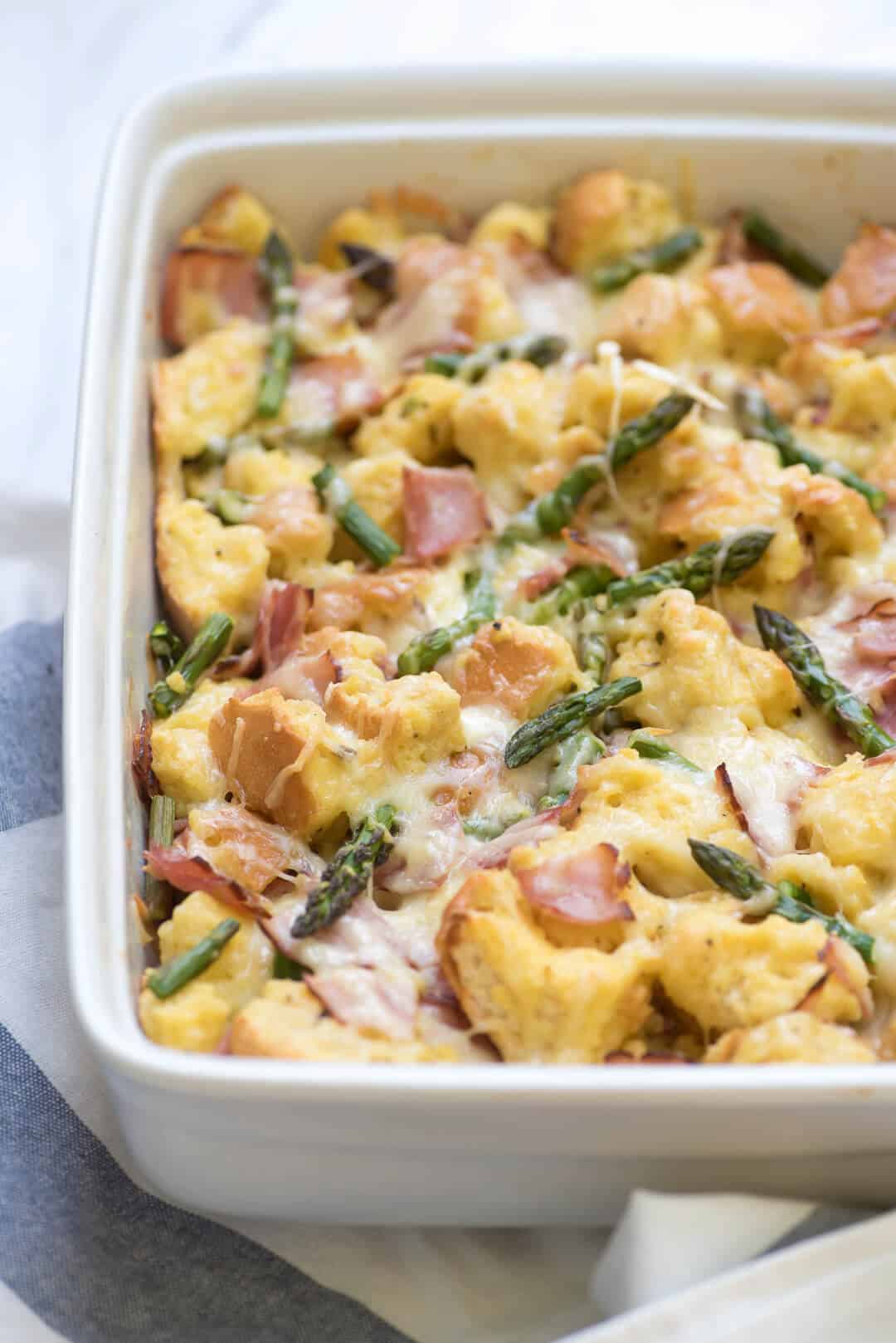 Friends, get ready for a delicious treat.
If you prefer savory over sweet when it comes to breakfast, this recipe is for you! This breakfast casserole is a real crowd-pleaser that can be made ahead and reheated when needed. Perfect for busy weekdays or a holiday brunch.
I was so excited to receive a copy of Mary Younkin's newest cookbook, The Weekday Lunches & Breakfasts Cookbook, in the mail several weeks ago. In addition to being a blogger and cookbook author, Mary is also one of the warmest, most supportive people I've met since I started in this business 7 years ago. She's a doll, a gem, a sweetheart of a lady!
Flipping through her book, this Savory French Toast Bake caught my eye right off the bat and I can tell you now, it is just as delicious as it looks. It was also super easy to put together.
The book is full of the kind of recipes I need the most. Practical, approachable, family-friendly meals.
Mary has included sections devoted to Make-Ahead Lunches, Quick and Easy Breakfasts, Make-Ahead Breakfasts, and Sweet and Savory Snacks. So many of these categories are overlooked in other cookbooks so this is truly an awesome resource. The recipes are easy to follow and include gorgeous color photos that will make you want to try every… single… one.
Mary's first book, The Weeknight Dinner Cookbook, focuses on simple dinner ideas for busy days and this book follows suit with some equally delicious inspiration for lunches and breakfasts.
I'm diving into the Make-Ahead Lunch section next and already have several recipes on my list to try.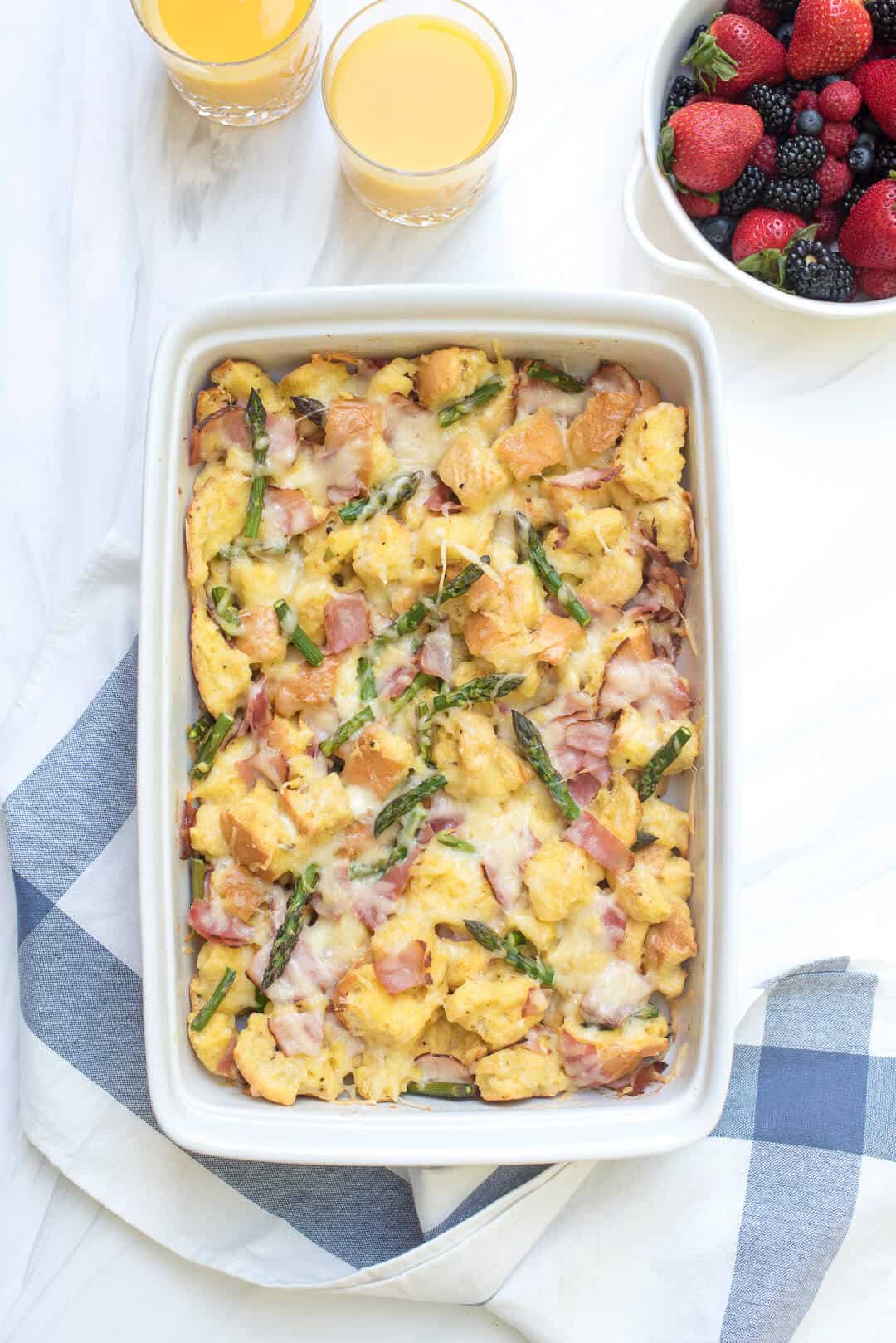 What a gorgeous choice for a Mother's Day brunch!
Or, make it on a Sunday and package up portions for a quick reheat on busy mornings. See the printable recipe below for all the details.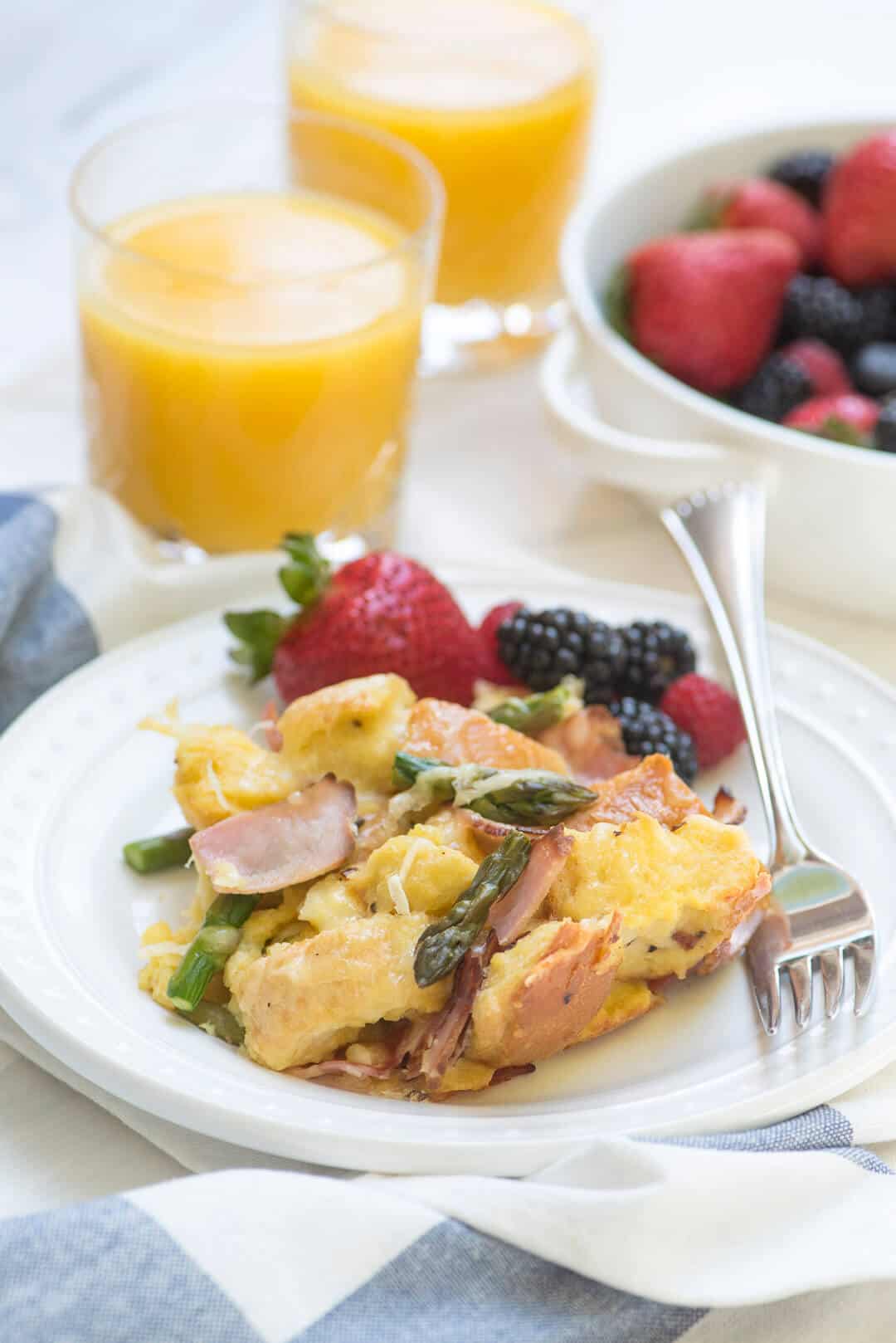 To perfectly round out an all-in-one breakfast casserole like this one, just add some fresh fruit or berries.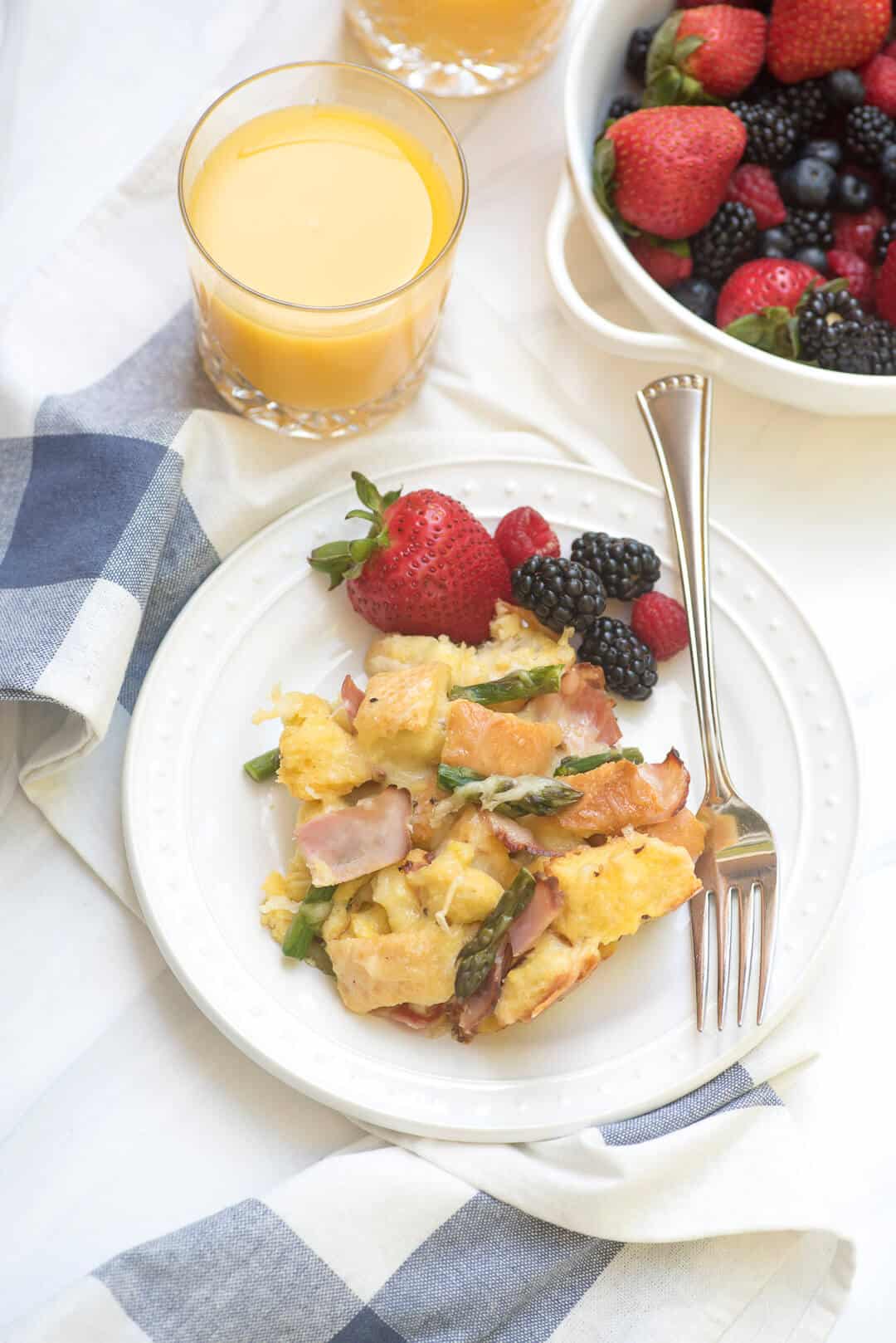 You can find Mary's cookbook here → The Weekday Lunches & Breakfasts Cookbook.
If you don't know Mary yet, you need to! You'll find her over at Barefeet in the Kitchen where she shares simple, from-scratch recipes perfect for feeding a family.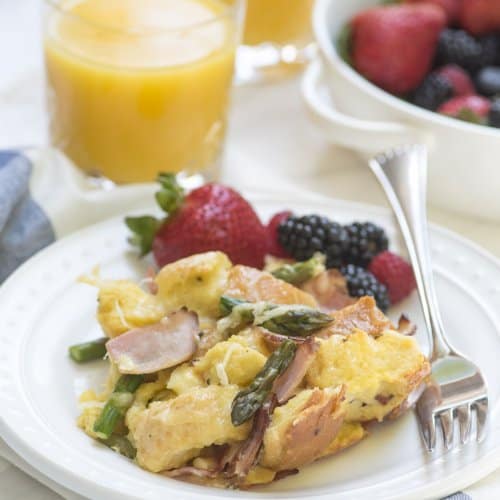 Savory French Toast Bake
This Savory French Toast Bake is loaded with ham, Swiss cheese and asparagus all baked together in a casserole dish. An excellent option for a holiday brunch but easy enough to make any day of the week!


Print
Pin
Rate
Servings: 6
Calories: 539kcal
Ingredients
1 loaf French bread
6 eggs
1/2 cup milk
1/2 cup heavy cream
1/2 teaspoon kosher salt
1/2 teaspoon freshly ground black pepper
1/2 teaspoon granulated garlic or garlic powder
1/2 pound fresh asparagus trimmed and cut into 1-inch pieces
1/2 pound thinly sliced deli ham chopped into 1-inch pieces
1 1/2 cups shredded Swiss cheese divided
Instructions
Preheat the oven to 350 degrees F.

Coat a 13" x 9" baking dish with non-stick cooking spray and set aside. Use a sharp knife to slice the bread into 1-inch slices and then cut the slices into 1-inch cubes. Place the bread cubes in a large mixing bowl.

In a small bowl, lightly whisk the eggs and add the milk, cream, salt, pepper, and granulated garlic or garlic powder. Whisk to combine, and pour the liquid over the bread cubes. Use a large spoon to gently stir and coat all the bread cubes. Add the asparagus, ham, and 1 cup of shredded cheese. Toss once more to evenly distribute the ingredients.

Transfer the mixture to the prepared baking dish and make sure the ham and asparagus are distributed throughout. Sprinkle with the remaining cheese. Cover with foil and bake for 30 minutes. Remove the foil and bake for 20 to 22 minutes, uncovered. The bread should be toasted golden brown. Remove from the oven and serve warm.

Cover and store any leftovers in the refrigerator.
Notes
Make-Ahead Directions: Store in an airtight container in the refrigerator for up to 3 days. Reheat in the microwave or covered in the oven.
This can be stored in one large container or portioned into individual servings for storage and reheating.
This recipe would also work well with broccoli or bell peppers in place of the asparagus.
This recipe is from The Weekday Lunches & Breakfasts Cookbook
Nutrition
Calories: 539kcal | Carbohydrates: 42g | Protein: 30g | Fat: 27g | Saturated Fat: 13g | Cholesterol: 241mg | Sodium: 1116mg | Potassium: 393mg | Fiber: 2g | Sugar: 3g | Vitamin A: 1070IU | Vitamin C: 2.1mg | Calcium: 315mg | Iron: 4.4mg
Valerie's Kitchen is a participant in the Amazon Services LLC Associates Program, an affiliate advertising program designed to provide a means for us to earn fees by linking to Amazon.com and affiliated sites.