An incredible, made from scratch Sloppy Joe filling is topped with cheese and baked between layers of crescent roll dough. These Sloppy Joe Squares will be a hit with your family or at your next potluck gathering!
Click HERE to sign up for your FREE email subscription and never miss a recipe!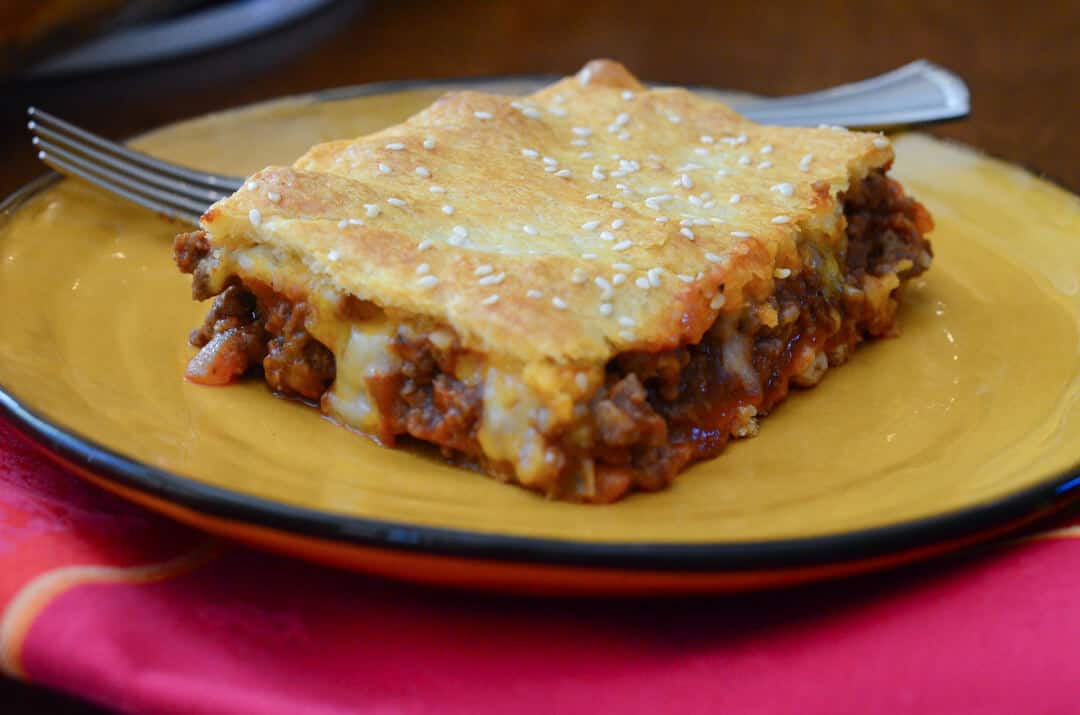 Boy # 4 started back to school today. The first day of his last year of high school and the first of many lasts for us this year. His older brothers will return to their respective colleges within the next couple of weeks. Summer is officially winding down.
I always like to plan a special menu full of good, hearty, kid friendly (or teenage boy friendly) meals for the first week of school that are centered around the boys and cater to their tastes. Meals like this are much needed after the stress, excitement, and first day jitters that inevitably come each new school year. And somehow it makes me feel better too. This recipe is a great one to feed your hungry Back to Schoolers and it's also a great choice for all those upcoming school potlucks or banquets.
I came across a similar recipe a loooonnnnggg time ago in a magazine that no longer exists. It was called Hometown Cooking, from the folks at Better Homes & Gardens. I'm still trying to get over the fact that this magazine is no longer published. It was my favorite cooking magazine and every issue had a gazillion recipes I wanted to try. I still refer back to issues that are now over 10 years old, for inspiration.
The recipe calls for Sloppy Joe filling so I use my all time favorite, hands down, no contest cause it's the winner, recipe for Cajun Sloppy Joe's.

Just slice, serve… enjoy!
Put a plate of this in front of them and ask them about their day. If you have a son, and he says more than three words in response, you are truly blessed.
For lots of delicious recipes, giveaways, and more, be sure to follow Valerie's Kitchen
Facebook | Twitter | Pinterest | Instagram | Google +
More recipes for Sloppy Joe fans:
Philly Cheese Steak Sloppy Joes | Belly Full
Sloppy Joe Sliders | Valerie's Kitchen
One Pot Sloppy Joe Noodle Skillet | Spicy Perspective
Taco Sloppy Joes | Lemons for LuLu
CLICK HERE OR ON THE IMAGE BELOW TO PIN THIS RECIPE!
Sloppy Joe Squares
Prep Time 30 minutes
Cook Time 15 minutes
Total Time 45 minutes
Servings 8 servings
Change the number in the box above to adjust serving size. Please note that size of cookware and cook time may vary.
Ingredients
2 pounds ground beef
1 small white onion diced
1 small green bell pepper seeded and diced
1 16 ounce can tomato sauce
1 cup ketchup
1 tablespoon Worcestershire sauce
2 teaspoons prepared yellow mustard
2 teaspoons brown sugar
1 teaspoon Creole or Cajun Seasoning
1 teaspoon garlic powder
1 teaspoon crushed red pepper adjust amount as needed
1/2 teaspoon fresh ground pepper
2 8 ounce packages refrigerated crescent roll dough
1 cup shredded cheddar/jack cheese
1 tablespoon milk
1 tablespoon sesame seeds
Instructions
In a large skillet over medium heat, cook the ground beef, onions, and bell pepper until meat crumbles and no pink remains. Drain well and return skillet to heat.

Add tomato sauce, ketchup, Worcestershire, mustard, brown sugar, Creole seasoning, garlic powder, crushed red pepper, and fresh ground pepper. Stir well to combine and reduce heat to low. Simmer 20 minutes, stirring frequently.

Preheat your oven to 425 degrees and spray a 13 x 9 pan with non-stick cooking spray. Press one can of the crescent roll dough into the prepared pan, pressing with your fingers to cover the bottom of the pan. Spoon the Sloppy Joe mixture on top of the dough in pan and sprinkle evenly with cheese. Carefully place the 2nd sheet of crescent roll dough on top of the cheese, lightly pressing the seams together and pulling the dough out to the edges of the pan. Brush the top of the dough with milk and sprinkle with sesame seeds.

Bake, uncovered, for 13 to 15 minutes till nicely golden brown. Serve immediately.
Valerie's Kitchen is a participant in the Amazon Services LLC Associates Program, an affiliate advertising program designed to provide a means for us to earn fees by linking to Amazon.com and affiliated sites. For more information on our site policies click HERE.