This hearty red chili includes both cubed and ground beef, two kinds of beans, and a delicious blend of spices. Get this Slow Cooker Double Beef and Bean Chili on your menu soon!
Click HERE to sign up for your FREE email subscription and never miss a recipe!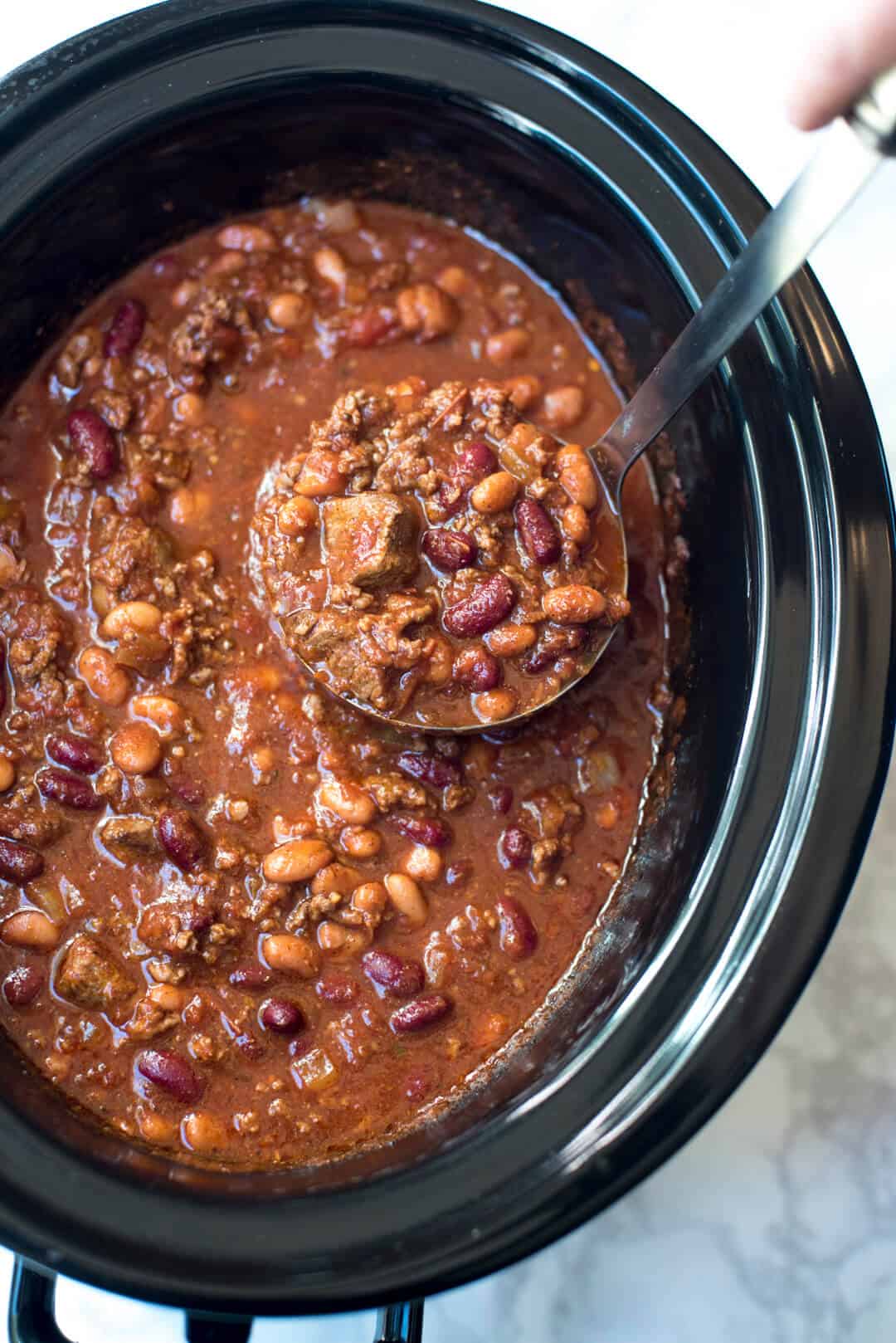 We aren't used to big weather here in Northern California but we're getting a serious dose of it right now. After years of drought all of our prayers for rain have been answered – in a very, very big way. I'm talking about the kind of rain that creates landslides, shuts down major highways and evacuates entire towns in fear of dam spillways giving way.
My thoughts go out to the over 200,000 people forced from their homes in the Oroville area and anyone who has experienced loss in these damaging storms.
We had a brief break from the rain this weekend so Paul and I scooped up our pup and spent as much time outdoors in the glorious sunshine as possible, but the break will be a short one with more rain coming this week.
So, I made this chili.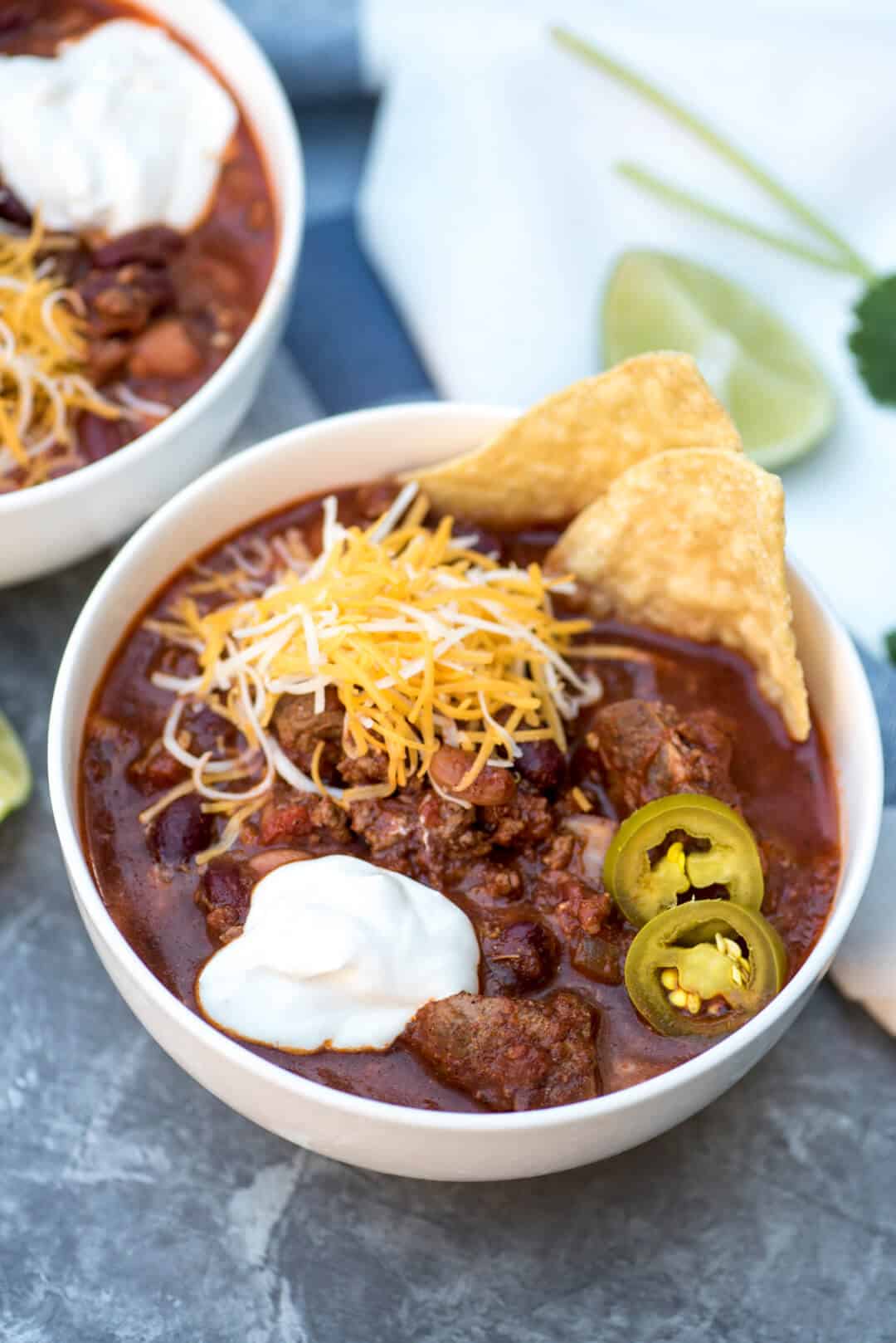 I am straight-up bonkers for chili and this particular chili is my newest love.
I can't and won't call it a Texas-style chili because it has both beef and beans and I don't want people from Texas to yell at me (I love ya Texas). But, like Texas-style chili, the ingredient list includes cubed beef that simmers low and slow in the Crock-Pot until it's fork tender. To be sure the beef factor was solid I added some ground beef and because for me, chili is not chili without some beans, I added both kidney and pinto beans.
Double beef, double beans. This chili has it all!
The first step in the process is to brown a pound of cubed chuck roast which you can commonly find pre-cut and packaged as "stew meat" at the store. Transfer the browned beef to a 6-quart slow cooker.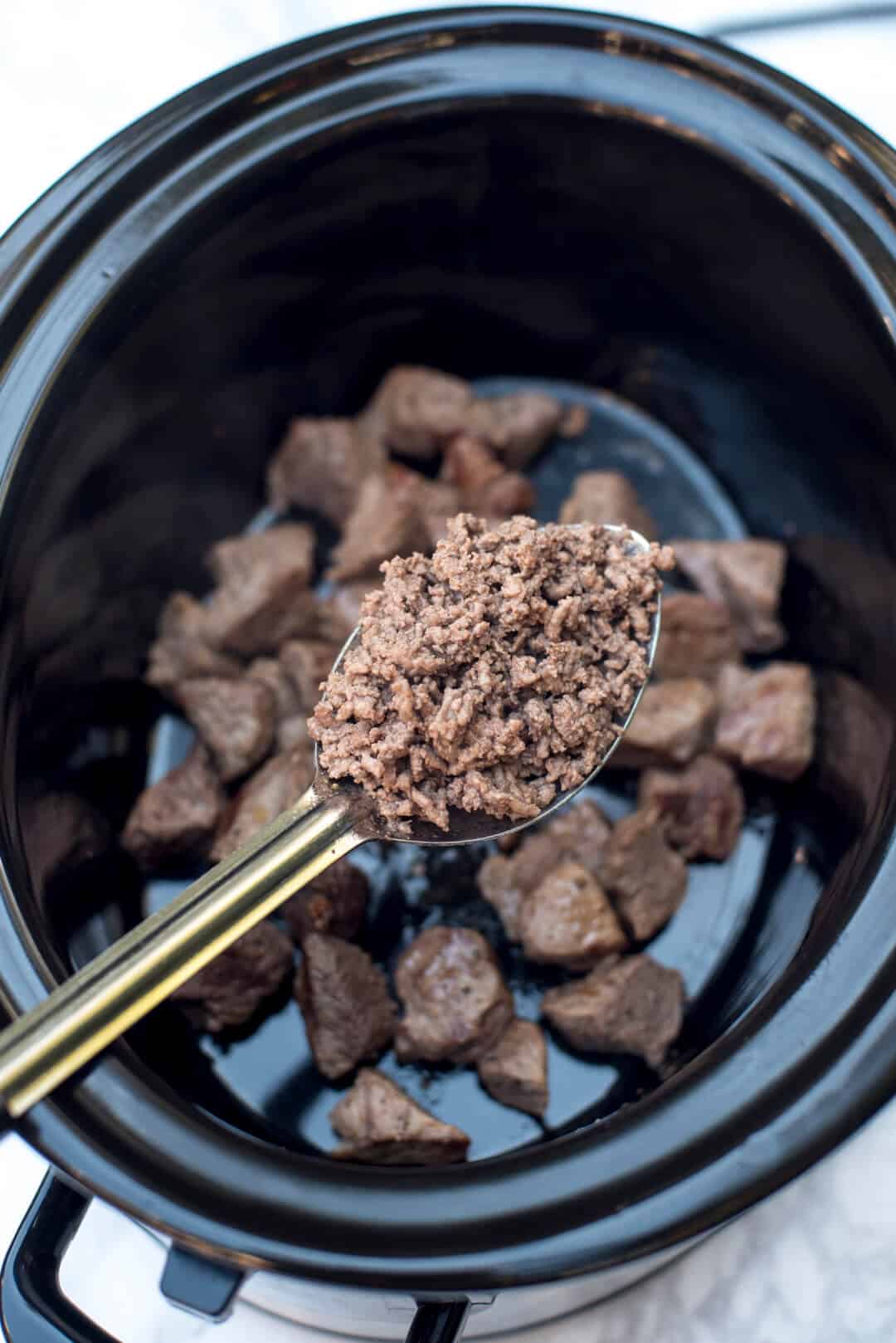 Brown a pound of ground beef in the same skillet and use a slotted spoon to transfer it to the slow cooker with the cubed beef.
Add a big can of crushed tomatoes, a small can of tomato sauce and the seasonings – chili powder, oregano, crushed red pepper, cumin, and minced garlic.
Give it a stir and tuck a bay leaf into the mixture. Cover and cook until the beef cubes are nice and tender.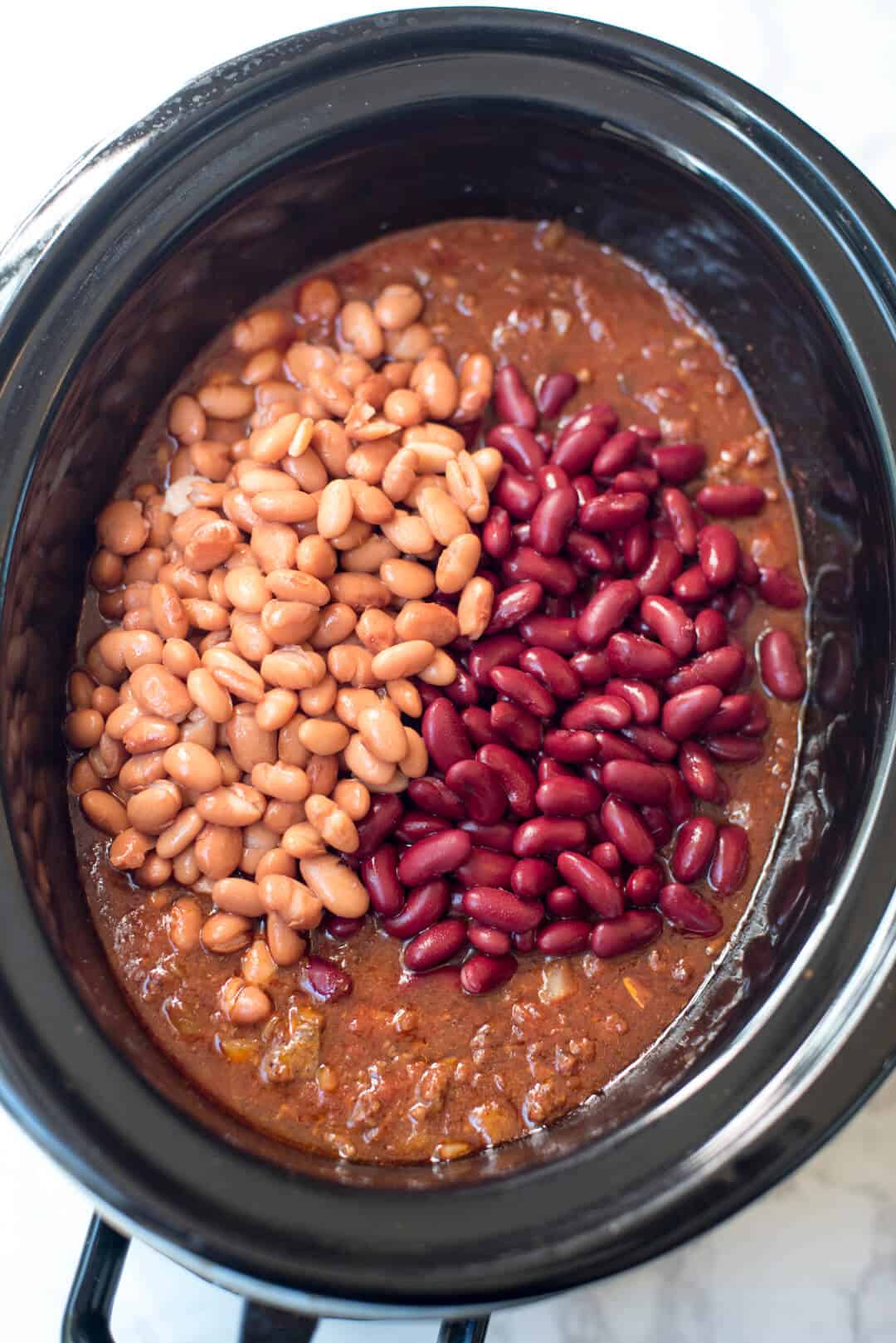 Since canned beans are already cooked, the texture can become mushy and really undesirable if they hang out for too long in the slow cooker. This is why I always add them towards the end of the initial cooking time in all of my slow cooker recipes. Add the rinsed and drained beans and let the chili cook for an additional 30 minutes before serving; just long enough to warm them through.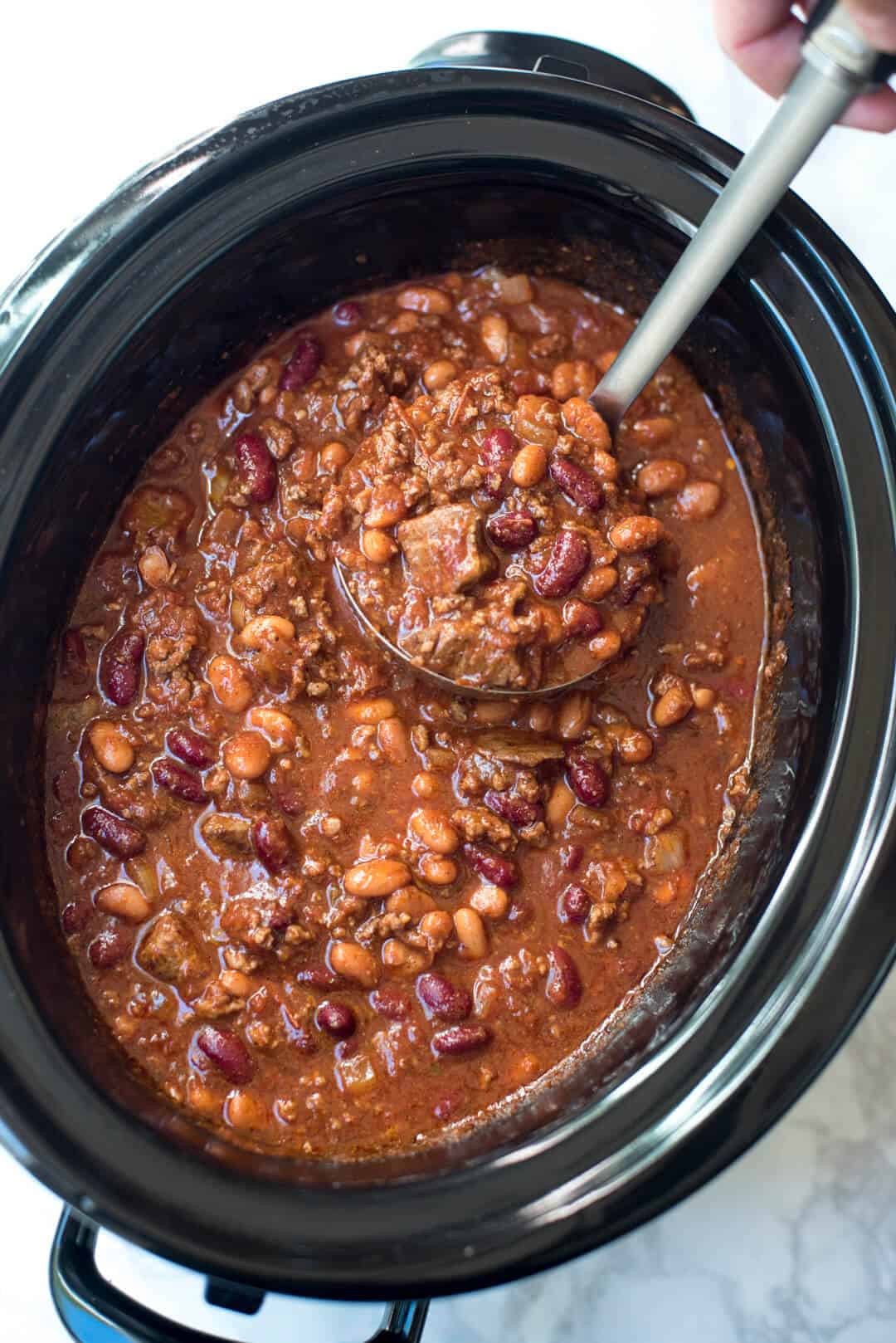 Add the toppings of your choice. We went with shredded cheese, sour cream, pickled jalapenos, and chips for dipping.
Ingredients
2 tablespoons vegetable oil
1 pound beef chuck roast cut into bite-size pieces (or pre-cut beef stew meat)
1 pound lean ground beef
salt and fresh ground black pepper to taste
1-1/2 cups chopped onion
1 tablespoon minced garlic
1 28-ounce can crushed tomatoes (use fire-roasted if you can find them)
1 8-ounce can tomato sauce
1 cup low-sodium beef broth
2 tablespoons chili powder
2 teaspoons ground cumin
2 teaspoons oregano
1/2 teaspoon crushed red pepper flakes see recipe notes
1 bay leaf
1 15-ounce can kidney beans, rinsed and drained
1 15-ounce can pinto beans, rinsed and drained
Toppings: shredded cheese chopped onion, cilantro, avocado, pickled jalapenos, sour cream, salsa or hot sauce
Instructions
Add vegetable oil to a heavy 12" skillet and place over MEDIUM-HIGH HEAT. If using pre-cut beef you may want to cut beef cubes a bit smaller. Add beef cubes to skillet, season with salt and pepper to taste, and sauté over medium-high heat for several minutes, or until nicely browned. Transfer the browned beef cubes to a 6-quart slow cooker. Add ground beef to the skillet with the beef drippings and cook, stirring to break up until beef is thoroughly cooked and no longer pink. Season with a little salt and pepper while cooking. Use a slotted spoon to transfer the cooked ground beef to the slow cooker with the beef cubes.

Add next 9 ingredients, from onion through crushed red pepper, to slow cooker (reserve bay leaf and beans). Stir well to combine and tuck the bay leaf into the mixture. Cover and cook until beef cubes are very tender; on LOW for 6 to 7 hours or on HIGH for 4 to 5 hours. Add kidney and pinto beans, cover, and cook for an additional 30 minutes or until beans are warmed through.

Serve with desired toppings.
Notes
Made as written this will be a mildly spicy chili. Adjust the amount of crushed red pepper up or down to suit your taste.
More chili recipes you might like:
Three Bean Turkey Chili | Valerie's Kitchen
Crock Pot Beefy Black Bean Chili | The Blond Cook
Slow Cooker Pulled Pork Chili | Slow Cooker Gourmet
Crock Pot Creamy Taco Chili | Chelsea's Messy Apron
Crock Pot Jalapeno Popper White Chicken Chili | Show Me the Yummy