This Slow Cooker Chicken Tikka Masala is my version of the classic Indian dish. Tender chunks of chicken simmer in a creamy, tomato-based sauce that is infused with fragrant and highly flavorful Indian spices. Once you try it, you'll be hooked!
Click HERE to sign up for your FREE email subscription and never miss a recipe!
The first time I had Tikka Masala was at an art and wine festival of all places! Strange, I know, but a local Indian restaurant was serving a small sampling of their dishes out of one of the food tents. While Paul made a B-line for the folks selling corn dogs (high class all the way), I decided to try the Tikka.
It was love at first bite. The kind of love you know will last forever.
If you order Tikka Masala at a restaurant, the heat level can range from mild to pretty darn spicy. One of the awesome things about preparing it at home is that you can totally control the spice level to your liking. I live on the wimp end of the spice scale but if you like things hot, you can really rev this dish up.  
SLOW COOKER CHICKEN TIKKA MASALA
Start by creating the incredibly flavorful tomato-based sauce. The ingredients include sautéed onion, garlic and fresh ginger. Once softened, in goes a can of fire-roasted diced tomatoes, tomato sauce and the wonderful spices –   garam masala, curry powder, cumin, paprika, crushed red pepper, and a little salt.
If you're not familiar with garam masala I'm so happy to introduce you to this fabulous Indian spice blend. Check out this post  HERE for more detail.
Cut about 3 pounds of boneless, skinless chicken breast or thigh meat (or a combination of the two) into bite size pieces and add to a 6-quart slow cooker.
After you've simmered the sauce, let it join the chicken in the slow cooker. Cover and cook on LOW for 5 to 6 hours.
Once the initial cooking time is over, the chicken should be nice and tender. Now it's time to finish the sauce.
Many Tikka recipes include heavy cream but I've opted to go with coconut milk to create the creamy tomato sauce. It has SO much flavor and makes it a healthier dish. Feel free to substitute light coconut milk if you're watching those fat grams. It won't be quite as rich, but still delicious. A small amount of the coconut milk is used to create a cornstarch slurry, which will thicken the sauce, while the remaining amount goes right in to the slow cooker. See the recipe card below for the details.
And, that is how you do it, friends. So easy and oh…so… good!!!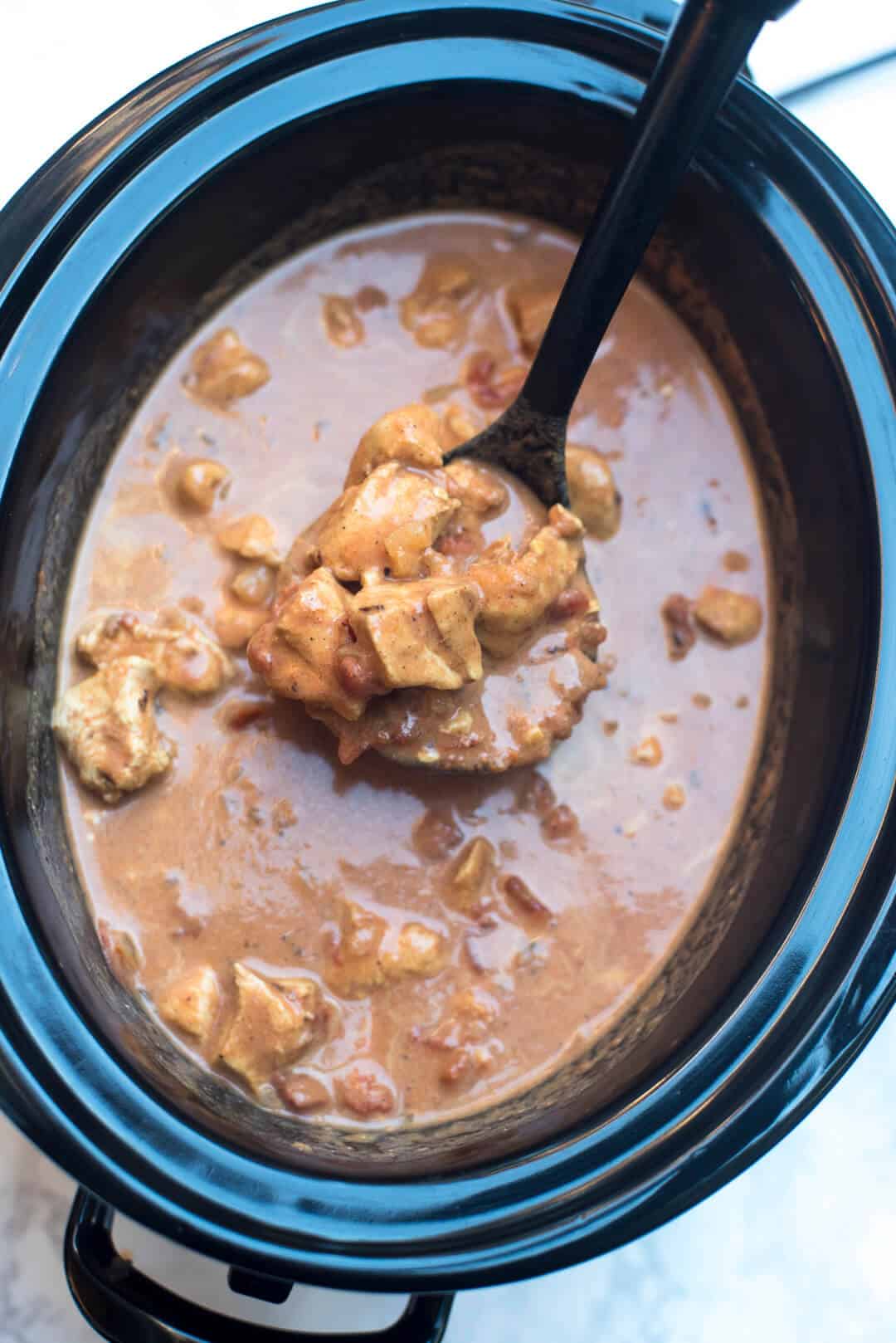 Cook up some rice and roast some veggies and dinner is served.
I like to garnish the dish with a little cilantro and a dollop of plain yogurt.
I'm telling you, it is pure comfort in a bowl. Try it!
CLICK HERE OR ON THE IMAGE BELOW TO PIN THIS RECIPE!
For lots of delicious recipes, giveaways, and more, be sure to follow From Valerie's Kitchen
Facebook | Twitter | Pinterest | Instagram
SLOW COOKER CHICKEN TIKKA MASALA
Slow Cooker Chicken Tikka Masala
Ingredients
1

tablespoon olive oil

1

cup chopped white or yellow onion

2

teaspoons peeled and grated fresh ginger root

2

teaspoons minced garlic

1

(14.5 ounce) can fire-roasted diced tomatoes

1

(15 ounce) can tomato sauce

4

teaspoons garam masala

2

teaspoons curry powder

2

teaspoons cumin

1

teaspoon paprika

1

teaspoon salt

1/2

to 1 teaspoon crushed red pepper flakes, to taste (see recipe note below)

2-3/4

to 3 pounds boneless, skinless chicken breasts or thighs (or a combination)

1

(13.5 ounce) can coconut milk, divided

2

tablespoons cornstarch

chopped fresh cilantro, for garnish

cooked long grain or Jasmine rice

Plain Greek yogurt, for garnish (optional)
Instructions
Heat oil in a large nonstick skillet over MEDIUM-HIGH heat. Add onion, ginger, and garlic to pan; cook for several minutes or until softened, stirring occasionally. Stir in diced tomatoes and tomato sauce. Add garam masala, paprika, curry powder, cumin, salt, and crushed red pepper. Bring to a boil, reduce heat to LOW and simmer while you prepare the chicken.
Cut chicken into bite-size chunks and place in a 6-quart slow cooker. Pour tomato mixture over chicken, cover and cook on LOW for 5 to 6 hours, or until chicken is very tender.
After initial cooking time, shake can of coconut milk well and measure out 1/4 cup. Add 2 tablespoons cornstarch to the measuring cup and stir until well combined and cornstarch has dissolved. Add the remaining coconut milk in the can to the slow cooker, stirring it into the chicken and sauce. Add the cornstarch slurry and stir until well combined. Cover and cook for an additional 15 minutes, or until heated through.
Garnish with cilantro and serve over rice. Top each serving with 1 tablespoon yogurt, if desired.
Recipe Notes
Use your microplane, zester, or cheese grater to finely grate the fresh ginger. I always keep ginger root in a plastic storage bag in my freezer so that it stays fresh for a very long time. It also makes it easier to grate.
Using 1/2 teaspoon crushed red pepper will result in a very mildly spicy dish. Use more to increase the heat level to your liking.
Full fat coconut milk will yield the best result, however, if you are watching your intake of fat, feel free to substitute light coconut milk.