Butternut squash tossed in an aromatic blend of spices and brown sugar and roasted in the oven till caramelized. A beautiful addition to your holiday menu or a tasty side dish for any night.
Butternut squash is one of my favorite things about this time of year. It's amazing just simply baked or pureed into soups, but tossed in a sweet and flavorful spice blend and roasted to perfection, it is absolutely heavenly.
This is a rustic, pretty dish that is worthy of your holiday table. Something a little different from the typical fare you might normally offer, but definitely a nice change from the ordinary. Who wants to be ordinary?
The convenience of buying a package of peeled and cut butternut squash just can't be beat and turns this into a quick and easy dish that you can prepare any old night of the week. I find the best price at Costco but I've also found packages in the produce section of my grocery store. It's a bit more expensive than buying the whole squash but the whole peeling and cutting process can be a real pain in the bee-hind. This is a really nice, time-saving option.
If you don't have a jar of  garam masala in your spice rack I highly recommend you do something about that. Garam masala is an aromatic blend of spices commonly used in Indian cuisine. Both the aroma and the flavor encompass all things fall – it's warm, cozy, and wonderful. The blends can differ a bit, but this one from McCormick contains coriander, black pepper, cumin, cardamom, and cinnamon. It's great in chicken and potato dishes, all kinds of veggies, and it compliments squash and sweet potatoes beautifully.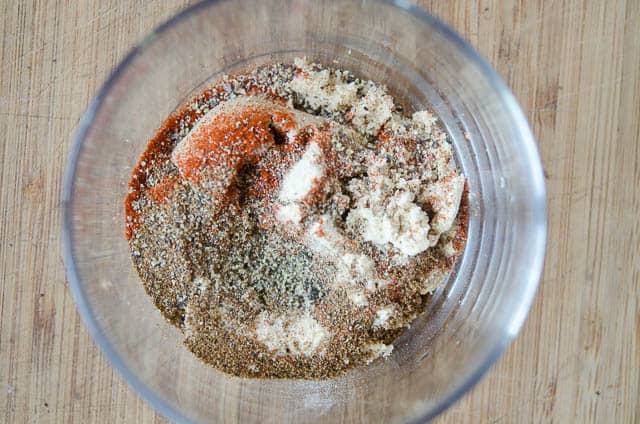 Our sweet spice mixture is comprised of brown sugar, our new friend – garam masala, onion powder, garlic powder, paprika, salt, and pepper. If you'd like a touch of heat, add a bit of cayenne.
Toss your cubed butternut squash with a few tablespoons of olive oil and then sprinkle in the spice mixture. Toss it well to distribute the spices.
Coat a large, rimmed baking sheet with non-stick cooking spray and transfer the spice coated squash to the prepared sheet.
Roast it in a 425 degree oven for 15 minutes and then give it a good stir and roast for an additional 15 minutes, or until nicely caramelized.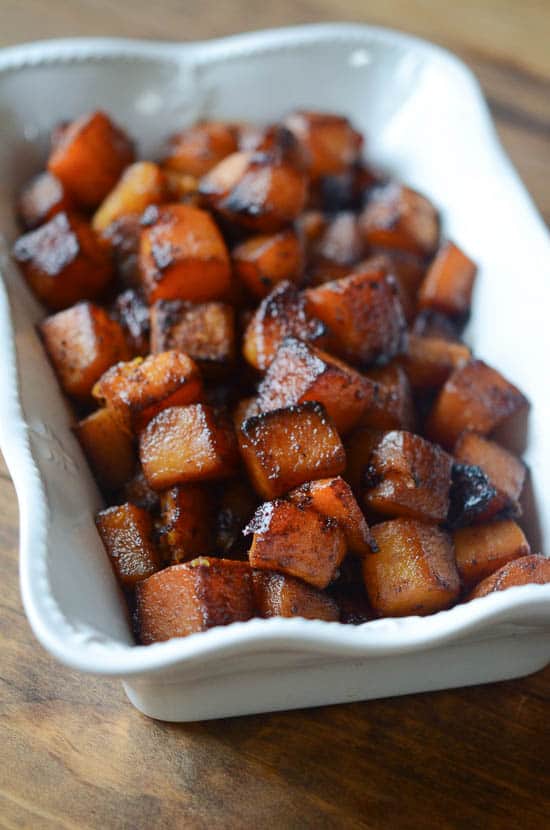 Transfer the squash to a serving dish and serve immediately.
I hope you give this recipe and this spice blend a try and widen your spice horizons.
Sweet Spiced Roasted Butternut Squash
Prep Time 5 minutes
Cook Time 30 minutes
Total Time 35 minutes
Servings 4 to 6 servings
Change the number in the box above to adjust serving size. Please note that size of cookware and cook time may vary.
Ingredients
1 2 pound package peeled, chopped butternut squash (or approximately one large or two medium squash)
3 tablespoons olive oil
3 tablespoons brown sugar
3/4 teaspoon garam masala
3/4 teaspoon onion powder
3/4 teaspoon garlic powder
1/2 teaspoon paprika
1/2 teaspoon salt
1/4 teaspoon fresh ground pepper
1/4 teaspoon cayenne pepper optional
Instructions
Preheat oven to 425 degrees. Coat a large rimmed baking sheet with non-stick cooking spray.

Place butternut squash in a large mixing bowl and toss with olive oil. Set aside.

In a small dish, combine all the spices. Sprinkle over the oil coated butternut squash and toss until spices are evenly distributed. Pour squash out onto prepared baking sheet. Bake for 15 minutes, then use a spatula to stir and flip squash and bake for an additional 15 minutes or until fork tender and nicely browned.
For another delicious, fall-inspired recipe that calls for garam masala, click on the link below. This soup is pure comfort in a bowl.