This easy Stovetop Macaroni and Cheese recipe requires no time in the oven and is so much more delicious than a boxed mix. It's super creamy, cheesy, and guaranteed to satisfy!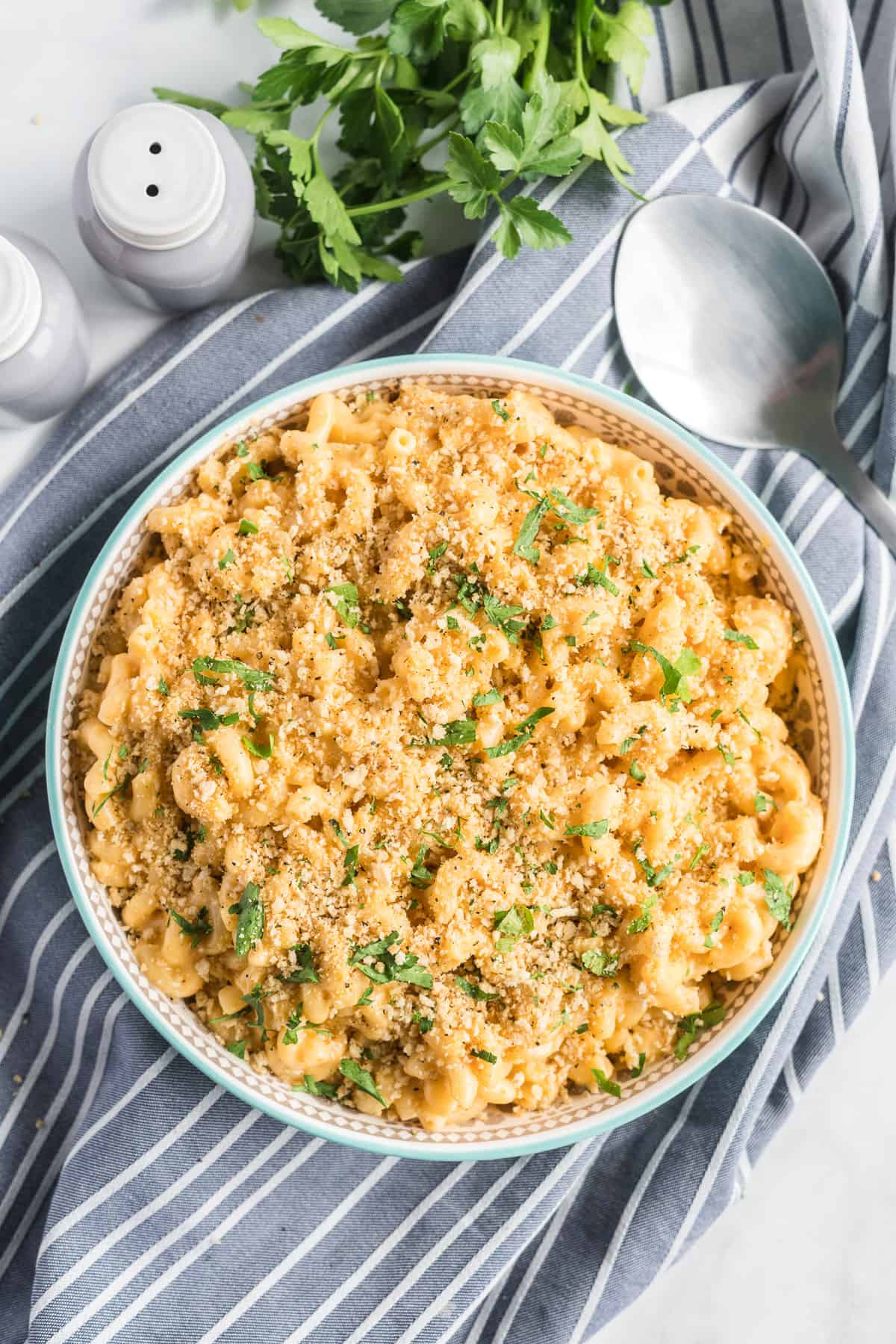 Homemade Macaroni and Cheese has always been a comfort food staple in this house. My tried and true oven baked Mac and Cheese was one of the very first recipes published on Valerie's Kitchen nearly 9 years ago and I've made that recipe more times than I can count. It has remained a mainstay in my kitchen.
I recently set out to create an easy Macaroni and Cheese recipe that is prepared from start to finish on the stove. If you're home with kids in the house right now, this stovetop recipe is a great choice for an easy lunch or dinner. Actually, it makes an awesome lunch or dinner whether there are kids in the house or not!
This is classic comfort food at its best.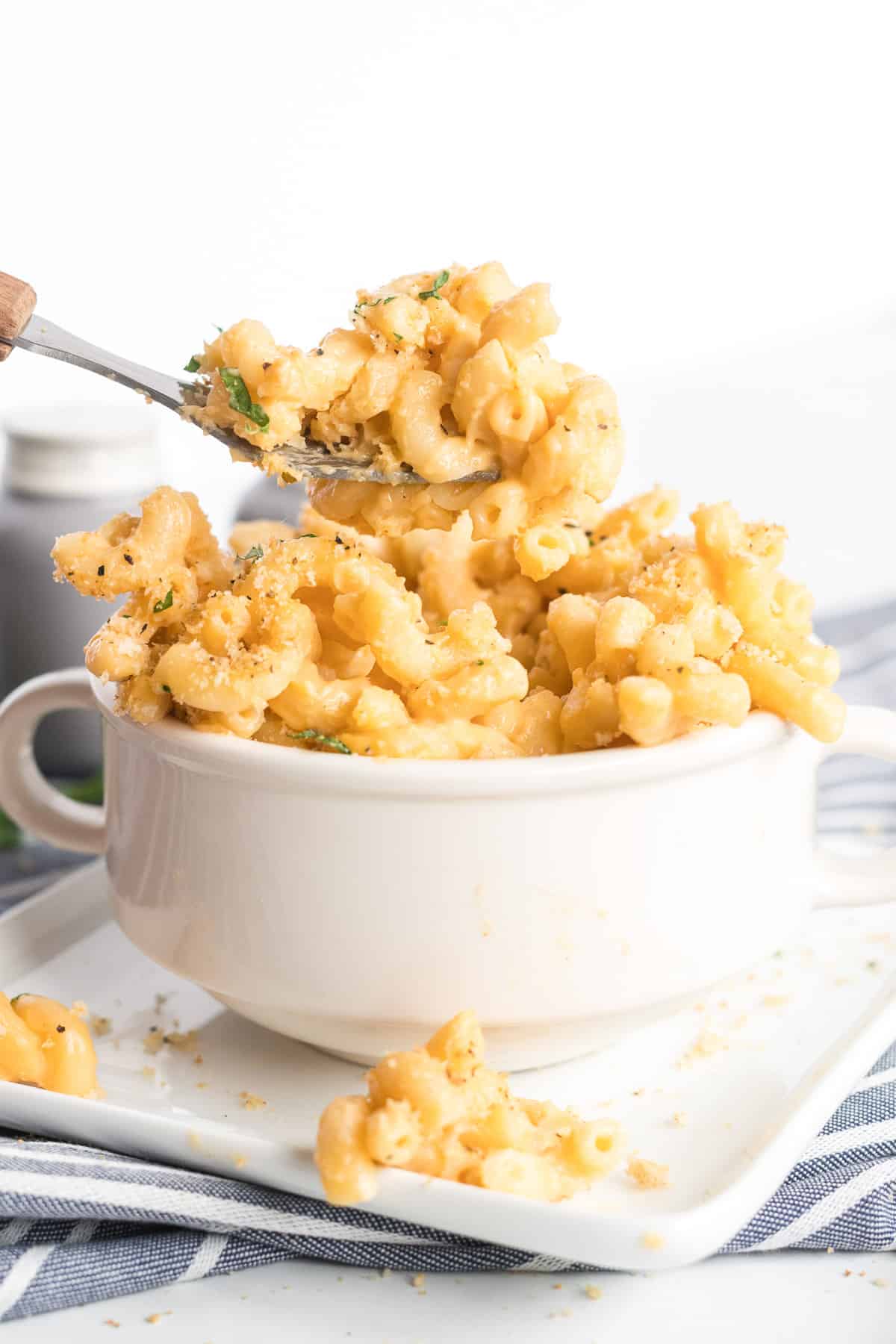 You can keep it simple like I've done here or change things up with a different selection of cheeses to suit your taste.
But please don't skip the crunchy seasoned bread crumb topping. It adds a nice textural contrast to the creamy pasta.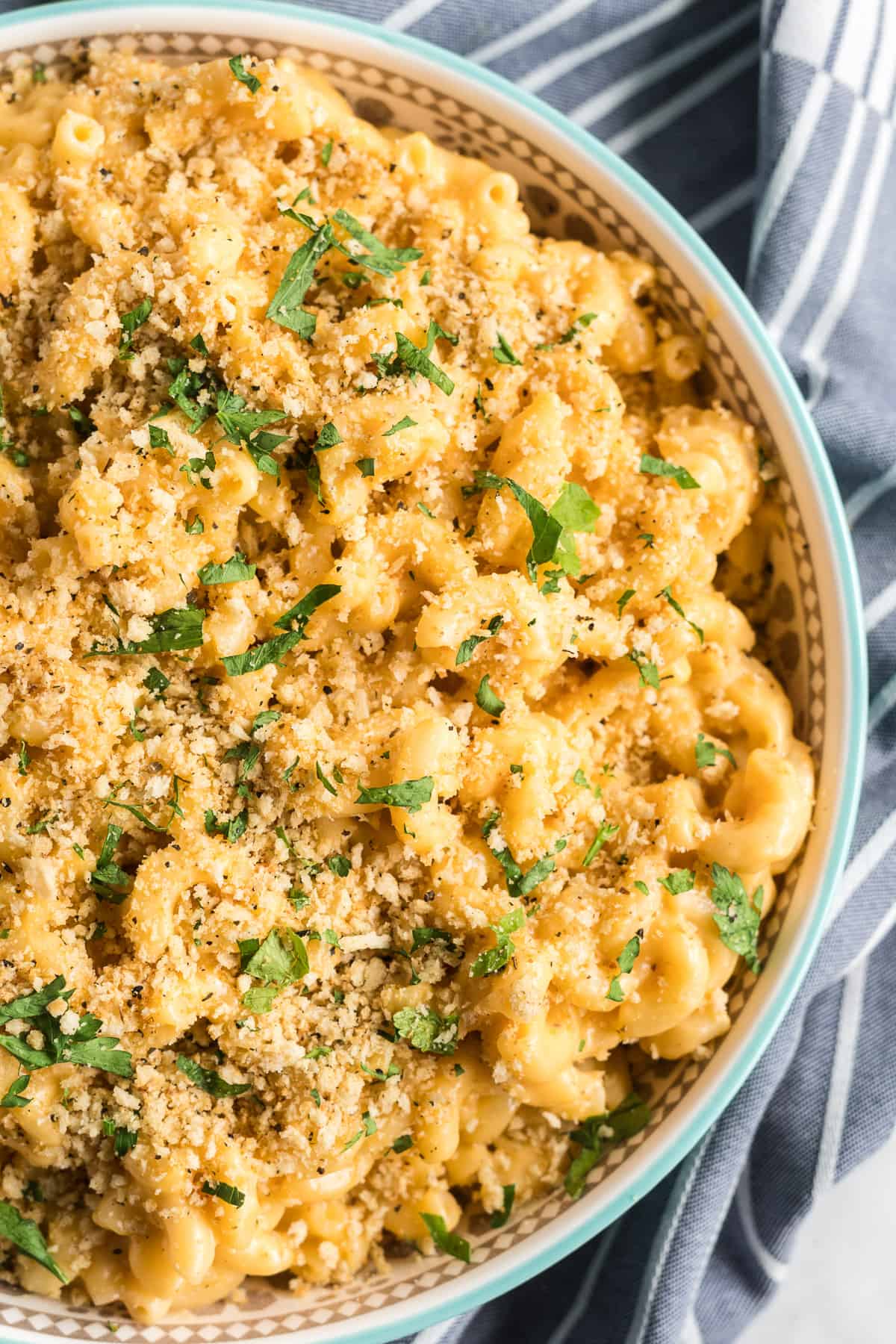 How to Make Macaroni and Cheese on the Stove
You'll need to partially cook 2 cups of elbow or shell pasta before beginning. Boil it for 5 minutes, drain it, and set it aside while you prepare the cheese sauce. You don't want to fully cook the pasta at this point since it will continue to cook and soften when it is added to the warm cheese sauce.
You can use the same pot you cooked the pasta in to make the cheese sauce but make sure that you've dried it well before beginning.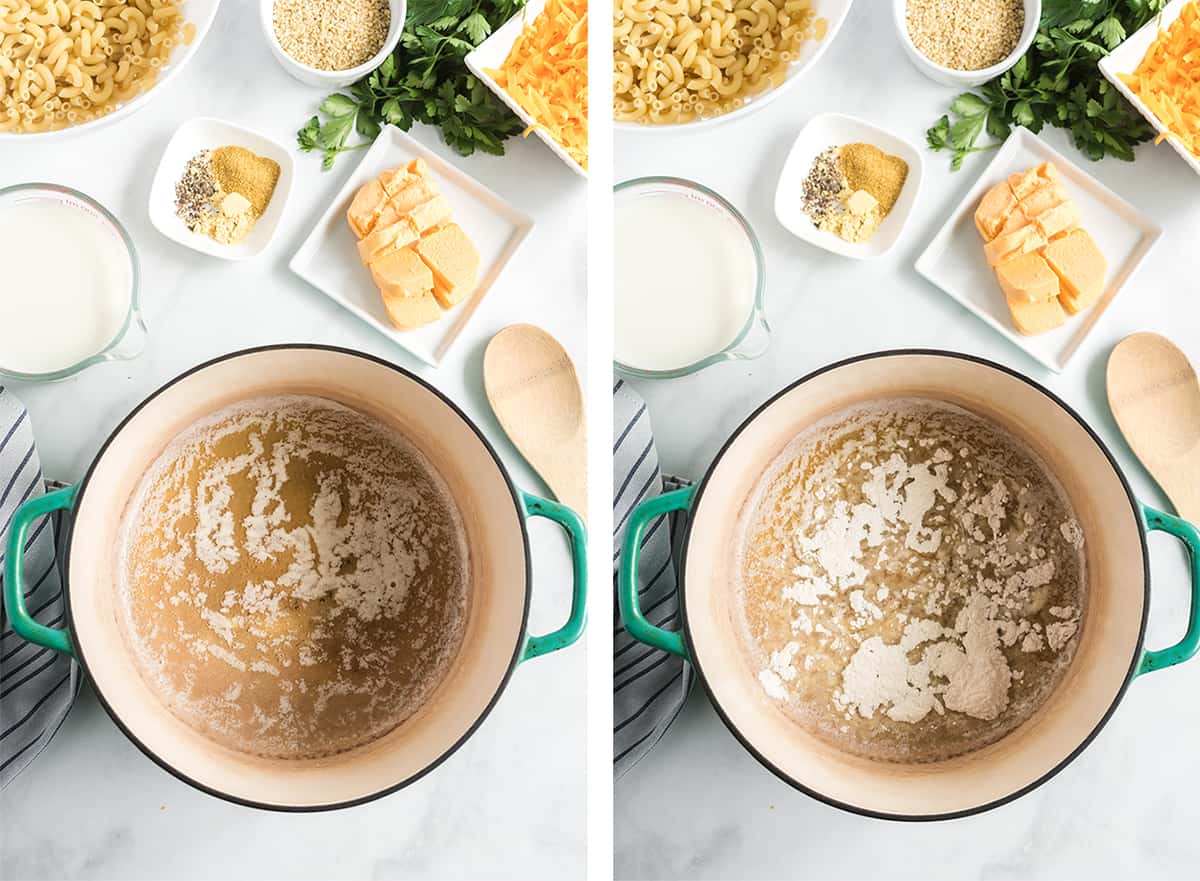 Melt 3 tablespoons of butter in the dry, warm pot and then sprinkle in 3 tablespoons of flour.
Stir the flour into the melted butter and cook, stirring constantly to form a roux. This mixture will be used to thicken your cheese sauce.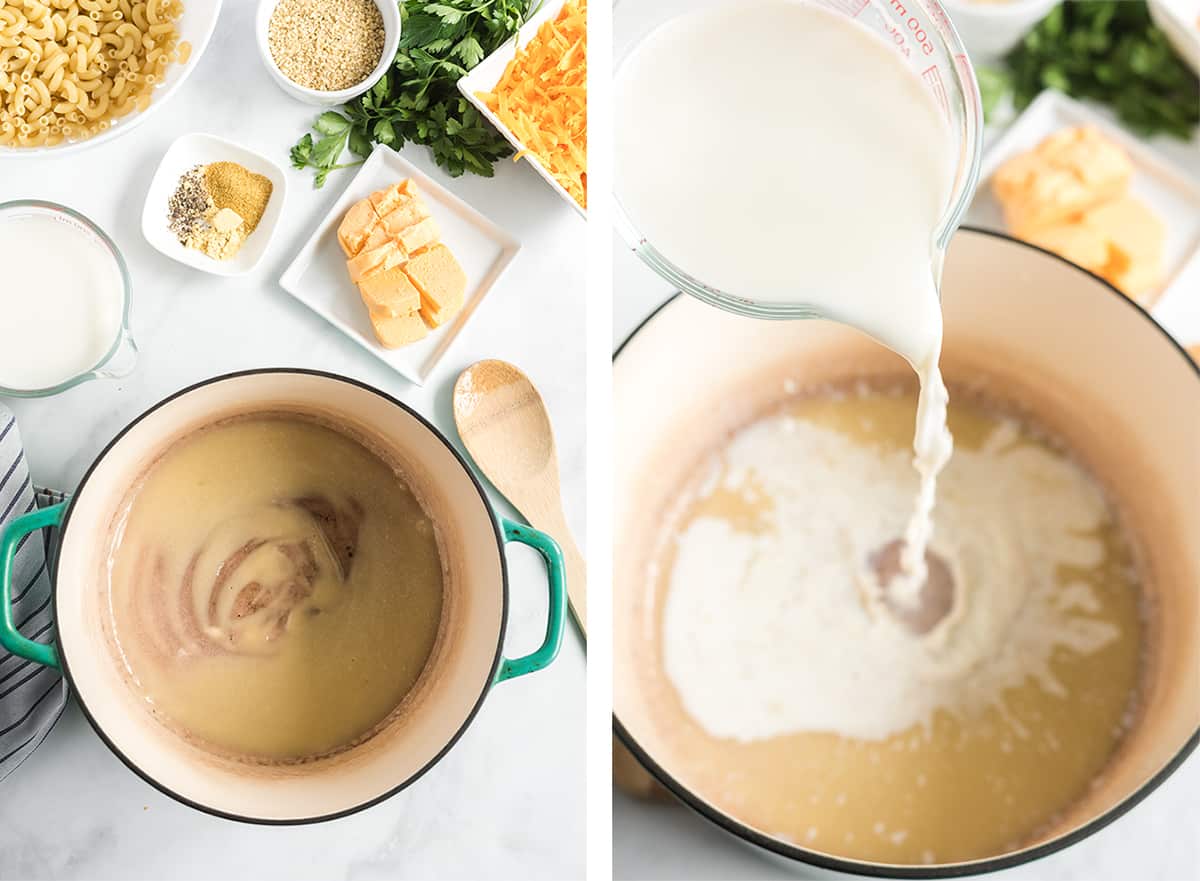 To boost the flavor of the cheese sauce, add some all-purpose seasoning (I use Lawry's Seasoned Salt), some dry mustard, and a little freshly ground black pepper.
Slowly pour in a couple of cups of warmed milk, whisking constantly as you add it. Warming the milk for a minute in the microwave before adding it to the roux helps to ensure the sauce will be effortlessly smooth.
Cheese Please!
Adding cheese is what turns the basic white sauce into a creamy, cheesy base for your Macaroni and Cheese.
Add the cheese to the pot and cook, stirring constantly, until the cheese has completely melted.
My standard choice is a combination of sharp cheddar and good ol' Velveeta which gives it that classic flavor that our family loves. But here's the fun part – you can use any combination of cheeses you love.
Some great choices:
Spice it up with a little pepper Jack.
Add a tangy kick with a little crumbled blue cheese.
Gruyere adds a creamy, nutty flavor.
Add smoky element with smoked gouda.
Swap the yellow sharp cheddar for a more elegant sharp white cheddar. SO good!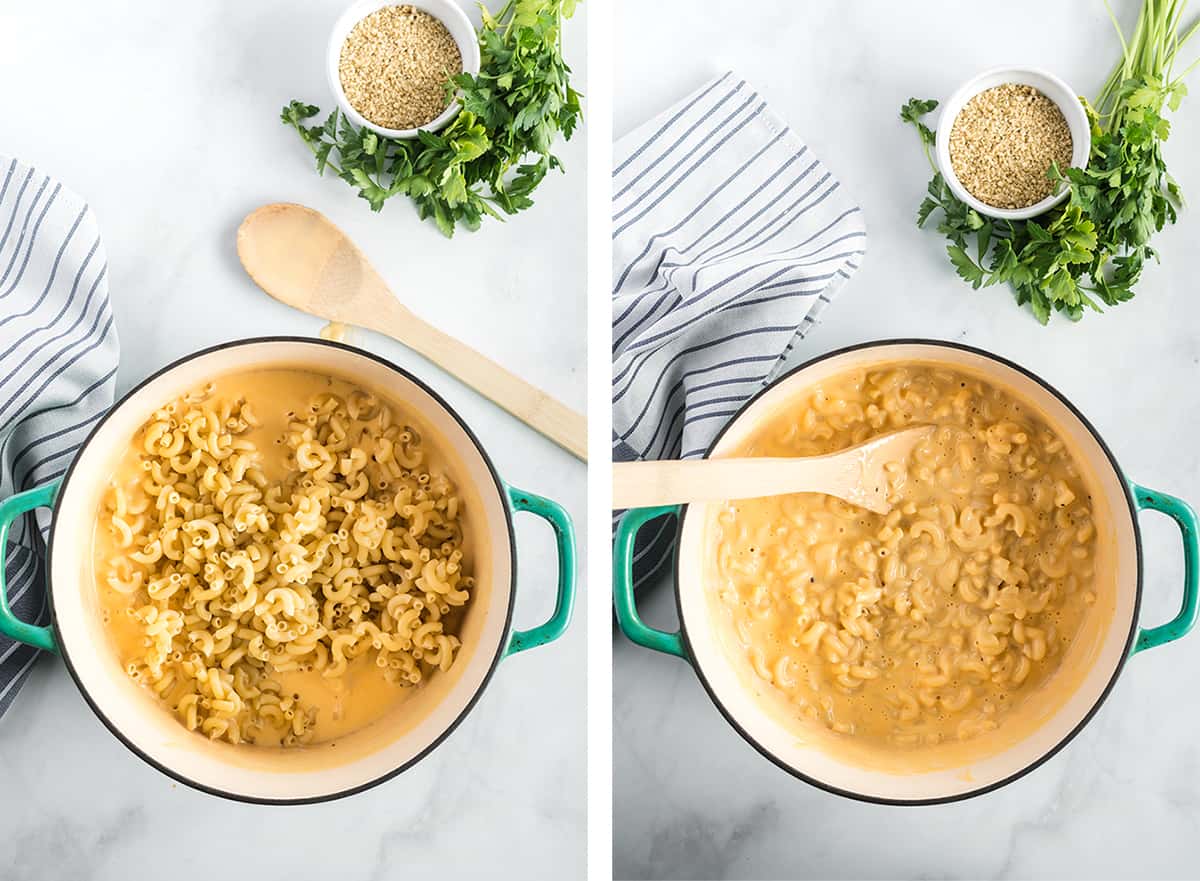 Add the partially cooked pasta back to the pot and stir it into the heavenly cheese sauce.
Bring the mixture to a low boil and then reduce the heat, cover, and cook the Stovetop Macaroni and Cheese for 15 to 20 minutes or until the pasta is tender the cheese sauce has reduced a bit.
We're nearly there!
Toasted Seasoned Bread Crumb Topping
Here's my quick method for creating a browned bread crumb topping without the use of an oven. This tasty topping can be used for a variety of recipes but it's perfect for this easy mac and cheese.
Add 1/4 cup of seasoned panko bread crumbs (I use Progresso Italian-Style Panko Bread Crumbs) to a small non-stick skillet and place it over medium-low heat. Allow the bread crumbs to toast over the heat, shaking the pan occasionally to stir the crumbs, until browned to your liking.
Remove the skillet from the heat and mix in some chopped fresh parsley to brighten it up.
Sprinkle the toasted bread crumb mixture over the top and you are ready to serve.
You can serve it straight from the pot or transfer it to a pretty serving dish before garnishing it with the toasted bread crumbs.
Ditch the boxed mix and give this delicious creamy, cheesy Stovetop Macaroni and Cheese a try!
Stovetop Macaroni and Cheese
This easy Stovetop Macaroni and Cheese recipe requires no time in the oven and is so much more delicious than a boxed mix. It's super creamy, cheesy, and guaranteed to satisfy!
Prep Time 15 minutes
Cook Time 35 minutes
Total Time 50 minutes
Servings 6
Change the number in the box above to adjust serving size. Please note that size of cookware and cook time may vary.
Ingredients
8 ounces elbow or shell pasta
3 tablespoons butter
3 tablespoons all-purpose flour
1 teaspoon all-purpose seasoning (like Lawry's Seasoned Salt)
1/2 teaspoon dry ground mustard
freshly ground black pepper to taste
2 cups 2% milk (warmed for 1 minute in microwave)
1 1/2 cups shredded sharp cheddar cheese (or a mixture of a variety of cheeses)
4 ounces Velveeta, cut into about 8 pieces (it makes it easier to melt)
For the Toasted Bread Crumb Topping:
1/4 cup Italian seasoned panko bread crumbs
1 tablespoon chopped fresh parsley
Instructions
Bring a large pot of salted water to boil. Add pasta and boil for 5 minutes. Transfer the partially cooked pasta to a colander to drain.

Add butter to the dry, warm pot and place over MEDIUM heat. Once butter has melted, stir in flour, and cook for 3 to 5 minutes stirring constantly to form a roux. Add all-purpose seasoning, ground mustard, and pepper. Slowly add milk, whisking well as you add it. Cook and stir until bubbly and slightly thickened, about 3 to 4 minutes.

Add cheddar and Velveeta (or your cheese of choice). Cook, stirring constantly, until melted.

Add partially cooked pasta to the cheese sauce and stir to coat. Bring to a low boil then reduce the heat to LOW, cover, and cook for 15 to 20 minutes or until pasta is tender and cheese sauce has reduced a bit.

Transfer the mac and cheese to a serving dish.
Toasted Bread Crumb Topping
Place bread crumbs in a small non-stick skillet and place over MEDIUM LOW heat. Cook, shaking pan occasionally, until lightly browned and toasted, approximately 3 to 4 minutes. Watch closely to avoid burning.

Remove the skillet from the heat and add the parsley. Toss to combine and then sprinkle the mixture over the mac and cheese before serving.
Recipe Notes
Leftovers reheat really well in the microwave. If needed, add a splash of milk to make it creamier when reheating.
Nutrition
Calories: 419kcal
Fat: 20g
Saturated fat: 12g
Cholesterol: 59mg
Sodium: 1019mg
Potassium: 299mg
Carbohydrates: 41g
Fiber: 2g
Sugar: 7g
Protein: 19g
Vitamin A: 790%
Vitamin C: 1%
Calcium: 425%
Iron: 1%
Course Lunch, Main Dish, Side Dish
Cuisine American, Italian
CLICK HERE OR IN THE IMAGE BELOW TO PIN THIS RECIPE!