A fresh strawberry cheesecake layer bakes on top of a shortbread cookie-like crust. These make-ahead bars are sturdy, portable, and irresistible!
Recipe naming can be a real bugger. Before this blog was born, whenever I whipped up a new creation the boys would throw something out and it would almost always stick.
This is how Pizza Chicken came about. I didn't name the dish Pizza Chicken, it was the boys – they're quite advanced in their recipe naming skills. It may seem obvious, I mean, it's chicken stuffed with pepperoni and topped with marinara sauce, but I doubt I'd have come up with it on my own.
Fast forward to today and the boys have better things to do than sit around and name my recipes (gosh darn it) so it's up to me now. I still try to pull random people into my recipe naming dilemmas. What do you think…this or that? Or maybe this?? or that???? I get a lot of eye rolls when I start down this path. Apparently, most people don't understand the importance and complexities of recipe titles.
The obvious choice for this recipe was Strawberry Cheesecake Bars, but I felt it was a bit misleading. There's definitely strawberry cheesecake involved but they are not what I consider to be a traditional cheesecake bar. No…these are wonderfully unique. Instead of a graham cracker crust, the fresh strawberry cheesecake bakes on top of a sturdy shortbread cookie-like crust.
Ah ha! Strawberry Cheesecake Cookie Bars. And, the name was born.
The cheesecake layer in this recipe is fabulously creamy and the addition of chopped, fresh strawberries makes them fresh and pretty on a serving platter. Do you have an end of the school year pot-luck in the near future? Or maybe a gathering planned for Memorial Day weekend? Get some strawberries while the gettin' is good and bake up a batch of these cookie bars.
They are easy, they can (and should) be made the day ahead, and they are irresistibly delicious.
Shall we get in the kitchen and bake? Let's!
I'm going to skip right to the filling since I've made this shortbread cookie crust for you before. If it want to see the crust in action, take a look HERE.
Use your hand or stand mixer to cream together two packages of cream cheese, 1/2 cup of sour cream and 3/4 cup sugar. Once that is nicely combined, beat in two eggs, a couple of tablespoons each of milk and fresh lemon juice, and some lemon zest. All the precise measurements are on the printable recipe below.
A couple of recipe notes – I used one package of regular cream cheese and one package of Neufchatel (reduced fat) cream cheese and like always, I used light sour cream. Yes, they are still indulgent. And, no, they are not a low guilt snack but hey, every little bit helps, right? I want to feel half as guilty when I eat them…these are the games I like to play with myself. Ha!
Once the mixture is well combined, add a tablespoon of flour. The addition of just a touch of flour helps to bind the ingredients and set it up beautifully. You'll see! Stir the flour into the mixture with a spoon. You don't want to over mix the batter at this point.
Add a heaping cup of chopped strawberries to the batter. I like to chopped the strawberries into small pieces like in the photo above.
Our strawberry cheesecake filling is ready to go. It's a thing of beauty.
Pour the cheesecake batter out over the baked shortbread cookie crust. I used a metal brownie pan but any 13″ x 9″ baking dish will do. See the recipe below for the details on how to prepare the crust and remember to look HERE if you'd like to see the step-by-step.
Use the back of a spoon or an offset spatula to spread the batter out evenly over the crust.
In the oven she goes. Bake in a preheated 350 degree oven for about 30 minutes, or until the edges are just beginning to get light golden brown and the center doesn't jiggle when you shake the pan.
Allow the cheesecake to cool for about an hour and then cover and refrigerate the pan for at least 3 hours or overnight.
They slice and serve beautifully. Store any leftovers covered in the fridge and they will hold up perfectly for several days. I actually think they are even better after a day or two in the fridge. The crust softens ever so slightly and they taste fresh and wonderful. That is, if they last that long.
Strawberry Cheesecake Cookie Bars
A fresh strawberry cheesecake layer bakes on top of a shortbread cookie crust. A delicious, portable dessert idea.
Ingredients
For the Shortbread Crust
1

cup

butter

,

softened

1/2

cup

white sugar

2

cups

all-purpose flour
For the Strawberry Cheesecake
16

ounces

cream cheese

,

at room temperature.

1/2

cup

sour cream

,

I used light sour cream

3/4

cup

sugar

2

large eggs

2

tablespoons

milk

1

teaspoon

vanilla extract

2

tablespoons

freshly squeezed lemon juice

2

teaspoons

lemon zest

1

tablespoon

all-purpose flour

1

heaping cup chopped fresh strawberries
Instructions
Preheat oven to 350 degrees. Generously coat the bottom and sides of a 13" x 9" pan with non-stick cooking spray.

In a medium bowl, use an electric hand mixer to blend together softened butter, 2 cups flour and ½ cup white sugar. Mix for about 3 minutes until the mixture resembles coarse crumbs. Press into the bottom of the prepared pan pan. Bake for 17 to 20 minutes or until lightly golden at the edges. If using a metal pan, baking time will be near the lower end of the range. Remove from oven and allow to cool while preparing crust.

Meanwhile, use a hand or stand mixer to cream together the cream cheese, sour cream, and sugar. Add the eggs, milk, vanilla, lemon juice, and lemon zest. Mix just until combined and creamy. Use a wooden spoon or rubber spatula to fold in the flour and then the strawberries.

Pour cheesecake filling over warm crust and smooth out evenly. Return to oven for an additional 30 to 35 minutes until just getting lightly golden brown around the edges and the center doesn't jiggle when you shake the pan.

Remove from oven and allow to cool for an hour then cover and refrigerate for at least 3 hours or overnight before serving.
Nutrition information is automatically calculated using generic ingredients, and is an estimate not a guarantee. For more accurate results, please refer to the labels on your ingredients at home.
Did You Make This?
We love seeing what you've made! Tag us on social media at @fromvalerieskitchen for a chance to be featured
Here are a couple more make-ahead, portable bar recipes for you.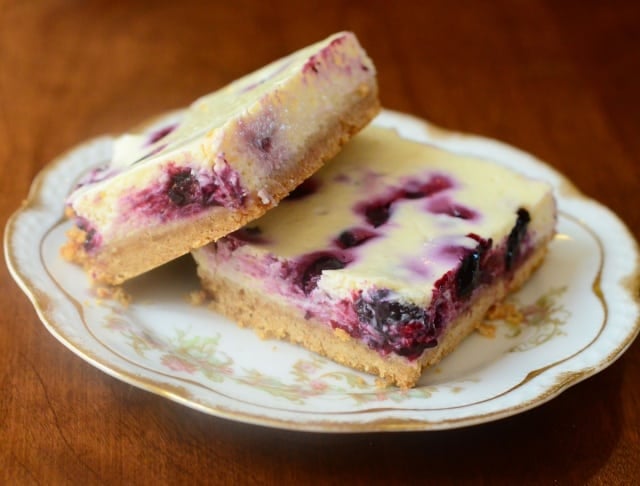 Lemon Blueberry Cheesecake Bars