It seems fitting to start off with a blast from my past. This recipe is based on a good old circa 1970's family recipe. It's one of those recipes that used to get us all in the kitchen, chopping vegetables and grating cheese. It was in my cooking arsenal when I started cooking for my husband back when we were just young'ins. It fell by the wayside once our babies arrived on the scene but it's time for a comeback!
My husband is the one who brought it back to me. I was working on my menu for the week when I asked him if there was anything he was craving and he said "taco salad". Taco salad??? Really? Wow, it's been such a long time since I've made that but sure, sounds good. And it was SO good! This slightly modified version is even better than the original and I'm sharing it here with you. This is no wimpy salad….this is real food. With all the meat and beans it will satisfy everyone.
The Kraft Catalina dressing has a distinctive, sweet flavor that complements this salad perfectly.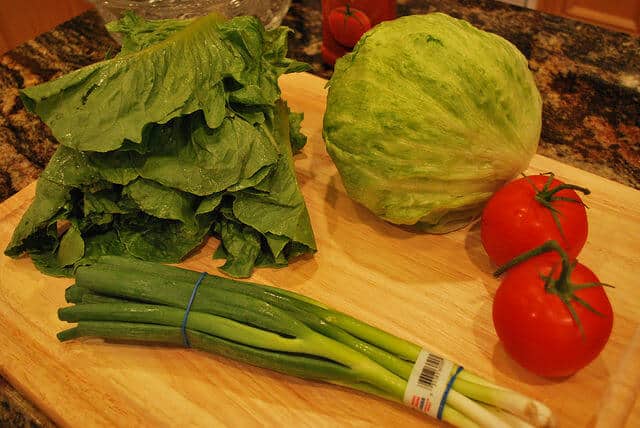 And, yep, it calls for iceberg lettuce. Back in the day, salads mainly consisted of good old iceberg but you just don't see it around that much anymore. I think it is an important element here if you really want an authentic, old school taco salad butI like to mix in some romaine as well.
Slice the lettuce with a knife instead of tearing it so that you'll get a little of everything in each bite. Enjoy!
Taco Salad
Classic Taco Salad just like we used to make in the 70's. This recipe never goes out of style!
Print
Pin
Rate
Servings: 6 servings
Calories: 498kcal
Ingredients
1 pound ground beef
1 tablespoon homemade taco seasoning mix
16 ounce can pinto beans, drained
16 ounce can kidney beans, drained
2.25 ounce can sliced olives
1/2 head romaine lettuce, chopped
1/2 head iceburg lettuce, chopped
4 green onions, chopped
1 tomato, chopped
1 avocado, chopped
1 1/2 cups shredded cheddar and Monterey jack cheese
Kraft Catalina Salad Dressing
Tortilla chips
Light sour cream
Instructions
Spray a large pan with cooking spray and cook ground beef till nicely browned, drain well. Return pan to heat and add taco seasoning, pinto beans, and olives. Stir to incorporate and simmer for just a couple of minutes. Remove from heat and allow to cool a bit while preparing salad.

Add chopped lettuce to a large serving bowl. Add tomato, green onion, and kidney beans. Top with slightly cooled meat mixture and 1 cup of the shredded cheese. Toss salad well to mix all ingredients then garnish with avocado and remaining cheese.

Top individual servings with a little salad dressing, some crushed tortilla chips, and a dollop of sour cream.
Nutrition
Calories: 498kcal | Carbohydrates: 35g | Protein: 32g | Fat: 27g | Saturated Fat: 10g | Cholesterol: 79mg | Sodium: 988mg | Potassium: 1101mg | Fiber: 12g | Sugar: 8g | Vitamin A: 5433IU | Vitamin C: 12mg | Calcium: 313mg | Iron: 5mg