This Asian Zucchini Noodle Salad with Ginger Sesame-Soy Dressing is a vibrant, wholesome choice to add to the menu for your next summer gathering. It makes for a delicious side dish or add grilled chicken or shrimp to make it a meal.
I've had a spiralizer sitting in a pretty little box on a shelf in my kitchen for months and it has finally been put to good use to create this fabulous salad.
If you haven't spiralized zucchini yet, you've got to. In addition to being a fun thing to do, the noodle shape somehow transforms raw zucchini into something utterly delicious. It's a strange thing. I wouldn't have considered eating zucchini in it's raw state, but I'm a newly confirmed spiralized zucchini lover. Zucchini noodles can be quickly cooked for a pasta-like dish but for this recipe we are keeping in it's crunchy, raw state.
The Ingredients in Asian Zucchini Noodle Salad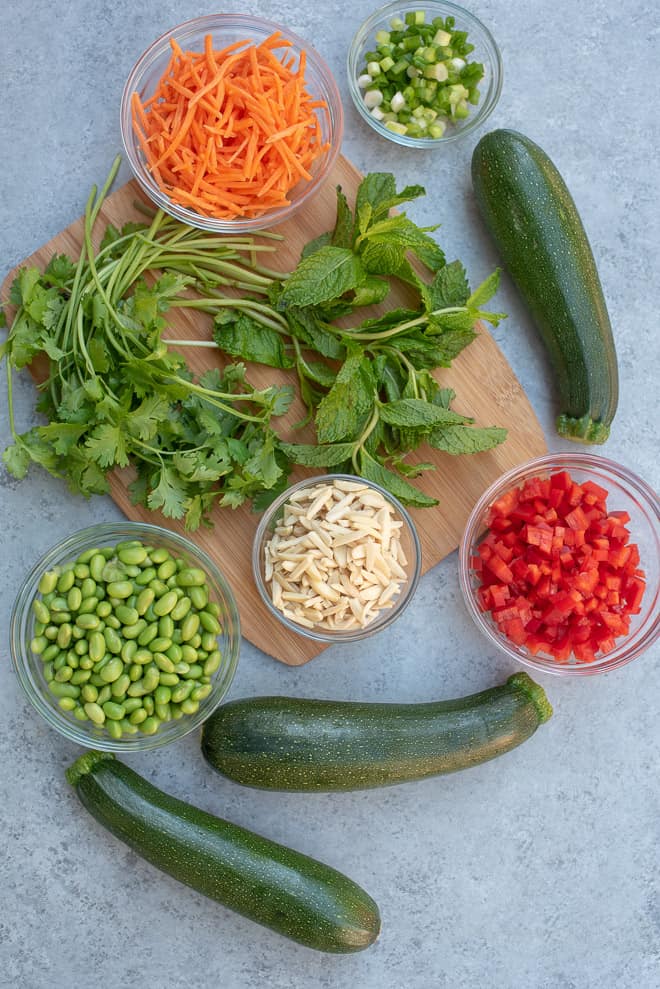 The ingredients in Asian Zucchini Noodle Salad are fresh, vibrant, and loaded with texture and nutrition.
Zucchini
Diced red bell pepper
Coarsely shredded carrot – I like to keep the bagged variety found in the produce section at the grocery store on hand for quick salads.
Thinly sliced green onion
Shelled edamame – If using frozen shelled edamame, cook it briefly in a pot of boiling water and shock it by immediately rinsing it with cold water. Drain it well and lightly salt it (if desired) before adding it to the salad. You'll also find fresh shelled edamame that does not require cooking available in the produce section of many grocery stores.
Cilantro
Mint
Slivered almonds
How to Spiralize Zucchini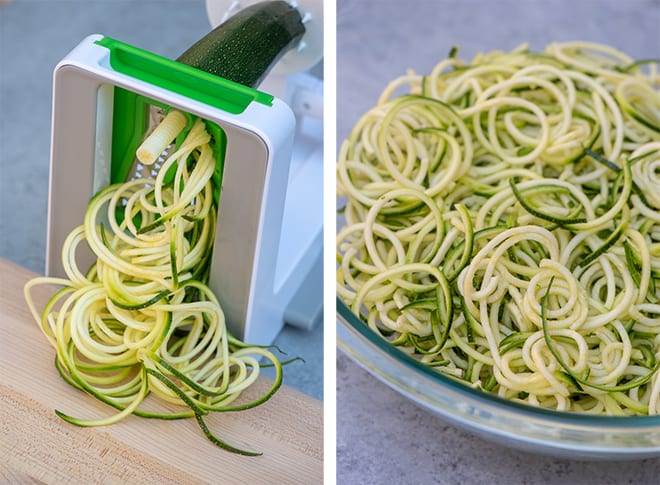 My OXO Spiralizer worked like a charm. It has a strong suction base that adheres to your kitchen counter while you work. It also has a blade box that neatly holds the three blades that come with it for easy storage. I used the spaghetti blade to create my zoodles but it also comes with blades for a fettucini and ribbon cut noodles.
For this salad I used three 6- to 7-inch zucchini. Slice off the ends and push one end into the sharp teeth on the food holder. The other end of the zucchini will press against the blade as you rotate the handle. And, voila! Zoodles.
Kitchen Tip
Spiralized zucchini noodles will be very long. To make the salad more manageable and easier for your guests to eat, run a sharp knife through the pile of zoodles. See the video at the end of this post to see how it's done.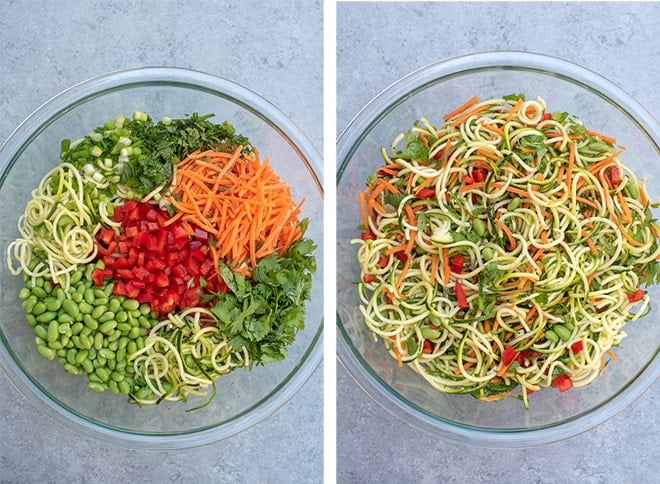 Combine the zucchini noodles with the shredded carrot, diced red bell pepper, green onion, edamame, and the fresh herbs – cilantro and mint.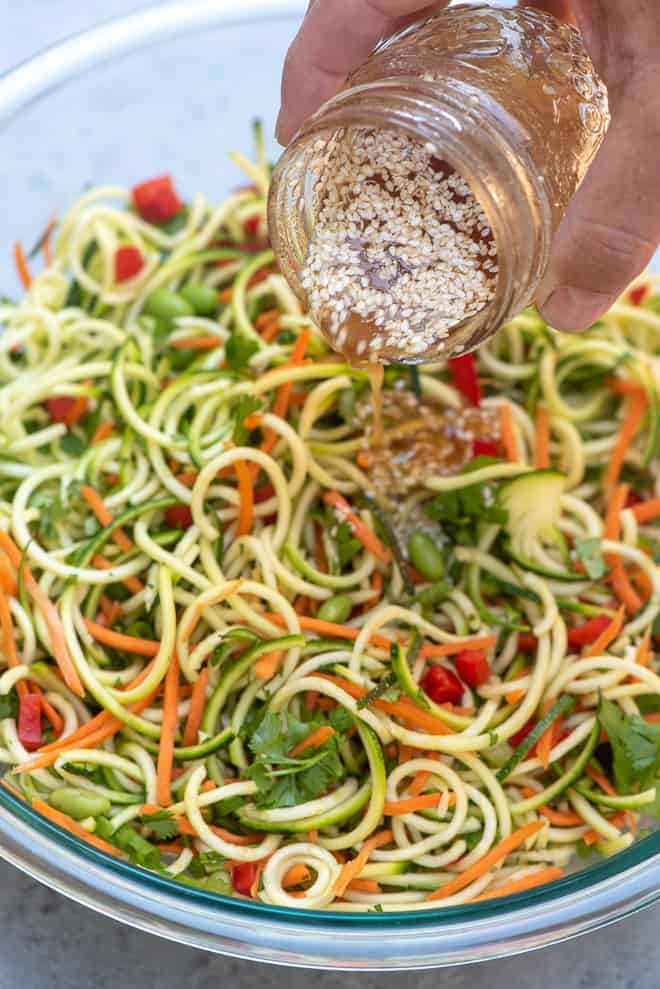 The Ginger Sesame-Soy Dressing is the same dressing I do for my Asian Pasta Salad. It combines the irresistible flavors of fresh ginger, soy sauce, sesame oil and toasted sesame seeds. It's a winner.
I like to garnish the finished salad with more sesame seeds for a pretty presentation.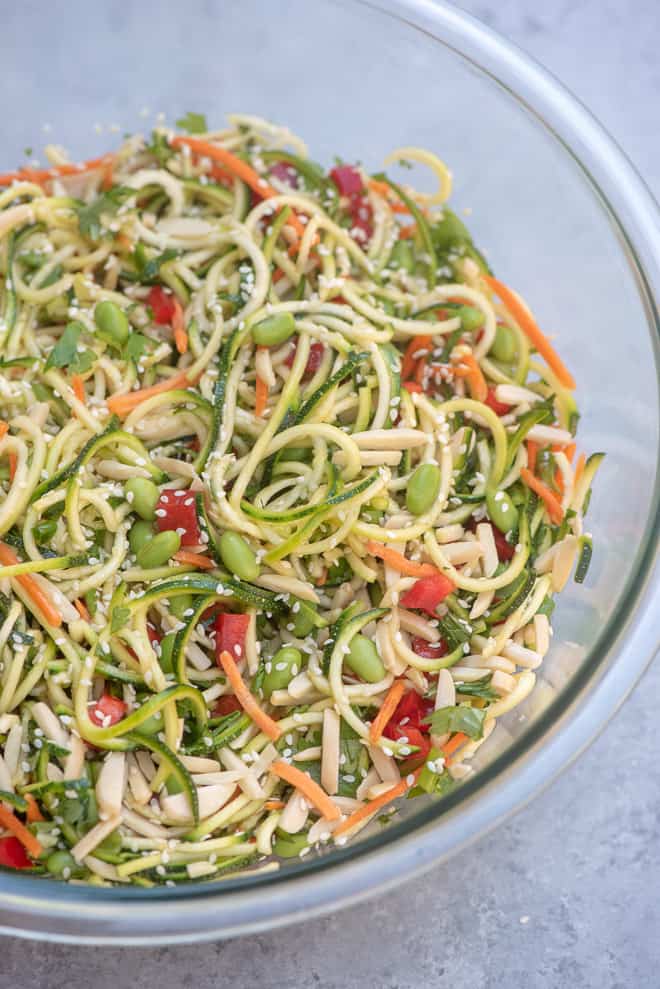 How to Serve Asian Zucchini Noodle Salad
This salad is a wonderful veggie side dish to add balance to typical summer BBQ fare like burgers and ribs. I served it with grilled chicken that had been marinated in my Pretty Chicken Marinade – delicious!
It's wonderful all on it's own but you can also top it with grilled shrimp or chicken for a super wholesome complete meal.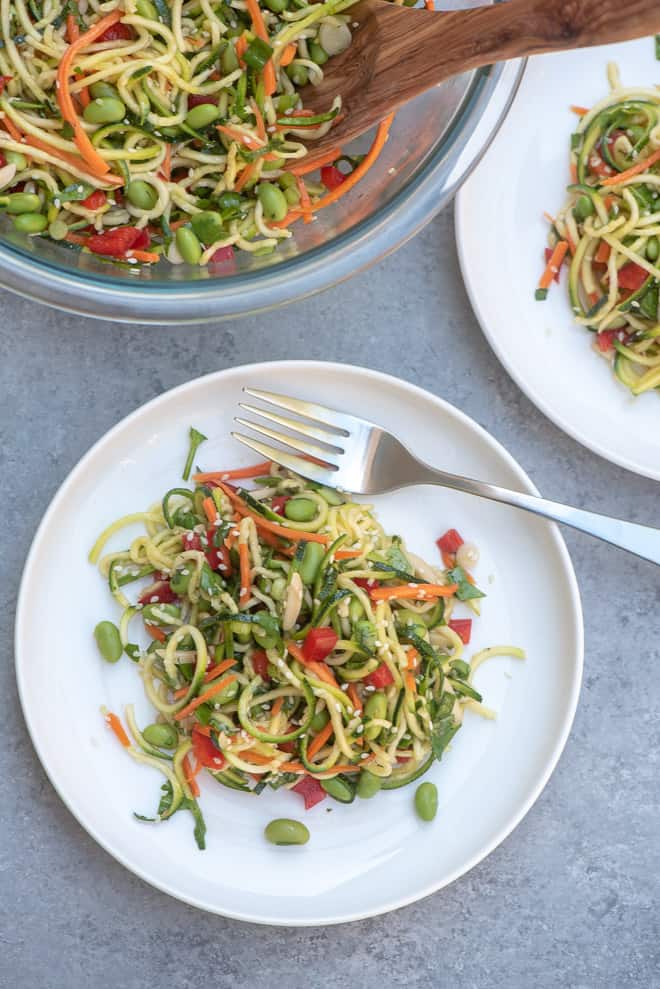 I get so much satisfaction out of seeing my boys head back to the kitchen to load up their plates with seconds of this veggie-loaded dish!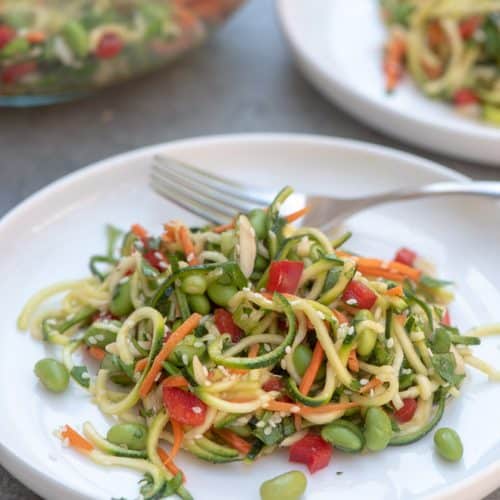 Asian Zucchini Noodle Salad
This Asian Zucchini Noodle Salad with Ginger Sesame-Soy Dressing is a vibrant, wholesome choice to add to the menu for your next summer gathering. It makes for a delicious side dish or add grilled chicken or shrimp to make it a meal.
Print
Pin
Rate
Servings: 8
Calories: 168kcal
Ingredients
GINGER SESAME-SOY DRESSING:
1/4 cup vegetable oil
3 tablespoons seasoned rice vinegar
2 tablespoons brown sugar
1 tablespoon sesame oil
2 teaspoons low sodium soy sauce tamari for gluten free
1 teaspoon finely grated ginger root
1 tablespoon toasted sesame seeds
ZUCCHINI NOODLE SALAD:
3 zucchini, 6- to 7-inches
1 cup coarsely shredded carrot
1 cup shelled edamame (I used frozen, boiled for a few minutes, rinsed in cool water and lightly salted)
3 green onions, thinly sliced
1 red bell pepper, diced
1/2 cup chopped cilantro
1/4 cup chopped fresh mint
1/4 cup slivered almonds or peanut pieces
1 tablespoon sesame seeds, for garnish
Instructions
Combine the dressing ingredients in a small mason jar. Place the lid on securely and shake well to combine. Set aside.

Cut ends off the zucchini and spiralize. Run a sharp knife through the pile of spiralized zucchini several times to shorten the very long strands (this makes it easier to eat). Place the zucchini noodles in a large mixing bowl with carrot, edamame, green onions, bell pepper, cilantro and mint. Toss well to combine.

Shake the dressing again and pour about 3/4 of it over the salad. Add the nuts and toss well to coat the veggies with dressing. Add additional dressing as desired. Garnish with sesame seeds and serve.
Nutrition
Calories: 168kcal | Carbohydrates: 12g | Protein: 5g | Fat: 13g | Saturated Fat: 6g | Sodium: 63mg | Potassium: 418mg | Fiber: 3g | Sugar: 7g | Vitamin A: 3458IU | Vitamin C: 36mg | Calcium: 67mg | Iron: 1mg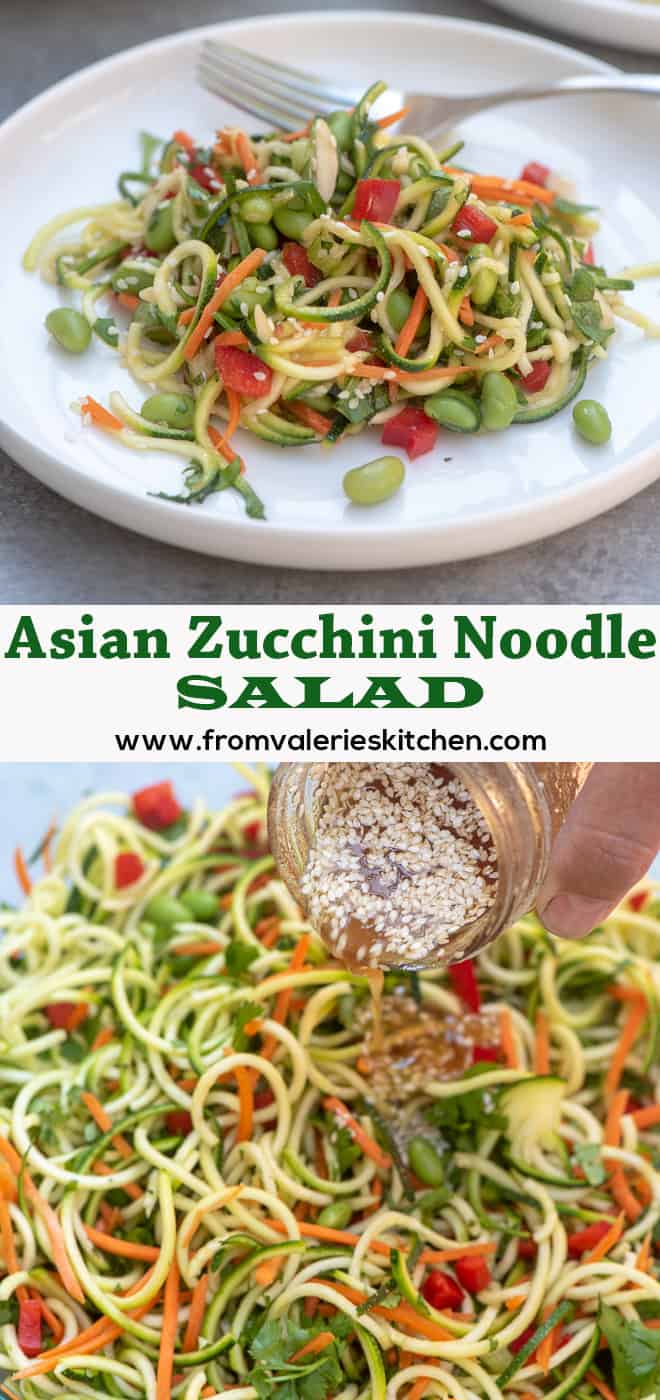 Valerie's Kitchen is a participant in the Amazon Services LLC Associates Program, an affiliate advertising program designed to provide a means for us to earn fees by linking to Amazon.com and affiliated sites.