This Basic Pie Crust recipe (Food Processor Method) is a quick and easy method that will save you precious time and effort during the holiday baking season. It's is the method I've been using for years and years and it results in perfect pie crust every time!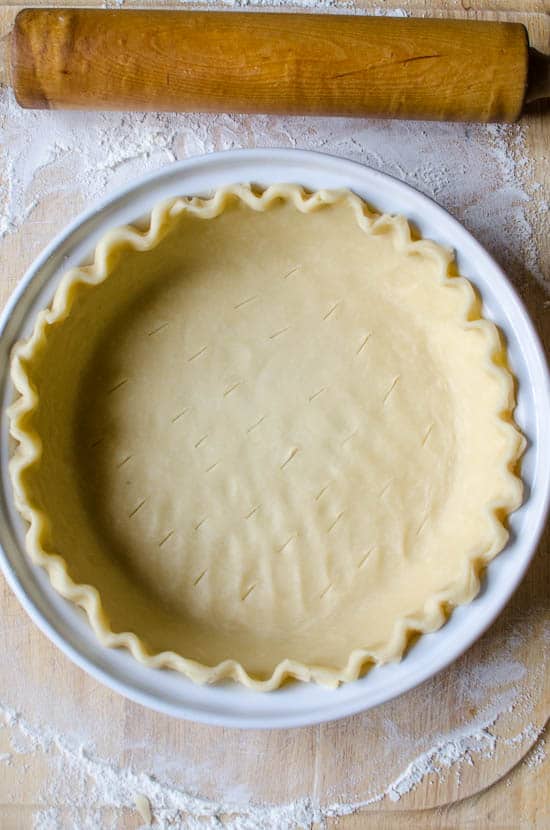 As we close in on the holidays it's time to start thinking about pie. A good pie MUST start with a good crust. Easy as it may be, the ready made variety available at the grocery store is not going to yield a great result. My method and my recipe for Basic Pie Crust (Food Processor Method) come from a variety of sources I have encountered over the years. My mom, who was an accomplished baker, The Pie and Pastry Bible, and years and years of baking pies for my pie lovin' husband. He considers himself to be the ultimate judge of a good pie and I think he may just be right.
Homemade pie crust gets a bad rap as being difficult to make when it's actually so simple. Using a food processor makes it quick and easy. You can get your pie crust made and resting comfortably in your refrigerator in nothing flat. It consists of 6 ingredients that are basic pantry staples.
All-purpose flour, unsalted butter, shortening, cider vinegar, ice water, and salt. It is important that the butter and shortening be straight from the refrigerator COLD. You do not want them room temperature. We are also going to use ice water to keep things cool.
Lets talk about fat. You will see recipes that call for either shortening or butter. Shortening tends to add flakiness while butter adds flavor. I've come to a compromise in my recipe and use both. I keep Crisco Baking Sticks in my fridge so they'll be ready to go when I'm pie baking. They are packaged like butter and easy to measure out for recipes. Cut the shortening and butter into pieces so it will incorporate into the dry mixture easily.
After you've pulsed together the flour and salt, add the butter and give it a couple of pulses.
Add the shortening and pulse again.
Stop when the mixture resembles coarse crumbs. Add in 1 tablespoon of cider vinegar. There is some fantastic scientific explanation about how the acid in the vinegar works with the gluten strands in the flour to produce a flaky crust or some such thing. Bottom line is that it doesn't affect the flavor of the crust but does help the texture. Just be sure to add it before you start adding in the water so you can control the moisture. Add just 4 tablespoons of water and pulse. If the mixture still appears a bit dry and is not holding together, add an additional tablespoon of water and pulse again.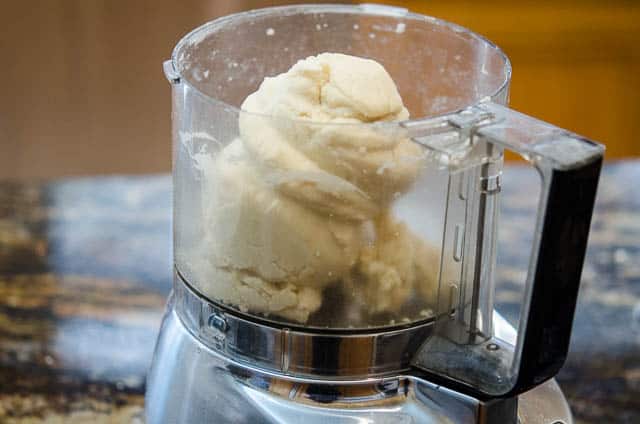 Here is what we're after. Only add enough water until the pastry holds together and sticks to the side of the food processor bowl. The amount needed can vary but I never need more than 5 tablespoons. It might be different for you and this probably also has some really cool scientific explanation.
Pull the pastry out of the food processor and form it into a neat ball.
Use a sharp knife to cut the ball in half and form the dough into two balls…like so.
Wrap the balls of dough in plastic wrap and flatten them slightly, into discs. The dough will be easier to roll out if flattened out this way. Move the wrapped dough to the refrigerator and allow them till chill at least one hour or for up to two days before rolling out.
When you are ready to prepare your pie, remove the pie pastry from the refrigerator and place on a floured board. Allow to sit for 10 minutes.
Roll it out. You may need to sprinkle a bit of flour on the top of the crust to prevent it from sticking to the rolling pin. Using your pie dish as a guide, be sure it is rolled out large enough to fit in the dish with a little overhang.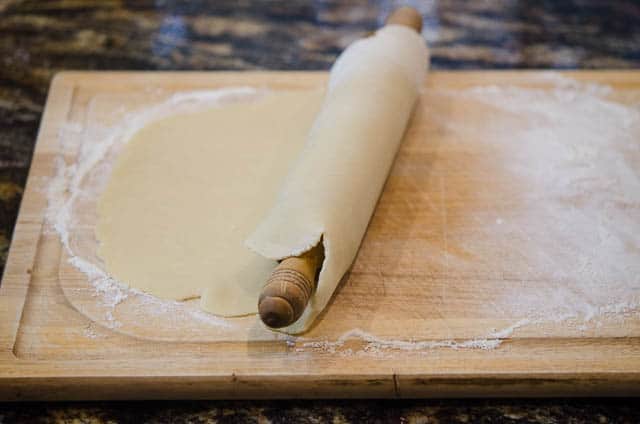 Here's how to transfer the crust to your pie dish without damaging it. Roll it on to your rolling pin.
Once you've got the crust completely rolled on to the rolling pin, move it over to your pie dish. Carefully unroll the crust right in to the dish.
Trim the edges of the crust, if needed, leaving a small amount to hang over the edge. The crust can shrink a bit in the oven. Don't worry, we'll make it look pretty. If you are using a deep dish pie plate like I am here, there may not be much at all to trim.
Tuck the top edges under so that the crust is flush with the top of the dish.
Now crimp the edges with your fingers for a pretty effect.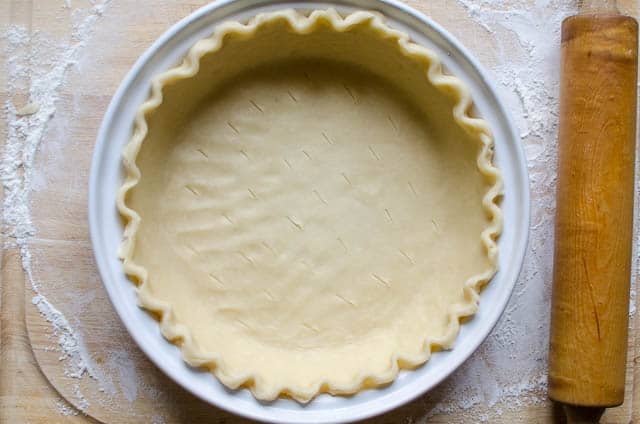 Poke the bottom of the crust all over with a fork or the tip of a sharp knife. The crust is ready to be filled and baked.
Basic Pie Crust Recipe (Food Processor Method)
This Basic Pie Crust recipe (Food Processor Method) results in a perfect crust every time. This quick and easy method is a great timesaver!
Print
Pin
Rate
Servings: 2 crusts
Ingredients
2 1/4 cups all-purpose flour
1/4 teaspoon salt
1/2 cup (1 stick) unsalted butter, very cold
6 tablespoons shortening regular or butter flavored, very cold
1 tablespoon cider vinegar
4 to 6 tablespoons ice water
Instructions
Place the flour and salt in the bowl of a food processor. and pulse 4 or 5 times till combined.

Cut butter and shortening into small pieces. Add to the flour and process about 20 seconds or until the mixture resembles coarse crumbs.

Add the vinegar and 4 tablespoons water and pulse about 6 times. Add additional water by the tablespoon and pulse until mixture begins to hold together. You may not need to use all the water.

Remove pastry from the food processor bowl, divide in two, and wrap in plastic wrap. Refrigerate for at least 1 hour or up to two days.

When ready to roll out, remove from refrigerator and let rest on counter for about 10-15 minutes. Flour a large board and using a rolling pin, roll the pastry out until it is large enough to fit your pie plate, leaving about a 1" or 2" overhang. Press the pastry gently down into the plate and then trim the edges to fit the pan with a sharp knife. Tuck top edge of crust over and crimp with your fingers. Prick the bottom of the crust with a fork, fill the crust, and bake according to your pie recipe's directions.