I can't let a summer go by without baking a fresh blueberry pie. It is the ultimate classic dessert. Take advantage of the abundance of seasonal berries and bake a pie!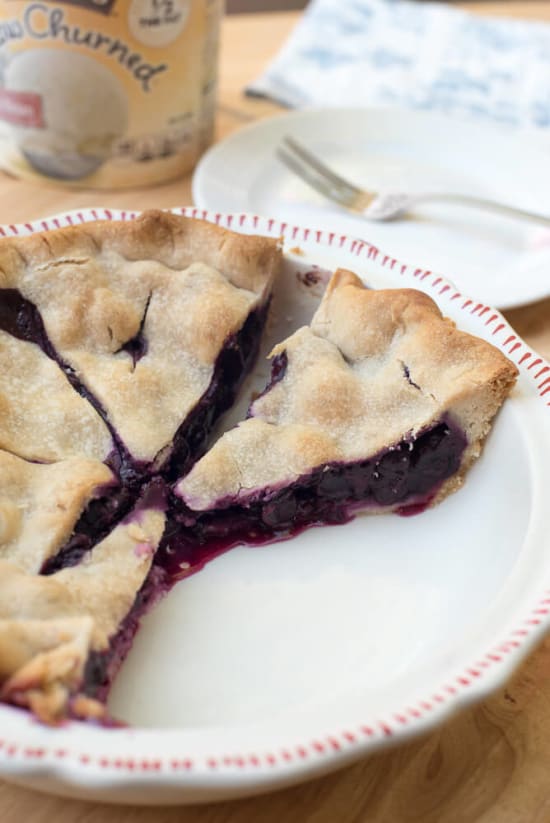 This is why my husband married me. I may have another good quality or two, but I'm pretty sure it was the pie. Since a very young age, thanks to my amazing mama, I've been a pie baker. And the first time I baked him a pie from scratch – he was mine.
Forever and ever, amen.
You see, pie is his ultimate weakness. He can pass on cake, cookies are alright, but pie is where it's at as far as he is concerned.
On Father's Day, I baked him a fresh blueberry pie and I think I've sealed the deal for another decade or two. It doesn't get much better than a slice of fresh berry pie with a scoop of vanilla ice cream, now does it? No, it does not.
If you've never baked a fresh berry pie, I'm here to tell you that you can! I want to inspire you and fill you with berry pie confidence. So, I took photos of the whole process so we could do it together. Ready?
Let's talk pie crust. I will not report you to the pie crust police if you want to purchase ready-made crust from the store. Life is full of choices and this is a valid one. However, if you'd like to make your crust from scratch, take a look at my step-by-step to perfect pie crust – HERE. If you are making your own, it's best to do it the day ahead and allow it to chill in the fridge overnight before rolling it out, but I explain all that and a whole lot more in the post, so go check it out.
Whether store-bought or homemade, you'll need to roll out one crust and place it in a 9″ pie dish. Trim the edges of the crust to within about 1/2″ of the dish and use a fork to poke the bottom of the crust all over.
Place your rinsed and drained blueberries in a large mixing bowl and toss with a couple of tablespoons of fresh lemon juice. Add the dry mixture which consists of sugar, cornstarch, salt, and a touch of cinnamon.
It is vitally important to use a thickener when you bake a berry pie. It will help gel up the juicy berry liquid as it cooks, and even more as it rests while cooling. I prefer cornstarch over flour for this purpose. All the precise measurements are listed on the printable recipe below.
Toss the berries with dry sugar mixture until they are all coated.
Transfer the blueberry mixture to your prepared crust.
Dot the top with small pieces of butter.
Roll out the second crust and carefully place it over the top of the blueberries. This photo shows the pie crust before I trimmed it with a sharp knife to within about 1/2″ of the dish.
Finish off the edge of the crust however you'd like. I almost always use my fingers to do a fluted edge, but you can also use a fork to crimp the two crusts together.
A lot of recipes for berry pie call for a lattice crust but honestly, I don't usually want to bother. It's so much easier to just throw that top crust on there and call it a day. Especially if I'm baking for a gathering, which is almost always the case when I'm pie baking. If you'd like to see a lattice crust in action, Elise Bauer of Simply Recipes has a great tutorial.
Use a sharp knife to cut slits in the top crust. It doesn't need to be perfect, those little imperfections are what tells everyone that this is a homemade pie. All pie is beautiful in my eyes.
The slits will vent the pie and allow the filling to cook properly. It also helps you know when the pie is ready because you'll see the blueberry filling bubbling up.
Here's a tip to ensure that your bottom crust will bake through really well. I bake my pies on top of an old pizza stone that I've covered with foil. Place the pizza stone in the oven while it preheats to 400 degrees and then place the pie right on top of that heated stone on a lower shelf in your oven. The pie should bake for about 50 minutes, or until the crust is golden brown and the blueberry filling is bubbling. If you think your crust is getting a little too brown, just lay a piece of foil lightly over the top of the pie for the remainder of the baking time.
Here's the most important thing I'm going to say about baking a berry pie. Do not cut into it until it has rested for at least 4 or more hours – preferably overnight. It has to cool completely and then sit for quite awhile for the filling to thicken. You will not get a good result if you slice into a fresh berry pie within an hour or two after you remove it from the oven. It will be very runny. Tasty but runny.
Of course, for the love of all that is sacred, please serve it with ice cream. It's pretty much required.
Fresh Blueberry Pie
Ingredients
4-1/2

cups

fresh blueberries

1

tablespoon

fresh lemon juice

3/4

cup

white sugar

5

tablespoons

cornstarch

1/4

teaspoon

salt

1/2

teaspoon

ground cinnamon

1

prepared 9-inch double crust pie pastry

,

homemade or store-bought

1

tablespoon

butter

,

cut into very small pieces
Instructions
Preheat oven to 400 degrees.

Rinse and drain blueberries and transfer to a large mixing bowl. Toss with fresh lemon juice and set aside.

In a separate bowl, whisk together the sugar, cornstarch, salt, and cinnamon. Pour over the blueberries and toss until the sugar mixture is well incorporated and all of the blueberries are coated.

Line your pie plate with one prepared crust. Prick the bottom of the crust with a fork. Pour the blueberry mixture into the crust and top with small pieces of butter. Place top crust over blueberries, trim to just about 1/2" of the edge of the pie dish and then flute or crimp the edges of the bottom and top crust together.

Bake pie on lower shelf of the oven for about 50 minutes, or until crust is golden brown and blueberries are bubbling.
Notes
To ensure your bottom crust bakes well, place a pizza stone that is covered with foil in the oven while it preheats. Bake the pie on top of the heated, foil covered stone on a lower shelf in your oven.
Nutrition information is automatically calculated using generic ingredients, and is an estimate not a guarantee. For more accurate results, please refer to the labels on your ingredients at home.
Did You Make This?
We love seeing what you've made! Tag us on social media at @fromvalerieskitchen for a chance to be featured