With spring just around the corner, a big, beautiful loaf of Carrot Zucchini Bread with Cream Cheese Walnut Frosting is definitely in order.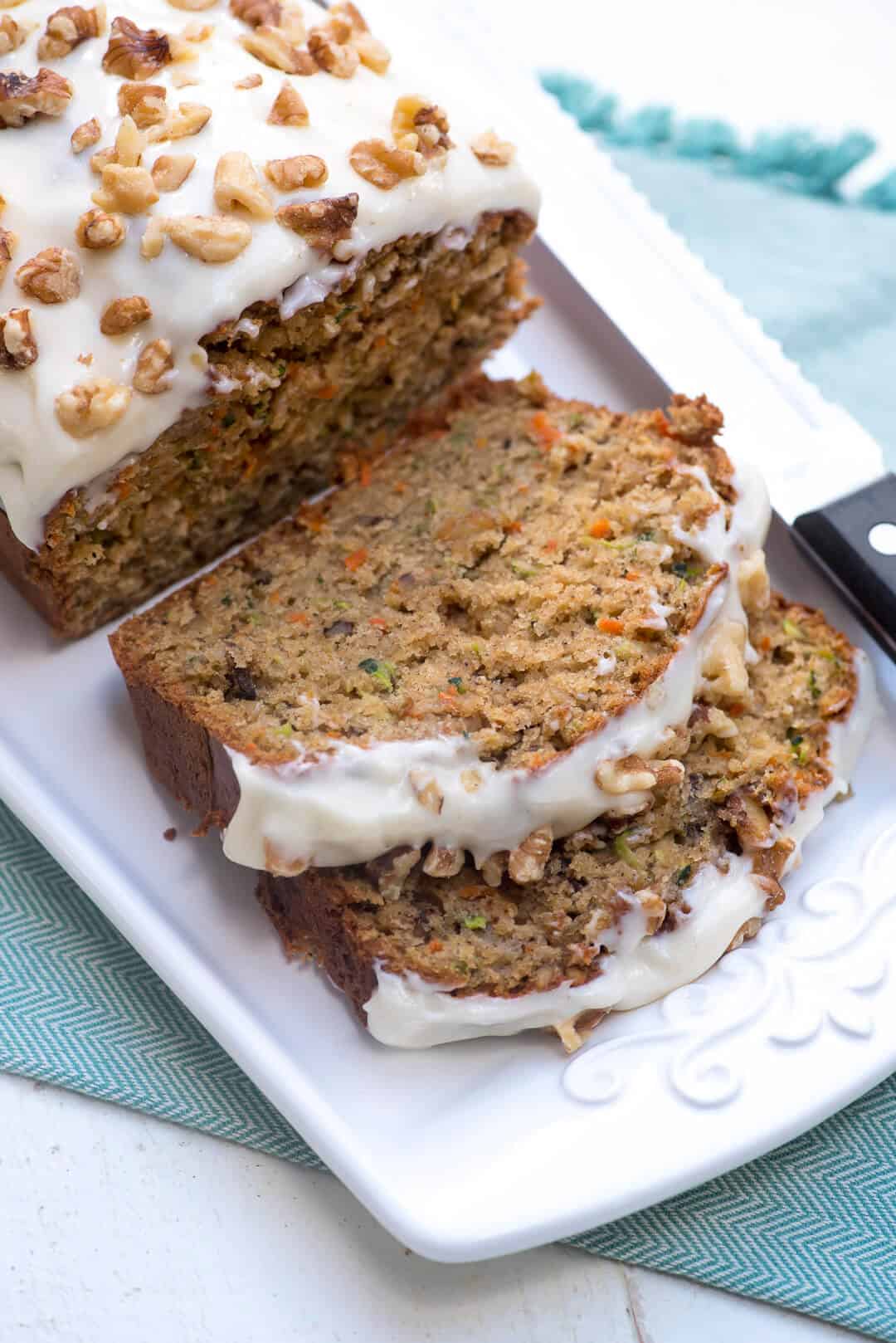 The first official day of spring is just days away and to celebrate, I baked this lovely Carrot Zucchini Bread. I actually baked two loaves of this tasty quick bread; one I topped with a luxurious cream cheese frosting and the other I left bare naked. Why? Because somehow I gave birth to a human that doesn't like cream cheese frosting.  
How this is possible, I will never understand. But these things happen in life and my answer for this situation and pretty much all others is to bake more and to bake often.
OUR LATEST VIDEOS
Please ignore my child and go with the frosted version.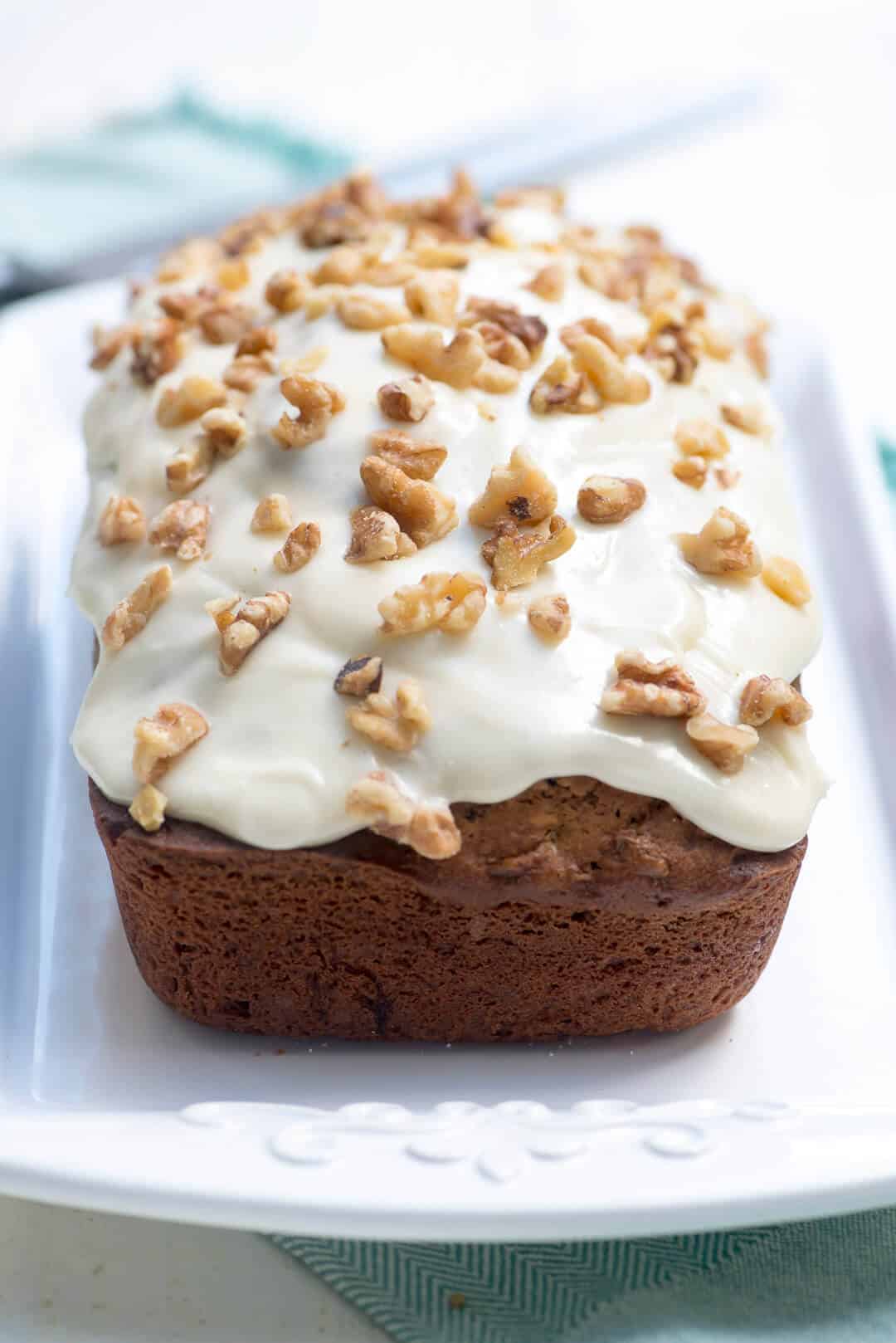 If you want to save some calories it really is delicious both with and without the frosting. And, I think it may possibly qualify as a cake once you add a thick layer of frosting. Maybe?
The quick bread base is seasoned with warm spices – cinnamon, ginger, and nutmeg, and finished with a touch of pure maple syrup.
I love the effect shredded veggies have on quick breads. A fabulous moist texture and rustic look.
I opted to add some chopped walnuts but you can leave them out if you prefer.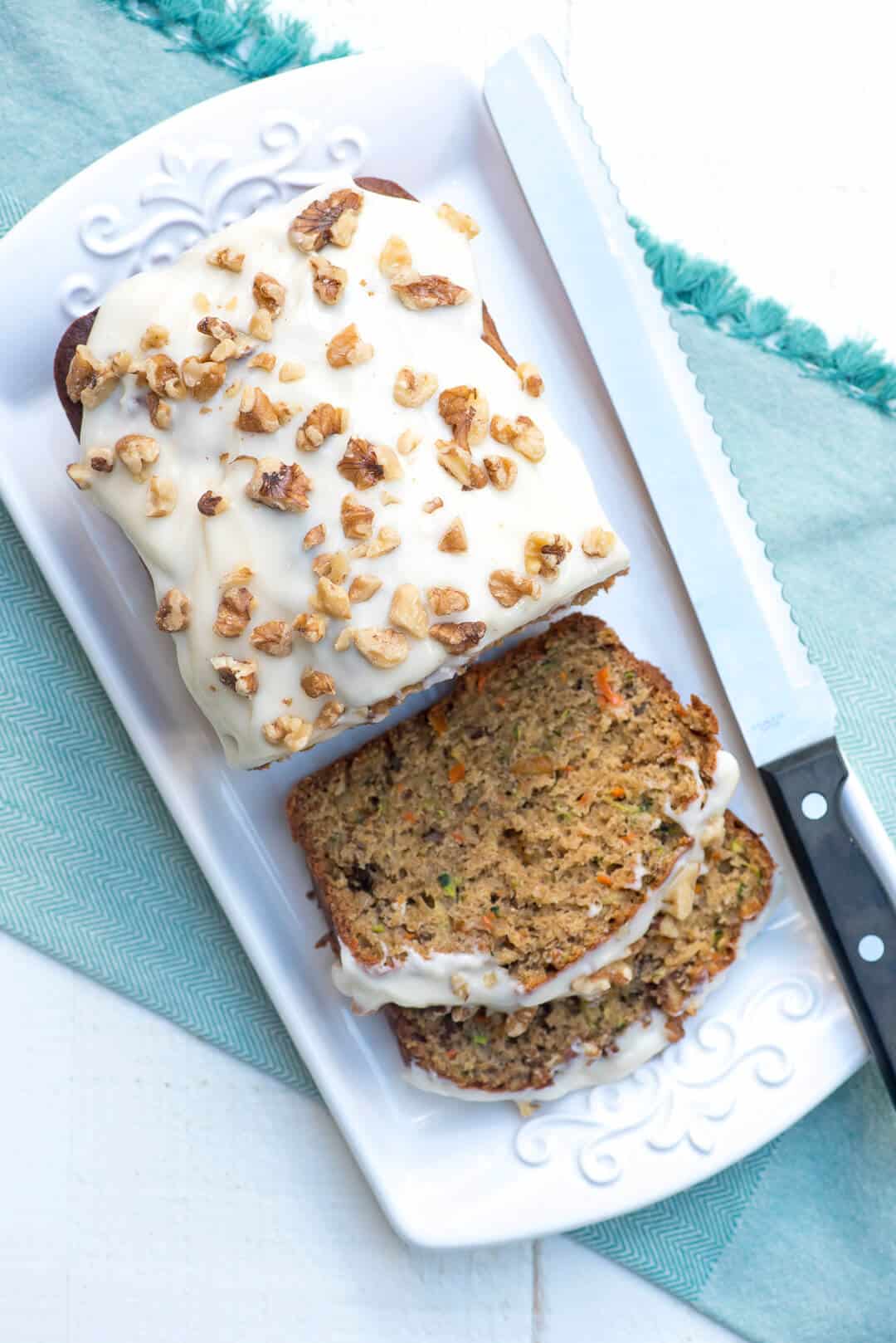 I also like to sprinkle more chopped walnuts on the frosting before it sets up.
Give this one a try. It's a wonderful way to welcome spring.
Here's a little more inspiration for baking with veggies:
Caramel Zucchini Poke Cake | Wine and Glue
Chocolate Chip Zucchini Brownies | Two Peas and Their Pod
Carrot Cake Bars with Cream Cheese Frosting | Mom on Timeout
Snickerdoodle Zucchini Bread | Christy Jordan's Southern Plate
Carrot Zucchini Bread with Cream Cheese Walnut Frosting
Warm spices and a touch of pure maple syrup make this rustic loaf of Carrot Zucchini Bread with Cream Cheese Walnut Frosting irresistibly good!
Prep Time 10 minutes
Cook Time 50 minutes
Total Time 1 hour
Servings 10
Change the number in the box above to adjust serving size. Please note that size of cookware and cook time may vary.
Ingredients
Carrot Zucchini Bread
1 3/4 cups all-purpose flour
1 1/2 teaspoons baking powder
1/2 teaspoon baking soda
1/2 teaspoon salt
1 teaspoon cinnamon
1/2 teaspoon ground ginger
1/4 teaspoon ground nutmeg
2 eggs
3/4 cup packed brown sugar
1/2 cup vegetable oil
1/4 cup pure maple syrup
1 teaspoon vanilla
1 1/2 cups grated zucchini
1/2 cup shredded carrot
1/2 cup chopped walnuts optional
Cream Cheese Walnut Frosting
4 ounces cream cheese softened
1/4 cup butter softened
1 cup powdered sugar
1 tablespoon milk
1 teaspoon fresh lemon juice
1 teaspoon vanilla extract
1/4 cup chopped walnuts optional
Instructions
Preheat oven to 350 degrees F. Coat an 9" x 5" loaf pan with non-stick cooking spray.

In medium bowl stir together flour, baking powder, baking soda, salt, cinnamon, ginger, and nutmeg. Set aside.

Add eggs and brown sugar to a large mixing bowl and beat with an electric mixer until smooth. Add oil, pure maple syrup, and vanilla, and mix again until well blended. Add about half of the flour mixture and mix just until incorporated. Add remaining flour mixture and continue to mix until combined. Using a wooden spoon, stir carrot and zucchini into the batter.

Pour batter into the prepared loaf pan. Bake 45 to 50 minutes, or until toothpick inserted in center comes out clean. Let cool for 15 to 20 minutes before removing from pan. Allow to cool completely before frosting.

Meanwhile, prepare the frosting.

Use an electric mixer to beat cream cheese together with butter in a medium bowl. Add powdered sugar and mix again until incorporated. Add milk, lemon juice, and vanilla extract and beat until creamy.

Frost the cooled loaf of bread and immediately sprinkle with chopped walnuts, if desired.