This hearty one-pot Cheesy Skillet Tortellini with Meat Sauce takes only about 30 minutes to put together. No need to boil the tortellini, just add it to the simmering sauce and it will cook up perfectly tender and delicious.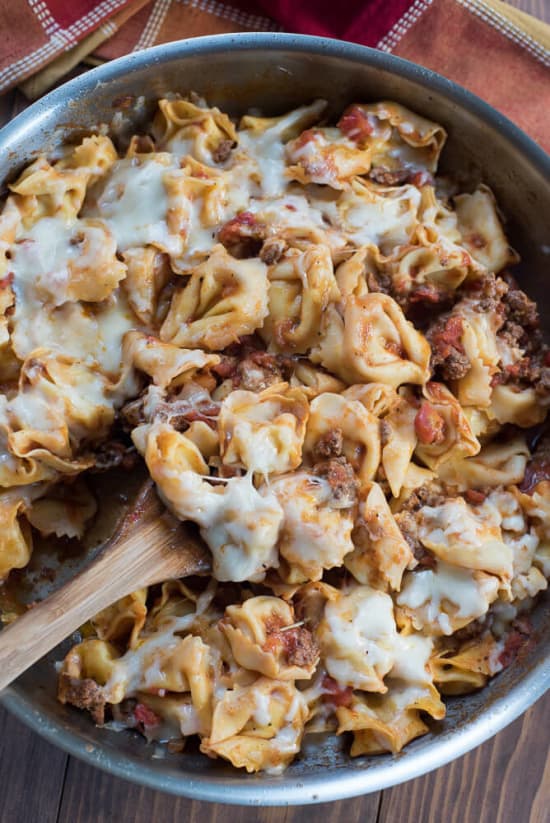 It's been a while since I've shared a skillet meal so I'm fixing that today with this comforting, family-friendly pasta dish. Each and every time I make a skillet pasta recipe I marvel at how incredibly fast and easy they are and how great they turn out. It's a beautiful thing.
And, my friends, this one is going to satisfy you down to your bones.
Instead of opening a jar of sauce, I opted to make my own simple but super flavorful sauce for this dish. It's so easy, though – I promise.
Start this recipe at the end of a busy day, throw together a green salad while it's simmering away on the stove, and dinner is on the table in 30 minutes. Fabulous.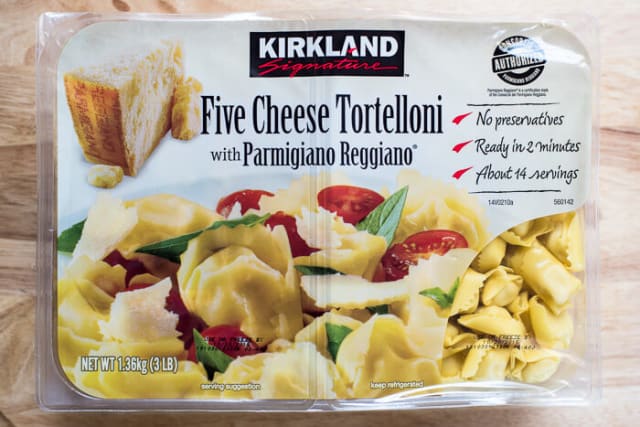 I used one 24 ounce package of this Kirkland brand Five Cheese Tortelloni that I get (and love!) from Costco, but you can use any brand you prefer.  Tortellini, tortelloni, either will work. What's the diff? Tortelloni is just a slightly larger version of it's smaller cousin, tortellini. I like the larger size in this dish but go with what you can find.
Here's how it's done!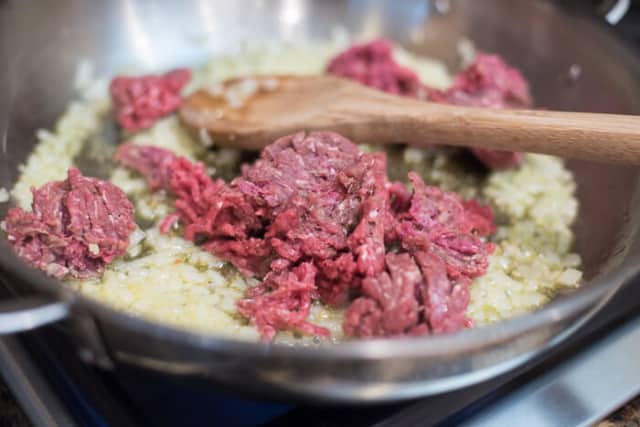 Add a little olive oil to a 12″ skillet and place it over medium heat. Cook some chopped onion and minced garlic till tender and then add 1/2 pound of lean ground beef. There's a lot going on in this recipe and 1/2 pound of beef is plenty.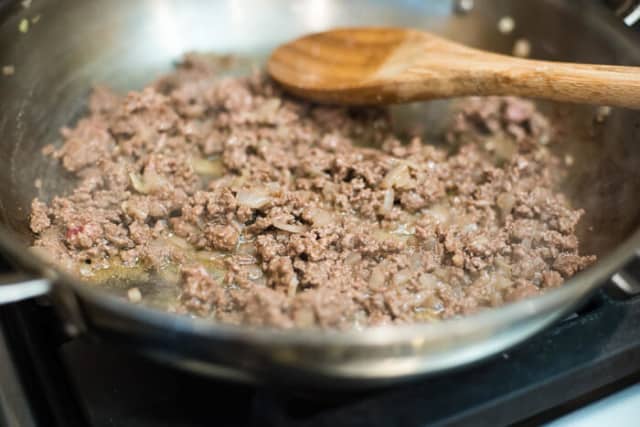 Cook, stirring to break up the beef, until no pink remains. At this point I like to drain off as much of the grease from the pan as possible.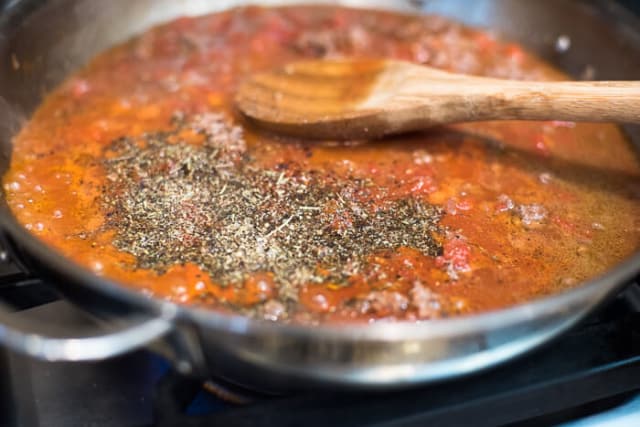 Return the pan to the heat and add a can of petite diced tomatoes, a small can of tomato sauce, and 1 cup of low-sodium beef broth. Then the seasonings – Italian seasoning, salt, and pepper. We are keeping it simple but just wait till you taste it.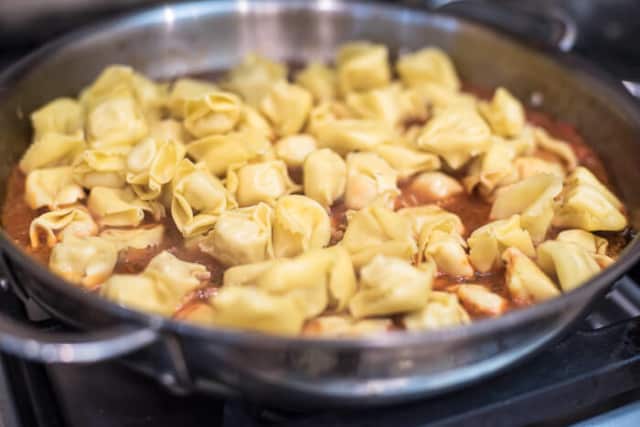 Add the tortellini, or in this case, tortelloni. With this method, there is no need to cook the pasta separately. I'm head over heels in love with this fact.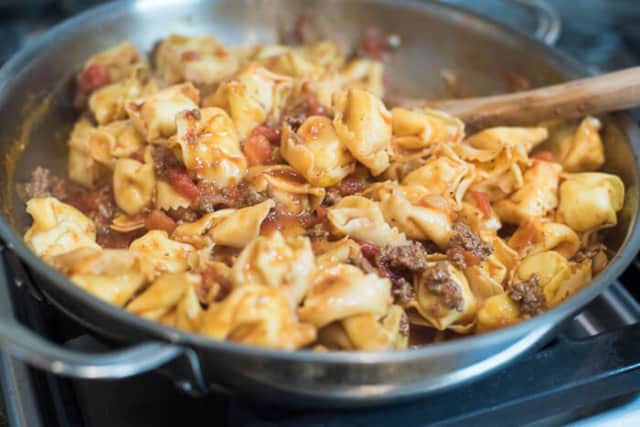 Combine it well with the sauce and once it comes to a good simmer, reduce the heat, cover the skillet and let it simmer for 15 minutes. That's all it takes – you don't want to over-cook the pasta.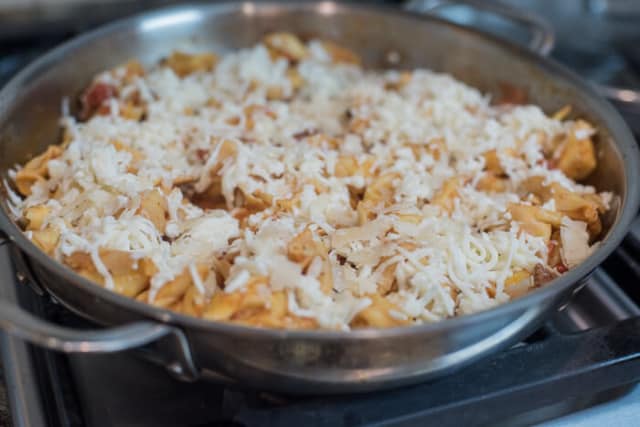 Remove the cover and top the pasta with about 1-1/2 cups shredded fresh mozzarella (or more if you're game!) and some grated or shaved Parmesan. Cover and let it simmer for just another few minutes until the cheese has melted. Time to serve!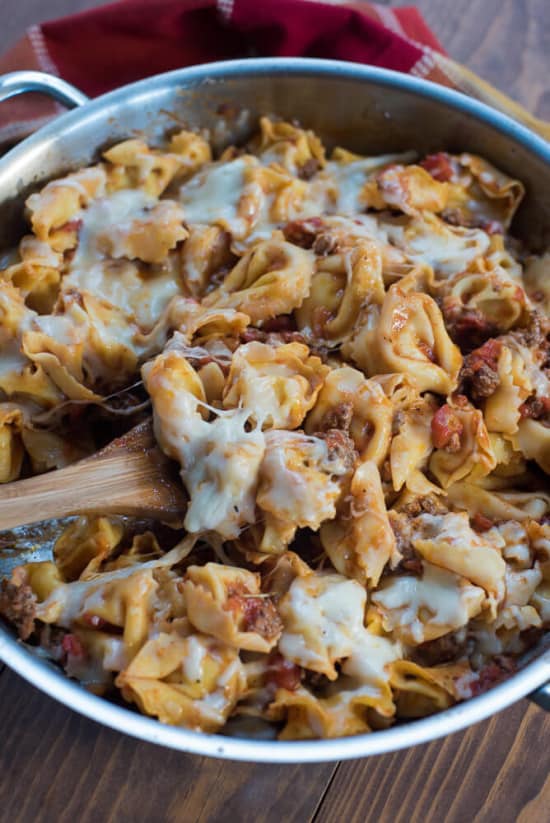 Indulgent, but so worth it!
For more one-pot cooking inspiration, check out some of my other skillet meals.
Skillet Sausage Pasta
Chicken and Spinach Skillet Pasta
Skillet Chicken Parmesan
Skillet Lasagna
Tex-Mex Chicken and Rice Skillet 
Cheesy Skillet Tortellini with Meat Sauce
Prep Time 5 minutes
Cook Time 25 minutes
Total Time 30 minutes
Servings 6 servings
Change the number in the box above to adjust serving size. Please note that size of cookware and cook time may vary.
Ingredients
2 tablespoons olive oil
1/2 cup chopped white or yellow onion
1 teaspoon minced garlic
1/2 pound lean ground beef
1 14.5 ounce can petite diced tomatoes
1 8 ounce can tomato sauce
1 cup low-sodium beef broth
1 teaspoon Italian seasoning
1/2 teaspoon salt or to taste
fresh ground black pepper to taste
1 24 ounce package refrigerated cheese tortellini
1-1/2 to 2 cups shredded fresh mozzarella cheese
1/4 cup shredded or shaved Parmesan cheese
Instructions
Add oil to a 12" skillet (with a lid) and place over MEDIUM heat. Cook onion and garlic in olive oil till tender.

Add ground beef. Cook, stirring, to break up the beef, until no longer pink. Drain off excess grease from the pan. Return the pan to the heat and add diced tomatoes, tomato sauce, beef broth and seasonings. Add tortellini, stirring well to combine. Increase heat and once the sauce comes to a boil, reduce heat to LOW, cover skillet, and simmer for 15 minutes.

Remove cover and sprinkle with mozzarella and Parmesan, cover skillet, and simmer for another three or four minutes, just until cheese has melted.

Remove from heat and serve.