This Skillet Sausage Pasta is a one-pot meal that is ready from start to finish in under 30 minutes and it is fabulous!

When I came across the recipe over at Kevin and Amanda's I noticed that most of the ingredients are items that I regularly stock in my pantry. This makes it one of those last minute, throw it together, busy weeknight meals that I can't get enough of. I made a few modifications to suit our taste and we loved the result so much that I had to share.
I have more in common with Kevin and Amanda than our love of pasta and sausage. They have a couple of these black and white gremlins in their house as well. In case you haven't been formally introduced yet, this is Bruno. He appears from time to time in my posts, especially when mango is involved, like my Chicken Tacos with Mango Avocado Salsa. He's a freak for mango.
Back to the matter at hand, pasta!
Watch the quick video below to see how it's done and then scroll down for the complete step-by-step directions and printable recipe.
The most important consideration when making this dish is your choice of sausage. As it cooks, the flavor of the sausage will cook into and become a major component to the flavor of the sauce. I used this Aidell's Bacon, Mushroom, & Swiss Cheese Smoked Chicken Sausage. I mentioned this delicious sausage last week when I shared my most recent Costco finds. Any fully cooked, flavorful smoked sausage that you like will work perfectly.
Drizzle a little olive oil into a deep, oven-proof skillet and place it over medium-high heat. Add the chopped sausage and onions.
Cook and stir for about five minutes till lightly browned. Add the minced garlic and cook for another minute or two.
Time to add the chicken broth, diced tomatoes, uncooked penne, salt, pepper, and crushed red pepper. The crushed red pepper is going to add a nice element of heat to the tomato cream sauce but you can adjust the amount to suit your taste. I use 1/2 teaspoon which gives it a nice kick. If I was cooking for little ones, I'd bring this down to 1/4 teaspoon or even less.
Bring the mixture to a nice simmer then reduce the heat to low, cover the skillet and let it cook for about 15 minutes, or until the pasta is tender.
Add the half and half or heavy cream and cook for a minute or two, just to warm it through. Remove the pan from the heat and stir in the Monterey Jack cheese and sprinkle with green onions.
Quickly cook up a vegetable side or throw together a salad and you have a family pleasing dinner on the table in about 30 minutes.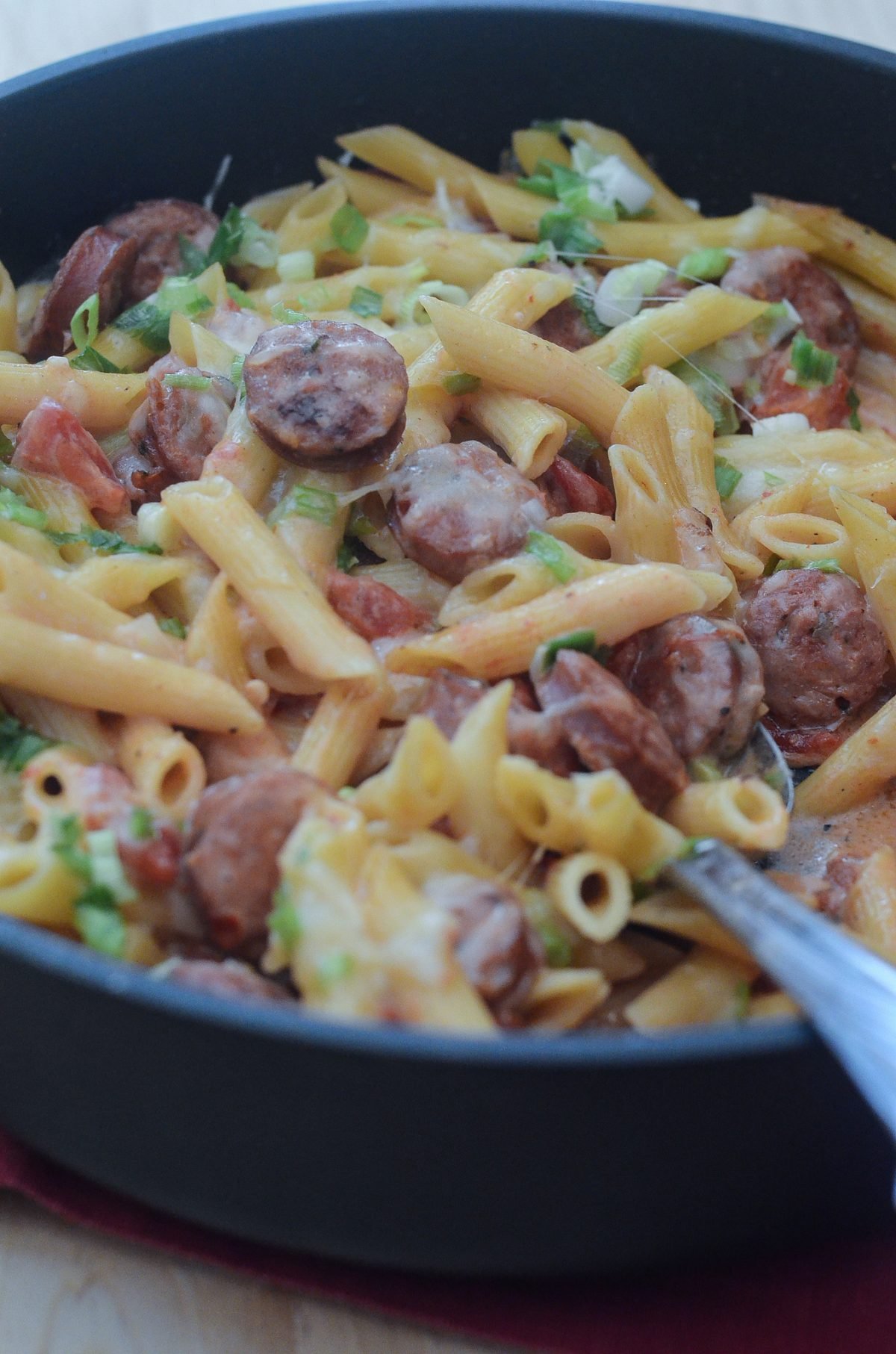 Put this one on your menu and have a fantastic week!
If you are a fan of one pot meals, here are a couple more you might want to check out:
Skillet Sausage Pasta
This Skillet Sausage Pasta is a one-pot meal that is ready from start to finish in under 30 minutes and it is fabulous!
Print
Pin
Rate
Servings: 4 servings
Calories: 725kcal
Ingredients
1 tablespoon olive oil
1 pound fully cooked smoked sausage in your flavor of choice
1 cup diced onion
2 cloves garlic minced
2 cups low-sodium chicken broth
14.5 ounces can diced tomatoes
8 ounces dry penne pasta (approximately 2-1/2 cups uncooked)
1/2 teaspoon crushed red pepper or to taste
1/2 teaspoon salt and pepper each
1/2 cup half and half or heavy cream
1 cup Monterey Jack cheese shredded
1/3 cup thinly sliced green onions
Instructions
Add olive oil to a deep, oven-safe skillet over medium-high heat. Add sausage and onions and cook until lightly browned, about 4 or 5 minutes. Add garlic and cook for a minute or two until fragrant.

Add broth, tomatoes, pasta, crushed red pepper, salt and pepper and stir to combine. Bring to a boil, cover skillet, and reduce heat to medium-low. Simmer until pasta is tender, about 15 minutes. Stir in half and half or heavy cream and simmer for another minute or two until warmed through.

Remove skillet from heat, add cheese and stir until melted. Sprinkle with green onions and serve.
Nutrition
Calories: 725kcal | Carbohydrates: 52g | Protein: 30g | Fat: 43g | Saturated Fat: 17g | Cholesterol: 106mg | Sodium: 1342mg | Potassium: 559mg | Fiber: 2g | Sugar: 3g | Vitamin A: 480IU | Vitamin C: 5.3mg | Calcium: 284mg | Iron: 2.4mg
Adapted from Kevin and Amanda