A tender crust topped with cherry pie filling and drizzled with a sweet, simple almond flavored glaze. These pretty Cherry Pie Bars are quick and easy to make and include ingredients you can easily keep stocked in your pantry.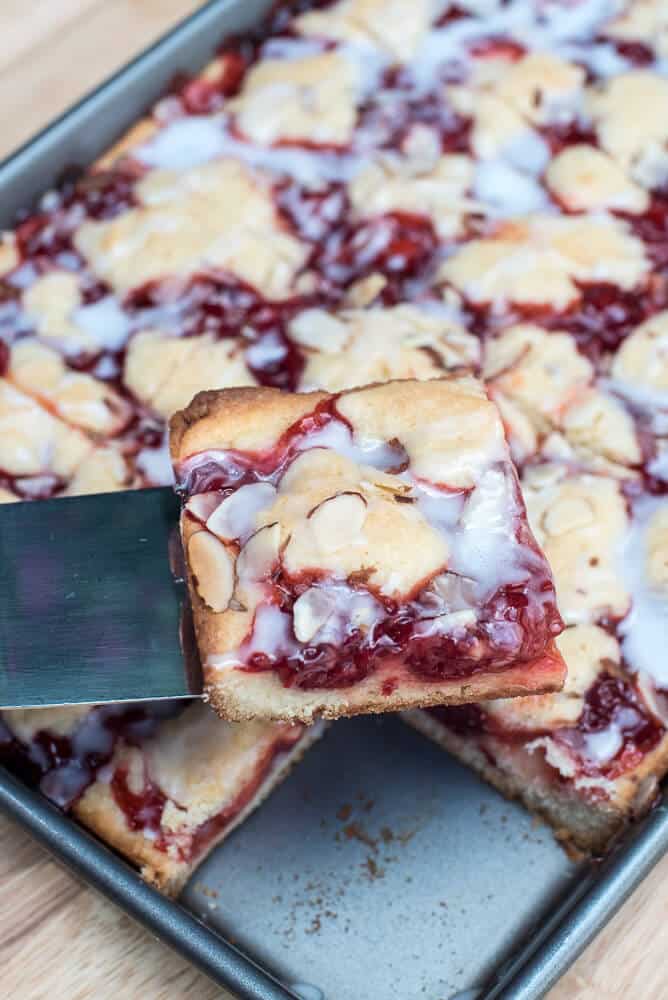 Less than a week after posting my recipe for Blueberry Pie, I'm back with these Cherry Pie Bars. I think there's something going on with me in the pie department. I may need help.
I'm in love with this recipe for so many reasons. First, nearly all the ingredients are pantry staples in my kitchen which means I can whip them up at a moment's notice. Second, they are easy as can be to make. Third, they are oh, so pretty. And, fourth, and most importantly – they are SO good!
Look at that glorious river of glaze!
Because they call for canned cherry pie filling, you can make these at any old time of year that your little heart desires. They'll be just as good at your 4th of July BBQ as they will be gracing your Christmas cookie trays. I love me a good dessert bar recipe and this one is a keeper.
So, let us move into the kitchen and bake some together!
How to Make Cherry Pie Bars
In a large mixing bowl, cream together 1/2 cup of softened butter and 1 cup of white sugar. Beat in 1/2 teaspoon salt, two eggs, 1/2 teaspoon vanilla extract, and 1/4 teaspoon almond extract.
Next, add 1-1/2 cups flour and 1/2 teaspoon of baking powder and mix again until well combined.
The dough will be quite sticky, as you can see above. Do not be concerned!
Coat a 13″ x 9″ baking dish generously with non-stick cooking spray. I almost always bake dessert bars in a metal brownie pan – it works perfectly. You'll need 1-1/2 cups of dough for the bottom layer,  so measure that amount out and reserve the rest for later.
Now, the tricky part is to line that pan with that sticky dough but here's a tip that will make your life easy. Coat your hands really well with non-stick cooking spray and pat away. The dough will go where you want it and it won't stick to your hands. It works!
Grab a can of cherry pie filling.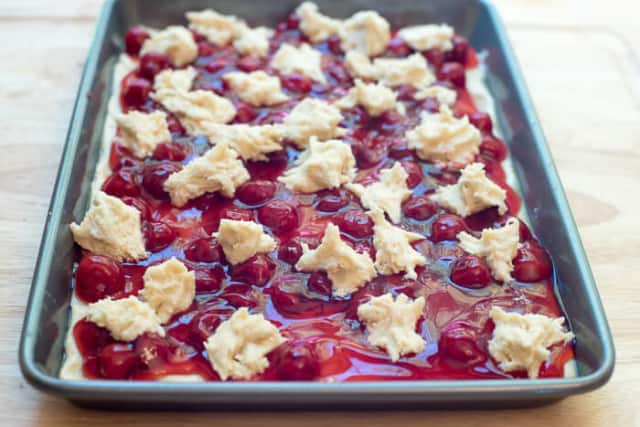 Spoon the cherry pie filling evenly over the bottom crust and then drop very small pieces of the remaining sticky dough right over the top.
Sprinkle some sliced almonds over the top of it all and pop it in a preheated 350 degree oven for just about 35 minutes, or until the crust is lightly golden brown.
Remove the pan from the oven and allow the bars to cool completely on a wire rack.
The simple powdered sugar glaze is spiked with a bit more almond extract which is the perfect complement to cherry pie filling. Once completely cooled, drizzle the glaze over the top.
I was pleased with how cleanly the bars slice and how bright and pretty they are. They'd be delicious served on a plate with a scoop of vanilla ice cream or just pick them up and go for it!
They're  best if consumed within a couple of days since they have a tendency to soften quite a bit as they sit. I stored the leftovers in the fridge and they were delicious both at room temperature and chilled.
Cherry Pie Bars
Prep Time 15 minutes
Cook Time 35 minutes
Total Time 50 minutes
Servings 20 bars
Change the number in the box above to adjust serving size. Please note that size of cookware and cook time may vary.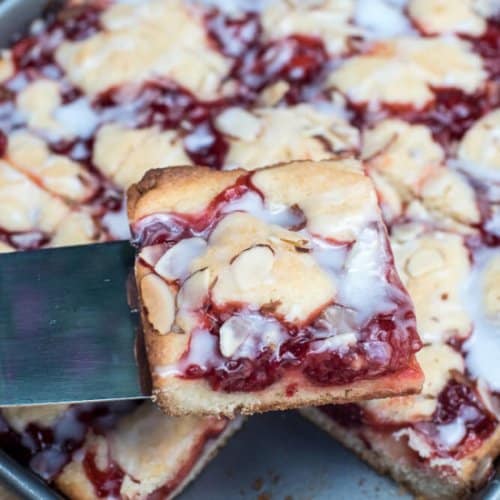 Ingredients
For the Bars
1/2 cup butter softened
1 cup sugar
1/2 teaspoon salt
2 eggs
1/2 teaspoon vanilla extract
1/4 teaspoon almond extract
1-1/2 cups all-purpose flour
1/2 teaspoon baking powder
1 21 ounce can cherry pie filling
2 to 3 tablespoons sliced almonds
For the Glaze
1/2 cup confectioners' sugar
1/4 teaspoon almond extract
1-1/2 tablespoons milk or as needed
Instructions
Preheat oven to 350 degrees. Spray a 13" x 9" baking dish or metal brownie pan with non-stick cooking spray.

Using a hand or stand mixer, cream together butter and sugar. Add salt, eggs, vanilla, and almond extracts and beat until creamy and well combined. Add flour and baking powder and mix on low speed just until dry ingredients have been incorporated. With greased hands, pat 1-1/2 cups of batter into the prepared baking dish. Spoon cherry pie filling evenly over the bottom crust. Drop very small pieces of the remaining batter over the pie filling. Sprinkle sliced almonds over the top.

Bake for 35 minutes or until golden brown. Remove from the oven and allow to cool completely. Once bars have cooled, whisk together confectioners' sugar, almond extract, and as much milk as needed to reach desired consistency. Drizzle over the cooled bars. Cut into squares and serve.
Check out some of my other favorite dessert bar recipes.