A bevy of delicious, colorful ingredients including smoky black eyed peas, black beans, sweet corn, tomatoes, and avocado create this healthy and completely irresistible Cowboy Caviar. Guaranteed to go over in a big way at any gathering.
Click HERE to sign up for your FREE email subscription and never miss a recipe!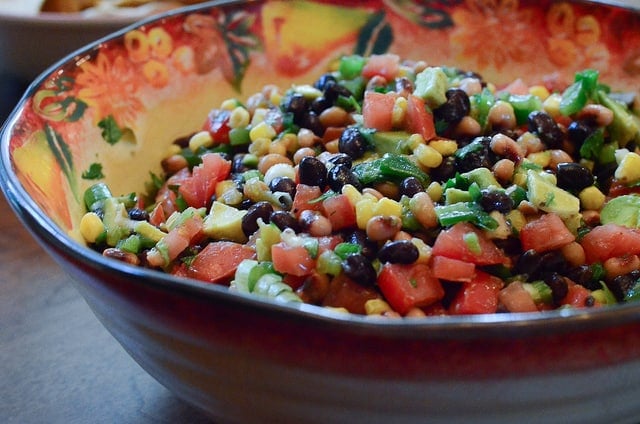 Have you heard the whole thing about black eyed peas and good luck for the new year? I'm not typically one who gives in to superstition but this one involves food so it's worth consideration.
The idea is that if you eat black eyed peas on New Year's Day you will have good luck and prosperity all year long. As long as we're talking prosperity and not fertility, I'm game.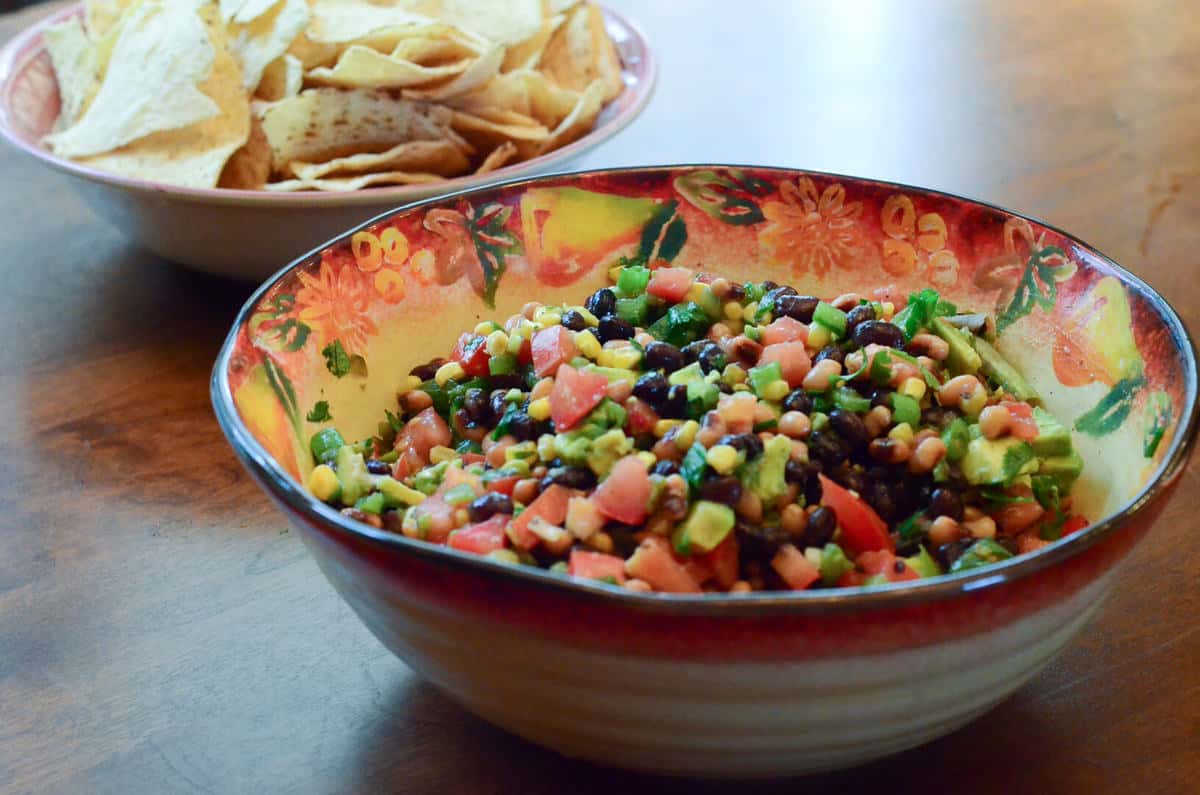 Cowboy Caviar is a super easy, nutritious, and extremely delicious way to accomplish this task. It's basically a black eyed pea based salsa with lots of other fresh ingredients thrown in. Since a lot of appetizers are cheesy, mayonnaise based dips and the like, this stuff will help to add some nutritional balance to your night. It's fresh, light and extremely addictive.
So, as a famous Black Eyed Pea once said…
…Let's get it started!
The grocery list – One can each of seasoned black eyed peas and black beans, frozen sweet corn, green onions, cilantro, a green bell pepper, two or three nice red tomatoes, jarred jalapeno slices (either mild or hot), avocado, olive oil, white wine vinegar, a fresh lime, Dijon mustard, and salt and pepper.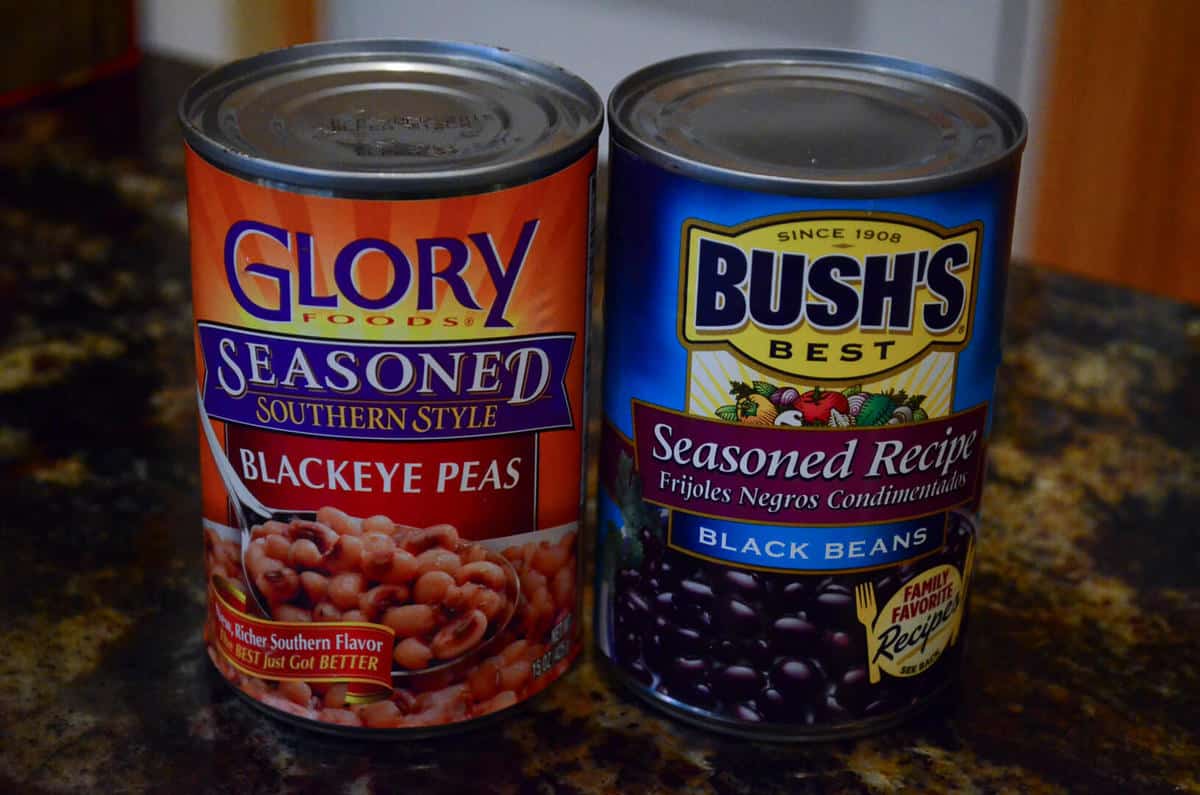 There are several different brands of canned black eyed peas available. This Seasoned Southern Style variety from Glory Foods is what my local store carries. I love to use these Bush's Seasoned Recipe Black Beans in this recipe but plain black beans would also work just fine.
A delicious way to ring in the new year but also an excellent choice in the summer when tomatoes are at their peak.
Watch the video below to see just how easy this incredible party snack is to put together!
COWBOY CAVIAR
Eat, drink, and be merry and kiss the one you love (or the one next to you!) when the clock strikes midnight.
Thank you so much for stopping by my kitchen this year. Wishing you all a very happy, healthy, and prosperous New Year!
Cowboy Caviar
Prep Time 15 minutes
Total Time 15 minutes
Servings 12
Change the number in the box above to adjust serving size. Please note that size of cookware and cook time may vary.
Ingredients
1 15 ounce can seasoned black-eyed peas, rinsed and drained well
1 15 ounce can seasoned or plain black beans, rinsed and drained well
3/4 cup frozen sweet corn thawed
3 green onions chopped
1/2 cup chopped green bell pepper
2 or 3 tomatoes diced
10 jarred jalapeno pepper slices diced (mild or hot depending on preference)
1/3 cup cilantro chopped
1 ripe avocado chopped
Tortilla chips
Dressing:
1 tablespoon olive oil
1 tablespoon white wine vinegar
1/2 lime juiced
1/2 teaspoon Dijon mustard
Salt and pepper to taste
Instructions
Combine black eyed peas, beans, corn, green onion, bell pepper, tomatoes, jalapenos, and cilantro in a medium bowl. In a small bowl whisk together the olive oil, vinegar, lime juice, Dijon mustard, and salt and pepper. Pour over bean mixture. Cover and refrigerate until ready to serve.

Just before serving, add avocado and gently stir to combine. Serve with tortilla chips.