This old school casserole is brought up to date with a cheesy, creamy, from-scratch sauce. Creamy Chicken Broccoli and Rice Casserole is a comforting, family-pleasing meal.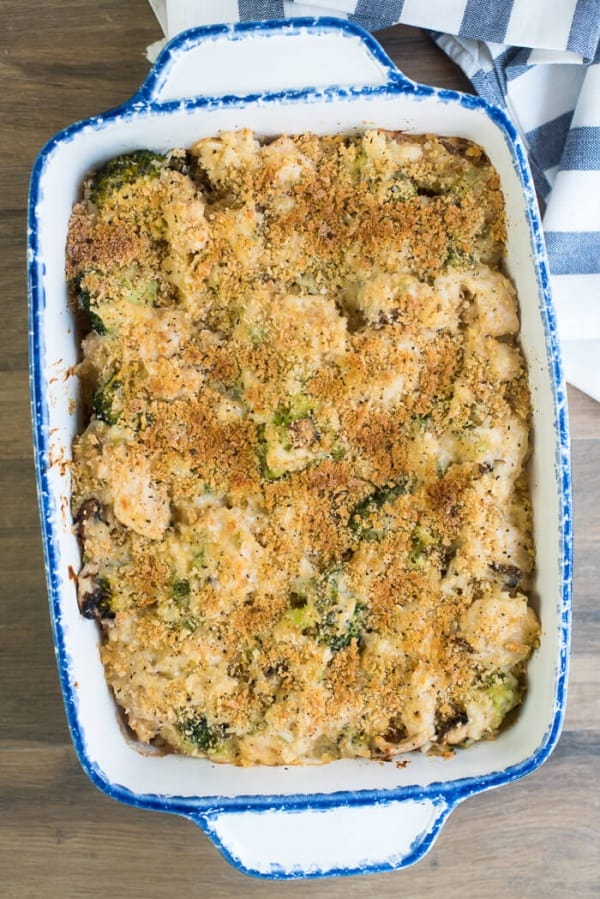 If you lived through the time of feathered hair, incredibly tight, high waisted jeans, and were in possession of a copy of Frampton Comes Alive (my very first concert, I kid you not!), chances are that your mom made some version of this Chicken Broccoli and Rice Casserole.
I believe this old classic was probably served in nearly every suburban home at some point during the 1970's and my money is on the fact that it was the good old cream of chicken soup variety. I'm a fan of those old cream soup recipes and to this day pull one out every now and then.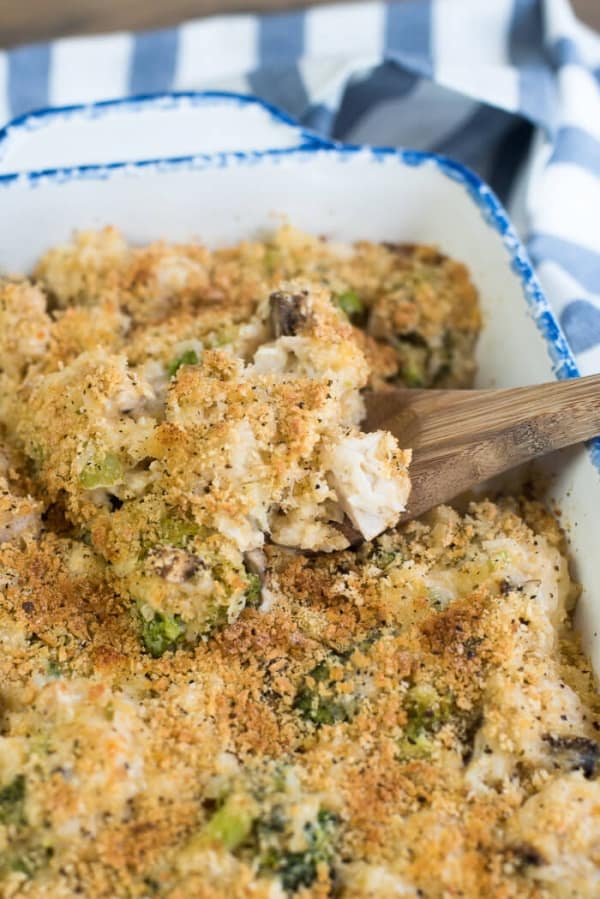 This from-scratch version came about as the result of the foggy, sick-brain that I'm still combatting as the result of getting a cold like I haven't seen in years. I got sick! Really, really sick.
And, then the craving struck. And then, I stuffed my purse full of Kleneex and dragged myself to the grocery store to buy the ingredients. And, then when I got home I realized I was completely out of Cream of Chicken Soup. How on Earth could this happen? How could I not restock the Cream of Chicken…aaahhhh!
Well, I clearly was not going to let that get between me and my casserole so I set upon creating a creamy, cheesy sauce to take its place and the rest was history. And, so was every last bite of this tasty casserole. Unfortunately, the cold lingers but this dinner is just what the doctor ordered.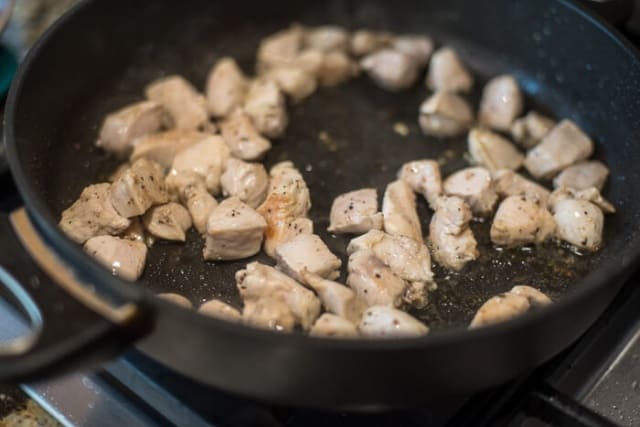 I started by browning some chopped boneless chicken breasts. I highly recommend using rotisserie chicken and believe me, I'd have used one if I had picked one up on my last Costco haul, but alas, no roti chicken was in my midst so I cooked my own. Season the chicken with a little salt and pepper while it cooks and then transfer it to a plate so we can move on to the veggies.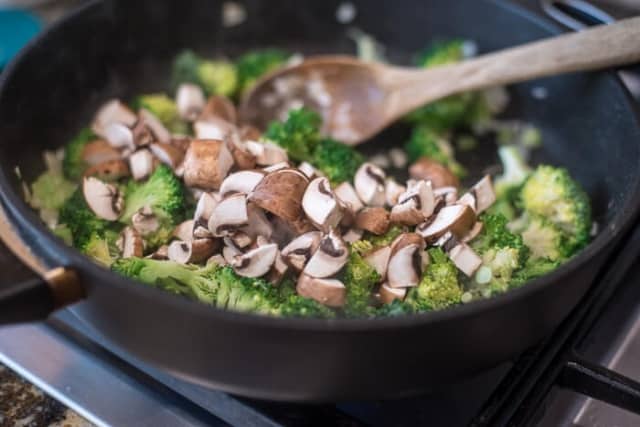 To the same pan, add some chopped onion, celery, and chopped fresh brocolli. Cook and stir for several minutes until the broccoli is crisp-tender and bright green. Then throw in some chopped mushrooms and minced garlic. Cook and stir for several minutes to slightly soften the mushrooms. Remove the pan from the heat and set it aside for now.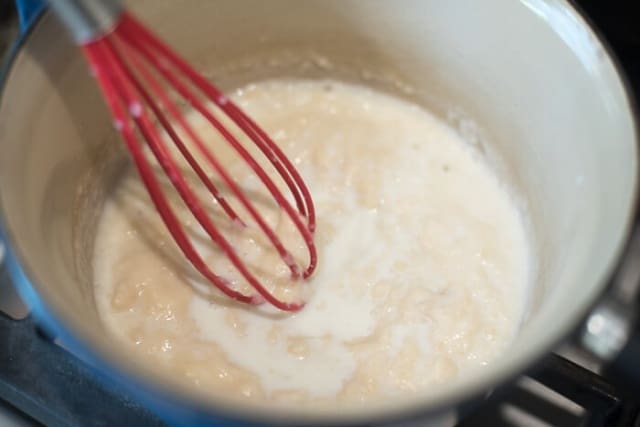 Let's make a basic white sauce and then make it a spectacular white sauce. Start by melting 2 tablespoons of flour over low heat. Whisk in 3 tablespoons flour and cook, whisking, for a minute or two. Then slowly add in 2 cups of warmed milk, whisking away as you add it.
When all of the milk has been added and the sauce is beginning to thicken nicely (stay with it, it will thicken with time), add the seasonings – Lawry's Seasoning Salt and fresh ground black pepper. If you have another all-purpose seasoning blend you prefer, use it!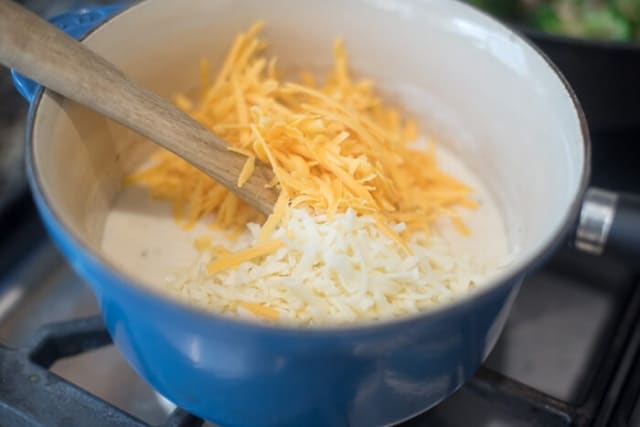 Remove the pan from the heat and add some shredded mozzarella and sharp cheddar cheese.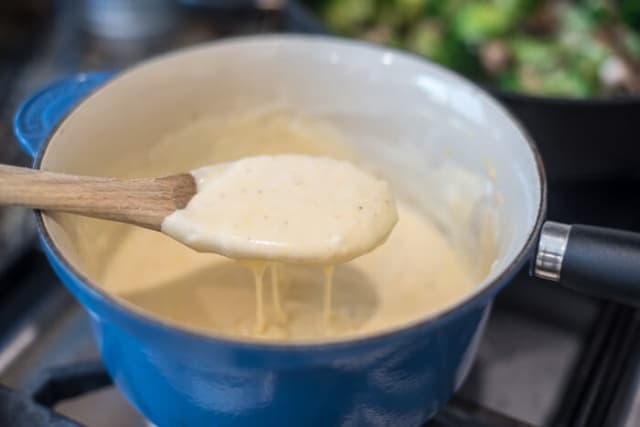 Stir the cheese into the warm sauce until completely melted and voila – you have a creamy, cheesy sauce for your casserole.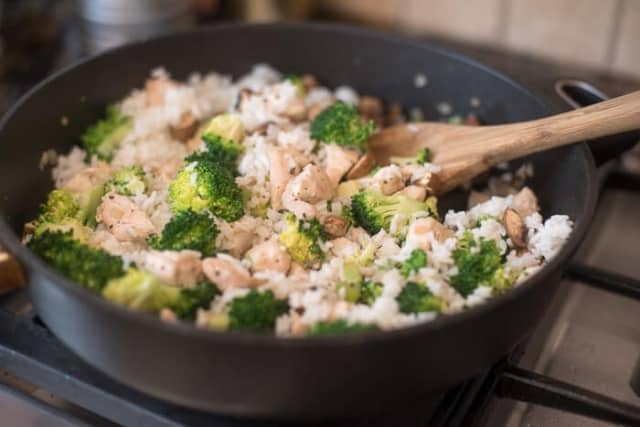 Add a couple of cups of cooked white rice and the cooked chicken to the veggies in the pan and mix well to combine all the goodness.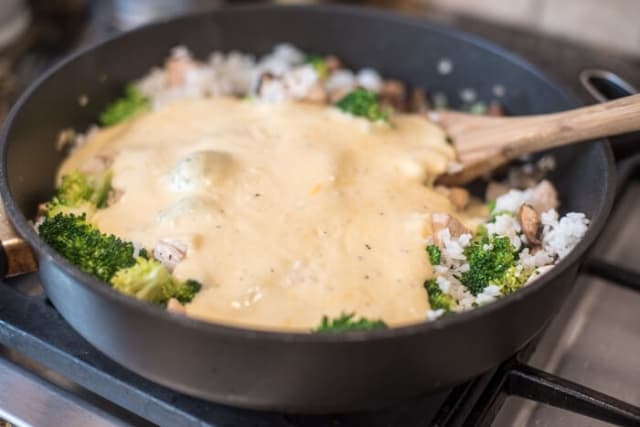 Pour the sauce over it all and stir to combine well.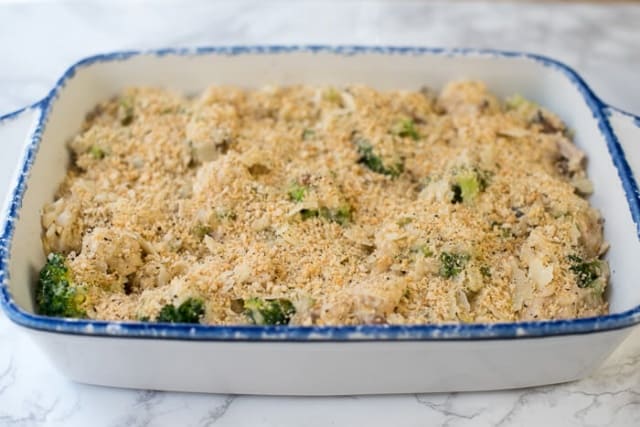 Transfer the mixture to a 13″ x 9″ baking dish that has been coated with non-stick cooking spray. Top it with some grated Parmesan and Italian style panko bread crumbs. Cover the casserole with foil and pop it in a preheated 350 degree oven for 30 minutes. At the end of the cooking time, remove the foil and set the oven to BROIL for a few minutes to brown it and crisp up that bread crumb topping.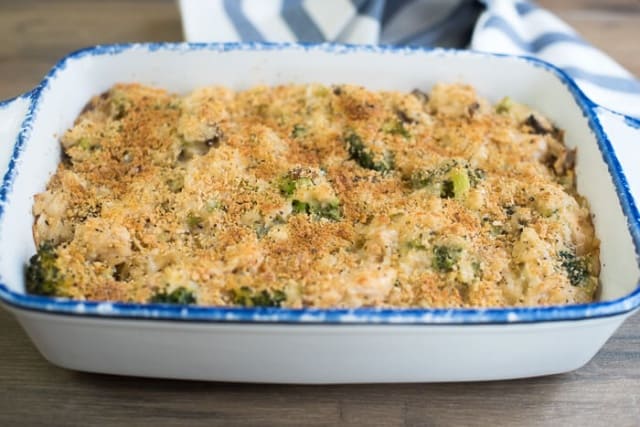 Just slice a loaf of bread or if you want to get real fancy, make some garlic bread, and dinner is served.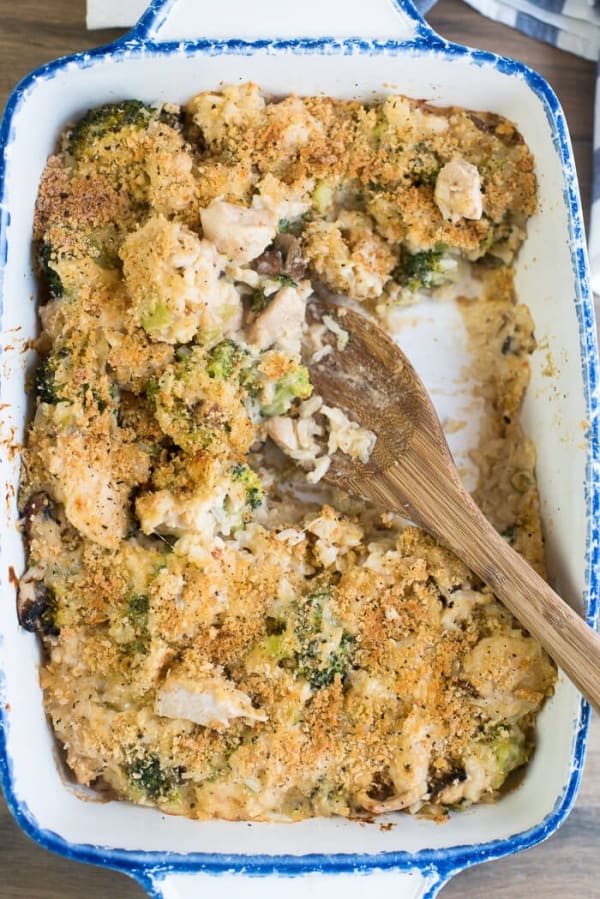 Ingredients
2 cups water
1 cup long grain white rice
2 tablespoons vegetable oil
2 large boneless chicken breasts approximately 1-1/4 to 1-1/2 pounds, chopped into bite size pieces
salt and fresh ground black pepper to taste
1/2 cup diced white or yellow onion
1/2 diced celery
3 cups chopped fresh broccoli
1/2 cup chopped fresh mushrooms
1 teaspoon minced garlic
2 tablespoons butter
3 tablespoons all-purpose flour
2 cups milk reduced fat or whole, warmed in microwave for approximately 1 minute
1-1/2 teaspoons Lawry's Seasoning Salt or your favorite all-purpose seasoning
1/2 teaspoon fresh ground pepper or to taste
1 cup shredded mozzarella cheese
1 cup shredded sharp cheddar cheese
1/3 cup grated or shaved Parmesan
1/2 cup Italian style Panko bread crumbs
Instructions
Cook rice with water according to package directions.

Meanwhile, preheat oven to 350 degrees F and coat and 13" x 9" baking dish with non-stick cooking spray.

Add vegetable oil to a large pan or Dutch oven and place over medium-high heat. Add chicken and cook, stirring, until lightly browned and cooked through; season with salt and pepper, to taste. Transfer cooked chicken to a plate and set aside. Add onion, celery, and broccoli to pan and cook, stirring occasionally for several minutes until broccoli is bright green and just slightly softened. Add mushrooms and garlic and saute for another 3 or 4 minutes. Remove from heat.

Melt butter in a medium saucepan over low heat. Add the flour and cook, whisking, for about two minutes. Gradually whisk in the warm milk. Continue to cook, whisking, until thickened. Add seasoning salt and fresh ground pepper and stir to combine. Remove the pan from the heat and add the mozzarella and cheddar cheese, stirring until cheese has melted.

Add the cooked rice, chicken, and cheese sauce to the cooked vegetables in the Dutch oven and stir to combine. Pour mixture into prepared baking dish. Sprinkle with Parmesan and bread crumbs. Cover with foil and bake for 30 minutes. Remove foil and set oven to BROIL and cook for another 2 to 3 minutes until topping is lightly golden brown.