Crispy on the outside, tender on the inside. These Crispy Parmesan Smashed Potatoes are a nice change from your typical potato side dish.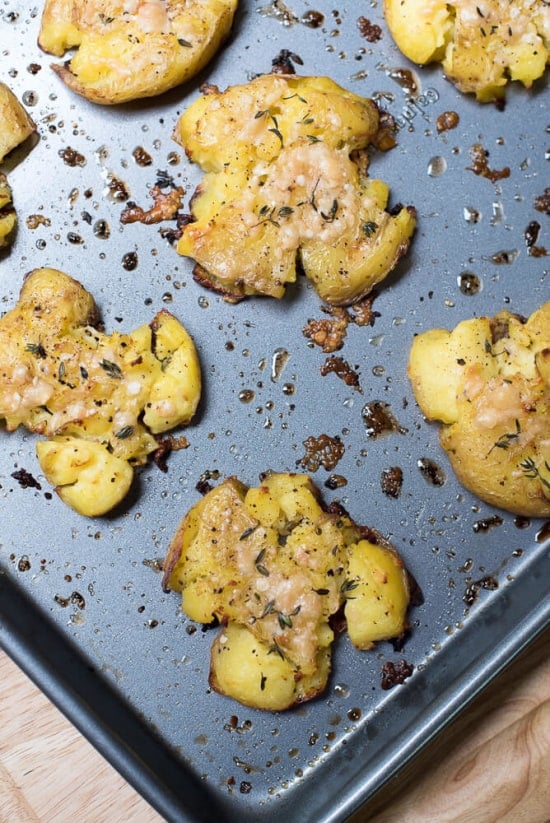 Sometimes I get tired of doing the same side dishes over and over again and I just need to mix things up a little. That's where these delicious, golden, crispy bites of goodness come in. My husband requested them for dinner this week and I decided to take a few photos and share the recipe with you all.
They go well with any main dish that you would typically serve with potatoes and they are absolutely lovely with an entree that includes gravy.  
You'll need a dozen baby yellow or red potatoes. For this recipe, I prefer the yellow variety because they're so gosh darn creamy and delicious, but red works very well too.
Place the unpeeled potatoes in a large pot and add water to cover the potatoes by about an inch. Add 1 tablespoon of salt to the water and place the pot over high heat. Bring to a boil, reduce heat to medium-low, and cover the pot. Allow the potatoes to cook at a low boil for 15 minutes, or until you can pierce them with a sharp knife.
Drain the potatoes and transfer them to a large rimmed baking sheet that you've coated with non-stick cooking spray. Pretty little potatoes, all in a row.
To smash them I used my potato masher but any clean, flat surface will work. The bottom of a glass, coffee cup, etc. Just smash them lightly so that they spread out, but keep them intact.
This shaved Parmigiano Reggiano cheese from Costco is one convenience item that I always keep stocked in my fridge. It is high quality and just so convenient to have within arm's reach and ready to go for the tons of recipes I prepare the call for Parmesan.
Season the smashed potatoes with a little salt and fresh ground pepper, drizzle with some olive oil, and sprinkle with Parmesan. I like to add a touch of fresh herbs, but not too much. I want the main flavor to come from the potatoes and Parmesan and the herbs should just lightly accent that flavor. I've done them with both thyme and rosemary and will use whatever I have on hand. You can absolutely substitute dry herbs (see recipe below) if you don't have fresh on hand.
Pop the baking sheet in a preheated 450 degree F oven and roast the potatoes for 20 to 25 minutes until golden and crisp around the edges.
I served these this week with pork chops and mushroom gravy and they were glorious. Honestly, they are so irresistible I could just pick them up and eat them all by themselves. And, they reheat well if you're lucky enough to have any leftover!
Crispy Parmesan Smashed Potatoes
Prep Time 20 minutes
Cook Time 25 minutes
Total Time 45 minutes
Servings 4 to 6
Change the number in the box above to adjust serving size. Please note that size of cookware and cook time may vary.
Ingredients
12 baby yellow or red potatoes
1 tablespoon salt plus additional to taste
olive oil as needed
fresh ground black pepper to taste
1/4 cup grated or shaved Parmesan cheese
2 teaspoons fresh chopped thyme or rosemary or 1 teaspoon dry
Instructions
Place unpeeled potatoes in a large pot and add water until covered by about 1". Add 1 tablespoon of salt. Place pot over high heat, cover, and bring to a boil. Reduce heat slightly to keep potatoes at a boil for about 15 minutes, or until tender when pierced with a sharp knife (but not falling-apart tender).

Meanwhile, preheat oven to 450 degrees F and coat a large rimmed baking sheet with non-stick cooking spray. Drain and transfer potatoes to prepared baking sheet, about 1" apart. Use a potato masher or the flat bottom of a clean glass to smash potatoes down lightly, keeping intact. Sprinkle with a little salt and pepper, drizzle with olive oil, sprinkle with Parmesan, and sprinkle with a little thyme or rosemary. Roast in preheated oven for 20 to 25 minutes until browned and crispy.

Adapted from The Pioneer Woman
Recipe Notes
Try using seasoned salt instead of salt and pepper. Also delicious with different cheeses - cheddar, smoked gouda, etc. If using a softer cheese, add towards end of baking time.