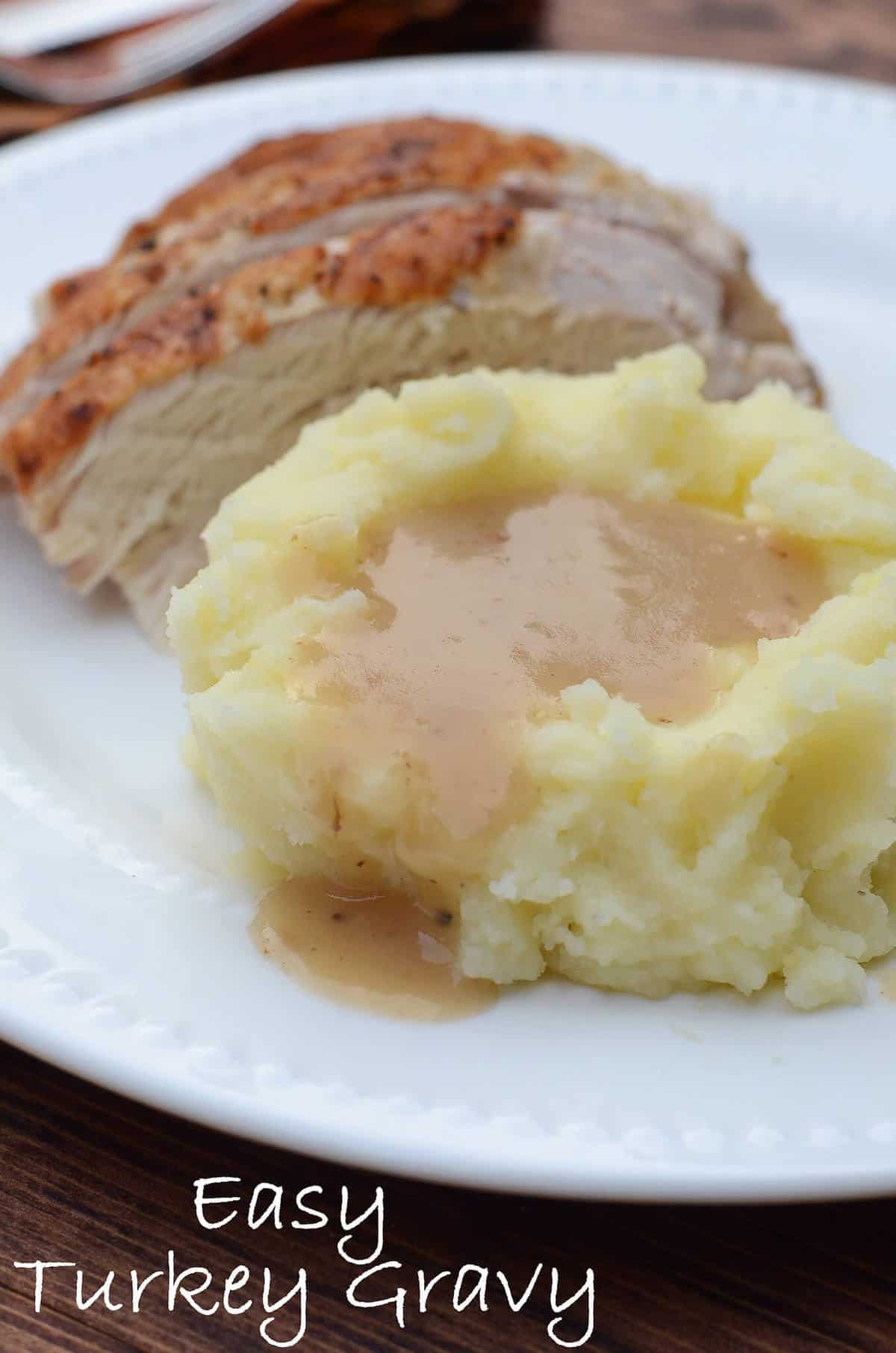 After a marathon day of cooking, making the gravy is usually the last task I have to attend to before everyone can dig in to the Thanksgiving feast, and before I can pour myself a glass of wine and relax. There is almost always at least one or two starving boys hovering around the stove saying "How much longer, Mom?". That's why, over the years, I've worked to simplify the gravy making process so it can be done quickly and easily and you can get down to the business of eating. This recipe is for basic turkey gravy – no giblets involved.
Despite the fact that this gravy is fast and easy, it is also my favorite. The addition of some of the reserved turkey drippings and dry sherry combine to make it incredibly savory and delicious.
I covered the basics on how to choose, prep, and roast your turkey HERE. And, where there's turkey, there must be gravy.
Here is what you'll need to have on hand. All-purpose flour, dry sherry, chicken broth, salt, pepper, and butter. You can find dry sherry in the wine section of your grocery store in the same area with the cooking wines. Many stores will have turkey broth in stock at this time of year but I typically go with chicken broth since it's always in my pantry. Either is fine.
When you remove your turkey from the roasting pan, what is left behind should look similar to this. Much of this liquid consists of fat that has cooked off while the turkey roasts but it's full of the flavor of the turkey and any seasonings and aromatics you may have used while roasting it. It only takes a little of this rich, seasoned broth to add some body and tons of flavor to our finished gravy.
The gravy making process requires your full and constant attention and moves quickly. You should be finished with all of your other tasks before starting the gravy and plan to stay with it till it's ready.
Pour off all but about 4 tablespoons of the turkey drippings from the roasting pan and place it on the stove over medium heat. I use two burners on my stovetop to heat my big roasting pan. If there are any large deposits of fat or skin stuck to the pan, use a large spoon to scoop them out and discard them. Add 3 tablespoons of butter to the 4 tablespoons of reserved drippings. When the butter has melted, whisk in 6 tablespoons of flour. Whisk quickly and constantly until the mixture is smooth like it appears above.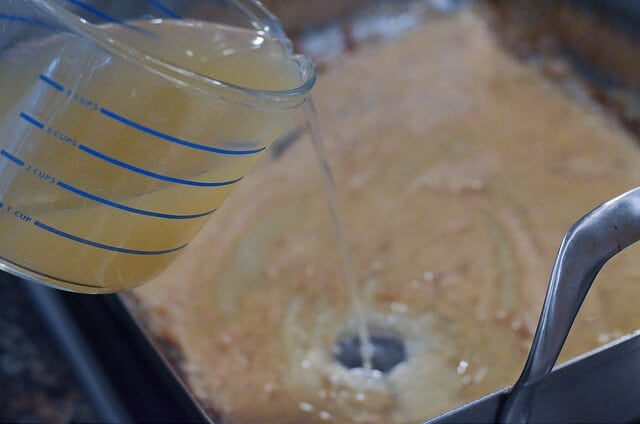 Next, add the dry sherry and whisk up any brown bits from the bottom and edges of the pan. Measure out 4 cups of chicken or turkey broth and begin to add it, gradually, and whisk away to keep the gravy perfectly smooth. Add about 3 cups of the broth and then stop and whisk for a couple of minutes. The gravy will thicken as it heats. If you would like it thinner, continue adding additional broth in small increments until desired consistency has been reached.
If the consistency seems off, either to thick or too thin, jump down to the printable recipe below for tips on how to make it right.
This looks perfect.
Time to give it a taste and season with fresh ground pepper. Only add salt if you think it needs it.
Some folks feel gravy should be darker in color. If you are one of those folks, just whisk in a touch of Kitchen Bouquet at this point. It's an old standby for adding rich color to gravy. I prefer it au naturale. Turkey is light in color, therefore, turkey gravy should be light in color, right? I didn't use it here but the stuff works great to richen the color of gravies and sauces.
Perfection. Smooth, rich, and so tasty.
Transfer that beautiful gravy to a gravy boat and dinner is served. Time to relax and enjoy..and let someone else do the dishes!
Wishing you and yours all the best this Thanksgiving!
Easy Turkey Gravy
Ingredients
4

tablespoons

reserved turkey drippings

3

tablespoons

butter

6

tablespoons

all-purpose flour

1/4

cup

dry sherry

4

cups

chicken or turkey broth

divided

Kitchen Bouquet

browning sauce, optional and only as needed

Salt and pepper to taste
Instructions
Pour off all but about 4 tablespoons of the turkey drippings from the roasting pan. Place roasting pan on the stove over two burners set to medium. Remove and discard any large deposits of fat or skin from the bottom of the pan. Add butter. Once butter has melted, sprinkle in the flour. Use a whisk to mix in flour to make a roux. Whisk and cook roux until lightly browned, about 3 to 5 minutes. Pour in dry sherry, using whisk to scrape up any browned bits from bottom of roasting pan. Slowly pour in 3 cups chicken broth. Cook and stir with whisk until thickened, adding as much of the additional broth as needed to thin to desired consistency.

If you would like a deeper color to the gravy, whisk in a very small amount of Kitchen Bouquet. Use sparingly; adding just enough to attain desired color.

Taste and season with fresh ground pepper and a touch of salt, if needed.
Notes
Consistency Tips: For a thinner consistency, add additional chicken broth. If you've added to much broth and the gravy is too thin, mix about 1 tablespoon of cornstarch into 1/4 cup water in a small bowl and stir to dissolve. Whisk the mixture into the gravy and allow to cook for another minute or two. Repeat if necessary to reach desired consistency. Reheating Tips: Leftover gravy will thicken quite a bit when refrigerated. To reheat, mix in a little water or chicken broth until it thins to desired consistency. Warm in microwave or in a saucepan on the stove.
Nutrition information is automatically calculated using generic ingredients, and is an estimate not a guarantee. For more accurate results, please refer to the labels on your ingredients at home.
Did You Make This?
We love seeing what you've made! Tag us on social media at @fromvalerieskitchen for a chance to be featured