This Fresh Cherry Cobbler recipe makes enough to serve a group and is a great make-ahead dessert option. Serve it warm from the oven with a scoop of vanilla ice cream for a special summer treat!
I had hoped to get this wonderful summer dessert idea out to you all before the Fourth of July but things did not go quite as planned.
We've had a whirlwind couple of months that have included readying our house here in Northern California to sell, closing down a business we've run for almost 30 years, and packing, packing, and more packing. It feels so good to be coming to the end of all of this hard work! The payoff comes in about three weeks when our family moves to the gorgeous state of Oregon. Valerie will be cookin' from a new kitchen very soon and you can look forward to an increase in the frequency of new recipes once we are all settled in.
It's been pretty nuts around here so I'm very happy I found the time to get this recipe out to you while fresh cherries are still abundant. Trust me, you want to make this dessert before summer ends.
I often do a smaller skillet cobbler but I adapted my base recipe to work in a 13-inch x 9-inch baking dish to ensure there will be plenty for your group when you are entertaining. And, since cherries and almonds are a match made in heaven, I sprinkled some sugared almonds over the top before popping the cobbler in the oven.
This recipe is super simple to put together. Pitting the cherries is the most time consuming step but once that task is done, the rest is a breeze.
How to Pit Cherries
Whatever method you choose, be sure to wear an apron or an old shirt when working with cherries. The juice is dark and may stain fabrics.
I always use my OXO Cherry Pitter when I have a big quantity of cherries to pit. This inexpensive little tool is the quickest, easiest method and truth be told, I almost always give the job to my husband. Word to the wise – when there is the promise of Cherry Cobbler in their future, people become motivated to help a bit in the kitchen.
No cherry pitter? No problem.
Chopstick Method – Remove the stems from the cherries and use a chopstick to press through the stem end to push out the pits. The chopstick method is not quite as clean and accurate as using a cherry pitter but it works in a pinch.
Paper Clip Method – Unfold a paper clip and use the sharp end to push through the stem end of the cherry to pop out the pit.
Pastry Tip Method – Use a pastry tip. Place it pointy side up on a cutting board or inside a bowl and press the cherry on to it, pressing it down over the tip until the pit pops out.
How to Make Cobbler with Fresh Cherries
You want to use dark sweet cherries for this recipe. Many varieties fall into this category with the most popular being the Bing cherry. They are in season and readily available at most grocery stores starting as early as May and running through August. They have a firm texture and turn a deep mahogany red when they ripen. Dark sweet cherries are wonderful all on their own but bake up beautifully in pies, crisps, and cobblers.
Can I Use Frozen Cherries?
When cherries are at their peak in the summer I highly recommend baking your cobbler with fresh dark cherries. It is truly a spectacular summer dessert. However, this recipe does work really well with frozen cherries. Using bagged frozen cherries means you can skip the step of pitting the cherries and allows you to make this cherry cobbler any time of year. I've used frozen cherries time and again when making my Fast and Easy Cherry Crisp with great success.
Look for pitted dark sweet frozen cherries with no sugar added. Safeway carries a 12 ounce bag and three bags is enough for this recipe. You may also find Dole Frozen Dark Sweet Cherries at many stores.
Instructions
For the Cherry Filling:
Place the pitted cherries in a large mixing bowl and toss them with some fresh lemon juice and vanilla extract.
Add sugar and flour and toss again to coat the cherries with the sweet mixture.
For the Cobbler Dough:
Add flour, sugar, baking powder, salt, melted butter and a little heavy cream to a medium mixing bowl.
Use a wooden spoon to mix it until it forms a soft dough. I love this rich, silky dough!
Assemble the Cobbler:
Coat a 13- x 9-inch baking dish with non-stick cooking spray. Spread the sugared cherries out over the bottom of the dish.
Scatter pieces of the cobbler dough over the top.
For the Almond Topping:
Combine sliced almonds, a touch of melted butter and a little sugar in a small mixing bowl and sprinkle it over the top of the cobbler dough.
Baking Instructions:
Bake the cobbler until bubbly and browned. If it is browning too quickly, lay a piece of foil lightly over the top for the remainder of the baking time.
Allow the cobbler to cool for 15 to 20 minutes before serving. The juices will thicken up as it rests.
Can Cherry Cobbler Be Made Ahead?
Yes! This recipe is an excellent choice when entertaining. You can get the prep out of the way and it will be ready for you when you are ready for it. I have refrigerated the fully assembled dish for up to 24 hours with a great result.
Pull the cobbler from the fridge as your guests arrive and let it rest on the kitchen counter to take the chill off. Pop it in the oven just before you serve dinner and it will be warm and wonderful after the meal.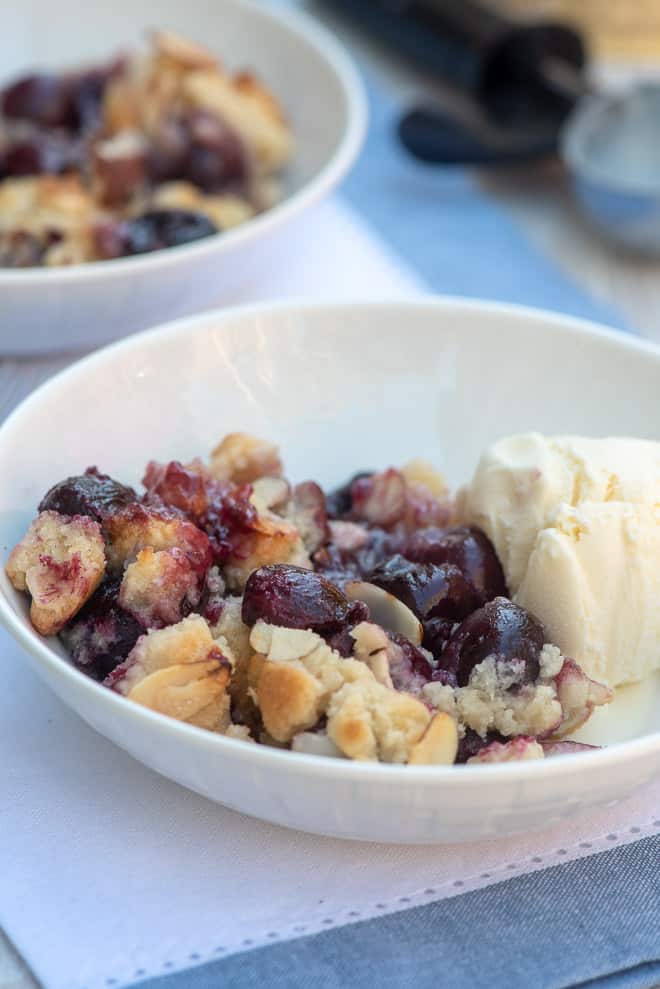 I served this cobbler to a group of friends and family on the Fourth of July and it could not have been more perfect.
Rustic, delicious, and summer fresh!
Fresh Cherry Cobbler
This Fresh Cherry Cobbler recipe makes enough to serve a group and is a great make-ahead dessert option. Serve it warm with a scoop of vanilla ice cream!
Prep Time 15 minutes
Cook Time 35 minutes
Total Time 50 minutes
Servings 12
Change the number in the box above to adjust serving size. Please note that size of cookware and cook time may vary.
Ingredients
Cherry Filling
2 1/2 pounds pitted fresh dark cherries (see Recipe Notes section if using frozen cherries)
1 tablespoon fresh lemon juice
1 teaspoon pure vanilla extract
3/4 cup white sugar
1/4 cup all-purpose flour
Cobbler Dough
1 1/2 cups all-purpose flour
3/4 cups sugar
1 1/2 teaspoons baking powder
1/4 teaspoon salt
1/2 cup melted butter
1/3 cup heavy cream
Almond Topping
1/2 cup sliced almonds
2 tablespoons sugar
1 tablespoon butter melted
Instructions
For the Cherry Filling:
Preheat oven to 375 degrees. Lightly coat a 9″ x 13″ baking dish with non-stick cooking spray.

In a large bowl, toss pitted cherries with lemon juice and vanilla. Add white sugar and 1/4 cup flour and stir to combine. Pour into the prepared baking dish.
For the Cobbler Dough:
Combine flour, sugar, baking powder and salt in a medium mixing bowl. Add melted butter and cream, and stir to form a soft dough. Scatter pieces of the dough over the top of the cherries.
For the Almond Topping:
Combine the almonds, sugar, and melted butter in a small bowl. Scatter the mixture over the top of the cobbler dough.

Transfer the baking dish to the preheated oven and bake for 30 to 35 minutes, until the cherry filling is bubbly and the cobbler topping is golden brown. If you notice the top getting too dark, set a sheet of foil lightly on top of the skillet for the remainder of the baking time.

Allow the cobbler cool for 15 to 20 minutes before serving. The juices will thicken and set up, and it will be wonderfully warm and ready for serving.
Recipe Notes
Using Frozen Cherries:
This recipe works well with frozen cherries when fresh cherries are not available plus you have the added benefit of not having to pit them. Safeway carries a 12 ounce bag of pitted frozen dark cherries with no added sugar and you will need 3 bags for this recipe. Fully thaw the bags overnight in the refrigerator and drain the cherries well before proceeding with the recipe as written.
Make-Ahead Instructions:
Cover the fully assembled dish with plastic wrap or foil and refrigerate for up to 24 hours. Allow to rest on your kitchen counter for about 30 minutes before baking to take the chill off. If the cobbler is cold when going in the oven you may need a longer baking time.
Nutrition
Calories: 357kcal
Fat: 14g
Saturated fat: 7g
Cholesterol: 32mg
Sodium: 128mg
Potassium: 314mg
Carbohydrates: 58g
Fiber: 3g
Sugar: 39g
Protein: 4g
Vitamin A: 425%
Vitamin C: 7.1%
Calcium: 55%
Iron: 1.4%
Course Dessert
Cuisine American
Valerie's Kitchen is a participant in the Amazon Services LLC Associates Program, an affiliate advertising program designed to provide a means for us to earn fees by linking to Amazon.com and affiliated sites.