This hearty Guinness Beef Stew has a deliciously rich and complex broth. Serve this Irish Stew with a loaf of crusty bread for dipping.
If you feel like doing something besides corned beef for St Patrick's Day this year, have I got something for you! No need to go to a local pub to celebrate. Cook up your own pub grub at home with this incredible Guinness Beef Stew.
I came across this Cooking Light recipe and thought I'd give it a whirl to satisfy a hankering I had for stew. A stew hankering. Do you ever get one of those? Whenever it drops below 70 degrees outside (hey, I'm from California), I pull out the heavy coats from the back of the closet, throw on my Uggs, and get a pot of stew going on the stove.
It ends up that this isn't just a St. Patrick's Day recipe. It is, in fact, some of the best beef stew we've ever eaten. And, stew is a big thing here in this house. Check out my Classic Stovetop Beef Stew and Instant Pot Beef Stew – both of these are on regular rotation on my dinner menu.
The combination of flavors from the Guinness, caraway seed, and raisins come together perfectly to create a rich, complex base. I know what you're thinking – raisins? Yes, raisins! They melt into the stew in the most pleasing way. No one would ever suspect they were there but they do something really special. Make sure to use fresh, soft, recently purchased raisins.
Building Flavor
A note before we start cooking. It's important to follow the cooking process as set out in the recipe. Don't try to rush it. The mixture will be brought to a boil several times and then simmered. This is important to the final outcome and flavor of the delectable sauce that will be created as the stew cooks down.
After the long cooking time, the booziness of the Guinness is long gone but its essence is left behind, adding a depth of flavor you won't get with beef broth alone.
Ingredient List
vegetable oil
all-purpose flour
cubed beef stew meat
salt and freshly ground black pepper
a couple of onions, a few carrots, a parnsip, baby Yukon gold potatoes
tomato paste
low-sodium beef broth
a bottle Guinness Stout
raisins
caraway seeds
fresh parsley
While traditional Irish Stew is typically made with lamb, beef is more readily available and widely used here in the states. I purchase beef chuck that has been cut down and labeled as "beef for stew". A huge time saver.
How to Make Guinness Beef Stew
I always start any beef stew recipe by cutting down the cubes of beef a little if needed. They should be 1-inch to 1-1/2-inch, bite-size pieces.
Season the beef with salt and then toss them in flour. We're going to sear the beef in batches so start with an amount that will comfortably fit in your skillet without overcrowding the beef.
Heat vegetable oil in a skillet over MEDIUM heat. Add the flour-coated beef and cook until nicely browned.
Transfer the browned beef to a dish while you repeat the process with the remaining beef and flour.
Add a little more oil to the pan and add the chopped onion. Cook and stir for a few minutes and then add the tomato paste. Cook and stir for a couple more minutes.
Have you seen the tomato paste in the tube? I have tons of recipes that call for just a tablespoon or two of tomato paste. Somebody was thinking!
Return the meat to the pan.
Add the beef broth. Cook and stir, scraping up the the yummy browned bits from the bottom of the pan.
Now the good stuff. Pour in the Guinness. This recipe calls for Guinness Stout which comes in a 12 ounce bottle 6-pack which leaves you 5 to serve along with the stew.
Add the salt, pepper, caraway seeds, and raisins. Bring the mixture to a boil, cover, reduce the heat, and simmer for an hour.
After the long simmer, remove the cover and turn up the heat to bring to a boil and cook, stirring occasionally for another 30 minutes at a low boil. Add the veggies then reduce heat to medium-low, cover and let it go for 30 minutes. It should be at a nice simmer.
Uncover, bring to a boil one more time, cook about 10 minutes or until veggies are fork tender. Sprinkle with parsley and remove from heat.
Thick, rich, and SO flavorful.
Now go grab a couple of those extra bottles of Guinness, a loaf of crusty bread and enjoy!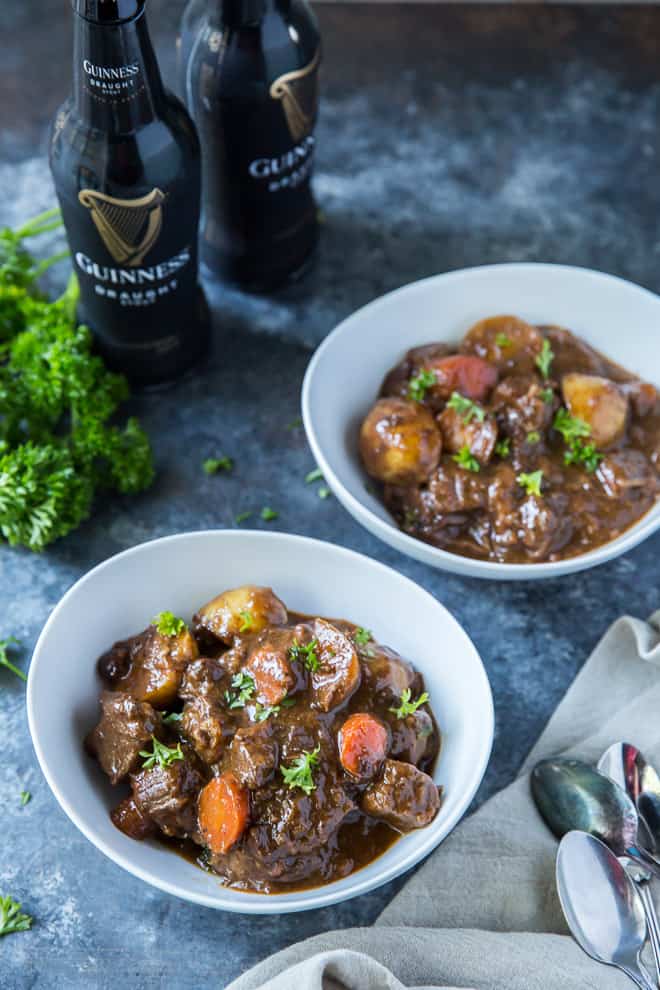 This post was originally published on March 12, 2012. It has been updated with new text and images.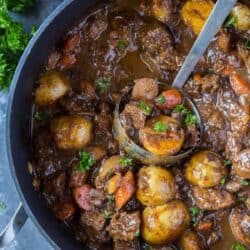 Guinness Beef Stew
This hearty Guinness Beef Stew has a deliciously rich and complex broth. Serve it with a loaf of crusty bread for dipping.
Ingredients
4

tablespoons

vegetable oil,

,

divided

1/4

cup

all-purpose flour

2 1/2

pounds

beef stew meat

,

(boneless chuck roast trimmed and cut into 1- to 1-1/2 inch cubes)

1

teaspoon

salt,

,

divided

3

cups

chopped onion

,

(about 2 small onions)

1

tablespoon

tomato paste

4

cups

lower-sodium beef broth

12

ounces

Guinness Stout

2

tablespoon

raisins

1

teaspoon

caraway seeds

1/2

teaspoon

black pepper

3

carrots

1/2-inch-thick diagonal slices carrot

2

cups

baby Yukon gold potatoes,

,

halved (about 12 ounces)

1

cup

parsnip, peeled

,

1/2-inch thick diagonal slices (about 8 ounces)

2

tablespoons

finely chopped fresh parsley
Instructions
Place the flour in a pie plate or other shallow dish. Sprinkle the beef cubes with 1/2 teaspoon salt.

Coat the bottom of a large Dutch oven with 2 tablespoons vegetable oil and place over MEDIUM-HIGH heat. Dredge half of the beef (or as much as will fit comfortably in your pan) in flour and add it to the pan. Cook and stir for a few minutes until nicely browned. Remove the beef to a plate with a slotted spoon. Repeat procedure with remaining 2 tablespoons oil and remaining beef. Transfer last batch of browned beef to the plate and set aside.

Add the onion to the pan and cook, stirring occasionally for about 5 minutes or until softened. Stir in tomato paste and cook, stirring for a minute or two. Return the browned beef to the pan with the onions.

Stir in the beef broth and beer. Add the remaining 1/2 teaspoon salt, raisins, caraway seeds, and pepper. Increase the heat and bring to a boil. Cover, reduce heat, and simmer for 1 hour, stirring occasionally.

Uncover and bring to a boil. Cook 30 minutes, stirring occasionally. Add carrot, parsnip, and potatoes. Cover, reduce heat to MEDIUM-LOW, and simmer 30 minutes.

Uncover and bring to a boil; cook 10 minutes or until vegetables are tender. Sprinkle with parsley and serve with crusty French bread and beer!
Nutrition
Calories:
381
kcal
·
Carbohydrates:
24
g
·
Protein:
37
g
·
Fat:
14
g
·
Saturated Fat:
8
g
·
Cholesterol:
88
mg
·
Sodium:
618
mg
·
Potassium:
1174
mg
·
Fiber:
4
g
·
Sugar:
4
g
·
Vitamin A:
177
IU
·
Vitamin C:
16
mg
·
Calcium:
68
mg
·
Iron:
6
mg
Nutrition information is automatically calculated using generic ingredients, and is an estimate not a guarantee. For more accurate results, please refer to the labels on your ingredients at home.
Did You Make This?
We love seeing what you've made! Tag us on social media at @fromvalerieskitchen for a chance to be featured
Adapted from Cooking Light