In my version of classic Irish Colcannon Potatoes I've combined creamy red-skinned potatoes with sautéed sweet green cabbage, and tossed in some smoky crumbled bacon and a sprinkling of green onion. This dish is far too delicious to save for St. Patrick's Day!
Click HERE to sign up for your FREE email subscription and never miss a recipe!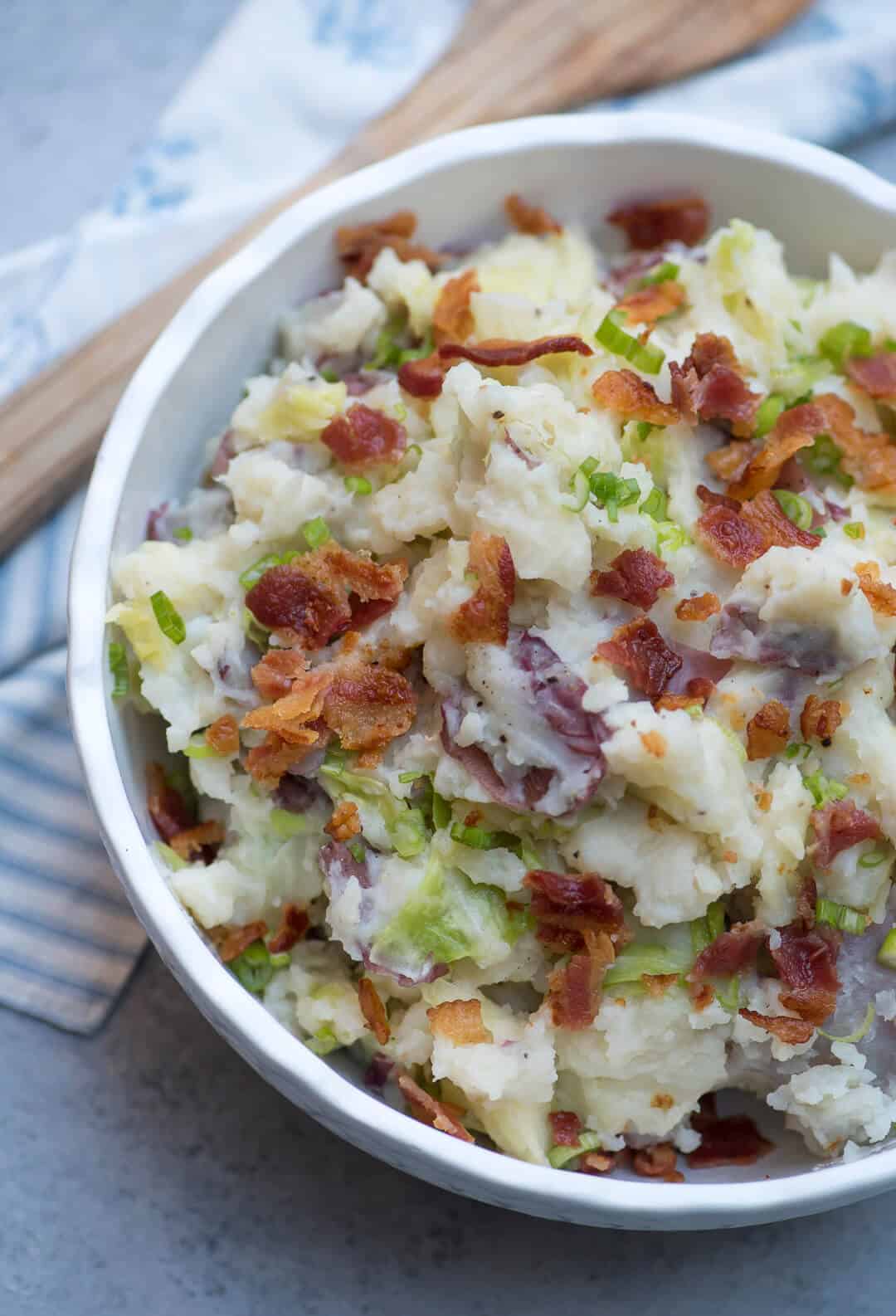 Hello, friends!
Do you cook a special meal for St. Patrick's Day? I love holidays that involve cooking and really, just food in general, so this whole special meal deal is right up my alley. I've always done corned beef and cabbage with carrots and potatoes in some form or another … every… single… year.
I rotate between the simply wonderful Slow Cooker Corned Beef and Cabbage and my highly flavorful stovetop version of Guinness Corned Beef (love!).
But, last year I departed from my routine just a bit and decided to give these Irish Colcannon Potatoes a try to serve along with my corned beef and holy smokes-good-gosh-almighty, my friends…. I am 100% in love with this delicious dish.  
It's super easy too. Always a bonus.
I used red-skinned potatoes and purposely left the peel on to add some vibrance and texture to the dish. Just quarter them and boil them up until they are fork tender. While they drain you'll sauté some chopped green cabbage and minced garlic in melted butter for  just a few minutes. Then the whole shebang is combined with some warmed milk, a little butter, some simple seasonings and garnished with crumbled bacon and green onion.
Heavenly.
We made a quick little video to show you how it's done so scroll down and check it out. So easy!
I really hope you try it. I am a Colcannon Potatoes convert and I'm certain this dish will be on my St. Patrick's Day menu and many others going forward.
We had two batches of this glorious dish on hand this week as I wrote this recipe and filmed our video and I served it one night with cast iron steaks and roasted asparagus. Flat out fabulous and the leftovers reheated beautifully.
Irish Colcannon Potatoes
Ingredients
2 1/2 pounds red-skinned potatoes, scrubbed clean and quartered
3 teaspoons salt, divided, plus additional to taste
6 tablespoons butter, divided
2 teaspoons minced garlic
1/2 of a good sized head of green cabbage, roughly chopped (about 5 to 6 cups)
1/2 teaspoon fresh ground black pepper, plus additional to taste
1/2 to 3/4 cup slightly warmed milk, as needed
1 teaspoon onion powder
4 slices bacon, cooked and crumbled
2 green onions, thinly sliced
Directions
Add potatoes to a large pot or Dutch oven and cover with cool water by about 1" Add 2 teaspoons salt, cover, and turn heat to HIGH. Watch closely and when water reaches a boil, reduce heat to MEDIUM and cook at a low boil for 15 to 20 minutes, or until potatoes are tender when pierced with a sharp knife, but not falling apart. Remove from heat and drain well. Transfer potatoes to a bowl and set aside.
Add 2 tablespoons butter to dry pot, place over MEDIUM heat and when melted add garlic. Saute until fragrant and add chopped cabbage. Cook, stirring, for about 5 minutes, or until softened. Season with 1/2 teaspoon salt and 1/2 teaspoon pepper. Remove from heat.
Add cooked potatoes back to the pot with the cabbage. Add about half of the milk, onion powder, remaining 1/2 teaspoon salt and remaining 4 tablespoons butter. Use a potato masher to smash the potatoes to a slightly chunky consistency (they should not be completely smooth), adding additional milk as needed.
Taste and season with additional salt and pepper, as desired. Crumble the cooked bacon and sprinkle over the potatoes. Garnish with green onion.
Recipe Notes
To cleanly and easily cook your bacon place it on a foil-lined rimmed baking sheet and bake it at 400 degrees F for about 15 minutes or until it reaches the desired crispness. Remove from oven and transfer cooked bacon to paper towels to drain. Blot grease with additional paper towels.
I used 2% reduced fat milk with an excellent result. If you want a richer dish, use whole milk, half and half, or heavy cream.
Loading nutrition data...