These cute little Muffin Tin Hash Brown and Scrambled Egg Cups are a fantastic choice for a special brunch menu. Easy to make and so pretty on the plate!
Click HERE to sign up for your FREE email subscription and never miss a recipe!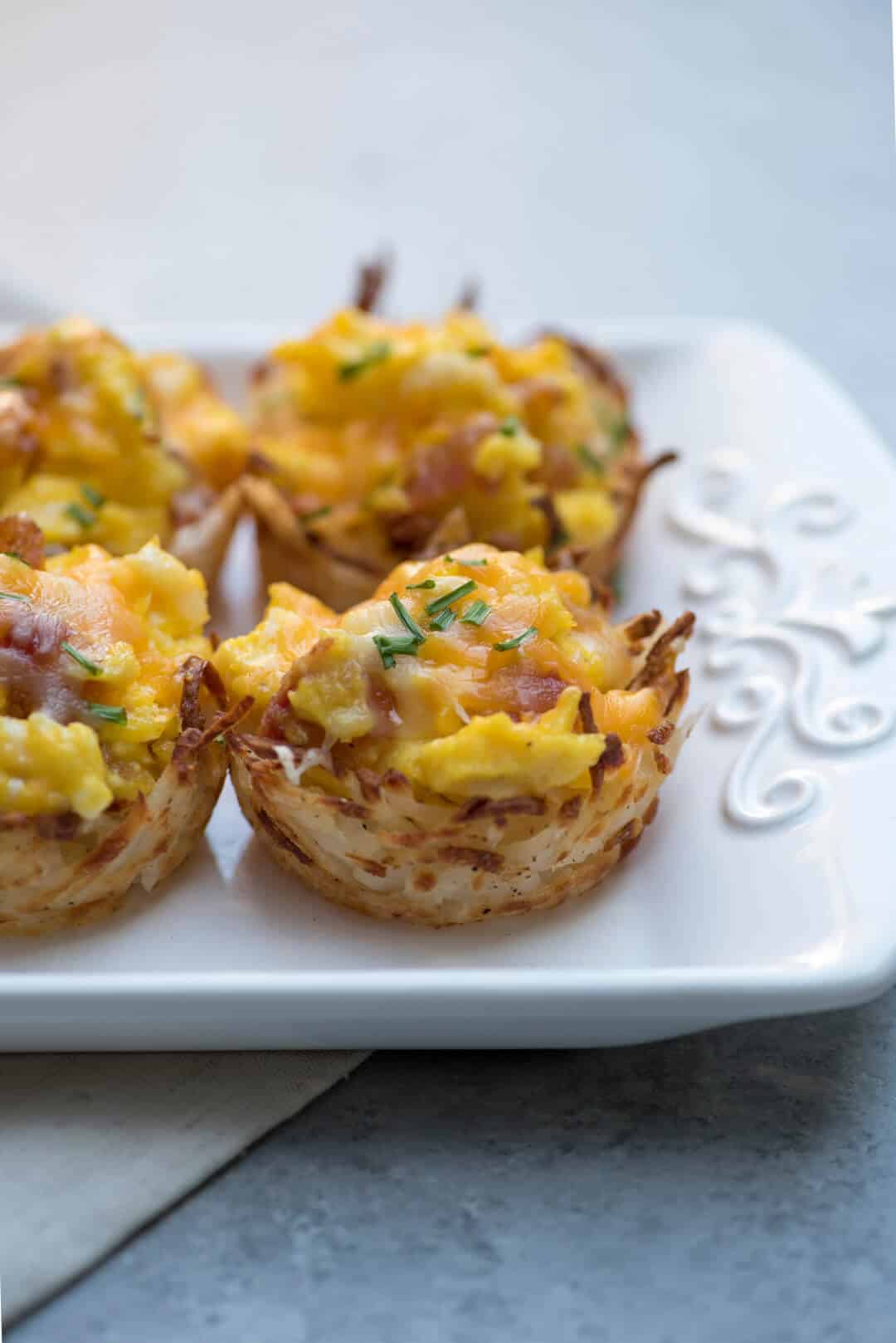 Okay, guys, this post is going to be short and sweet. So unusual for me, I know.
I'm slacking off in preparation for Mother's Day. I have big plans to be a major slacker on Sunday.
I thought there would be a few of you out there planning a Mother's Day brunch menu and I'm telling you, these cutie pies are just perfect. In addition to being totally delicious, they are easy to prepare and I just love how they look on a platter.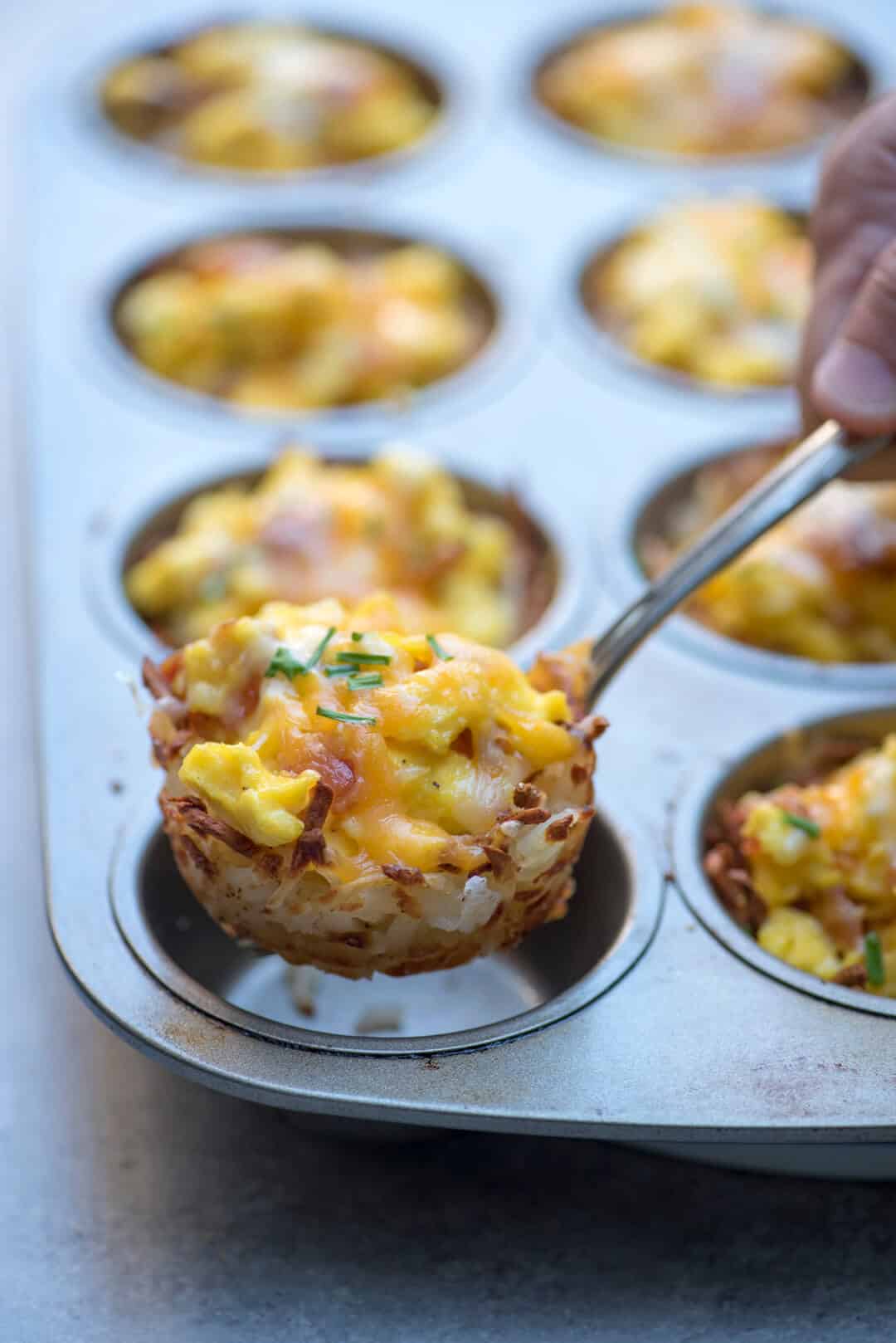 It starts with a package of refrigerated hash browns. I used Simply Potatoes Hash Browns (I'm not working for them, just love 'em) that are in the refrigerated section near the eggs at my local store.
Mix them with a bit of melted butter and some seasoning, press them down into muffin cups, and bake them at a high temperature to form crispy little hash brown cups. Then, fill them up with a cheesy scrambled egg and bacon mixture, top them with a little more cheese, and pop them back in the oven for just a couple of minutes.
Bacon and eggs, baby. In crispy hash brown cups topped with melted cheese. Come on!
I think these would be fabulous with a little dollop of sour cream and some hot sauce. But, that's just me.
You could also do them with chopped ham or crumbled breakfast sausage and I'd put money on the fact that you guys will come up with all kinds of other options. If you do something fun with this recipe, I want to hear from you. Dazzle me with your fun ideas!
Now, go make them for your mama!
CLICK HERE OR ON THE IMAGE BELOW TO PIN THIS RECIPE!
For lots of delicious recipes, giveaways, and more, be sure to follow Valerie's Kitchen
Facebook | Twitter | Pinterest | Instagram | YouTube
More brunch ideas you might like:
Sheet Pan Kielbasa and Yukon Gold Potato Hash | Melissa's Southern Style Kitchen
Spinach Mushroom and Feta Crustless Quiche | Valerie's Kitchen
Perfect Brunch Eggs | Noble Pig
Fruit Salad with Sweet Lime Dressing | Valerie's Kitchen
Easy Hash Brown Casserole | Wine and Glue
MUFFIN TIN HASH BROWN AND SCRAMBLED EGG CUPS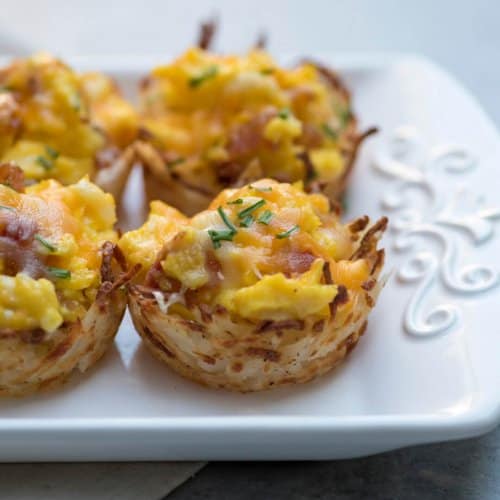 Muffin Tin Hash Brown and Scrambled Egg Cups
Perfect for a holiday brunch but easy enough to make any time!
Print
Pin
Rate
Servings: 12
Ingredients
1 20 ounce package refrigerated shredded hash brown potatoes
3 tablespoons butter divided
1/2 teaspoon all purpose seasoning I used Lawry's Seasoned Salt
black pepper to taste
8 large eggs
2 tablespoons milk
1/4 teaspoon salt
10 thick-sliced bacon strips cooked and crumbled
1/2 cup shredded sharp cheddar cheese divided
1/2 cup shredded Monterey Jack cheese divided
2 tablespoon chopped chives
Instructions
Preheat oven to 400°. Coat a 12 cup muffin tin with non-stick cooking spray.

Melt 2 tablespoons butter and combine it with hash browns in a medium bowl. Season with seasoned salt and black pepper. Divide mixture between muffin tin cups and use your fingers to press down and up the sides. Bake for 15 minutes and then remove from oven and use the back of a spoon to press firmly down and up the sides of each hash brown cup to create a bowl shape. Return to oven and bake for an additional 5 to 10 minutes, or until browned and crispy. Allow to cool while you prepare the eggs.

Crack eggs into a medium mixing bowl. Add milk, 1/4 teaspoon salt, and a little black pepper, and whisk until well combined. Place a 12" skillet over MEDIUM-LOW heat and add remaining 1 tablespoon butter. Once butter has melted, pour egg mixture into pan. Cook, stirring until eggs set up and cooked through, but still soft. Remove from heat and stir in bacon and 1/4 cup each of the Monterey Jack and cheddar cheese. Spoon into cups; sprinkle with remaining cheese and chives.

Bake 3 to 5 minutes or until cheese is melted. Cool slightly before removing from pan.