This fresh Homemade Three Bean Salad is so much tastier than the store bought variety. The dressing gives it a sweet, vinegary bite that is irresistibly good.
Click HERE to sign up for your FREE email subscription and never miss a recipe!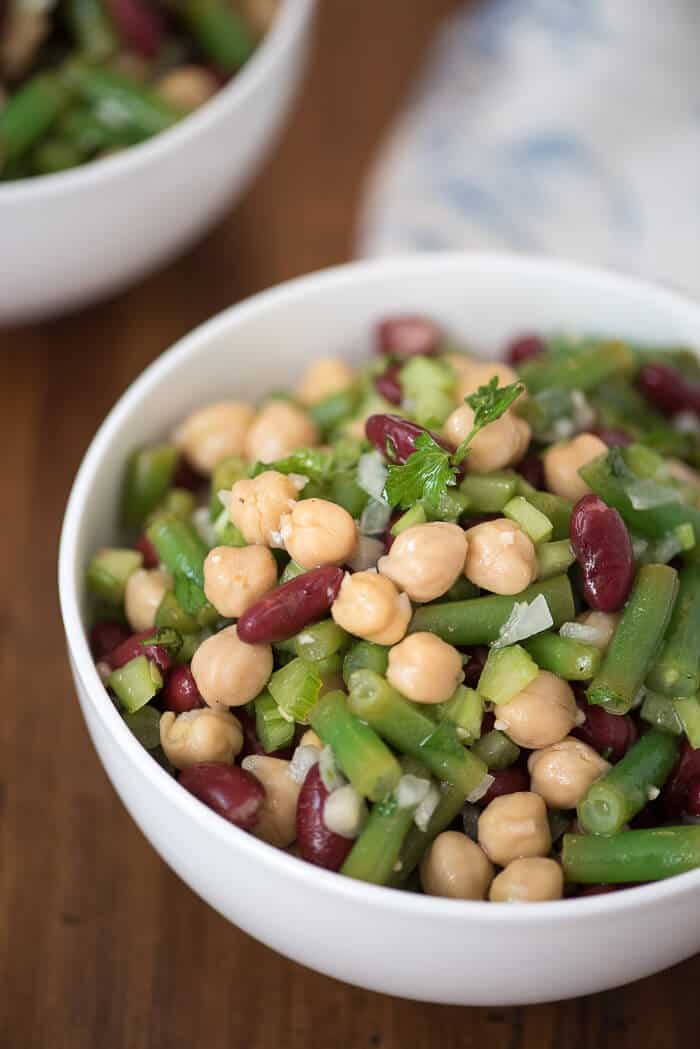 Three Bean Salad was not part of my life until I met my husband. It just wasn't a thing in my house. Paul grew up on the jarred variety and he loved it, but at first bite, I knew I could make it better at home. Although this recipe is not at all confined to the summer months I always seem to start craving it at this time of year.
My recipe for Three Bean Salad, like most, consists of green beans, garbanzo beans, and kidney beans. Many recipes call for canned green beans but I use quickly blanched fresh beans and there is just no comparison in the quality. Canned green beans are dull in color and typically quite salty. Fresh is best!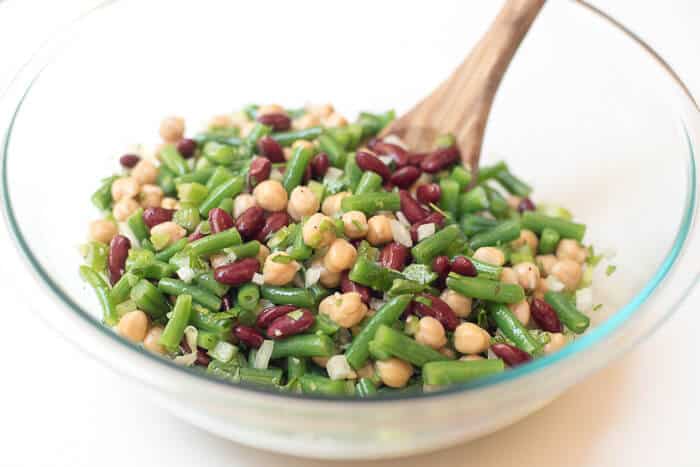 There is a texture component in Three Bean Salad that is vital, with the crunch coming from finely diced celery and white onion. But the thing that's gonna getcha' is the dressing. Sweet and vinegary with lots of minced garlic and a touch of Dijon. It hits the taste buds in just the right places and keeps you coming back for more.  
It is delicious on its own as a side dish, will make a great addition to your summer BBQ's, and I also love to toss a couple spoonfuls into a big green salad along with an assortment of other veggies.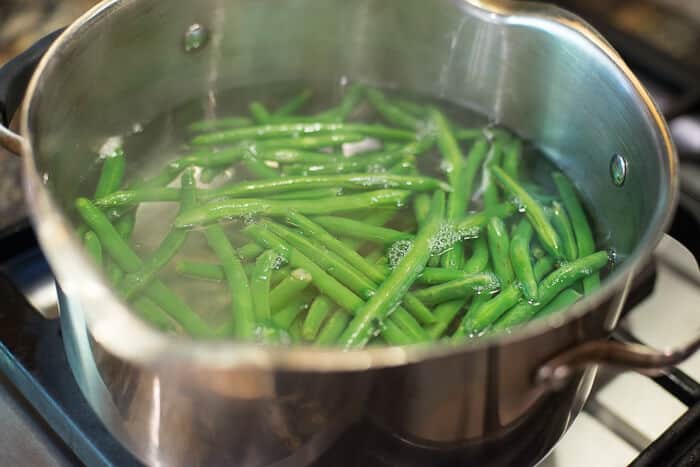 You'll need to blanch some fresh green beans and I'm going to show you just how it's done. Blanching is the process of partially cooking vegetables in boiling water until crisp-tender. Bring a big pot of water to a vigorous boil and toss in about 1 tablespoon of salt and your green beans. Let them cook for just 2 to 3 minutes. You only want them slightly cooked so they still have a nice bite.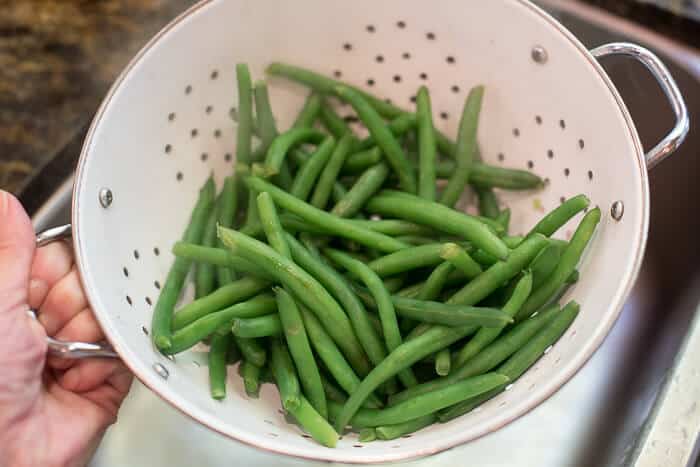 Transfer the green beans to a colander to drain.
Then quickly plunge them into a big bowl of ice water. This will stop the cooking process and seal in that bright green color. Once the beans are nice and cold, drain them well and cut them into 1/2″ pieces.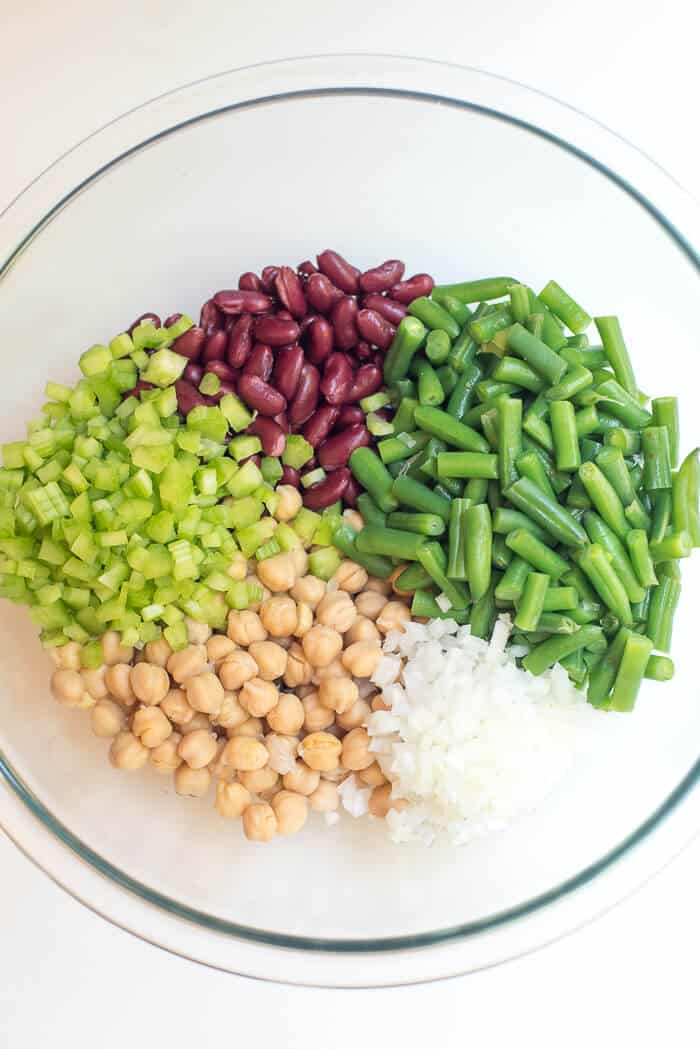 Combine the kidney beans, green beans, finely diced onion, garbanzo beans, and finely diced celery.
The dressing consists of olive oil, apple cider vinegar, sugar, garlic, a touch of Dijon, salt and pepper. I combined mine in a mason jar, gave it a good shake, shake, shake, and in it goes.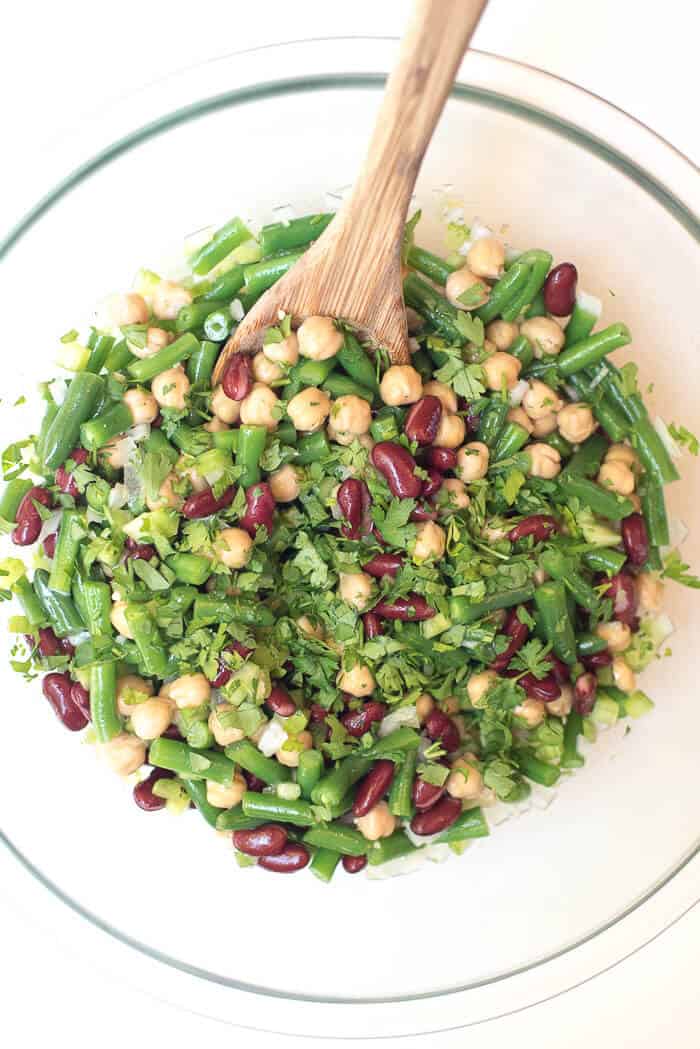 Sprinkle in a couple of tablespoons of chopped fresh Italian parsley.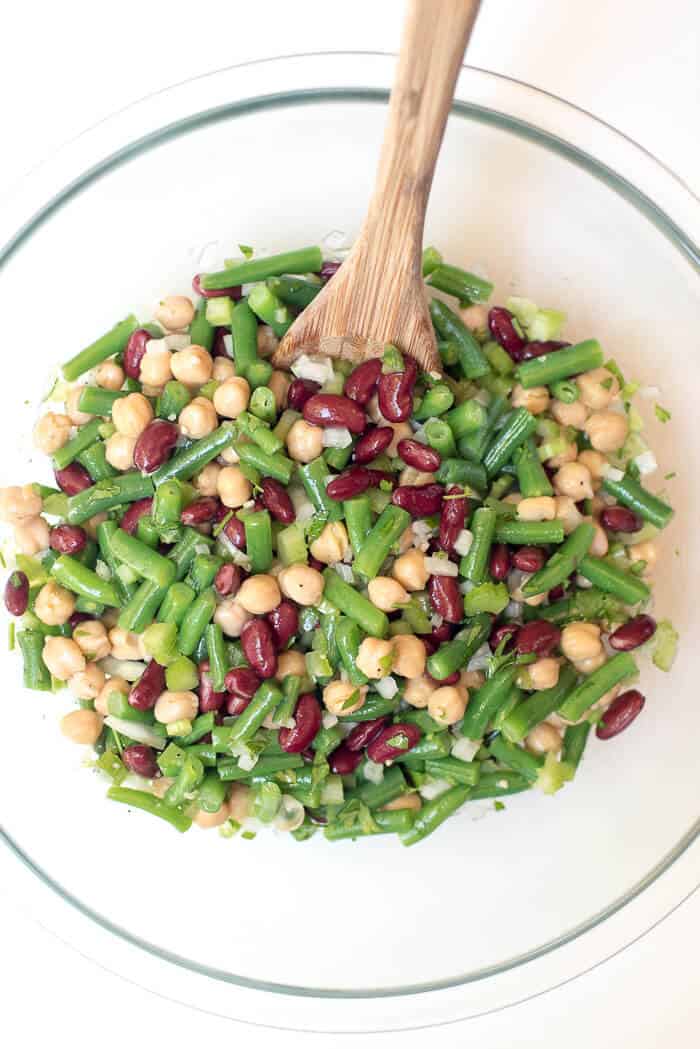 Once combined transfer the salad to a storage container with a tight-fitting lid (like these) and refrigerate it for at least 3 hours or longer. I like to turn the container over a couple of times during the marinating time to be sure it is all getting a good soak in the dressing.
Homemade Three Bean Salad
Valerie's Kitchen is a participant in the Amazon Services LLC Associates Program, an affiliate advertising program designed to provide a means for us to earn fees by linking to Amazon.com and affiliated sites. For more information on our site policies click HERE.
Homemade Three Bean Salad
Prep Time 3 hours 10 minutes
Cook Time 3 minutes
Total Time 3 hours 13 minutes
Servings 8 to 10
Change the number in the box above to adjust serving size. Please note that size of cookware and cook time may vary.
Ingredients
Three Bean Salad
8 to 10 ounces fresh green beans
1 15 ounce can kidney beans, rinsed and drained well
1 15 ounce can garbanzo beans, rinsed and drained well
2 stalks celery finely diced (approximately 3/4 cup)
1/3 cup finely diced white onion
2 tablespoons minced fresh Italian parsley
Dressing
1/2 cup olive oil
1/4 cup apple cider vinegar
2 tablespoons sugar if you like a sweeter dressing use 3 tablespoons
1 teaspoon minced garlic
1 teaspoon salt plus additional to taste
1/2 teaspoon Dijon mustard
Fresh ground black pepper to taste
Instructions
Set a large pot of water on the stove over high heat. Fill a large bowl about halfway with water and then fill with ice.

When water comes to a vigorous boil, toss in about 1 tablespoon salt and add the green beans. Boil for 2 to 3 minutes at most, pulling off the heat as soon as the green beans are crisp-tender. Quickly drain beans and transfer to the bowl of ice water. Allow green beans to soak in ice water bath while you prepare the dressing.

Combine dressing ingredients in a mason jar or other container with a tight-fitting lid. Cover tightly and shake for a good 30 seconds.

Transfer green beans to a colander and drain well. Cut into 1/2" pieces. Combine all the beans, celery, and onion in a large mixing bowl. Add dressing and toss to combine. Sprinkle salad with parsley and toss again. Transfer to an airtight container with a lid and refrigerate for at least 3 hours or overnight. Turn container a few times during marinating process to make sure all the ingredients get a good soak in the dressing.

When ready to serve, give it a taste and season with additional salt and pepper if you feel it needs it.