Thyme infused brown butter and a touch of pure maple syrup make these Maple Brown Butter Mashed Sweet Potatoes one of my new holiday favorites!
Don't let the name of this recipe scare you away. It might sound fancy, but it's actually quite easy to prepare, can be made in advance, and includes simple and readily available ingredients.
As soon as I tasted them, I knew that these would be the sweet potatoes that would be gracing our holiday table this year. I love everything about them. The vibrant color, the texture, the thyme infused brown butter (heaven), and the hint of maple flavor. They are naturally sweet and utterly delicious.
Let's talk sweet potatoes. Make sure you pick up the darker, red-skinned variety for this recipe. Underneath that red skin they have a bright orange flesh, unlike the lighter skinned variety whose flesh is pale yellow and not quite as pretty or sweet. You'll need 4 good sized potatoes or 4-1/2 to 5 pounds.
Scrub the potatoes clean and wrap them in foil. Place them on a baking sheet in a 400 degree oven for about an hour or until you can easily pierce the largest potato right through the center with the tip of a sharp knife. Remove them from the oven and when cool enough to handle, use paper towels to pull the skin right off.
Towards the end of the potato baking time you can get the brown butter started.
Melt 6 tablespoons butter in a small saucepan over medium-low heat. Once the butter has melted, add a couple of tablespoons of chopped, fresh thyme. The thyme will infuse the butter with wonderful herby flavor as the butter browns. A layer of foam will form over the surface of the butter as it cooks so stir it or swirl it frequently so you can see the browning process. Don't fret when you see darker brown solid bits floating at the bottom of the pan. These are browned milk solids and they are part of the process. When the butter is golden brown and takes on a nutty aroma (this will take several minutes), remove the pan from the heat immediately to prevent it from burning. It can go from beautiful to burnt quickly so be cautious. Tip – use a light colored pan so you can better monitor the color of the butter as it browns.
After you remove it from the heat, allow the brown butter to settle for just a minute or two. See, that wasn't too hard now was it? Brown butter adds a depth of delicious flavor to dishes that is going to rock your world.
Transfer your cooked and peeled sweet potatoes to a large mixing bowl and give them a whirl with an electric hand mixer until they are lightly mashed. Add 1/4 cup light sour cream (you can go with the full-fat variety if you are so inclined). Mix again just until combined.
Now, add that utterly scrumptious brown butter.
And 1/4 cup of pure maple syrup. We're not talkin' pancake syrup here – we're talkin' the good stuff. Trader Joe's has an incredible price so check it out if you've got one nearby.
Season the potatoes with some salt and mix again until they are mashed to your liking. Transfer this beautiful mixture to a serving dish.
I garnished mine with a little additional chopped fresh thyme. Might as well use it if you've got it and the contrast makes it picture perfect for your Thanksgiving table.
But, can I make them ahead, Valerie?
I knew you would have this question and the answer is YES. They reheat beautifully. Feel free to make them the day before and when you are ready to serve you can quickly reheat them in the microwave, spoon them into your serving dish, garnish them with a little bit of thyme and they will be perfectly delicious.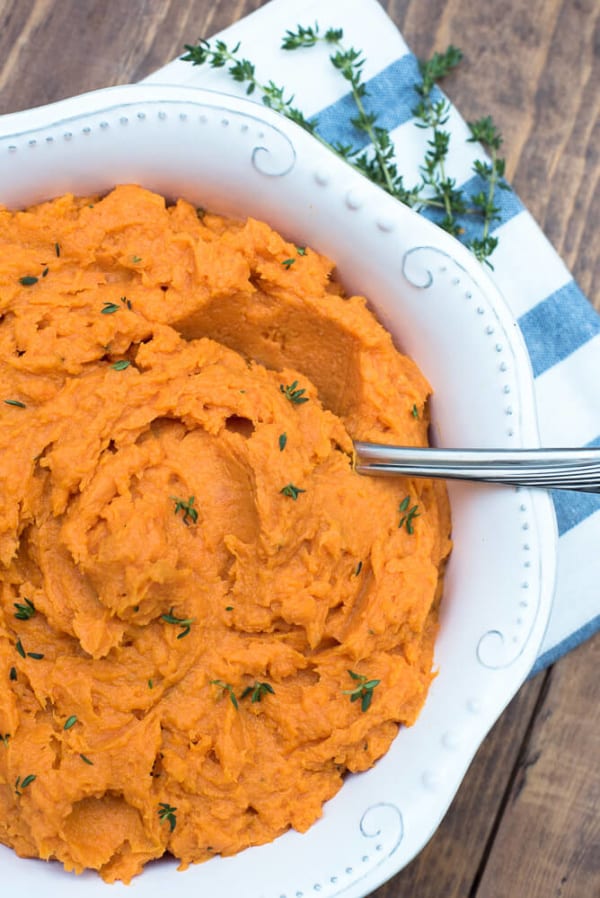 Maple Brown Butter Mashed Sweet Potatoes
Ingredients
4-1/2 to 5

pounds

4 large red-skinned sweet potatoes

1/4

cup

sour cream

,

I use light sour cream

6

tablespoons

butter

1

tablespoon

chopped fresh thyme

,

or 1 teaspoon dry, plus additional for garnish

1/4

cup

pure maple syrup

salt

,

to taste
Instructions
Preheat oven to 400 degrees F. Scrub sweet potatoes clean under cool water and wrap in foil. Bake for 60 minutes or until the largest potato can be pierced with a sharp knife with little resistance. Remove from oven and set aside.

Meanwhile, melt butter in a small saucepan over medium-low heat. Once butter has melted, add thyme. Swirl and cook the butter until it begins to deepen in color and takes on a nutty aroma. When nicely browned, remove from heat.

Use a paper towel to pull skins from sweet potatoes and place the flesh in a large mixing bowl. Add sour cream and mix to combine. Add brown butter with thyme, and maple syrup. Season with salt, to taste and mix just until combined.

Garnish with additional thyme.

Recipe inspired by Serious Eats
Notes
Make Ahead Instructions: Can be made ahead and refrigerated overnight. When you are ready to serve, reheat the potatoes in the microwave and garnish with fresh thyme before serving.
Nutrition information is automatically calculated using generic ingredients, and is an estimate not a guarantee. For more accurate results, please refer to the labels on your ingredients at home.
Did You Make This?
We love seeing what you've made! Tag us on social media at @fromvalerieskitchen for a chance to be featured