These Sheet Pan Roasted Vegetables are seasoned and cooked to perfection in the oven. These colorful roasted vegetables are a healthy and delicious side dish or an easy addition to your weekly meal prep routine.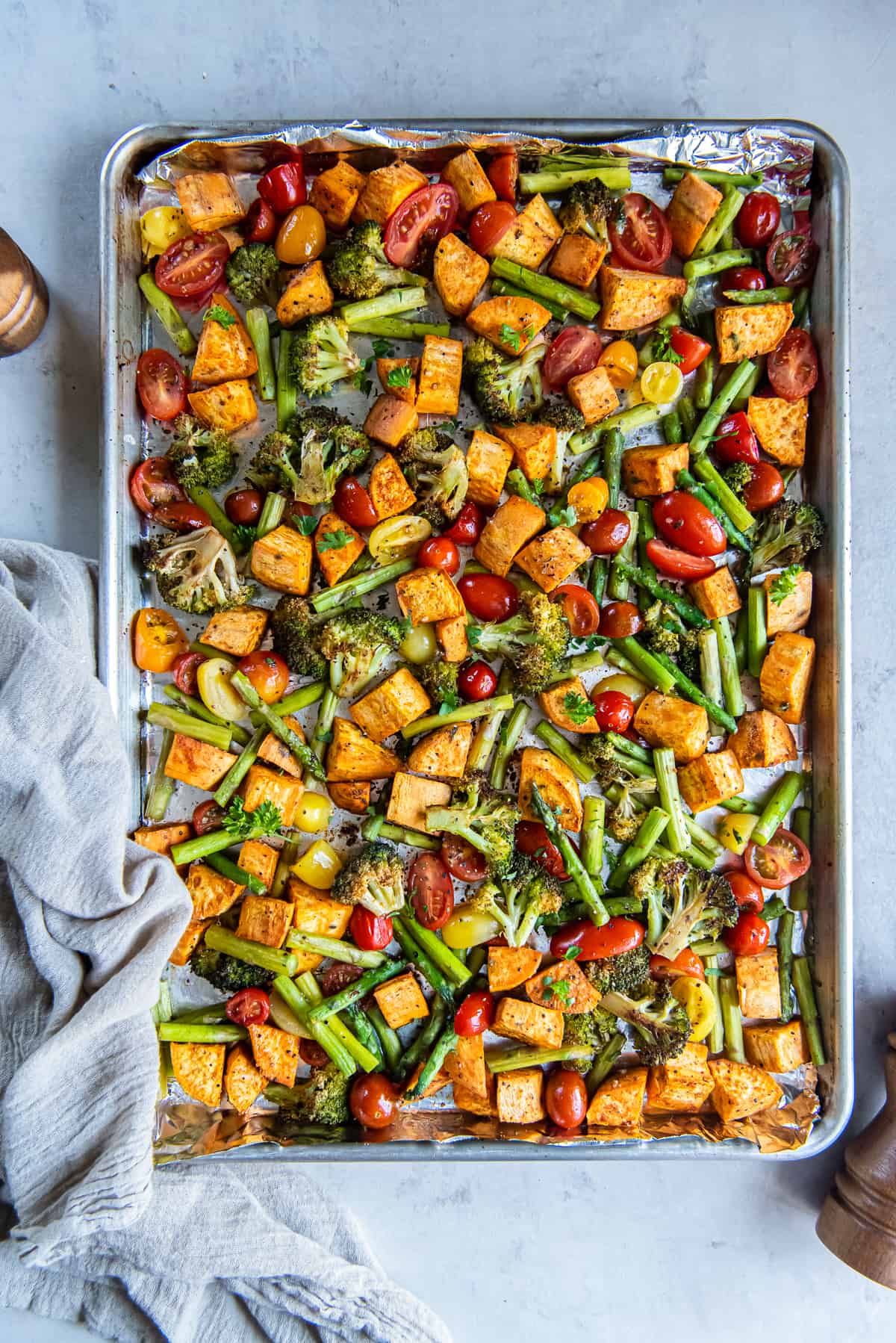 A sheet pan full of roasted vegetables happens in my kitchen at least once every week. This easy method has been a part of my cooking routine for decades. I figured out very early on that roasting vegetables is a sure-fire way to get kids to gobble them up.
Tossing vegetables with a little olive oil and a selection of dried seasonings and roasting them in the oven creates the BEST texture and flavor and makes them so much more palatable to kids and adults alike!
Adding a variety of roasted vegetables to our meals is is how my boys became the veggie lovin' men they are today.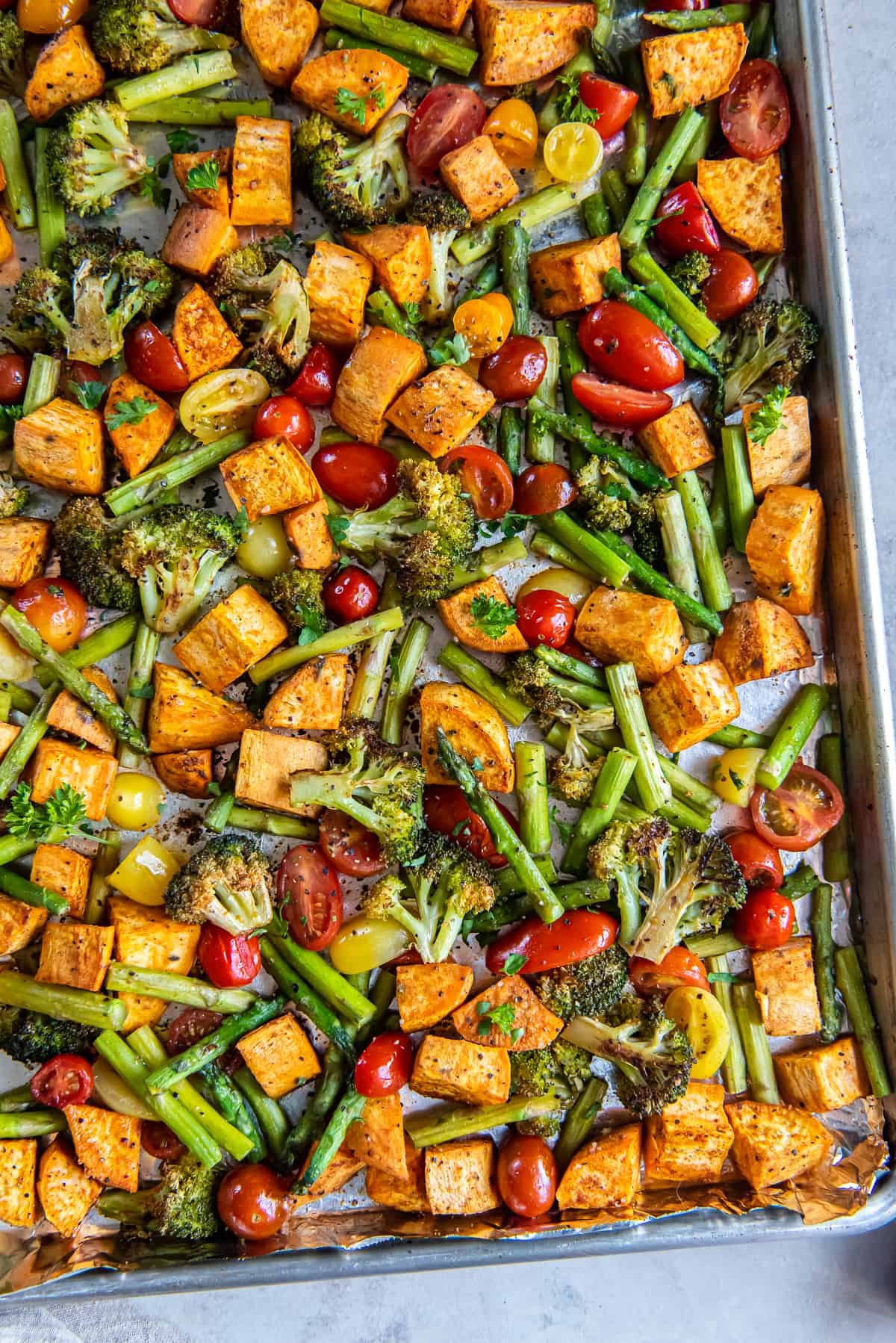 Ingredient Notes
Sweet potato: Peeled and cut into 1- to 1½-inch pieces.
Broccoli: Cut the florets into 1½-inch pieces.
Asparagus: Woody ends trimmed about halfway up and cut into 1- to 1½-inch pieces.
Cherry tomatoes: Halved. I like to use a variety of colors.
Extra virgin olive oil
Seasoning: Smoked paprika, granulated garlic or garlic powder, salt and freshly ground black pepper.
This recipe super versatile and can be modified with your favorite seasonal veggies. See my tips below for choosing the best vegetables for roasting.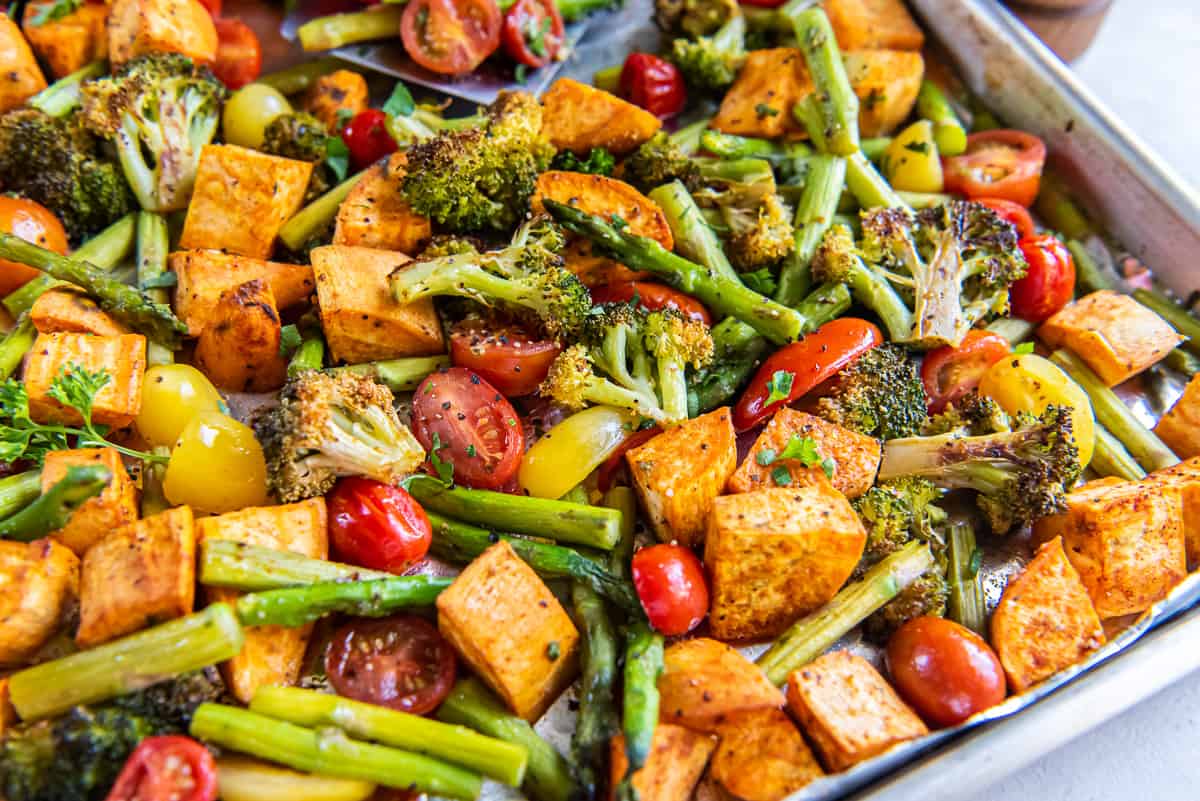 How to Roast Vegetables in the Oven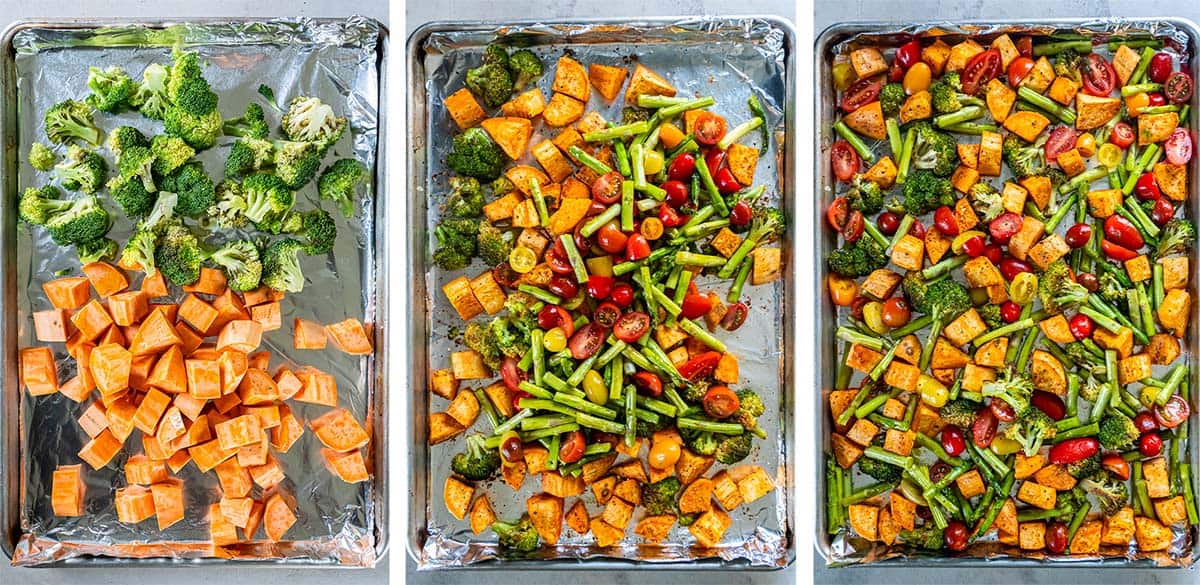 First roast: Place the sweet potato and broccoli on a large rimmed baking sheet Drizzle with olive oil, toss with the seasonings, and spread them out in a single layer. Roast in a preheated 425 degree F oven for 20 minutes, stirring with a spatula about halfway through.
Add softer veggies: Meanwhile, place the asparagus and tomatoes in a small bowl and toss with olive oil and a little salt and pepper. Remove the baking sheet from the oven and pour the asparagus and tomatoes onto the baking sheet. Using a spatula, spread the veggies out into an even layer and return the baking sheet to the oven.
Second roast: Return to the oven to roast for an additional 8 to 10 minutes, or until the asparagus is fork tender.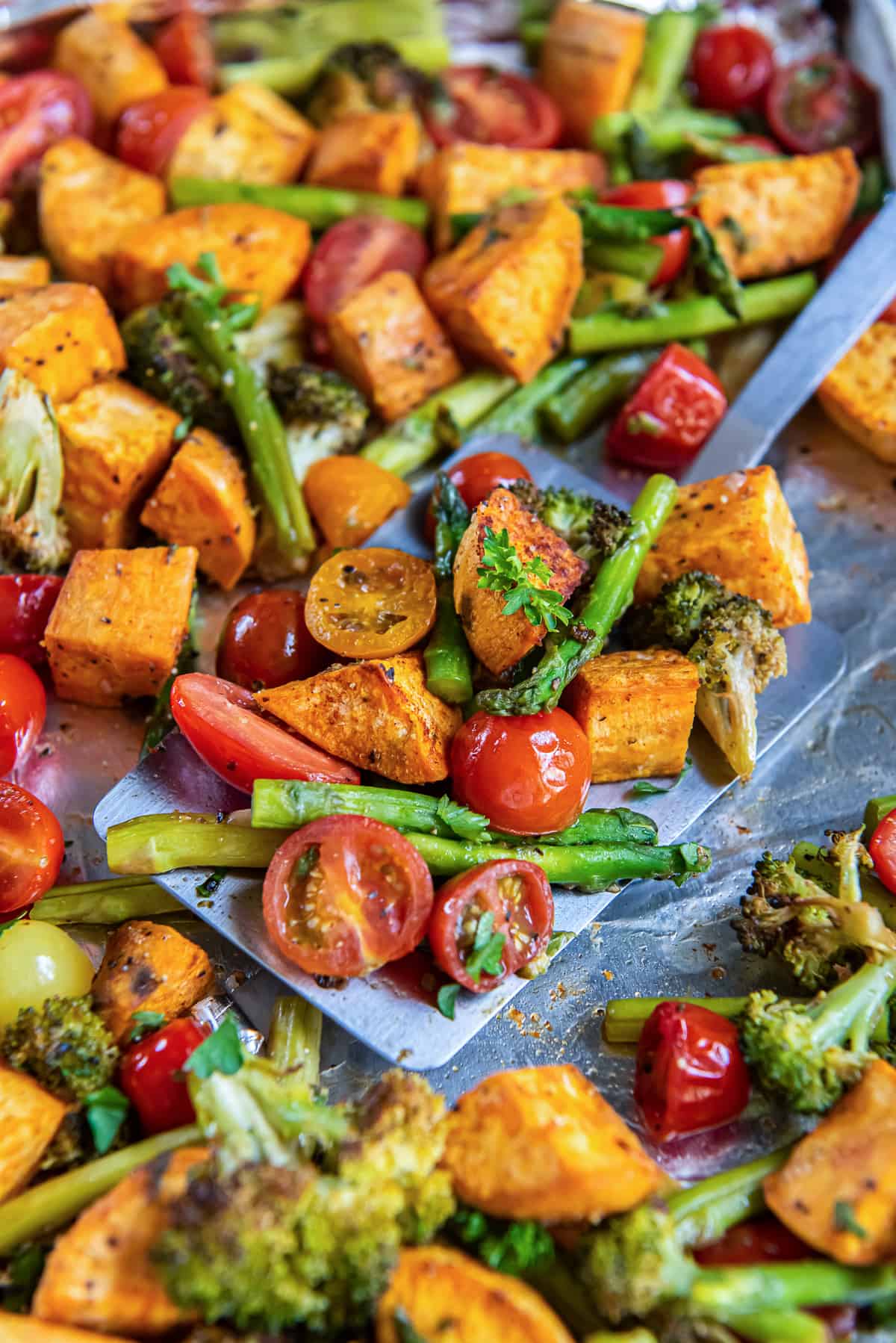 Tips for the Best Roasted Vegetables
Line the baking sheet: Most of the time I roast vegetables on unlined baking sheets. But, if your baking sheets are very used and darkened, lining them with foil or parchment paper will prevent the vegetables from burning. It's also great for easy cleanup.
Oil: Extra virgin olive oil is my favorite choice for roasting vegetables. It has a slightly lower smoke point than "virgin" or light olive oil, but does well at temperatures up to 425 degrees F. Unlike neutral oils like vegetable or canola oil, olive oil enhances the flavor of the vegetables and seasonings.
Size: Cut the vegetables into small, evenly sized pieces so they will roast more quickly and at the same rate.
Seasoning: This is where you can really have some fun. You can use a variety of dried seasonings from your pantry to make roasted vegetables a little different each time. I don't recommend using fresh herbs as they will burn when cooked at high temperatures. I love the smokiness that smoked paprika lends to vegetables and then of course, garlic powder, and onion powder are a natural choice. Dried green herbs like basil, oregano, crushed rosemary, thyme, or Italian seasoning work very well. Add a pinch of cayenne pepper for a kick!
Honey or maple syrup: Add a touch of sweetness by drizzling the veggies with a little honey or maple syrup after seasoning and before roasting.
Oven temperature: I've found the best temperature for roasting vegetables is 425 degrees F. Any higher, and it's likely the vegetables will burn. Every oven is different, so watch them closely and reduce the oven temperature a bit, if needed.
Timing: It's important to stagger the roasting of vegetables. Give the harder vegetables a turn in the oven until they are just beginning to get tender, then add softer vegetables for the remaining time.
Cheese: From time to time, I will sprinkle the veggies with a little shredded Parmesan cheese towards the end of the roasting time. Or, try crumbled feta cheese for some amazing flavor.
Balsamic glaze: I love the convenience of keeping a bottle of balsamic glaze in my fridge to drizzle over roasting vegetables just before serving. Check Trader Joe's or Costco for a great price.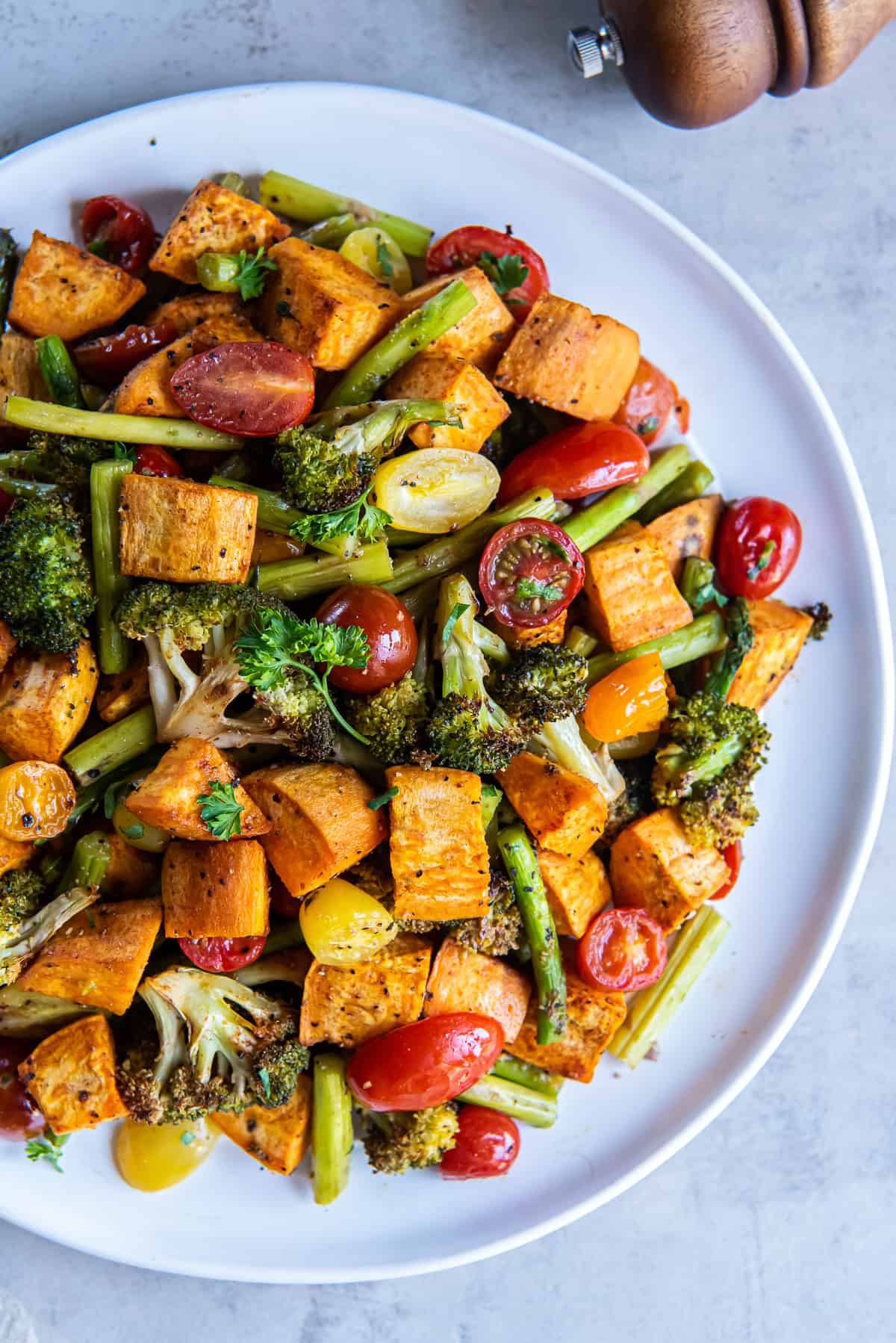 Serving Suggestions
Sheet Pan Roasted Vegetables are so versatile that they literally pair well with almost everything. They make a perfect side dish or roast up a sheet pan full on the weekend and portion them out between meal prep containers with any of the recipes below for easy, healthy lunches through the week.
Beef: Roasted veggies are the perfect side dish for my Sirloin Steak recipe, Slow Cooker Beef Tips with Gravy, or Tender Eye of Round Roast Beef recipe.
Chicken: Air Fryer Chicken Breast, grilled chicken made with my Best Grilled Chicken Marinade, Easy Balsamic Chicken, or my Maple Mustard Glazed Chicken.
Pork: I roast vegetables almost every time I cook pork. This recipe is delicious served with my Balsamic Glazed Pork Tenderloin, Smoked Pork Tenderloin, Skillet Braised Pork Chops, or Pork Loin Roast with Gravy.
Seafood: The flavors pair naturally with my Blackened Mahi Mahi or Blackened Salmon.
Rice: Add color and interest to rice by tossing it with leftover roasted veggies. This is a delicious way to enhance my Almond Rice Pilaf.
Sign up for my free newsletter for all the latest recipes and join me on Facebook, Instagram and Pinterest for more cooking inspiration!