This Orecchiette with Shrimp in a Vodka Sauce cooks up quickly for a satisfying, utterly delicious 30 minute meal!
So, the holidays are officially over. All the Christmas decorations have been packed away. Paul and the boys lugged our beautiful, 12 foot tree out to the curb, and our house is back to normal. Why does it look so incredibly boring without Christmas lights in every room? Boy #4 woke up in the wee morning hours, painfully dragged himself out of bed, and headed back to school and we are back to work.
We had our last burst of throwing caution to the wind with our diets on New Year's Eve. but now we've got to bring back the discipline, right? Yes, we need to watch the fat and the calorie intake, eat lots of fresh fruits and vegetables and we definitely need to watch the alcohol intake. Yes, indeed we do! But wait, there are still some things left in my fridge that really shouldn't go to waste. We'll get started on that New Year's resolution tomorrow.
I'm very fond of orecchiette pasta, also known as "little ear" pasta, because the shape resembles small ears. These little domes work perfectly with a vodka sauce and the addition of shrimp rounds it out into a filling, and utterly delicious meal. Don't be concerned about alcohol content as almost all of the alcohol cooks off but leaves it's flavor essence behind and you end up with a really special tomato cream sauce.
Here's what you'll need: 1 pound of large raw shrimp, an onion, garlic, crushed red pepper flakes, vodka (the good stuff), a can of crushed tomatoes, fresh parsley, heavy cream, salt and pepper, shaved Parmesan cheese, and the orecchiette pasta. Grab the olive oil too.
Give your shrimp a good rinse with cold water. Pull the tails off if needed..
Coat a large pan with olive oil. Cut the shrimp in half and cook over medium heat, just till opaque.
They should look something like this.
Transfer the shrimp to a dish and set aside.
Coat the same pan with some more olive oil and add your diced onion. After the onion has softened add in your garlic and crushed red pepper and cook for another minute or two.
Remove the pan from the heat and add in the vodka. Return the pan to the heat and add the crushed tomatoes. Turn it up to high and bring the mixture to a boil.
Reduce heat to low and add the cream.
In goes the parsley.
I only add a touch of salt but we lika the peppa! Let the sauce simmer over low heat while you prepare the pasta.
See how cute this pasta is? They actually look more like tiny little hats for cute little mice to me.
Tiny little mouse hat pasta.
When the pasta is ready, go back to the sauce and add in the shrimp.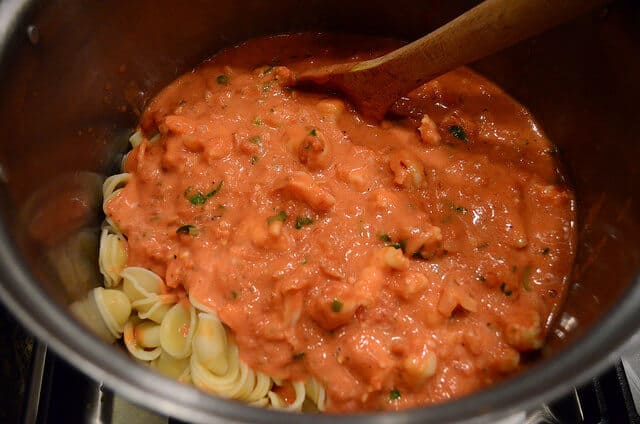 Add the sauce right into the pot with the drained pasta
Now we are getting somewhere.
Transfer the pasta to a serving dish, top with shaved Parmesan and dive in!
Orecchiette with Shrimp in a Vodka Sauce
This Orecchiette with Shrimp in a Vodka Sauce cooks up quickly for a satisfying, utterly delicious 30 minute meal!
Prep Time 10 minutes
Cook Time 20 minutes
Total Time 30 minutes
Servings 6 servings
Change the number in the box above to adjust serving size. Please note that size of cookware and cook time may vary.
Ingredients
1 pound large raw shrimp, peeled and de-veined
olive oil
1 small onion, chopped
4 cloves garlic, minced
1/4 teaspoon crushed red pepper flakes, or to taste
1/2 cup good quality vodka
28 ounces canned crushed tomatoes
1/4 cup fresh parsley, chopped
1/2 cup heavy cream
salt and pepper to taste
1/2 cup shaved Parmesan cheese
1 pound orecchiette pasta
Instructions
Rinse shrimp with cold water and drain. Pull tails off and cut them in half. Coat a large saute pan with olive oil and place over medium heat. Cook and stir shrimp for a couple of minutes, just till opaque. Remove from heat and transfer shrimp to a dish and set aside. Coat pan with more olive oil. Add onion and cook and stir until softened, about 5 minutes. Add the garlic and crushed red pepper flakes and cook, stirring, for an additional minute.

Remove pan from heat and pour in the vodka. Return pan to heat and add crushed tomatoes, turn heat to high, and bring sauce to a boil. Reduce heat to low and stir in the parsley, cream, salt and pepper. Allow to simmer while preparing pasta.

Prepare pasta according to package directions. Drain water from pasta. Add vodka sauce to drained pasta and stir to combine. Transfer to a serving dish and sprinkle with Parmesan cheese.
Nutrition
Calories: 560kcal
Fat: 12g
Saturated fat: 6g
Cholesterol: 225mg
Sodium: 906mg
Potassium: 691mg
Carbohydrates: 70g
Fiber: 5g
Sugar: 9g
Protein: 31g
Vitamin A: 883%
Vitamin C: 21%
Calcium: 287%
Iron: 5%
Course Main Course, Pasta
Cuisine Italian