A crispy peanut butter center is covered in a coating of chocolate or butterscotch. These classic Peanut Butter Bon Bons are a nostalgic holiday treat.
I started collecting recipes at a very young age. My mom gave me some little recipe cards so that I could keep track of the recipes I liked. Some of them I wrote out by hand but sometimes I'd put the card in our typewriter. Yes that's right, we had a typewriter. There were no computers in our homes back in the olden days so we used these devices called typewriters. Ask your parents.
Back to the recipe cards. I had this crazy idea that one day I'd be married and living in my own house with my husband, who would definitely be an airline pilot and look exactly like Paul Newman, and we'd have a whole bunch of kids and I would make these recipes for my beautiful family. Most of them were desserts and sweets. Apparently, I felt my airline pilot husband would have a thing for sweets. I've hung on to these cards and get a kick out of looking at them and believe it or not, there are a few recipes that I still make to this day. This is one of them. My kids insist I make them every Christmas season.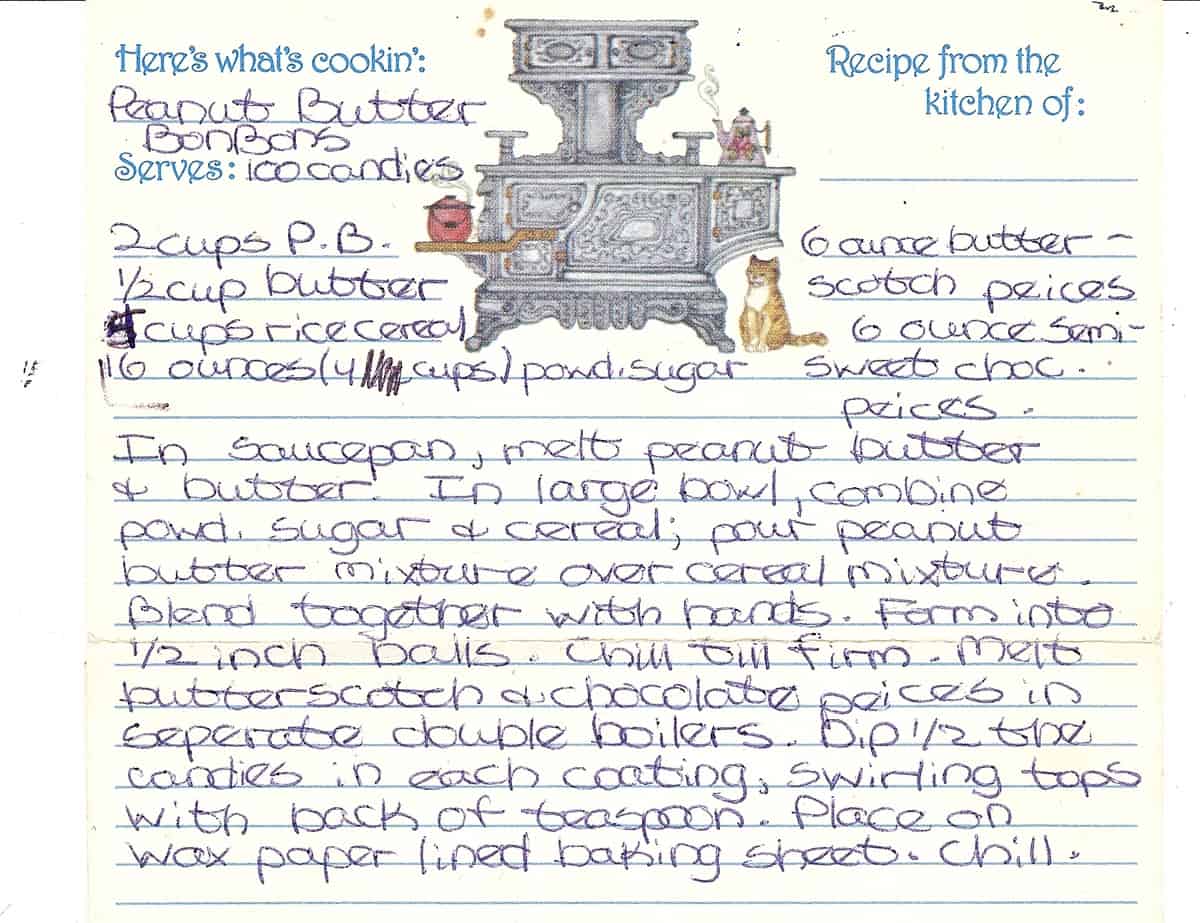 I was probably about ten or eleven when I wrote this recipe out in my little girl handwriting. You can see by all the cross-outs and changes that even at a very young age I was making modifications to recipes. Despite the fact that it says it will yield 100 candies, it will be closer to 50, depending on the size you make them.
The grocery list – Rice Krispies, butter, peanut butter, powdered sugar, semi-sweet chocolate baking pieces, and butterscotch baking pieces. If you like bittersweet chocolate, that would also be a great choice for these. You can use either creamy or crunchy peanut butter. I went with crunchy this year.
In a heavy saucepan, over low heat, melt together a stick of butter and two cups of peanut butter. Stir frequently and watch closely to be sure the mixture does not scorch. Remove the pan from the heat and set aside as soon as it is completely melted.
In a large bowl, combine the powdered sugar and Rice Krispies.
Pour the melted peanut butter mixture over the cereal mixture.
Combine it as well as you can with a wooden spoon. It will seem a little dry but fear not!
Reach in with super clean hands and work with it to be sure that the peanut butter mixture is completely distributed.
Grab a rimmed baking sheet and cover it with foil. Form the mixture into 1″ balls by scrunching it in your hands. The mixture will hold together as you form it into a ball in the palm of your hands. Place the balls on the foil lined baking sheet and refrigerate them for about an hour or more.
After they have chilled and you're ready to coat them, melt a bag of semi-sweet chocolate baking pieces in one double boiler and a bag of butterscotch in another. Keep the burners on low so the chocolate and butterscotch stay nice and warm while you are coating your bon bons.
While the chocolate chips will quickly become velvety smooth, the butterscotch chips will have a very thick consistency which does not work well for coating. But, there is a solution to this problem and I'm going to share it with you.
I've found if I add in one to two teaspoons vegetable oil and stir well, it thins to a better consistency.
There are a couple of different methods for coating the bon bons. You can pierce one with a tooth pick and dip it into the chocolate, using a spoon to drizzle chocolate over areas that need it.
Or, there's the dunk and swirl method, which is my method of choice. Just drop the bon bon right into the melted coating and swirl it around till it's coated.
Transfer the coated bon bons to a foil lined baking sheet as you work. Refrigerate the coated bon bons on the baking sheet for a couple of hours or until the coating has set.
Bag them up in treat bags and tie them with a festive bow for a very pretty and extremely tasty gift.
In our totally independent and non-biased study we have found that these are by far Santa's favorite snack. We've left out a variety of different goodies for him each Christmas Eve and while there might be a bite taken out of the gingerbread man, and a nibble missing from the sugar cookie, the bon bons are always gone on Christmas morning.
Ho ho ho!
Peanut Butter Bon Bons
A crispy peanut butter center is covered in a coating of chocolate or butterscotch. These classic Peanut Butter Bon Bons are a nostalgic holiday treat.
Ingredients
2

cups

peanut butter

,

creamy or crunchy

1/2

cup

butter

1

pound

about 4 cups powdered sugar

4

cups

crispy rice cereal

,

Rice Krispies

22

ounces

baking pieces in flavors of your choice – semisweet, bittersweet, butterscotch

,

(2 11-ounce packages)

1 to 2

teaspoons

vegetable oil

,

optional
Instructions
Line 2 baking sheets with foil or wax paper.

In a medium saucepan over low heat, melt together the peanut butter and butter, stirring occasionally until warm and smooth. Remove from heat and set aside.

In a large bowl, stir together the powdered sugar and rice cereal; pour the peanut butter mixture over the cereal mixture and use your hands to blend well. Roll into balls about the size of a golf ball and place on the baking sheets. Chill for at least an hour or more.

Melt the baking chips in separate double boilers, over low heat, stirring frequently until smooth. Be very careful not to get any drops of water into the pans while melting the chips. Dip the peanut butter balls into the melted baking chips using a toothpick. Place on the foil lined baking sheets to set.

When completely dry, move to plastic storage containers and store, covered, in refrigerator.
Notes
Butterscotch chips will not melt as well as chocolate chips. If needed, add 1 teaspoon vegetable oil and stir well to get to desired consistency. Add additional teaspoon of oil if necessary.
Nutrition
Serving:
1
piece
·
Calories:
191
kcal
·
Carbohydrates:
19
g
·
Protein:
3
g
·
Fat:
12
g
·
Saturated Fat:
5
g
·
Cholesterol:
6
mg
·
Sodium:
65
mg
·
Potassium:
139
mg
·
Fiber:
2
g
·
Sugar:
14
g
·
Vitamin A:
63
IU
·
Calcium:
13
mg
·
Iron:
1
mg
Nutrition information is automatically calculated using generic ingredients, and is an estimate not a guarantee. For more accurate results, please refer to the labels on your ingredients at home.
Did You Make This?
We love seeing what you've made! Tag us on social media at @fromvalerieskitchen for a chance to be featured