These Chewy Iced Molasses Cookies are at the top of my list of Christmas baking favorites. They have a fabulous soft and chewy texture and are filled with the classic flavors of molasses, cinnamon, and ginger.
Click HERE to sign up for your FREE email subscription and never miss a recipe!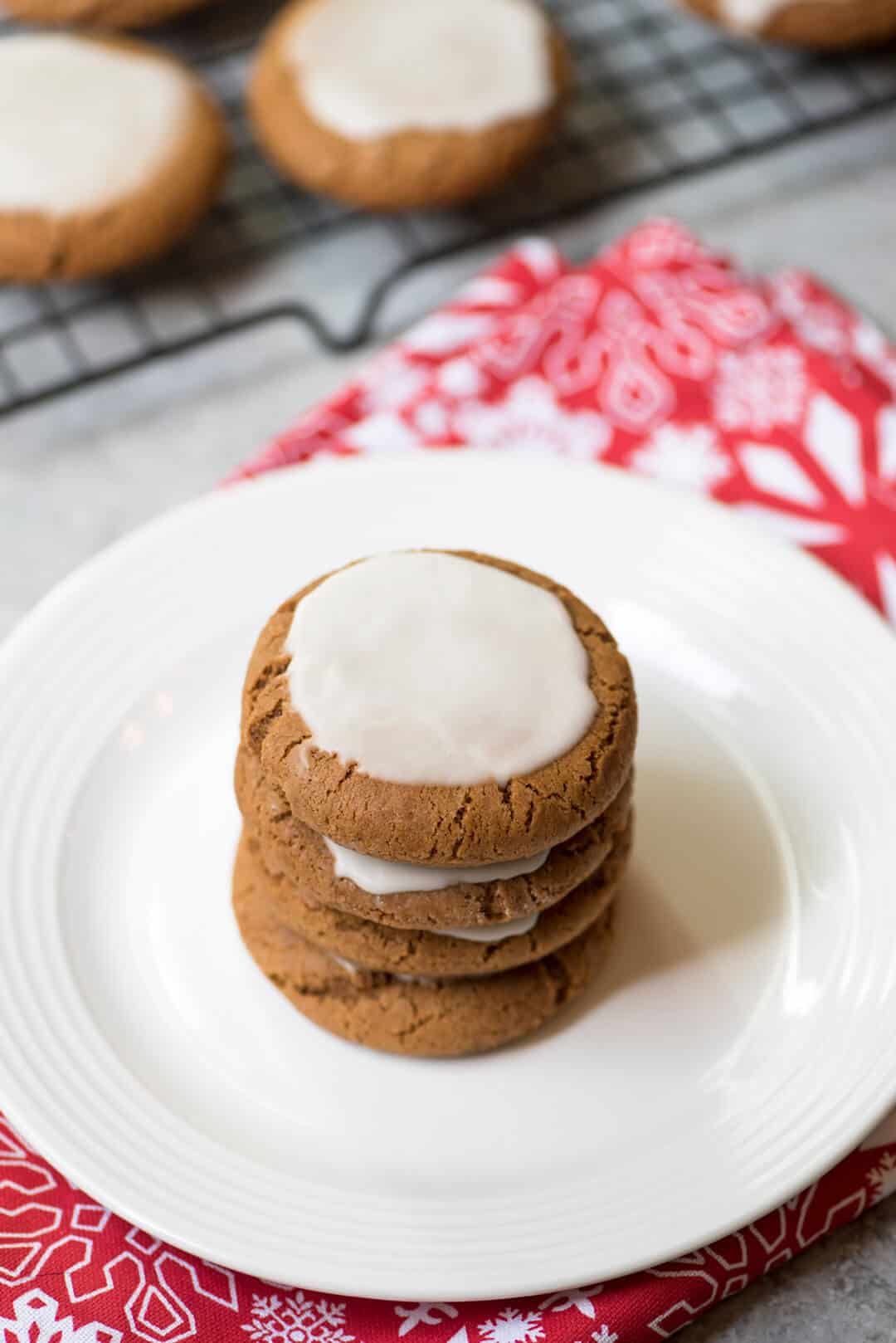 These cookies are filled with nostalgia for me. They remind me so much of the gingerbread boys my mom baked  each and every Christmas season. I loved those boys! I have vivid memories of walking home from school on a cold December day to my very warm and cozy house, all lit up with Christmas lights (Mom loved those lights!), and the smell of molasses and cinnamon greeting me as soon as I opened the door.
But, the fabulous thing about this recipe is that you get all that nostalgic flavor with far less work. Unlike Mom's gingerbread boys, there is no rolling or cutting of the dough involved. No intense decorating either. Once they cool they're topped with a simple but perfectly delicious powdered sugar icing and you've got one incredibly delicious batch of cookies on your hands.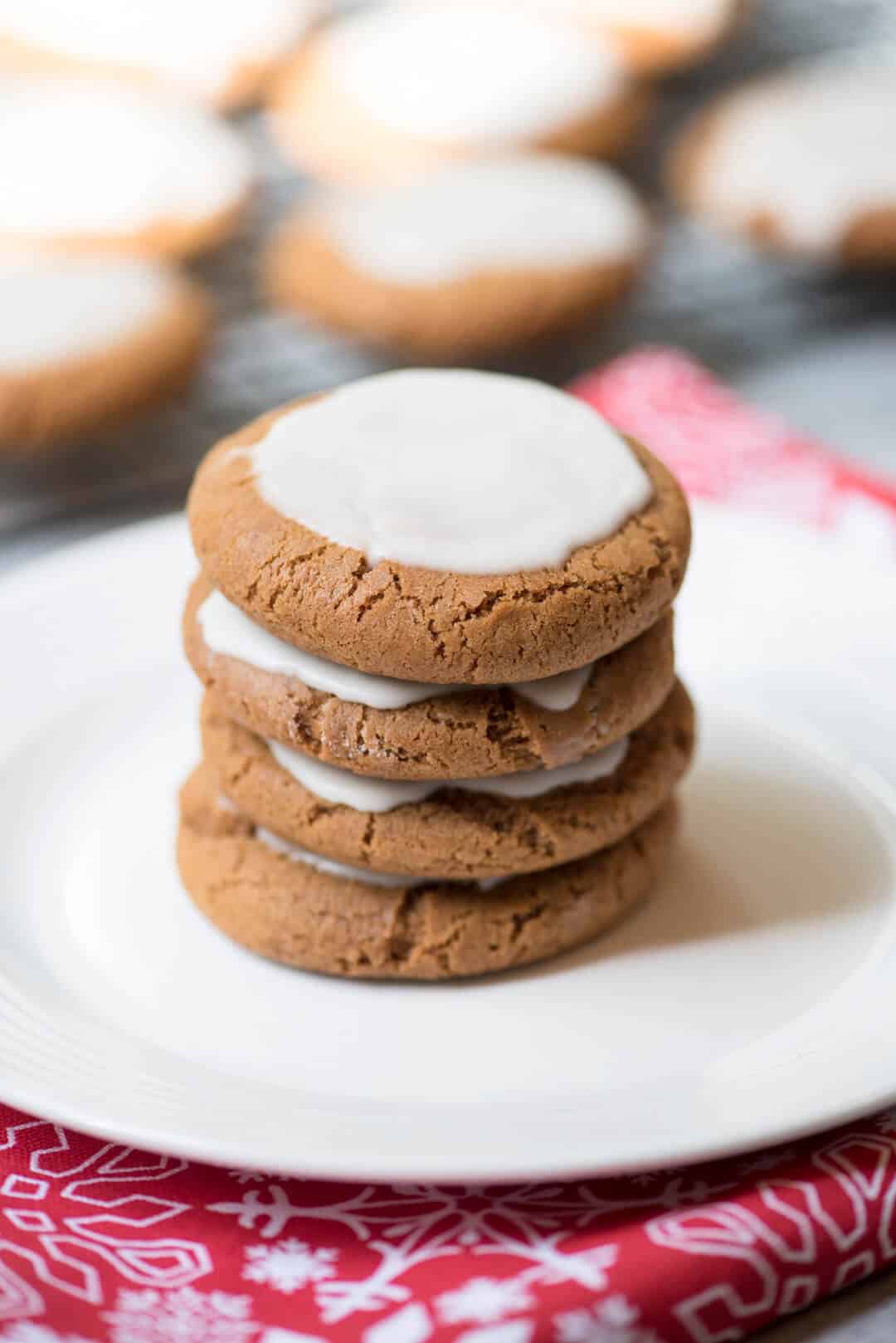 I can pretty much guarantee they will disappear in nothing flat.
The dough is easy, peasy. So easy, in fact, that I'm skipping the step-by-step and heading straight to the baking! But, one important note – the dough should be refrigerated for at least an hour after you mix it up so it will be easier to handle. Then just roll it into small 1″ balls and place them a couple of inches apart on a baking sheet lined with parchment paper.
Use the palm of your hand to slightly flatten the balls before baking.
Bake the cookies at 325 degrees for 12 to 14 minutes until the edges are set. The key to them being soft and chewy is to be sure you do not overbake them so be vigilant and watch them closely towards the end of the baking time.
Allow the cookies to cool completely and then top them with the simple powdered sugar icing.
If you are a fan of the flavors of gingerbread you are going to love these cookies! I hope you'll give them a try and that they warm your heart as much as they did mine.
CLICK HERE OR ON THE IMAGE BELOW TO PIN THIS RECIPE TO YOUR HOLIDAY COOKIE BOARD.
For lots of delicious recipes, giveaways, and more, be sure to follow From Valerie's Kitchen
Facebook | Twitter | Pinterest | Instagram
Chewy Iced Molasses Cookies
Ingredients
For the cookies
2-1/2

cups all-purpose flour

2

teaspoons baking soda

1

teaspoon ground ginger

1

teaspoon ground cinnamon

1/2

teaspoon salt

1/8

teaspoon ground nutmeg

1/8

teaspoon ground cloves

3/4

cup butter, softened

1

cup packed light brown sugar

1/3

cup unsulphured (mild-flavor) molasses

1

egg
For the icing
1-1/2

cups powdered sugar

1/2

teaspoon vanilla

2-1/2

to 3 tablespoons milk, as needed
Instructions
In a medium bowl stir together flour, ginger, baking soda, cinnamon, salt, nutmeg, and cloves. Set aside.
In a large mixing bowl beat butter and brown sugar on medium speed for about 1 minute until thoroughly combined and creamy. Add molasses. Beat until combined, scraping sides of bowl occasionally. Beat in egg until. Gradually beat in flour mixture just until combined. Cover and chill dough about 1 hour or until easy to handle.
Preheat oven to 325 degrees F. Line cookie sheet with parchment paper. Roll cookie dough into small 1" balls. Place about 2" inches apart on prepared cookie sheet. Flatten balls slightly with the palm of your hand.
Bake for 12 to 14 minutes or until edges of cookies are set, being careful not to overbake. Cool on cookie sheets for 10 minutes. Transfer cookies to a wire rack and cool completely before icing.
Once cooled, spoon some of the icing on top of each cookie and spread out with the back of a spoon. Allow icing to set. Cookies will keep well for several days in an airtight container.
Adapted from Better Homes & Gardens