Made from scratch pizza with a homemade pizza crust is one of the most delicious things you can do in the kitchen! Make it in advance for a quick weeknight meal!
There are many recipes and methods out there for pizza crust but this one has become my favorite. Don't shy away if you've never made crust from scratch – it's really very easy and will yield a great result if you follow the steps below. Then you will feel the pride in knowing you made it yourself and the people you feed will be eternally grateful and shower you with love and gifts (if this really happens, please let me know). If you are making the dough for a future day, the recipe includes directions for making it a day or two ahead or you can freeze it for up to a month. This way you can have fresh, homemade pizza dough on hand for a quick weeknight meal.
When I make pizza crust or any other yeast dough, I always use the KitchenAid Stand Mixer that my Mom gave me on my birthday many years ago. I knew at the time that it was good, but really had no idea just how good and how important a kitchen tool it would become. Now that she is gone, every time I pull it out I feel like she's with me in the kitchen and it's a wonderful thing. You can knead the dough by hand as well but it makes the whole thing a lot easier if you use a stand mixer and I highly recommend it. If you don't have one, put it on your Christmas list. It will change your life.
A word about proofing yeast. Make sure your water is warm, not kinda warm, not piping hot, but warm. I never use a thermometer, I just turn on the tap and let it go till it feels good and warm.
Here is what it will look like shortly after adding the yeast to the sugar/water mixture. The sugar is what gets the yeast all excited so don't leave it out.
Here it is after 10 minutes and you can see that "It's Alive!!!!". It should have grown considerably. It will be inflated and take up much of the surface of the water. This tells you that the yeast is good and you should have no trouble getting your dough to rise. If you skip this step, all will be lost so please, I beg of you, you must proof your yeast.
Once the yeast has done it's thing it is time to add the salt, olive oil, and flour and mix it up in your stand mixer. By adding the dry ingredients to the wet, you can control precisely how much flour you add. Stop adding flour as soon as the dough is sticking more to the hook than it is to the sides of the bowl. It will still be a bit sticky but that's okay, you'll see.
With floured hands, you will form the dough into a nice, tight, ball and place it in a well oiled bowl to rise. Cover the bowl with a clean dish towel and place your dough in a warm place to rise effectively. I have the good fortune of having warming lights built in to the hood over my stove. This works really well for me. Another great method is to turn your oven to the lowest possible setting and allow it to heat up all the way, then turn the oven off. Leave the door of the oven slightly open for about a minute or so and then place the covered bowl inside and close the oven door. Check it every so often but it should be good to go in about an hour.
Here's what it should look like after the rise. Now you've got something! There is home baked pizza in your near future.
I like to roll the dough out with a rolling pin on a lightly floured board. Some people like to do this part by hand, stretching and pulling the dough into shape.
Now the dough can be transferred to a parchment paper lined baking sheet. If you don't have parchment paper you can coat the baking sheet with cooking spray or oil (then add parchment paper to your shopping list).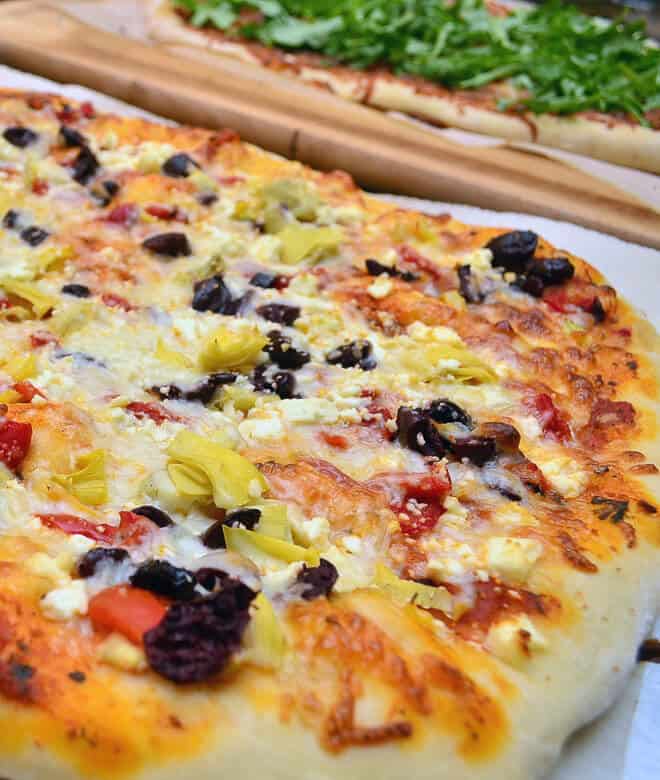 And…voila! The finished product.
Pizza Crust
Made from scratch pizza with a homemade pizza crust is one of the most delicious things you can do in the kitchen! Make it in advance for a quick weeknight meal!
Servings:
2
good sized thin crusts or 1 (16- x 12-inch) pan pizza
Ingredients
1

package active dry yeast

,

2 ¼ teaspoons

½

teaspoon

sugar

1 ½

cups

warm water

1

teaspoon

salt

2

tablespoons

olive oil

3 ¼ to 3 ¾

cups

all-purpose flour

,

divided and as needed
Instructions
Pour the warm water into the bowl of your stand mixer. Add the sugar and yeast and give it a little stir. Let it sit for 10 minutes to proof the yeast

When yeast has come alive, using either the dough hook or paddle attachment (either works), mix the salt and oil into the yeast solution on a low to medium speed (speed 2 or 4 with the KitchenAid). Add in 2 ½ cups of the flour. Allow to mix completely and then add more flour in ¼ cup increments. Stop as soon as the dough is holding more to the hook than to the bowl. It is better to err on the side of it being too sticky because you can always add more but you can't take it out! Continue to mix the dough on speed 2 for another 2 or 3 minutes.

Use cooking spray or olive oil, coat a medium sized mixing bowl. Using floured hands, remove dough from bowl of mixer and shape into a ball. Place the dough into the well oiled mixing bowl. Flip the dough over a couple times to coat both sides with oil. Cover with a clean dish towel, and leave in a warm place. Let the dough rise until double; this should take about 1 hour.

Punch down the dough, and form a tight ball. Cut the dough in half with a knife. Allow the dough to relax for a minute before rolling out. Place on parchment paper lined baking sheets.

Preheat oven to 475 degrees F.

Top the crust with sauce and your choice of pizza toppings. Bake in preheated oven, on lowest rack, until the cheese has melted and the crust is golden brown, about 12 to 15 minutes.

Refrigerator make ahead method: Instead of allowing the dough to rise immediately, cover the bowl with plastic wrap and place it in the fridge until needed. You can do this one or two days ahead to save time on a busy day. Remove the bowl from fridge and let it sit while you are preparing the toppings, then proceed as usual.
Freezer/Make-Ahead Method
Dust the ball of dough generously with flour and transfer to a 1 gallon Ziploc bag. Store in the freezer for up to a month. Transfer the bag to the refrigerator the night before you plan to use it. Remove from refrigerator and allow to rest on the kitchen counter while you are preparing the toppings, and proceed with the instructions written above.
Notes
Makes about 1 3/4 pounds of pizza dough.
Nutrition information is automatically calculated using generic ingredients, and is an estimate not a guarantee. For more accurate results, please refer to the labels on your ingredients at home.
Did You Make This?
We love seeing what you've made! Tag us on social media at @fromvalerieskitchen for a chance to be featured