A step-by-step photo tutorial for one of my most beloved recipes. These Overnight Cinnamon Rolls let you do the work the day before and bake up fresh, warm cinnamon rolls in the morning!
Cinnamon rolls are an Easter tradition in this house and one that the boys would never let me forget. Especially Boy #2. I believe he might have given up half the goods in his Easter basket for a couple of these rolls warm from the oven. When they were very young and I was a seriously sleep-deprived young mother of four, I would happily reach for the refrigerated tube of ready made cinnamon rolls, crack it open, and call it breakfast. There was no way in this world I was going to set the alarm on a precious day off to wake up several hours early to watch dough rise.
One year I happened upon a recipe for a make-ahead method that worked so well that I said goodbye to the tube forever. I've tweaked the recipe over time and kept extensive notes each time I made them. I truly feel that the recipe I'm sharing today is pretty much as good as it can get. A true labor of love.
I thought it was important to show the step-by-step for anyone who feels uncomfortable working with yeast dough. It's a lot of pictures and detailed instruction but I hope it encourages you to bake from scratch if you're a first-timer.
Writing this post made me really think about what goes into working with yeast dough and baking from scratch. It can't be rushed and no steps can be skipped. Although, the use of a stand mixer with a dough hook makes the process so much easier for us than it was for our mothers and grandmothers who lovingly kneaded the dough by hand.
I'd prefer to lovingly gaze at my now vintage KitchenAid stand mixer while it does the work. I was trying to recall how long I've had this mixer and I honestly can't say precisely how old it is. My mom knocked me off my feet by surprising me with it on my birthday a long, long time ago. I believe it is vintage 1989 or close to it and it still runs as strong as it did the first time I used it. It has cranked out a whole lot of goodies over the years.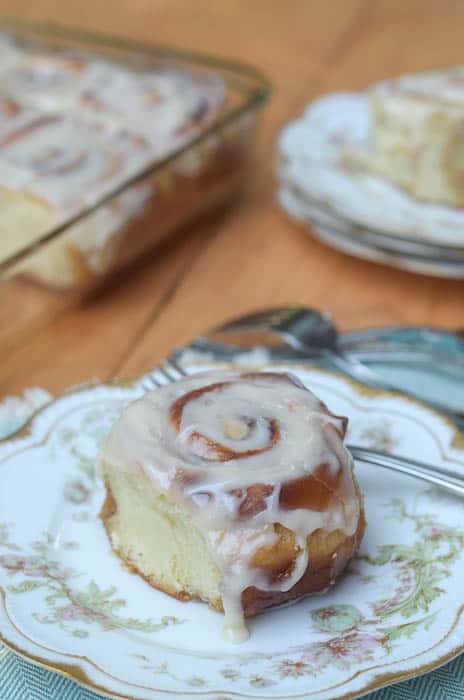 One last look at the reason why we're here before we get to work!
Warm 1 cup of milk in the microwave for one minute and then add 1/3 cup butter in slices. Stir the butter into the warm milk until it is completely melted.
Grab one 1/4 ounce packet of active dry yeast.
Transfer the milk/butter mixture to the bowl of your stand mixer and sprinkle the yeast over the surface. Let the yeast sit on the surface of the warmed milk for about 5 minutes or more until you see "signs of life". See those bubbles? That tells you the yeast is happy, alive, and ready to go to work.
Using the paddle attachment, add the eggs, one at a time, and then the sugar and salt, mixing till combined.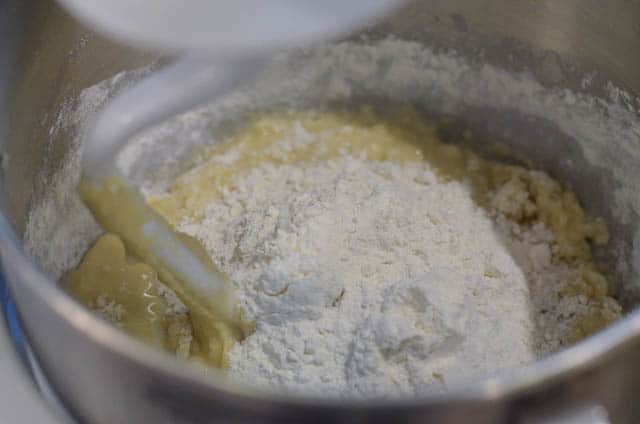 Switch to the dough hook and then add 3 cups of the flour to start. Turn the mixer on and mix till combined. Add as much of the remaining flour as you need, in 1/2 cup increments, till the dough is clinging well to the dough hook.
Like so. Continue to run the mixer for 5 or 6 minutes, kneading the dough till it is smooth and elastic.
Coat a large bowl with non-stick cooking spray. Pull the dough off the hook, form it into a nice, neat ball and place it in the prepared bowl. Cover the bowl with a clean dish cloth and set it in a warm place to rise.
Check on the dough after about an hour to see how it's doing. Don't be afraid to let it sit longer, if needed. It should be puffed up and nearly doubled in size. When you press into it, you'll leave indentations in the surface.
Push down on the dough to deflate it.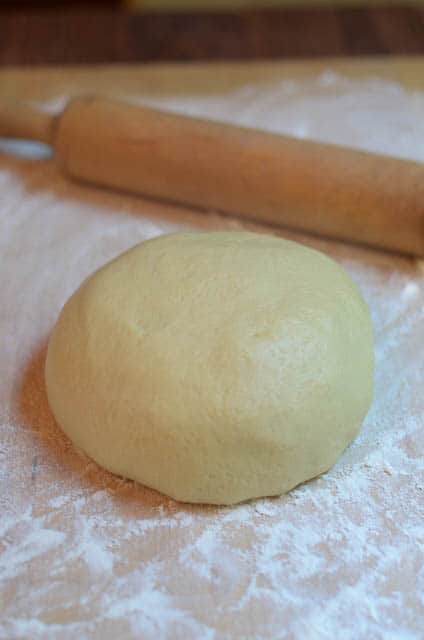 Shape the deflated dough into a ball and place it on a large board that has been lightly coated with flour. Use a rolling pin to roll the dough out into a rectangle that measures approximately 14″ x 18″.
To prepare the filling, melt 1/3 cup butter and in a separate small bowl combine 1/4 cup white sugar, 1/4 cup brown sugar, and 2 teaspoons cinnamon.
Use a pastry brush to completely coat the dough with the melted butter and then sprinkle the sugar/cinnamon mixture evenly over the top.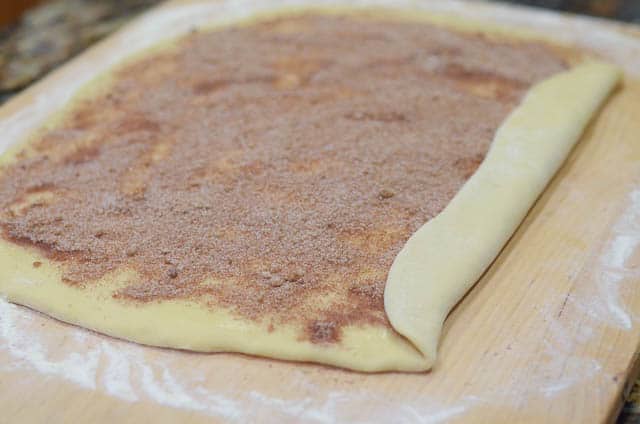 We're going to roll it up, lengthwise. Begin, by folding over the edge.
Then continue to roll, shaping it with your hands if needed. Use a sharp knife to trim each of the ends slightly so that the ends will have a cleaner edge. Make cut marks into the dough to measure out 12 equal pieces. This is a great way to eyeball it to be sure the rolls will be pretty close to the same size before you start slicing.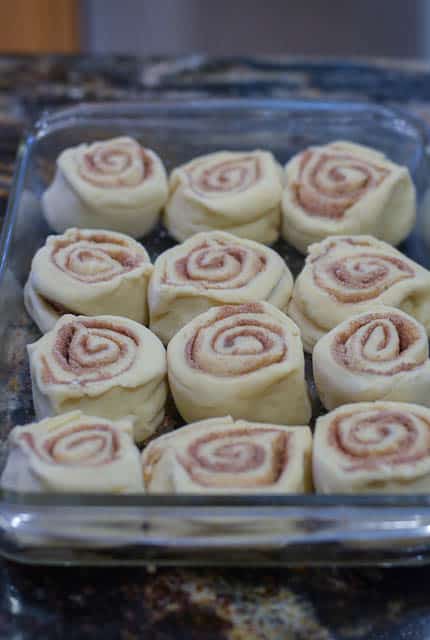 Place the rolls into a 13″ x 9″ baking dish that has been coated with non-stick cooking spray. Cover the dish with plastic wrap and pop it in the fridge. Stage one of the process is complete! Time to move on to other tasks and forget about these luscious little devils till the morning.
The next morning the rolls will be big and beautiful and ready to bake. Let them sit on the kitchen counter while you preheat the oven to 350 degrees. Then, in they go!
Bake them for 25 to 30 minutes, till golden brown.
Use a hand mixer to whip up the creamy, indulgent cream cheese frosting while they're baking. Softened butter, cream cheese, powdered sugar, vanilla, and a squeeze of fresh lemon juice. See the printable recipe below for the exact measurements.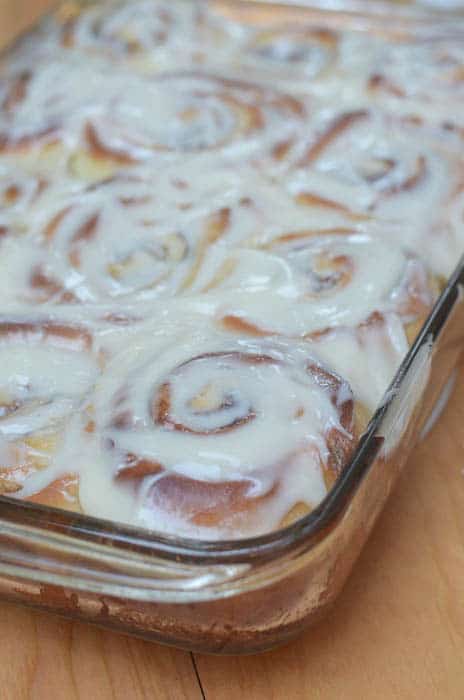 Spread the frosting on the rolls while they are warm and they'll get all gooey and wonderful.
I think you know what to do next.
I hope you have a wonderful holiday filled with your own traditions and some sweet treats!
Overnight Cinnamon Rolls
These Overnight Cinnamon Rolls let you do the work the day before and bake up fresh, warm cinnamon rolls in the morning!
Ingredients
For the Rolls:
1

cup

milk

1/3

cup

butter

,

cut into 1" slices

1

.25 ounce package active dry yeast

3

eggs

1/2

cup

white sugar

4 to 5

cups

all-purpose flour

,

as needed

1

teaspoon

salt
For the Filling:
1/4

cup

butter

,

melted

1/4

cup

brown sugar

1/4

cup

granulated sugar

2

teaspoons

cinnamon
For the Frosting:
3

ounces

cream cheese

,

softened

1/4

cup

butter

,

softened

1/2

teaspoon

vanilla extract

1-1/4

cup

powdered sugar

1

teaspoon

fresh lemon juice
Instructions
Heat the milk in the microwave in a small bowl for 1 minute 30 seconds. Remove from microwave and add slices of butter. Stir until butter has melted. Pour milk and butter mixture into the bowl of a stand mixer. Sprinkle yeast over the surface of the mixture and let it sit for about 5 to 7 minutes or till you see "signs of life".

Using the paddle attachment, add eggs, one at a time, mixing after each addition. Add sugar and salt and continue mixing to combine.

Remove paddle attachment and switch to the dough hook. Add 3 cups of flour and mix till flour is completely incorporated. Add just enough of the remaining flour, in 1/2 cup increments, until dough has come together and is holding on to the hook. You may not need the entire amount. Continue mixing to knead the dough for about 5 or 6 minutes until dough is smooth and elastic.

Coat a large mixing bowl with non-stick cooking spray, place the dough in the bowl and turn to coat with oil. Cover with a cloth and let rise in a warm place until doubled in volume, about 1 hour.

Spray a 9" x 13" baking dish with non-stick cooking spray. Punch down the dough and turn it out onto a lightly floured surface. Use a rolling pin to roll into a 14 x 18 inch rectangle. Pour melted butter over the surface of the dough and use a pastry brush to coat the entire surface evenly. In a small bowl combine the brown sugar, granulated sugar, and cinnamon. Sprinkle evenly over the melted butter. Roll up the dough, lengthwise, into a log, forming and shaping the dough with your hands to make it as even as possible. Trim off the ends of the roll and then slice it into 12 equal size pieces. Place the rolls in prepared pan. Cover with plastic wrap and place in the refrigerator to rise overnight.

The next morning, preheat oven to 350 degrees. Take the rolls out of the refrigerator, remove the plastic wrap, and let stand at room temperature for 30 minutes. Bake the rolls for 25 to 30 minutes or until golden.

Meanwhile, combine frosting ingredients in a small mixing bowl with an electric hand mixer until smooth. Remove rolls from oven and allow to cool slightly, for 5 to 10 minutes. Spread with cream cheese frosting while still warm.
Nutrition information is automatically calculated using generic ingredients, and is an estimate not a guarantee. For more accurate results, please refer to the labels on your ingredients at home.
Did You Make This?
We love seeing what you've made! Tag us on social media at @fromvalerieskitchen for a chance to be featured