A pumpkin layer with a hint of hazelnut swirled together with a sweetened mascarpone mixture creates something really special. After years upon years of baking simple, basic pumpkin pie, I had the yearning to try something a little different. It's fun to mix it up a little and this Pumpkin Hazelnut Pie with Mascarpone is a delicious way to do it.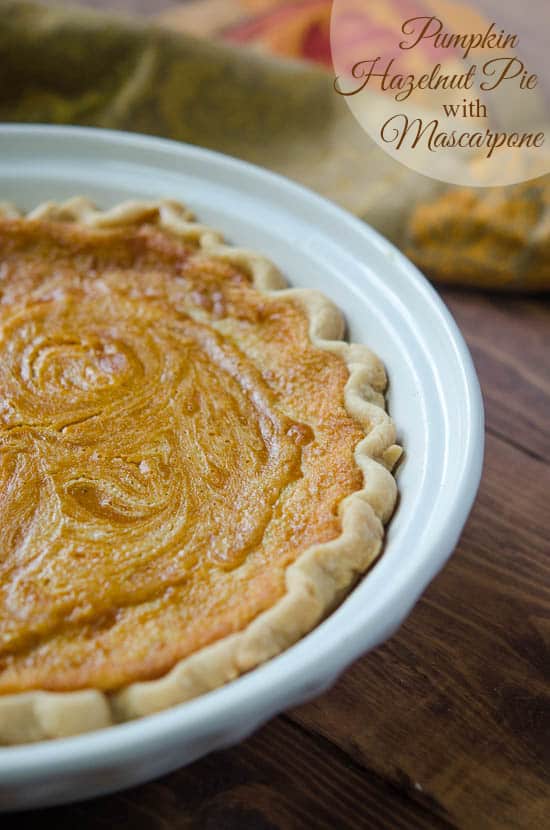 I have lots of cooking and baking traditions and each year I tend to get requests from the guys to make those same dishes over and over again. At the holidays, they want the tried, the true, and the familiar. But, sometimes you just need to shake things up a bit and last Thanksgiving that's exactly what happened to the pumpkin pie situation around here when I came across a recipe for a hazelnut flavored pumpkin pie on BHG.com. What I created has very little resemblance to the original recipe but I had a some fun, did a little swirling, and I absolutely love the result.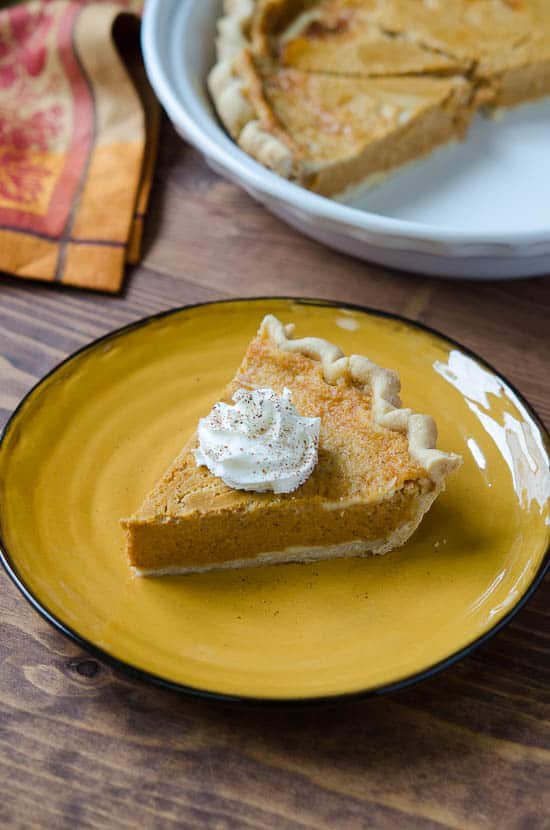 We're good and ready to dive right into the holiday season here at the homestead. We kicked it off Sunday night when all the boys and their significant others came for dinner to celebrate their Grandpa's birthday. My Dad turned 94 on Sunday and to celebrate I cooked him a dinner of Pasta Bolognese, salad, garlic bread, and Pumpkin Gingerbread with Maple Pecan Icing for dessert.
When we put candles on a birthday cake we always add one extra candle "to grown on". So, if you're 10 you get 11 candles, and so on. I struggled briefly, trying to figure out how many candles to put on the birthday cake of a man who is 94 years old, and, then it dawned on me. Six… to grown on. That one made him laugh. My job is done.
Actually, not all of the boys were here because Boy #4 is still in Santa Barbara, deep into his college quarter barely ever looking up from his books (right sweetie?). But he will be home tonight!!! Thank you to the professor that cancelled his Wednesday class. THANK YOU! I miss my boy. I just can't wait to get him back and stuff him full of turkey and all the fixin's. Such an incredibly strong instinct that never goes away – no matter how old they get. I always take pleasure in feeding my babies.
Enough family chatter, let's bake a pie. Here is a quick look at a couple of ingredients that make this pie a bit different from the standard.
Mascarpone is a creamy, spreadable, Italian cheese that is one of the main reasons why tiramisu is so yummy. It's also going to do lovely things to this pie.
The hazelnut flavor in this pie comes from this guy – Frangelico – the nutty liqueur in the cute bottle. The little friar looks quite fashionable with the belt, don't ya' think?
First things first. Get that mascarpone in a bowl and use an electric mixer to combine it with a little sugar, an egg, and a bit of vanilla. The precise measurements are listed in the printable recipe down yonder. This is the first layer of our pie. Pop the bowl in the fridge to chill while we get to work on the pumpkin layer.
In a second bowl, combine the pumpkin puree, half-and-half, a couple eggs, a few tablespoons of Frangelico, a little brown and white sugar, cinnamon, ginger, and a bit of salt and nutmeg. Combine it well and let's put this thing together.
Line a pie plate with pie pastry – your own or a prepared, uncooked crust from the store – and pour that mascarpone mixture in first. Take a look at my step-by-step instructions for making basic pie crust in the food processor HERE. It's the way I make my crust every…single…time.
Next, carefully pour the pumpkin layer right over the top of the mascarpone layer. It's okay if it's messy, we're going to mess it up even more.
Use a butter knife to swirl it up. Just pull it around – back and forth – and in a spiral pattern till you're happy.
I'm happy.
Very happy.
Pop the beauty in a 425 degree oven for 15 minutes, then reduce the oven temp to 350 and bake for an additional 40 to 50 minutes or until the center is set. When a knife inserted in the center of the pie comes out clean – she's ready!
The result is rustic, beautiful, and entirely delicious.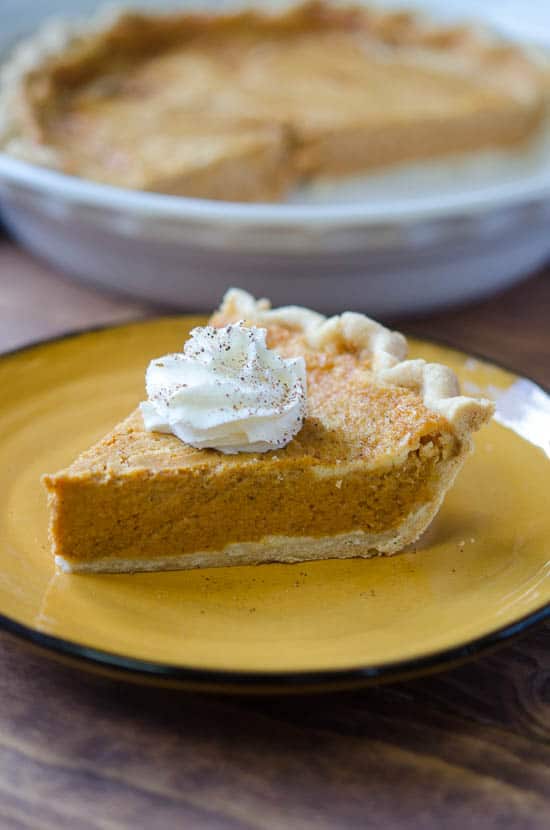 Ingredients
1 prepared unbaked pie crust
For the mascarpone layer:
1 8 ounce carton mascarpone cheese
1/4 cup granulated sugar
1 egg
1/2 teaspoon vanilla
For the pumpkin layer:
1 15 ounce can pumpkin puree
1/2 cup half and half
1/4 cup granulated sugar
1/4 cup packed brown sugar
2 eggs
3 tablespoons Frangelico hazelnut liqueur
1 teaspoon ground cinnamon
1/2 teaspoon ground ginger
1/4 teaspoon salt
1/4 teaspoon ground nutmeg
Instructions
Preheat oven to 425 degrees. Place prepared pie crust in a 9" pie dish. Poke the bottom with a fork or the tip of a sharp knife help it cook thoroughly and flute edges, if desired.

In a small bowl, combine the mascarpone cheese, 1/4 cup granulated sugar, egg, and the vanilla. Beat with an electric mixer on low to medium speed until smooth. Place bowl in refrigerator to chill while preparing pumpkin layer.

In a medium bowl, combine the pumpkin puree, half and half, 1/4 cup granulated sugar, the brown sugar, 2 eggs, and Frangelico. Stir with a wooden spoon till well combined. Add cinnamon, ginger, salt, and nutmeg.

Pour mascarpone cheese mixture into crust, spreading evenly. Slowly pour pumpkin mixture over mascarpone cheese mixture. Use a knife to swirl together into a pretty pattern.

Bake for 15 minutes at 425 degrees. Reduce oven temperature to 350 degrees and bake for a additional 40 to 50 minutes, or until a knife inserted near the center comes out clean.

Cool pie on a wire rack. Cover and chill within 2 hours.

Serve with lots of whipped cream!

Inspired by BHG.com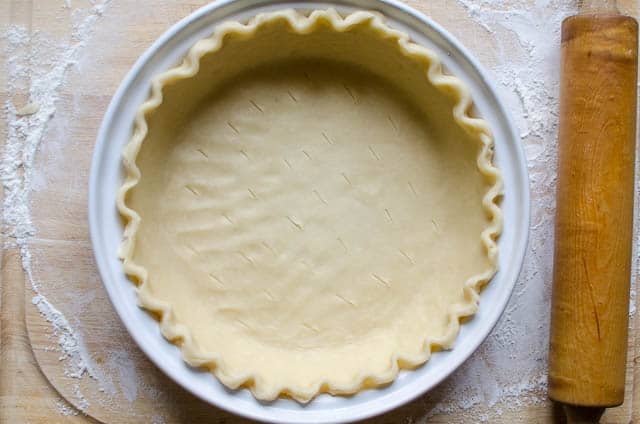 Take a look HERE for instructions on how to use your food processor to make a perfect pie crust from scratch.